Apex Legends has taken the gaming world by storm since its release on Feb. 4, and a big reason why it has been a standout experience is the weapon customization.

Respawn's take on the popular and crowded battle royale genre hit a nice sweet spot between the fast-paced and cartoony gameplay of Fortnite and the super gritty, down-to-earth style of PUBG. And thanks to that unique spin, its numbers have continued rising.

Along with the fast movement and most of the gameplay from its predecessor Titanfall, the team made sure to add in a lot of customization options for the weapons spread out across the map. And by a lot, that means over 6,000 options.

Reddit user Ozqo made a graph detailing each weapon and every possible combination it has with the various attachments in the game. Their math calculated the exact number of combos to be 6,462 altogether.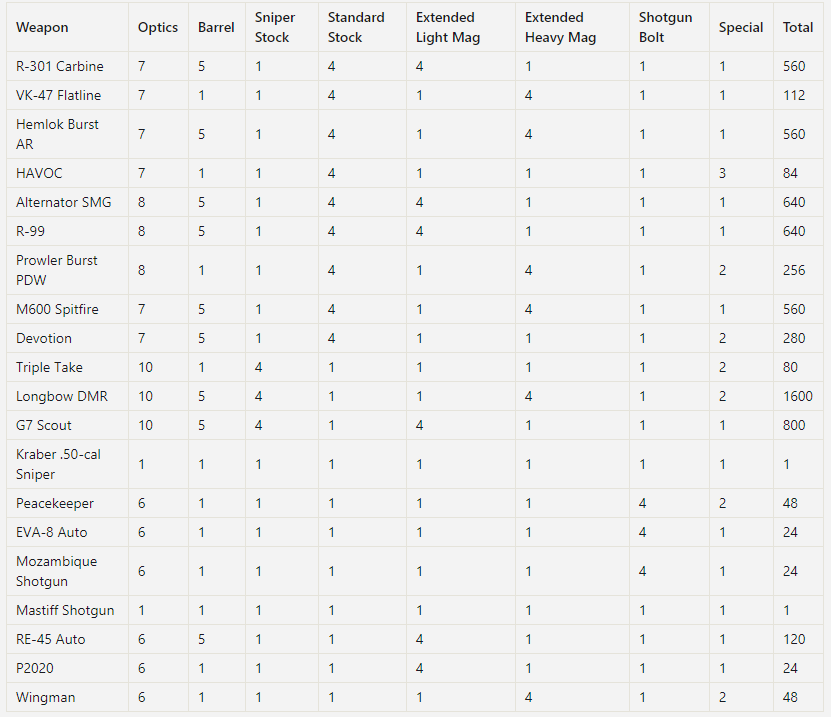 There are obviously those combos that people prefer more than others, as shown in the thread talking about the combos when players took to talking about preferences. Namely Wingman with anything, though a nerf did hit both Wingman and the preferred combo of Peacekeeper.

The Longbow DMR has the highest number of options by a pretty wide margin, sitting at 1,600 possible combinations. Next highest is the G7 Scout at 800, followed by both the R-99 and Alternator SMG at 640.

The Kraber .50-cal Sniper and Mastiff Shotgun are tied for last with one point because they have no attachment values.

This number will likely fluctuate a lot as more updates continue to pour out for the massively popular title, but the sheer number of combinations available is still insane to see broken down.