Respawn and Prime Gaming have announced the next iteration of their free loot drops for Apex Legends.
For the next month, Amazon Prime subscribers can grab the epic Fleur De Lethal Wraith skin, the rare Royal Hunter Devotion skin, and the Royal Decree banner frame for free. If you're interested in nabbing these fun cosmetics, read on for step-by-step instructions on how to claim them.
How to get the Fleur De Lethal Wraith Prime Gaming skin in Apex Legends
First, you'll need to make sure that you have an active Amazon Prime membership. Head to the Prime section of Amazon's website to check your membership status and subscribe if necessary. Prime currently costs $14.99 per month plus tax. You'll only be able to claim the skins if you're a Prime subscriber or if you're part of an Amazon Household where someone else is sharing their subscription with you. Note that the skins can only be redeemed once per household, so if a sibling or spouse in your Amazon Household redeems them first on their EA account, you won't be able to add them to your account.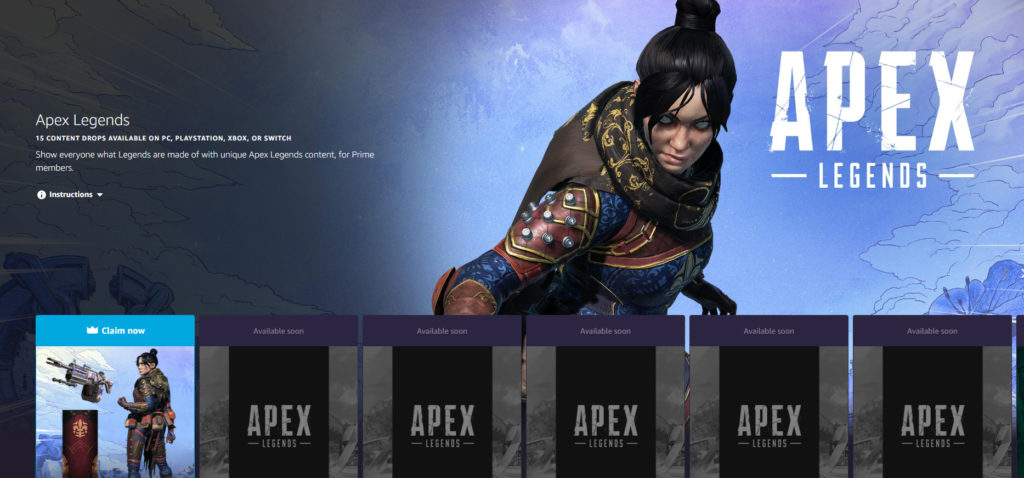 After you've verified your subscription or started a new one, you'll need to link your Amazon account with your EA account. Go to the Apex Legends Prime Gaming landing page here and lick on the Instructions tab on the left side of the page to open a drop-down menu. Click on the first link that's listed. This will bring you to an EA page where you'll be asked to sign in to your EA account. After doing so, EA will ask your permission to link accounts. After you click accept, you will be redirected back to the Prime Gaming landing page.
Once you're back, all you need to do is click the blue "Claim now" button over the image of the Fleur De Lethal skin. If the claim process worked, you'll get a pop-up window that shows a success image and offers you the chance to sign up for email notifications about future Apex Prime Gaming drops.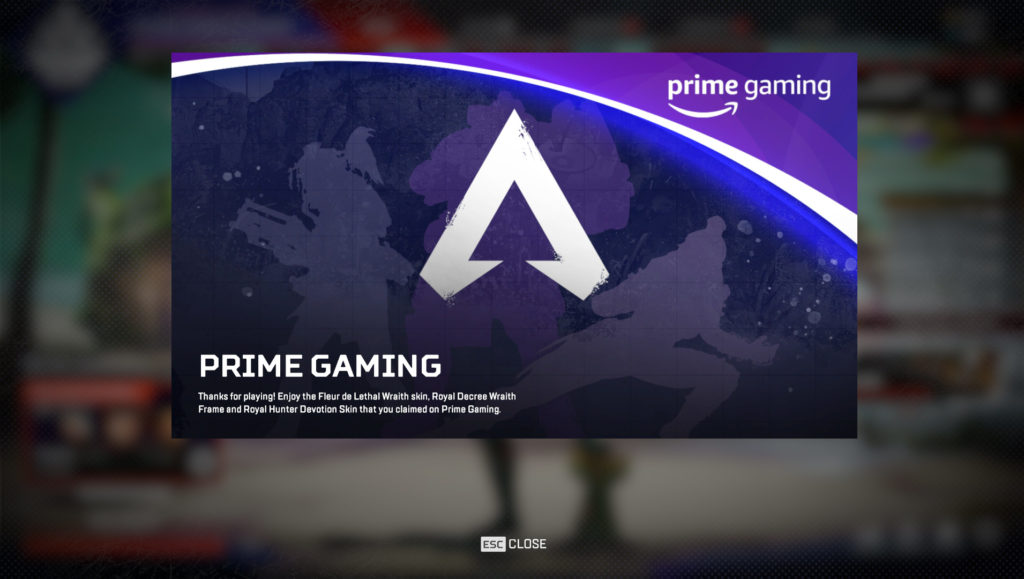 To see the new cosmetics in action, open up Apex Legends and make sure you're logged into the same account you connected to your Amazon account. When you get to the lobby screen, you'll receive a pop-up thanking you for redeeming the offer and letting you know that it's been added to your cosmetics. From there, click the Legends tab, select Wraith, and scroll down to the Epic section of the skins list to equip the new skin. The same can be done with the banner frame and Devotion skin.