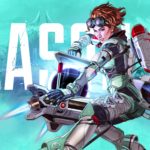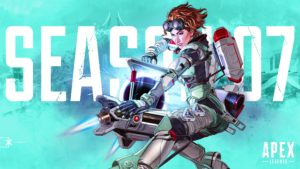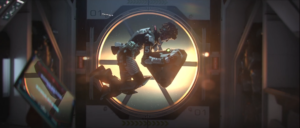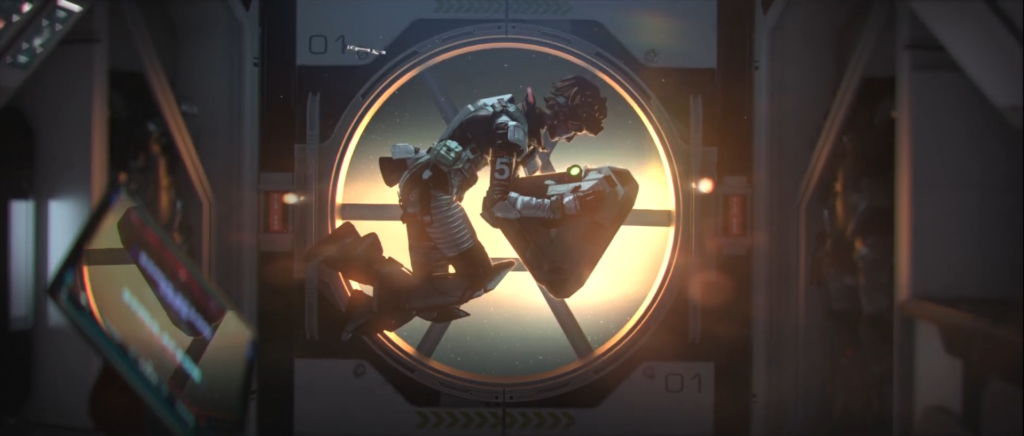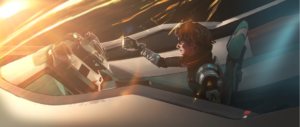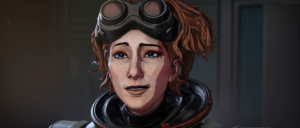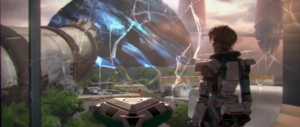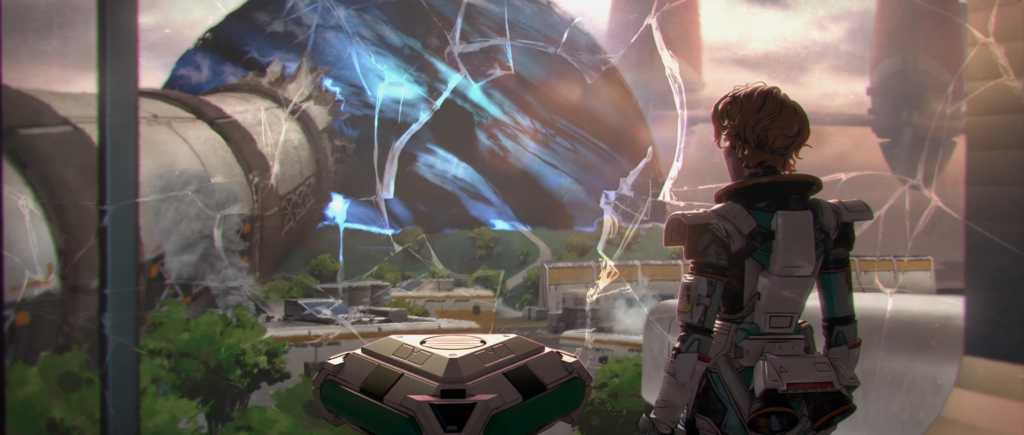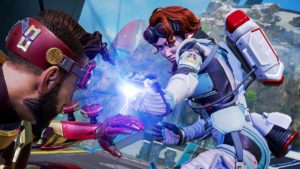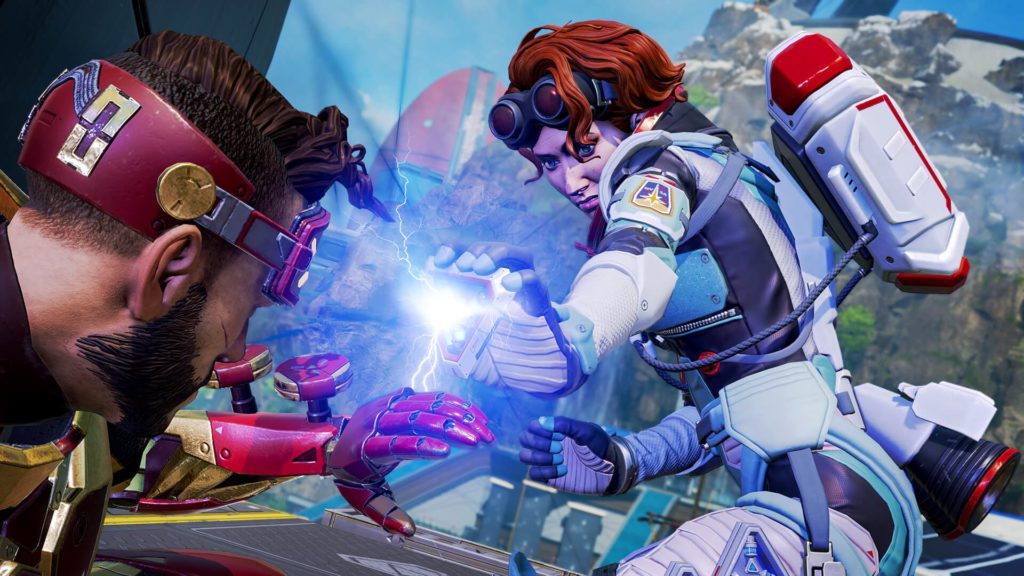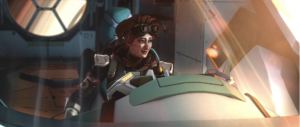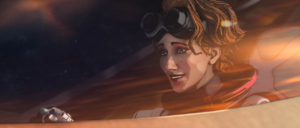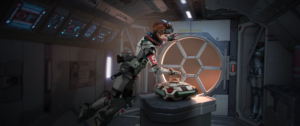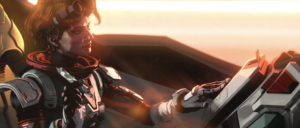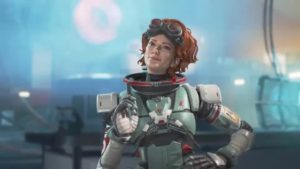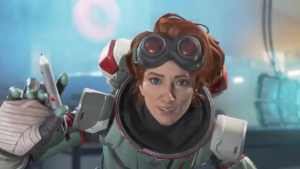 The competitors in Apex Legends come from all corners of the frontier, but the next character to join the Games hails from a bit further away. Horizon, the next legend, lived in the cloud city of Olympus before departing on a noble mission into the depths of space—and almost not coming back.
Her episode of Stories from the Outlands, "Promise," recounts Horizon's heroic journey to find a resource called Branthium and save Olympus. Before her official introduction, however, Horizon's first in-game appearance was in a series of Firing Range videos, setting several challenges to the players.
Lore: Horizon's Promise
Dr. Mary Somers was a prominent scientist in the cloud city of Olympus. The city faced a devastating energy crisis and Dr. Somers vowed to use her scientific knowledge to discover a solution and create a safer future for her infant son.
Dr. Somers' research came with a sacrifice, though. She spent less and less time with her son, "someone she loved more than anything." Her theories discovered the location of precious Branthium crystals hidden deep in space, forcing both Dr. Somers and her assistant to head into uncharted territory in the universe. Before departing, Horizon promised her son she would return—an oath that she wasn't able to keep.
Horizon used her ship to get close to a black hole and recover the Branthium. Once she transferred the minerals to the main ship, however, her assistant cut her off and left her stranded in space.
Horizon spent five months adrift before finally finding a way out, but 87 years had elapsed on her home planet since her departure. She landed on a different, barren landscape instead of returning to a city that used to be filled with prosperity.
The tragic backstory could be one of her main character arcs throughout Apex's seventh season, but she could also play a bigger role in the greater lore thanks to a connection to a certain simulacrum from Titanfall.
Connections to Ash
Horizon left a series of video logs as season seven teasers and players spotted an overlap between her messages and cryptic bits from Ash's final dialogue in the season five quest.
Ash's voice lines contain a series of quotes that seem nonsensical at first but are related to important plot points in the greater scheme of Apex. Her "all roads lead to Branthium" quote introduced fans to the precious element, while her "welcome to Olympus" greeting heralded a new map coming soon. But that's not where the connections between the two stop.
One of Horizon's video logs is a word-for-word match to one of Ash's quotes in The Broken Ghost: "Huh, just a wee bit of betrayal before breakfast, eh dearie?" The overlap, alongside the importance of Branthium, points towards a connection between the two.
Fans have theorized that Ash was Horizon's assistant before ultimately becoming a simulacrum. The previous connection between the two would explain why Ash's quotes match up so closely with Horizon's voice lines—and could shed some light on why Hammond Robotics wanted to plug Ash back on in the first place.
Assuming that Ash had access to some memories from her human self (which seems to be the case, at least for Revenant), Hammond could be interested in retrieving the coordinates to the Branthium from Ash's brain. The company has showed a keen interest in harvesting rare resources during season four, when it sent a Planet Harvester into World's Edge.
Before the deep dive into Horizon's lore, players were able to get a glimpse of her in the Firing Range—if they completed some challenges first, that is.
In-game: Firing Range videos
The build-up to Apex's seventh season kicked off weeks before Horizon's episode of Stories from the Outlands. The teasers began with a socially-distanced scavenger hunt orchestrated by the game's new, mysterious competitor.
As part of her "wee experiment," the mysterious voice had the legends accomplish a series of challenges through a monitor in the Firing Range. The voice on the other side of the screen belonged to Horizon—Apex's next legend.
Horizon makes her first actual appearance after players complete her three challenges and activate gravity lifts spread out across the arenas. In a video, she snarkily thanks the legends for all the data they've compiled: "All that data you've provided us will come in handy…when we face ya in the Games."
Official gameplay information about Horizon is somewhat scarce so far. In the meantime, data miners have ventured out to extract information on her possible skillset based on the game files.
Data-mined kit and theories
Before Revenant and Loba were released, data miners found a full breakdown of their kits hiding in the game files, with some adjustments. Unlike previous leaks, Horizon's skill set appears to be a mystery. Based on her videos and in-game teasers, however, her abilities could involve manipulating gravity.
Shrugtal, one of the most prolific Apex data miners, shared his theories on what Horizon's skillset could look like based on some snippets of code. Her abilities may be able to lift players up into the air or keep them grounded and grouped up, according to the data miner.
Although Apex doesn't have fall damage, Horizon's passive could give players a hand when dropping from great heights. The ability could mitigate the stun from falling and gain "some beneficial buff" on landing, according to Shrugtal.
Horizon's tactical may elevate players up in the air, similarly to the gravity lifts spread out across both arenas. Judging by how the lifts behave in-game, her ability would let squads move up at a slow pace: it gives them plenty of vertical mobility but makes them easy targets.
Her ultimate, on the other hand, would serve the opposite purpose; according to Shrugtal, it would create a singularity-like gravity field that may suck in and damage enemies.
Data-mined information reflects the state of the game files as the time. It can provide general design directions and ideas for characters, even if it's wrong or obsolete. Although there are no guarantees that Horizon's kit will follow Shrugtal's exact description, the information serves as a good outline of what her kit may look like—especially coupled with the in-game teasers.