All throughout his content creation career, Dream's face has been a shrouded secret, but this is about to change forever. The Minecraft star previously teased that his mask would soon be coming off and that his face reveal was imminent, but now everything has been set in motion, and it could happen at any given moment.
Ahead of his face reveal to the world, Dream has been revealing his face to many of his creator friends, who have been sharing their reactions to seeing him for the first time. The Minecraft star has been close friends with some of these creators for around 10 years, but he is only now revealing his face to them for the first time.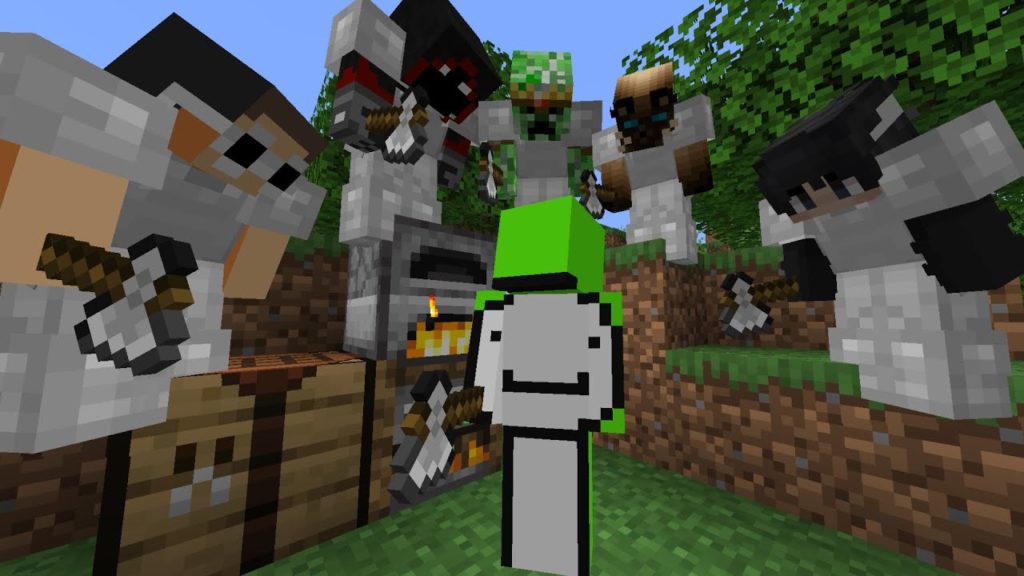 Related: Dream hits new milestone on YouTube, becomes most subscribed Minecraft channel
Before he began face revealing to his creator friends, only Sapnap, a Minecraft creator who lives with Dream, and Alyssa, a mostly inactive Minecraft creator who used to play alongside Dream and on the Dream SMP frequently, had seen the creator's face. When GeorgeNotFound obtained his visa to move to America so that he could live with Dream and Sapnap, the duo then FaceTimed for the first time after over six years of friendship.
The first creator to see Dream's face since he revealed it to GeorgeNotFound, which will be shown in an upcoming YouTube video centered around the Dream Team meeting for the first time, was Karl Jacobs. Jacobs and Dream haven't been friends for as long as some of the other creators but have quickly become extremely close, with both mutually calling the other one of their closest friends.
Quackity, another creator who has grown close to Dream in a shorter period and is also among those closest to him, shared a tweet on his private Twitter account after FaceTiming the Minecraft star.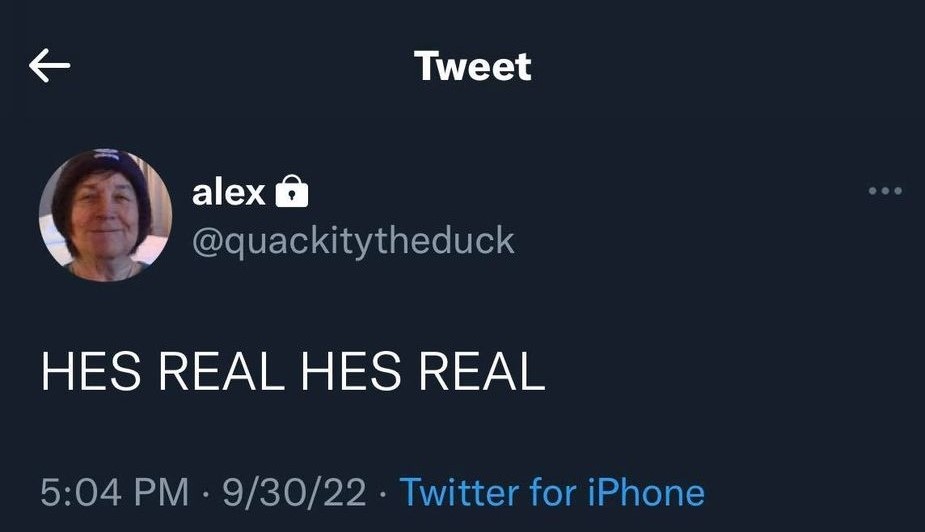 Ranboo, a fellow Minecraft star and another semi-faceless creator who has only ever shown part of his face, seems to have had a mutual face reveal with Dream based on their Twitter interaction. He later further discussed it while livestreaming and said that he was almost in "shock" because it was "really, really weird to, like, see a face with the voice."
Anthony Padilla, who previously interviewed Dream virtually in his "I spent a day with" series, now got to see behind the mask. Padilla shared the following interaction with the Minecraft star, where he proclaimed that it was "so fucking weird" finally getting to talk to Dream "face-to-face" after he had simply been a "floating voice" for so long.
Lazarbeam, who has participated in tournaments with Dream and played on the Dream SMP in the past, proclaimed that Dream is a "gorgeous man."
BadBoyHalo, a Minecraft creator and the third hunter in Dream's Minecraft Manhunt series, is among those closest to Dream and has known him for over 10 years. Now, he has finally gotten to see what Dream looks like, and the duo agreed that the interaction felt "surreal."
Fans likely know Antfrost for his Minecraft content and as the fourth hunter of Dream's Minecraft Manhunt series. The duo has been close friends for somewhere between five to seven years and has now met face-to-face.
Variety streamer and creator Sylvee has known Dream for a few years and joked that he looked just like his profile picture.
Awesamdude is a Minecraft creator and the fifth hunter of Dream's hit Minecraft Manhunt series. He is another longtime friend of Dream's and proclaimed that he was "starstruck" upon seeing behind the mask.
Slimecicle seems to have also gotten a Facetime call from Dream due to the timing of the following tweet, but his response is a bit vague and could also thus simply be a joke in response to other creators' reactions.
Philza, a Minecraft creator and member of the Dream SMP, shared his reaction and commented that he was "so proud" of Dream and can't wait to see "what the future holds" for the Minecraft star.
Dream promised Minecraft creator and general vlogger TommyInnit long ago that he would get to see him before he revealed his face to the world. Now, Dream has fulfilled that promise and TommyInnit shared his reaction with a joking threat of leaking Dream's face if his reaction reaches 300,000 likes.
Nihachu, who is well known for her Minecraft, just chatting, and variety gaming content, got to see both Dream's face and his setup within the brand new Dream Team house.
Punz and Foolish Gamers, who are both members of the Dream SMP and variety streamers, shared their joint reaction to FaceTiming Dream for the first time. They are the first and only duo to react to Dream's face reveal together thus far.
YouTuber, inventor, and engineer Mark Rober shared a short clip of Dream revealing his face to him and jokingly challenged those who watched to try and enhance the reflection of Dream's face in his eyes.
Tubbo, who is known for his Minecraft content and as the founder of the server TubNet, recorded his first reaction to seeing Dream's face but accidentally deleted all of the footage in what Dream called a "Tubbo moment." This is a reference those who know Tubbo use on occasion when someone does something silly like this.
YouTuber, musician, and streamer James Marriott shared a very short clip of his first time seeing Dream's face.
TikTok star Addison Rae, who has previously played Among Us with Dream, shared a short clip of her seeing his face for the first time.
Hannahxxrose, a member of the Dream SMP, Twitch streamer, and YouTuber mostly known for her Minecraft content and skills said that it was "crazy" that Dream is actually "a real guy" upon seeing his face. Like everyone else who Dream has made a call to thus far, Hannahxxrose expressed that his move from just a voice and a Minecraft skin to a voice and an actual face was jarring.
YouTuber and streamer Seapeekay proclaimed that getting to see Dream before he publicly reveals his face is an "honor." During this call, Dream also expressed how weird it has been FaceTiming people back-to-back after previously never FaceTiming anyone at all.
Velvet, a streamer and creator who is mostly known for Minecraft, shared his reaction. Velvet and Dream's close friend Antfrost have been dating for years, so Dream has known him for quite some time.
Regular MC Championship (MCC) competitor and Minecraft streamer Krtzyy echoed the same sentiment many other creators had when seeing Dream and told the Minecraft star, "that is not what I expected you to look like."
Professional Frisbee player and highly popular YouTuber Marques Brownlee both talked to Dream for the first time and saw what the Minecraft creator looked like behind the mask. Brownlee stated that Dream's continuous individual FaceTime calls to numerous creators is "one of the most interesting social media campaigns" that he has ever seen.
ConnorEatsPants had planned a funny bit for his FaceTime with Dream, but it didn't end up happening because he was simply in shock and thrown off upon seeing Dream's face.
Variety streamer and 100 Thieves member TinaKitten hasn't known Dream for a long time compared to some other creators, but the duo has gotten close quite quickly. During their call, TinaKitten told Dream that she was very proud of him and repeatedly stated she couldn't believe that he is actually "a real person."
YouTuber and Twitch streamer Fundy was extremely surprised by Dream's appearance and asked him why he would ever hide his face.
Singer and songwriter Alec Benjamin, who Dream released the collaborative song "Change My Clothes" with, also got to see the Minecraft star's face before his worldwide face reveal.
Musician, Twitch streamer, and YouTuber Wilbur Soot jokingly asked if who he was seeing was actually Dream or if it was an AI. He also said that finally getting to see Dream's face made it the "best day."
BoomerNA has known Dream for somewhere around eight plus years and has now seen him for the very first time.
Twitch streamer and YouTuber Captain Puffy told Dream she was "very proud" of him during their first FaceTime call.
Corpse Husband, a fellow faceless creator, implied during Foolish Gamers' most recent livestream that he has also now seen Dream's face. Considering that Corpse Husband is generally a very private creator and he and Dream have interacted many times, this is likely true.
Popular streamer Sykkuno, who Dream has played games with many times, said that the Minecraft star "looks cool." Sykkuno also later shared on his livestream that he chose not to record a reaction so he could just enjoy saying hi to a friend.
The first and only livestream reaction thus far occurred on Hasan Piker's Twitch stream. Hasan told Dream during this interaction that it was "unacceptable" how good-looking Dream is.
CaptainSparklez, who is primarily known for his Minecraft content, jokingly stated that he was the one who face revealed to Dream during their FaceTime call.
Youtuber, rapper, and member of the Sidemen group KSI shared a short clip of Dream revealing his face to him.
After days of fans joking that they would like to hear Callahan's reaction, the voiceless and faceless creator shared a blank message. Callahan is a very close friend of the Dream Team and helps code almost everything they do. Thus, this tweet implies that he has also now seen Dream's face.
Singer and TikTok star Bella Poarch jokingly told Dream "you should've kept the mask on" upon seeing his face.
MatPat, who is mostly known for being the creator and narrator of the YouTube Game Theory series, told Dream to "put the mask back on because there are too many good-looking gamers out there."
After Dream did all of these personal FaceTime calls, one fan created an edit of all of them together and noted how interesting it is that all the creators gasp in shock at about the same time upon seeing Dream's face for the first time.