Another major update is coming to MTG Arena on May 23, and it's free of controversy—for the most part.

Several positive features are being added in the May state of the beta update for MTG Arena. From stained-glass planeswalker card style rewards to changes in the format for special events, Magic: The Gathering continues to progress forward within the digital gaming frontier.

MTG Arena event and reward changes

Special events like Momir and Cascade Constructed on MTG Arena usually cost 250 in gold or 50 in gems to play, allowing for two losses in a five-win tournament-style format. Rewards for these events vary, depending on the time of year, from gold to special card styles.

Starting May 23 with the state of the beta update, these special events will have a whole new win/loss and reward structure with no entry fee.

Eliminating the entrance fee for special events on MTG Arena is a positive move for Wizards of the Coast. It shows that someone is listening since many fans have spoken up about entry fees for special events. The move to remove fees is also geared toward free-to-play players, who often get ignored or outranked by those who spend money.

In addition to not having to pay an entry fee anymore, players no longer get bumped from special events after multiple losses. In the past, two losses typically meant a player was done and would have to pay to play the event again.

Working in conjunction with no losses, there's a new reward system for wins. Zero to three wins will earn a player a War of the Spark planeswalker stained-glass card style, along with nine and 15 wins during the months of May and June. Gold will be awarded in the six and 12 win slots, but the amount rewarded is unknown at this time.

MTG Arena special event dates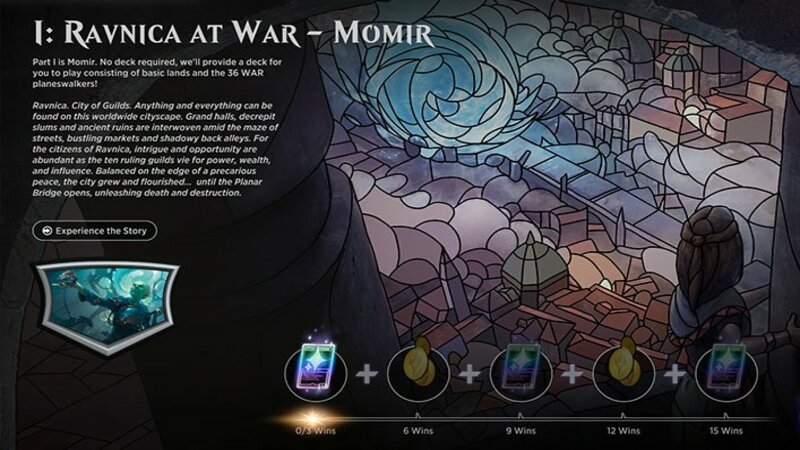 A five-part War of the Spark Chronicles event will take place from May 23 to June 28. Each special event will run for a week and feature a variety of popular formats, like Pauper and Singleton. The events are designed to highlight important parts of the War of the Spark story on Ravnica. Rewards from the Chronicles event are stained-glass planeswalker card styles.

Chronicles part one: Ravnica at War (Momir Planeswalkers, May 23 to May 31)
Chronicles part two: No Escape: (Pauper, May 31 to June 7)
Chronicles part three: Storm the Citadel (Singleton, June 7 to 14)
Chronicles part four: Commence the Endgame (Counters, June 14 to 21)
Chronicles part five: Gideon's Sacrifice (Ravnica Constructed, June 21 to 28)
May MTG Arena updates

In an effort to continue to improve the state of the beta, MTG Arena is updating the best-of-three format with a clock. Each player is allotted 30 minutes per match, meaning a match will never exceed 60 minutes. The first player to run out of time is hit with a loss for the match.

Drawing out matches is a common way for some players to earn wins, forcing their opponents to concede out of frustration. And while it's great that the best-of-three format now has a clock, it would also be nice to see one in best-of-one matches.

In addition to the clock, basic lands illustrations are now available for all Standard expansions and the Mythic Qualifier weekend starting May 25. The top 1,000 players in Mythic ranking at the end of last season have a chance to battle for open slots in the upcoming Mythic Championship III.
Although it's too late to get in on this qualifier now, another will likely take place in the fall for those who wrap up the current season in the top Mythic 1,000.