It must be a holiday because Magic: The Gathering War of the Spark has launched early on MTG Arena—and the full patch notes for the new expansion became available earlier than expected.

MTG War of the Spark is the most ambitious expansion ever released by Wizards of the Coast. From 36 planeswalkers to God-Eternals and zombie armies, it'll affect every format being played.

On MTG Arena, all 264 cards from the expansion are available and can be unlocked with a wildcard. In addition, Tezzeret, Master of the Bridge (buy in a box promo card), and all cards from the Gideon and Jace planeswalker decks are also available to be unlocked with a wildcard.

In addition to all of the other goodies, players who are subscribed to Twitch Prime can unlock a free Boros pre-constructed deck starting April 25.
Planeswalkers and Auto-Tap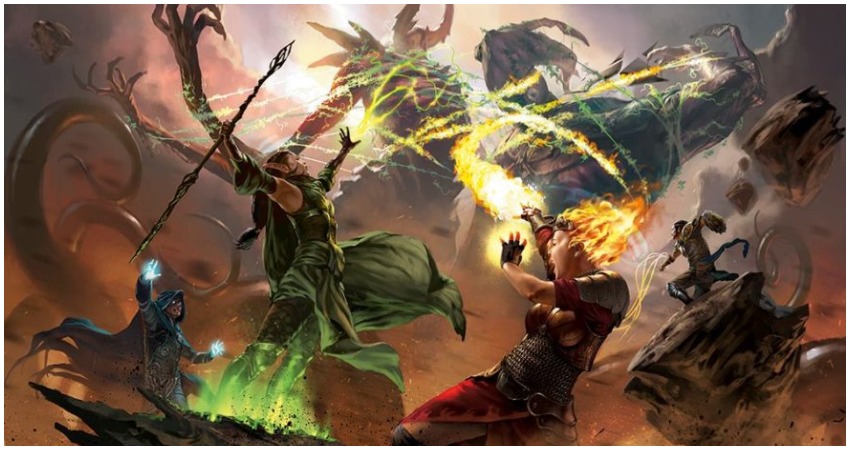 Speaking of planeswalkers, there are a few new gameplay mechanics to know about them. When a player presses "attack all" and there's a planeswalker on your opponent's board, the player must select targets. In addition, an indication (highlighting) on planeswalkers will now remind players if the planeswalker has any activations left on it before ending turn. When all the activations are used, the loyalty box will turn grey.

Improvements have also been made to the auto-tap feature. There's now a button when auto-tap is turned off that will allow a player to see which lands will be tapped if they choose to auto-tap. But players can continue to manually tap lands, creatures, and artifacts on their own. If playing with auto-tap on, the algorithms have been improved.

Interface changes

To improve cards in a stack, MTG Arena has made several adjustments. Cards that can't be countered will show a red border in the stack. If there's a card in the stack that needs to target or select another card, the stack will auto-collapse so players can read and identify cards easier. When targeting a stack of blocking creatures, players can hover over the stack to fan it out.

The submit button when targeting a player or non-permanent will now have two colors. Prior to all target possibilities, the button will be orange. Once all possibilities are made, the button will turn to blue.

There's also a new process for removing counters from cards.
Click on the counter to select it to be removed.
Multiple counter removals will show the counters off to the left.
Click on any counters on the left to remove if you change your mind.
Updates for events in MTG Arena

Special events such as Pauper and Singleton will use a matchmaking rating, along with a win/loss record when pairing up matches. In the algorithm, the win/loss record will be the dominant decision maker. This will also include streamer events and others like the Momir tournament.

Two constructed events have new banned cards. Gates Ablaze is now a banned card in Ravnica Constructed events. Several other cards have also been banned for Cascade Constructed. These cards are Lavinia, Azorius Renegade, Nexus of Fate, and Teferi, Time Raveler.

Additional bug fixes

Bug fixes are annoying, and can sometimes take longer to fix than gamers want. MTG Arena devs pay attention to the problems that players experience and have resolved some of the bigger issues.

The jitter effect should no longer happen to card styles as phases progress.
Using the escape key will now close the option menu.
Card sleeve bug has been fixed and the sleeves should now display correctly.
The dreaded concede while taking lethal damage bug has been fixed and will no longer result in losses for multiple matches.
A full copy of the MTG Arena patch notes can be found on the Magic: The Gathering website forums. MTG War of the Spark is set to release in card form on May 3. Pre-release will take place from April 26 to 28 in conjunction with Magic: The Gathering's second Mythic Championship in London.