The 2022 Magic World Championship was played on MTG Arena in Las Vegas during the 30-year anniversary event, featuring the top 32 Magic: The Gathering players from around the globe competing in multiple formats.
Taking place from Oct. 28 to 30, the 2022 Magic World Championship had a total prize pool of $500,000 and was played live in Las Vegas on MTG Arena. Players competed in a total of three formats: Standard, Explorer, and Dominaria United (DMU) Draft. The Swiss rounds showcased gameplay in all three formats. And the playoffs featured only Standard through a double-elimination bracket.
Here were the 32 MTG players competing at Magic Worlds.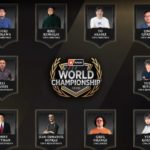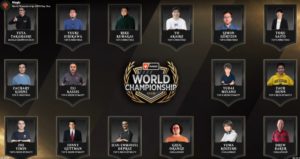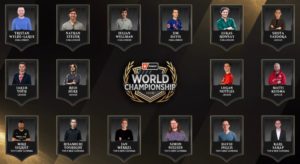 | | | | |
| --- | --- | --- | --- |
| Yuta Takahashi | Yuuki Ichikawa | Eli Kassis | Simon Görtzen |
| Zach Dunn | Riku Kumagai | Zachery Kiihne | Toru Saito |
| Jean-Emmanuel Depraz | Yo Akaike | Jonny Guttman | Yudai Miyano |
| Simon Nielsen | Jan Merkel | Hisamichi Yoshigoe | Mike Sigrist |
| Karl Sarap | David Inglis | Shota Yasooka | Reid Duke |
| Logan Nettles | Matti Kuisma | Gregory Orange | Yuma Koizumi |
| Jakub Tóth | Tristan Wylde-LaRue | Nathan Steuer | Jim Davis |
| Julian Wellman | Drew Baker | Lukas Honnay | Zhi Yimin |
Oct. 28 MTG Worlds standings
Day one of the Magic World Championship began with three rounds of the DMU Draft. Players were placed in pods of eight to draft, and unlike the best-of-three Premier Draft on MTG Arena, the players competed against competitors within their pod.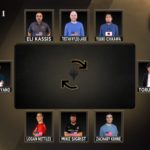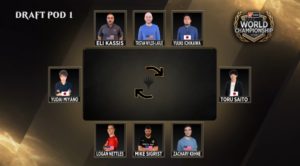 Team Swan dominated the Limited portion of Magic Worlds, with Nathan Steuer, Jonny Guttman, Julian Wellman, and Tristan Wylde-Larue going 3-0 during the DMU Draft rounds.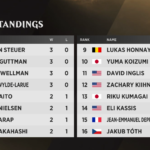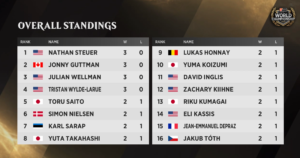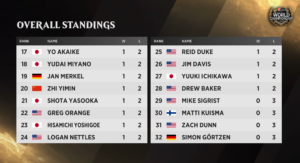 Following the three rounds of DMU Draft, players competed in five Swiss rounds of Standard Constructed. Wellman and Steuer continued to dominate, competing with off-meta decks that challenged the popular Esper Midrange builds.
Related: Off-meta decks challenge Esper MIdrange at Magic World Championship
Also rising to the top of the leaderboard during the Standard Constructed Swiss rounds at MTG Worlds was Jean-Emmanuel Depraz with his Mono-Blue Tempo deck. Following a total of eight rounds played, Wellman and Steuer were co-leaders with 7-1 records. And close behind them were Depraz, Tóth, and Sarap with 6-2 records.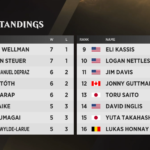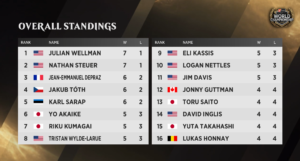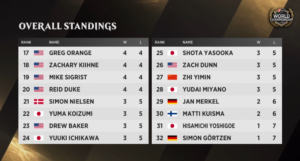 Of the 32 total players, only Görtzen and Yoshigoe had no chance of advancing to the playoffs on day three at the Magic World Championship.
Oct. 29 MTG Worlds standings
A total of six Swiss rounds were played during day two of MTG Worlds in the Explorer Constructed format. Only four players advanced to the playoff finals, earning a total of 11 match wins between days one and two.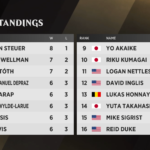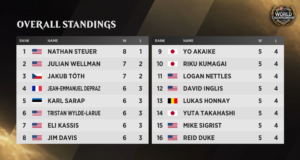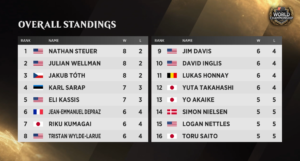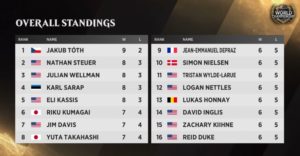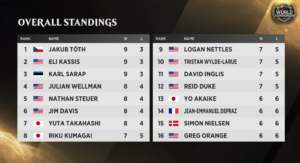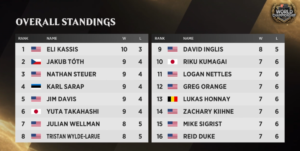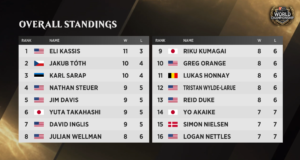 Mono-Blue Spirits was the deck everyone was watching after round one, with veteran players like Davis, Kassis, Duke, and Sigrist all earning wins with the deck. Steuer advanced to 8-1 after beating Wellman, who was tied for second with Tóth.
Halfway through day two, Tóth had taken over the leaderboard with a 9-2 record. And a total of four players were also chasing those top four spots with 8-3 records: Steuer, Wellman, Sarap, and Kassis. Kumagai, Davis, and Takahashi were at 7-4. The players who were in ninth to 16th all had 6-5 records, leaving the field wide open during the final three rounds of Explorer Constructed during day two at MTG Worlds.
Heading into the final round of day two, Eli Kassis locked up the first top-four slot for the day three playoffs. The second player to make top four was Karl Sarap, defeating the defending MTG World Champion, Yuta Takahashi. Yakub Tóth was the third player to lock, defeating teammate Jim Davis in a Mono-Blue mirror.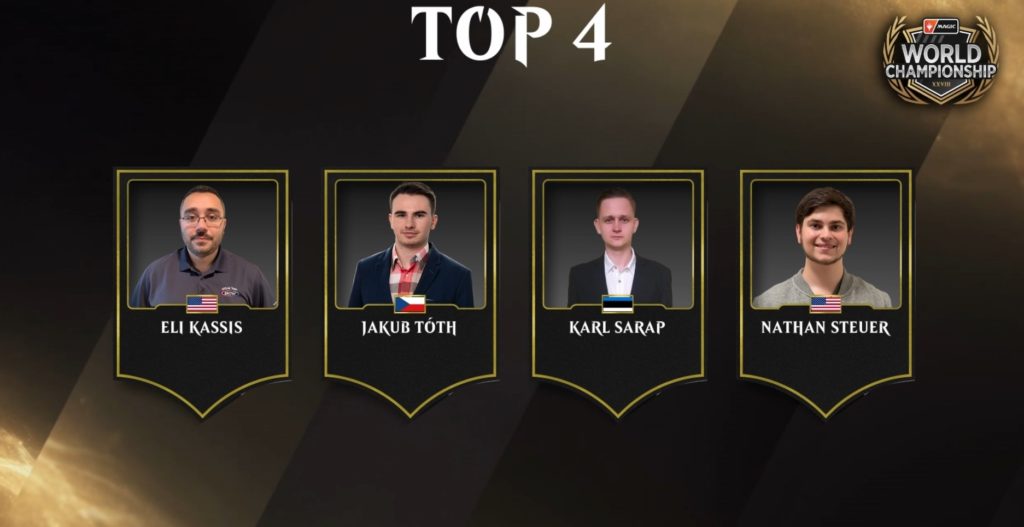 Nathan Steuer was the fourth player to lock into the top four, despite losing to Kassis in round 14. Steuer won the tie-breaker, beating out Davis, Takahashi, and Inglis.
Oct. 30 MTG Worlds standings
Day three of the 2022 Magic World Championship featured four players in a double-elimination playoff bracket. The format for the day was Standard Constructed with Steuer as the only competitor not playing Esper Midrange.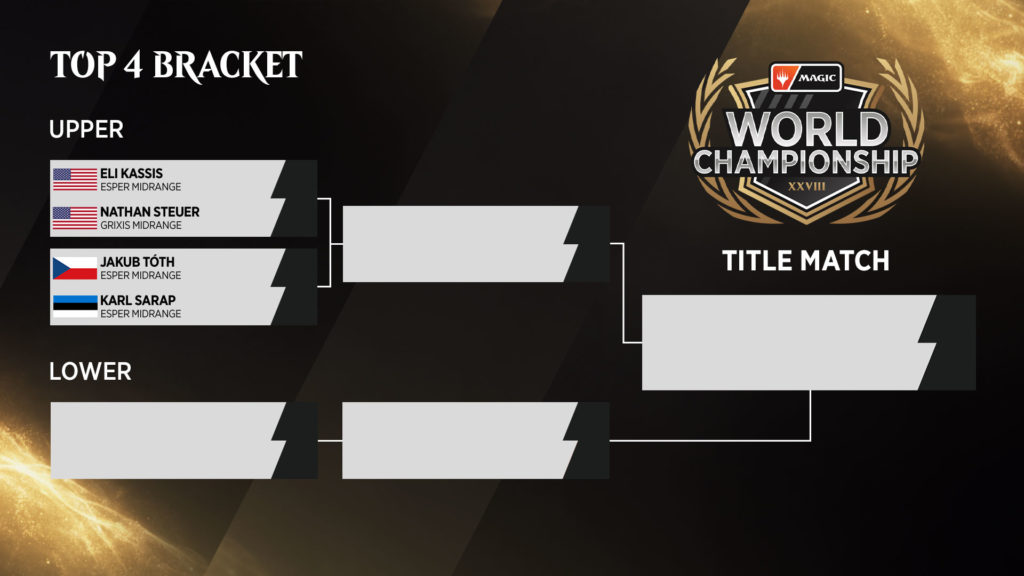 Eli Kassis: Esper Midrange
Nathan Steuer: Grixis Midrange
Yakub Tóth: Esper Midrange
Karl Sarap: Esper Midrange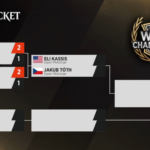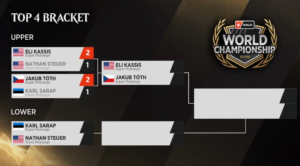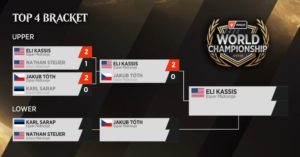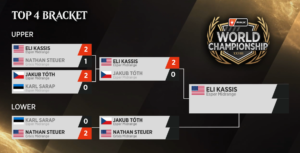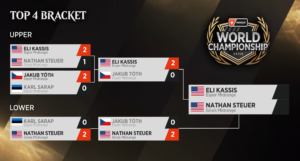 Kassis and Steuer faced off first, followed by Tóth and Sarap. Steuer fell to Kassis and Tóth won against Sarap, while Kassis advanced to the final match with a win over Tóth. In the lower bracket, Steuer ran over Esper Midrange with his Grixis Midrange deck. Steuer beat both Sarap and Tóth, advancing to the final match for a rematch against Kassis.
Related: Steuer overcomes Kassis history to win 2022 MTG World Championship
The final match was played in best-of-three matches, not games. Prior to the final, Steuer called that it would go a full nine games.
After six games Kassis and Steuer were tied, each having a match win. The final match went a full three, totaling nine, with Steuer earning his first World Championship.
---
All images via WotC.