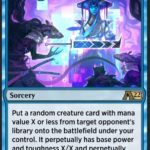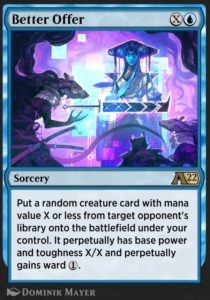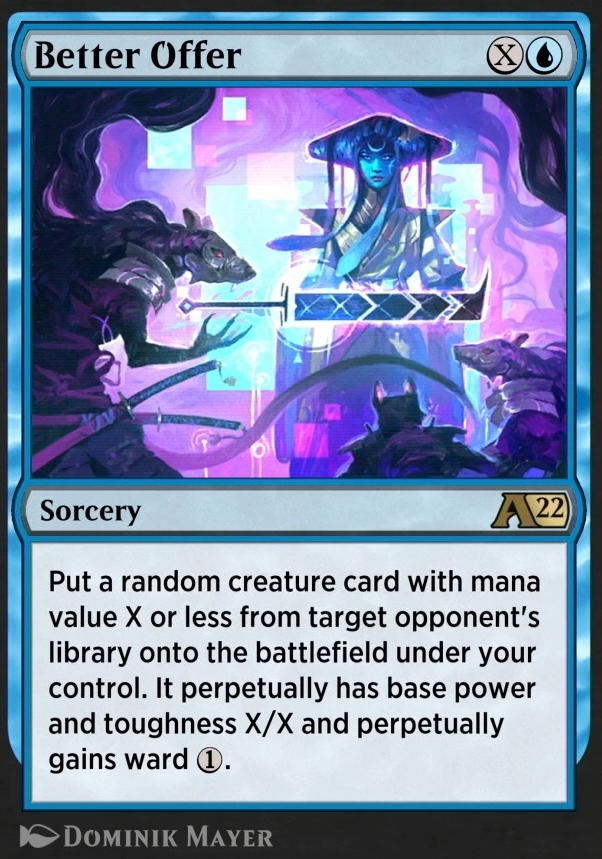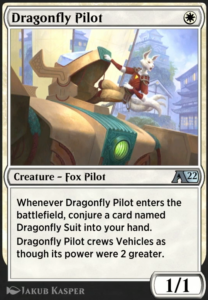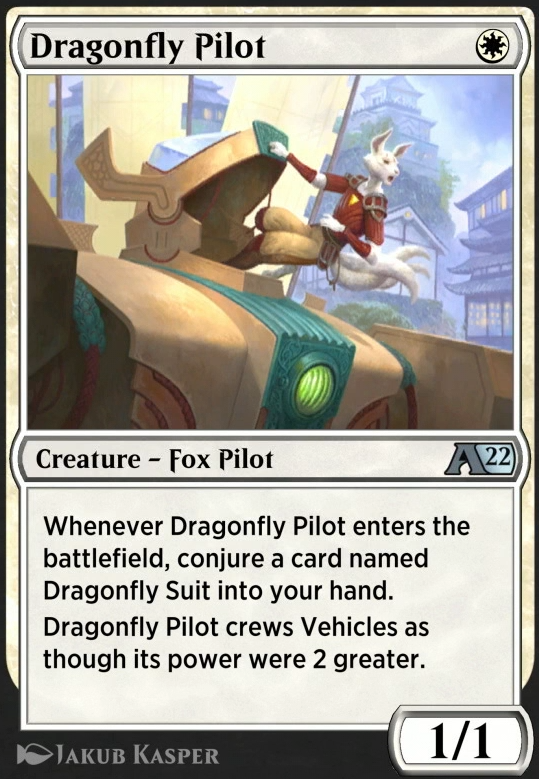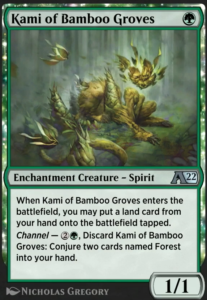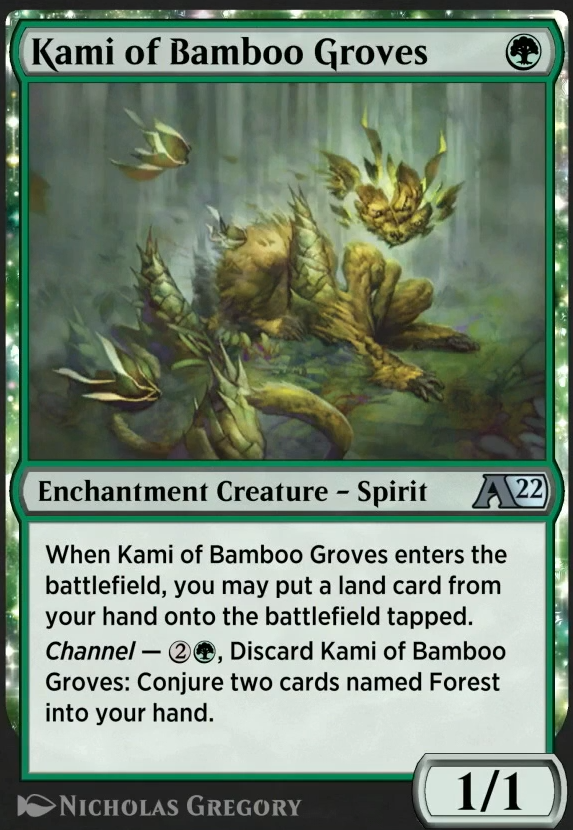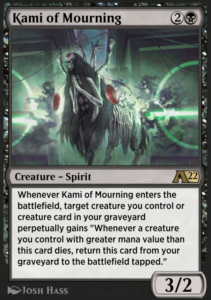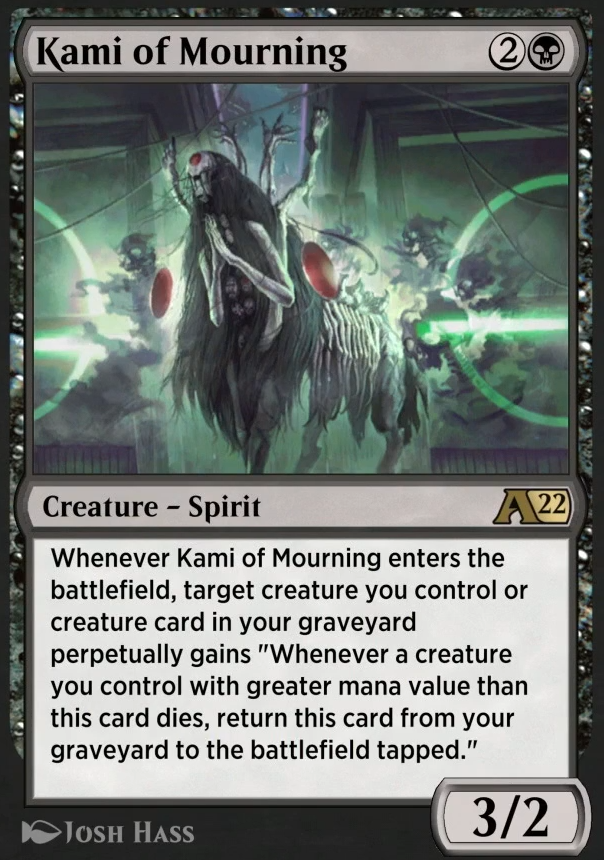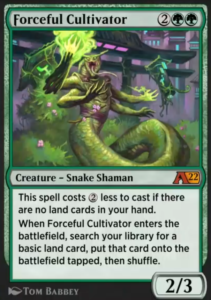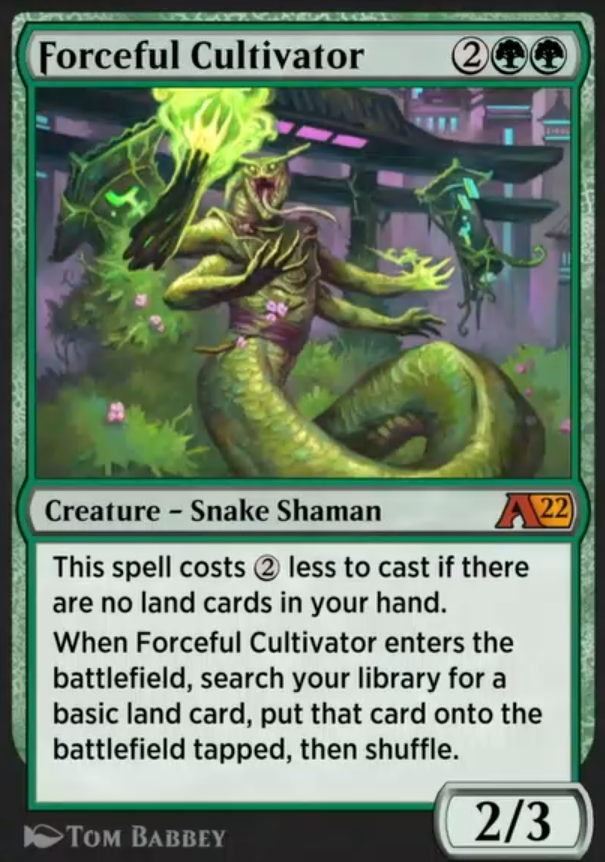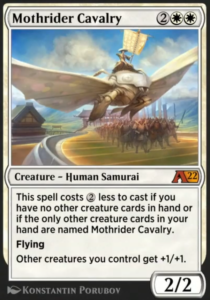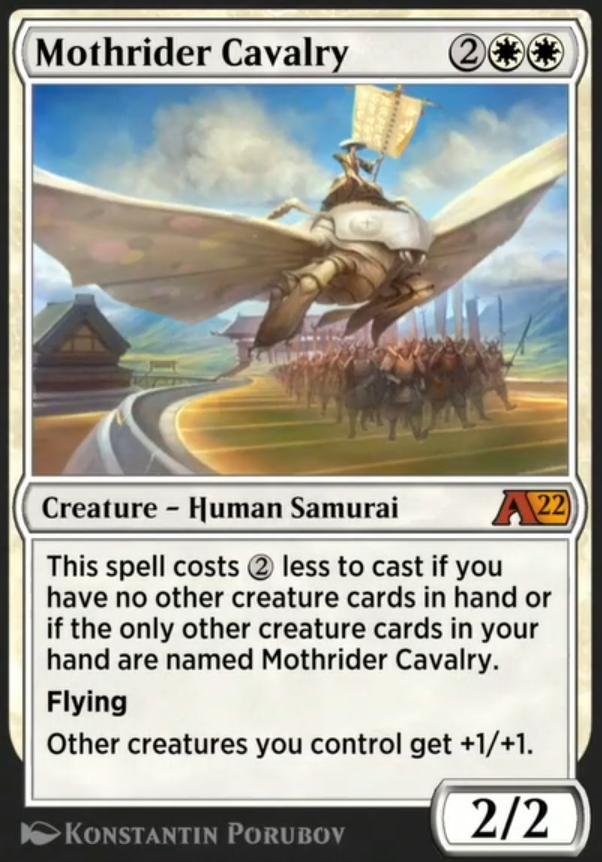 Wizards of the Coast has revealed new Neon Dynasty: A22 cards amid the double-elimination playoff bracket at the NEO Championship that showcased the Magic: The Gathering digital format Alchemy. 
Orzhov Venture and Grixis Midrange were the two standout MTG Alchemy decks at the NEO Championship following the release of Innistrad: A22 and two rounds of balance changes. WotC dropped several Neon Dynasty: A22 spoilers during the final day of the tournament, showcasing what the new digital format on MTG Arena will look like going forward.
Here's the new Neon Dynasty: A22 cards revealed during the NEO championship.
Dragonfly Pilot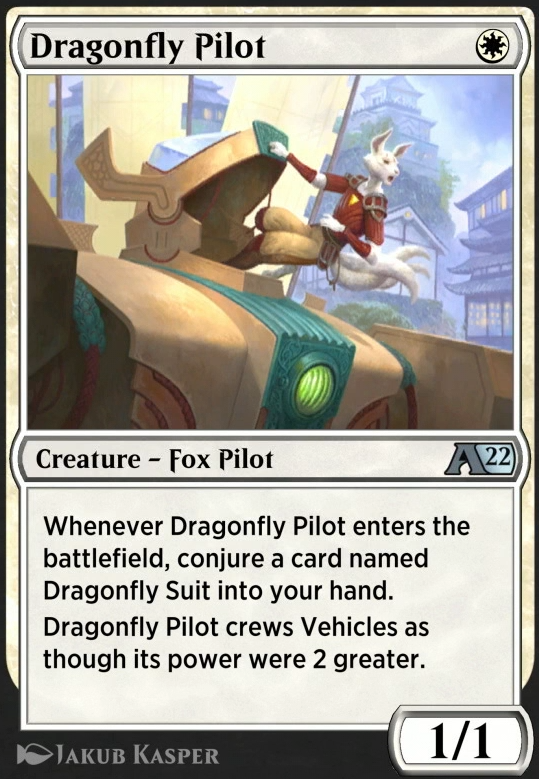 CMC: W
Type: Creature—Fox Pilot
Rarity: Uncommon
Stats: 1/1
Ability: Whenever Dragonfly Pilot enters the battlefield, conjure a card named Dragonfly Suit into your hand.
Ability: Dragonfly Pilot crews vehicles as though its power were two or greater.
Vehicle decks in the Alchemy format got a slight buff from Dragonfly Pilot, able to crew up the Artifacts easier while also conjuring the NEO Vehicle Dragonfly Suit to hand.
Kami of Bamboo Groves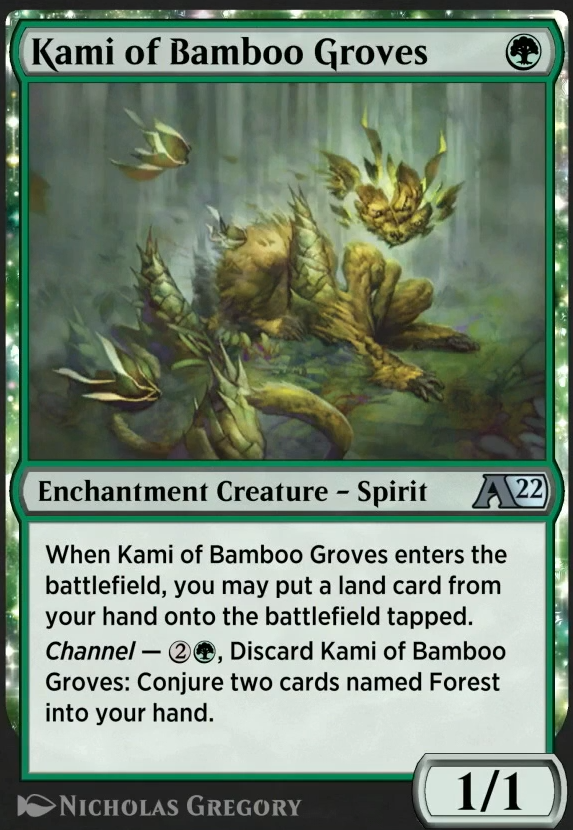 CMC: G
Type: Enchantment Creature—Spirit
Rarity: Uncommon
Stats: 1/1
Channel: Pay 2G, discard Kami of Bamboo Groves and conjure two cards named Forest into your hand
ETB ability: When Kami of Bamboo Groves enters the battlefield, you may put a land card from your hand onto the battlefield tapped.
Ramping in Green just got a lot easier via Kami of Bamboo Groves, a solid one-drop in any Alchemy MTG deck that wants to ramp into bigger creatures quickly.
Better Offer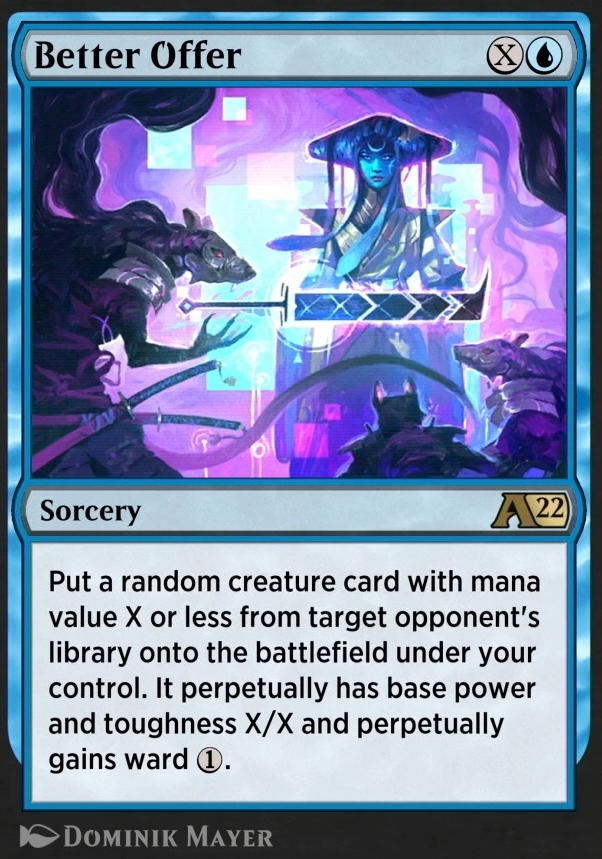 CMC: XU
Type: Sorcery
Rarity: Rare
Ability: Put a random creature card with mana value "X" or less from the target opponent's library onto the battlefield under your control. It Perpetually has base power and toughness X/X and Perpetually gains Ward one.
Similar to the MTG card Bribery, Better Offer incorporates the digital-only mechanic Perpetually that determines the power and toughness based on the amount of mana spent to cast the Sorcery card. It also has Ward for protection.
Kami of Mourning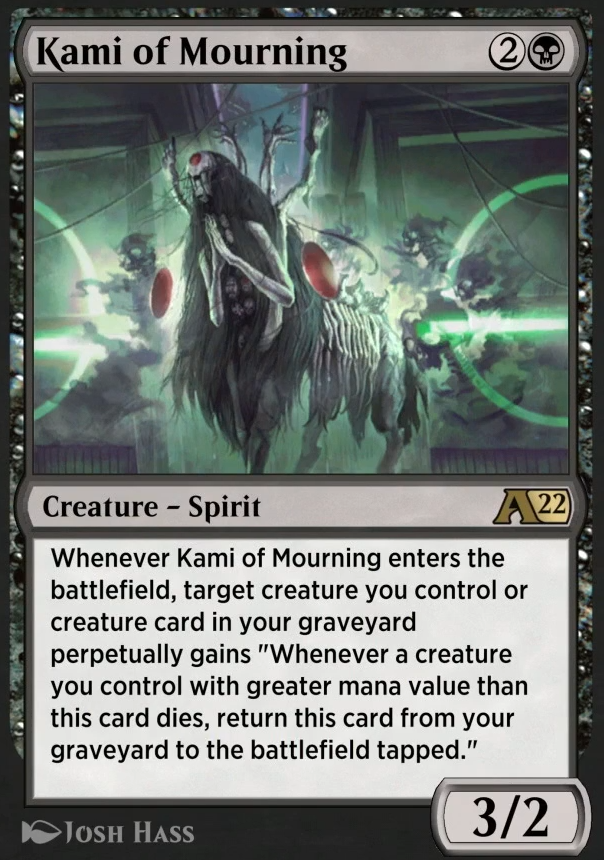 CMC: 2B
Type: Creature—Spirit
Rarity: Rare
Stats: 3/2
Ability: Whenever Kami of Mourning enters the battlefield, target creature you control or creature card in your graveyard Perpetually gains "Whenever a creature you control with greater mana value than this card dies, return this card from your graveyard to the battlefield tapped."
Kami of Mourning has potential within sacrifice and spirit builds via its powerful ETB effect that can reanimate creature cards from your graveyard to the battlefield.
Forceful Cultivator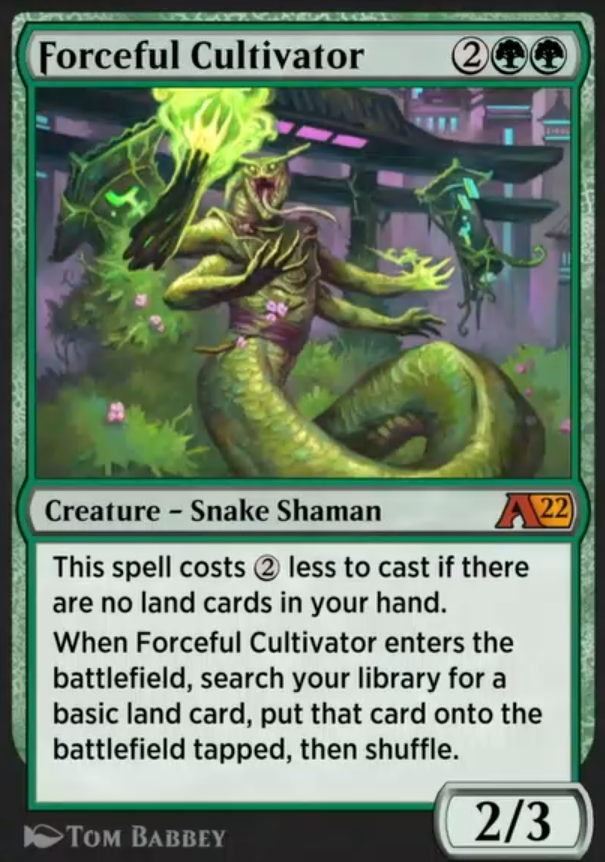 CMC: 2GG
Type: Creature—Snake Shaman
Rarity: Mythic Rare
Stats: 2/3
Passive Ability: This spell cost two less to cast if there are no land cards in your hand
Ability: When Forceful Cultivator enters the battlefield, search your library for a basic land card, put that card knot the battlefield, then shuffle.
Forceful Cultivator is a solid 2/3 creature that can enter the battlefield for only two mana that finds a basic and puts it directly onto the battlefield tapped.
Mothrider Cavalry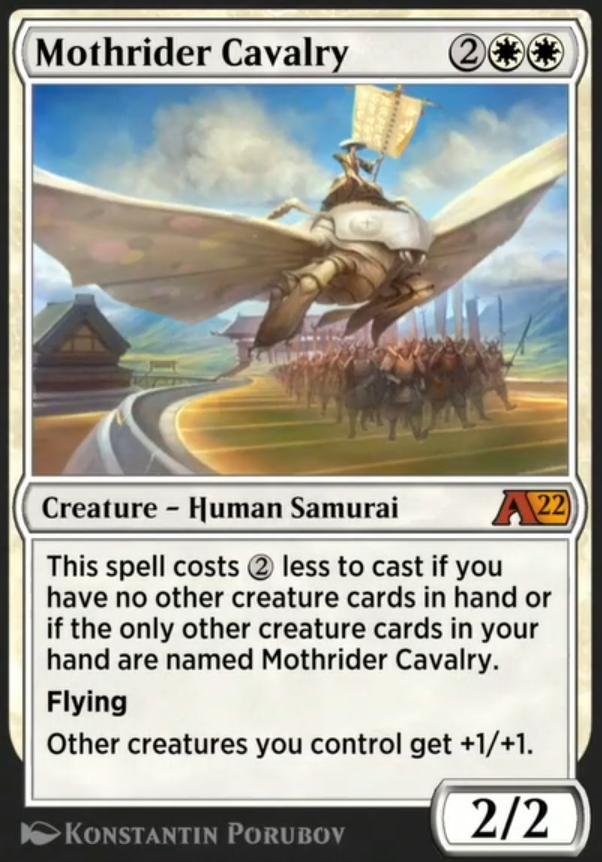 CMC: 2WW
Type: Creature—Human Samurai
Rarity: Mythic Rare
Stats: 2/2
Keyword: Flying
Passive ability: This spell costs two less to cast if you have no other creature cards in hand or if the only other creature cards in your hand are named Mothrider Cavalry.
Ability: Other creatures you control get +1/+1
Mothrider Cavalry is an interesting White midrange creature that can drop onto the battlefield at a cost of only two mana. The human samurai in MTG Alchemy also has Flying and pumps the team when on the battlefield.
---
All cards Neon Dynasty: A22 cards will become available via MTG Arena on March 17.
Images via WotC, Magic: The Gathering.