With two full seasons of LCS play behind us, and the majority of LCS teams settled in to build chemistry with their new acquisitions (hard stare at Evil Geniuses, Fnatic, and LMQ) , it seems like an excellent time to take a look at the history of roster swaps and the effects they've had on the competitive landscape. For all roster changes, I'll be referencing the tables seen below. The bolded names in each table are new players on each team since the previous split.
A brief explanation of how these tables are read:
-Bolded players are new compared to the previous split's lineup (For example, BloodWater is bolded for Vulcun in the Summer Split table, despite having played with them for a large part of the spring split as well as the spring playoffs)
-Role swaps (e.g. Chauster to support) are counted as new players.
-Teams which played a significant number of games using a different lineup are footnoted like so: [X]
-Different lineups will have different records listed in the "Final Record" column
After each table, I've included brief season capsule reviews for each team, with the team name bolded to lead the section. In these capsules, I've highlighted important moments, events, or developments that effected the team in that split.
Overall, I've tried to write this piece as both a reference for veteran LCS fans as well as an accessible history of LCS teams for newer fans. The EULCS Season 3 recap will be coming out in the next couple days, followed by the Season 4 recaps after that and finally a look at the rosters and predictions for spring of Season 5 as the LCS start date. I've had a tremendous amount of fun looking back to write this, and I hope that it's as much fun to read. Also, I am immensely indebted to the Leaguepedia staff, my editor Ryan Tang of Goldper10, and especially the good folks at /r/LoLEventVODs for the assistance and information necessary to put this together. Thanks, and welcome!
Season 3 Spring Split Opening Day Rosters
The inaugural LCS split in North America saw tournament mainstays Team SoloMid (TSM), Curse(CRS), Dignitas (DIG), and Counter Logic Gaming (CLG) joined by Team Vulcun (VUL), Good Game University (GGU), Team MARN (MRN), and Complexity White (COL).
TSM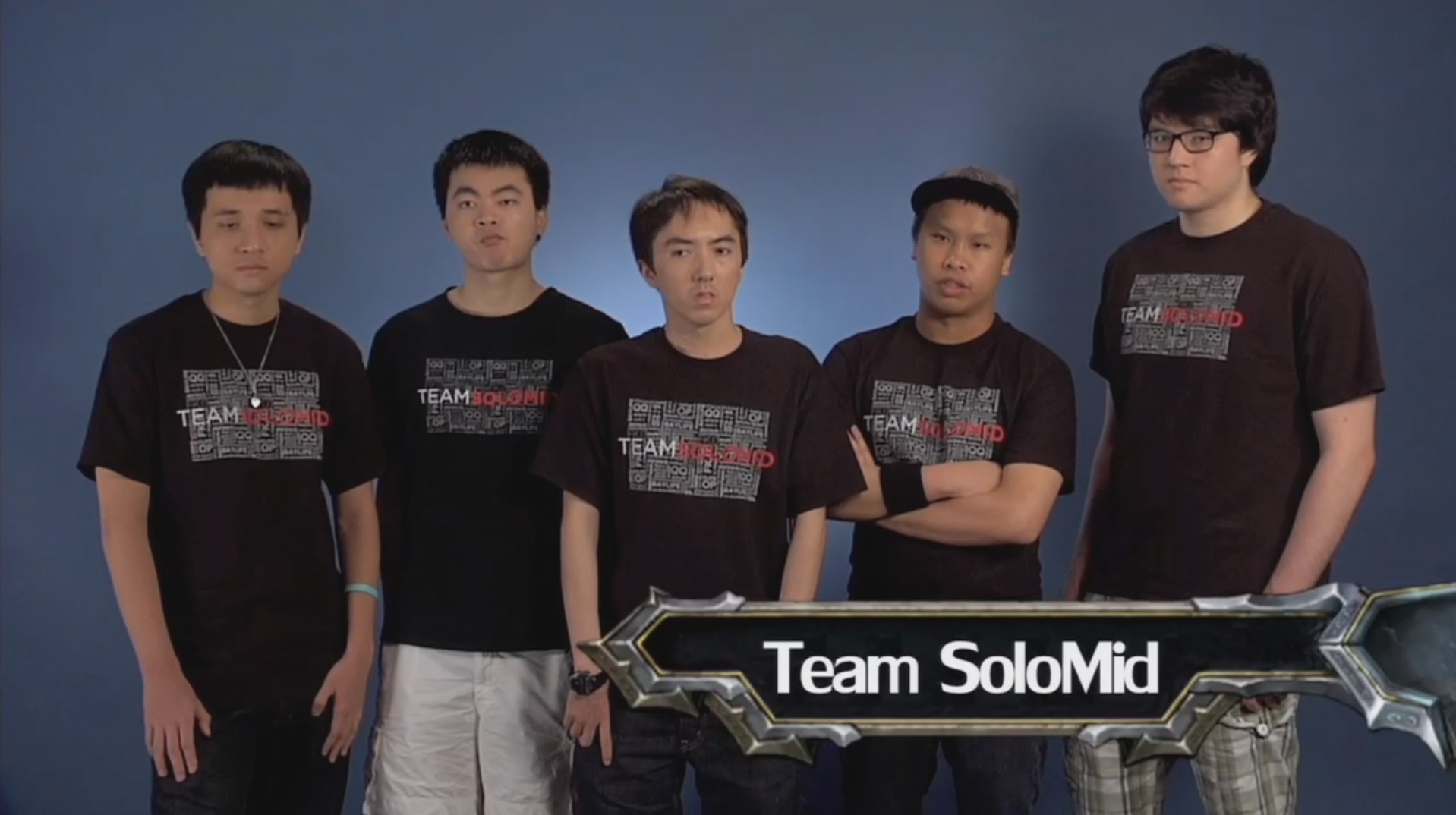 (TSM at PAX Prime 2012. Image via In2LoL.com. L to R: Chaox, Xpecial, TheOddOne, Reginald, Dyrus)
Team SoloMid, one of the longest-running and most successful North American teams, entered spring of Season 3 with a consistent roster that had been playing together for over a year. Predictably, they began the season well, carrying a 9-5 record through Week 5 of the season. Due to internal disputes, TSM then made a surprising roster move: benching longtime ADC Chaox for soloqueue star WildTurtle. Although this move was in theory on a trial basis, excellent play from both WildTurtle (scoring a pentakill as Caitlyn during Week 6) and the team as a whole (A 12-2 record from Week 6 onward) solidified it as permanent. This momentum carried through to the playoffs as well, with the first ever NALCS championship secured by a 3-2 victory over GGU in the finals.
CRS

(Top laner Voyboy. Image from Curse website)
Curse (CRS) were another of the very first North American teams. They came into LCS competition with a roster composed of three former Counter Logic Gaming stars (top laner Voyboy, jungler Sainvicious, and support Elementz) rounded out by ADC Cop and mid laner Nyjacky. They started out their season with an 8 game winning streak, and finished the regular season in second place with a 19-9 record. However, Elementz left the team before the beginning of playoffs and was replaced by newcomer Rhux. With the new lineup, Curse lost 2-1 in best-of-3 series against both Good Game University and Vulcun to finish in fourth place for the playoffs.
DIG
(Jungler Crumbzz. Image from lolesports.com)
Team Dignitas entered the Season 3 spring split with substantial roster changes from the roster they had closed out Season 2 with. Former top laner Crumbzz had moved back to the jungle to replace the suspended IWillDominate, and KiWiKiD had been acquired to play top lane. Despite this, Dignitas put together a very strong showing along the way to compiling a 17-11 regular season record. Of particular note were the early aggressive jungling of Crumbzz and solid mechanical play from ADC Imaqtpie. When the playoffs began,Dignitas were matched against the 11-17 Good Game University team and seemed primed for a solid run. However, they instead lost their quarterfinal series 2-1 (GGU were beginning an underdog run to eventually finish second) and were dropped to the Promotion/Relegation tournament, where they defeated Team Summon to maintain their LCS spot.
CLG
(Image from clgaming.net. L to R: Link, Chauster, HotshotGG, Doublelift, Aphromoo)
Counter Logic Gaming entered LCS competition as one of the premiere North American teams, but with a somewhat tarnished reputation from less-than-stellar results at the Korean Azubu: The Champions tournament and the Season 2 World Championship.Furthermore, the period of time leading up to the beginning of the Season 3 LCS saw substantial roster changes for CLG. All-world top laner Voyboy left CLG to join Curse, while the stellar Doublelift-Chauster bottom lane was broken up to move Chauster to the jungle and add first Locodoco and then Aphromoo as support. Furthermore, longtime mid laner bigfatjiji stepped down in favor of rookie Link.
The opening day lineup featured team owner/former superstar HotshotGG in the toplane, Chauster in the jungle, Link in mid, and Doublelift/Aphromoo in the bottom lane. Overall, this lineup produced mediocre results, finishing 13-15 and losing to Vulcun in the playoff quarterfinals. HotshotGG seemed very much past his splitpushing heyday, while Link battled the seeming nerves and tentativeness which effect many LCS rookies. Nonetheless, CLG were able to easily defeat Azure Cats (whose roster featured bigfatjiji) 3-0 in the Promotion/Relegation Tournament to retain their LCS spot.
VUL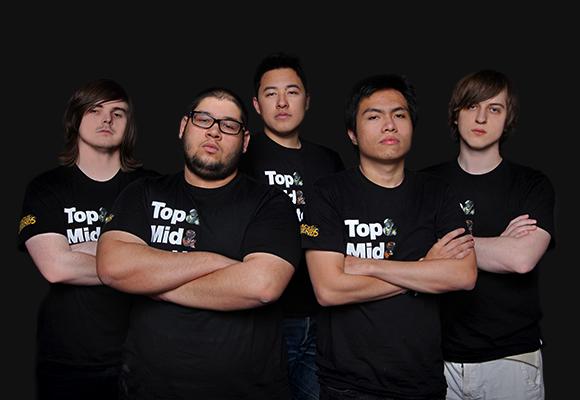 (Vulcun in their Team FeaR days. L to R: Muffinqt, Zuna, Sycho Sid, Xmithie, mancloud. Image from in2lol.com)
Team Vulcun was formed to compete in the LCS, with an original roster of Sycho Sid in the top lane, Xmithie in the Jungle, mancloud in mid, and Zuna/Muffinqt as the bot lane duo. Prior to being becoming Vulcun, they had competed under various other teams such as ApictureOfAGoose, CLG Black, and Team FeaR. They became known primarily for their ADC Zuna's aggressive play and loud personality as well as the huge champion pool of their mid, mancloud. Although they began the season with a poor 7-13 record, prior to Week 8 support BloodWater was acquired from Good Game University to replace Muffinqt. He was to prove a substantial upgrade, as the team finished the season with a respectable 5-3 run to secure fifth place. In the playoffs, Vulcun defeated CLG 2-1 in the quarterfinals before losing a close 2-1 series to TSM in the semifinals. After that loss, a 2-1 series win over Curse secured Vulcun third place overall for the playoffs.
GGU
(Top laner ZionSpartan)
Good Game University qualified for the LCS with a roster featuring ZionSpartan in the top lane, NintendudeX in the jungle, Shiphtur in mid, and DontMashMe/I am Anjo as the bottom lane duo. Prior to being known as GGU, the roster competed under the Team Dynamic aegis. The spring split almost immediately saw multiple roster changes occur, though. After competing in Week 1 with the original roster, BloodWater replaced I am Anjo at support. Furthermore, after Week 1 it was determined that midlaner Shiphtur was ineligible to play in the LCS due to visa troubles. In Weeks 2 and 3, ZionSpartan was moved to mid and Fat substituted in the top lane. Week 4 saw the debut of a new substitute midlaner, Jintae, and ZionSpartan's return to top. Finally, Daydreamin replaced BloodWater as support beginning in Week 8.
At the end of the regular season, GGU had amassed a less-than-stellar 11-17 record. However, this was still a good enough record to qualify for the playoffs and they made every bit of that chance. Shocking the entire competitive scene, GGU defeated Dignitas 2-1 in the quarterfinals and Curse 2-1 in the semifinals before falling in a close 3-2 final to TSM. Although this playoff run was certainly impressive, there were significant questions going forward about how much of a role luck played in it. Nevertheless, jungler NintendudeX showed quite a bit of promise, as did top laner ZionSpartan, and with the return of Shiphtur imminent the future of GGU seemed very bright indeed.
MRN
(The Week 1 MRN roster. Image from team-dignitas.net
Team MARN was formed by Marn, a professional fighting-game player. They opened the split with a respectable 4-5 record before running into lineup problems during Week 5's MLG Dallas. From Week 6 forward, Nientonsoh was the starter at ADC, while HeartbeaT moved to support and AtomicN was moved to a substitute position. Although Nientonsoh proved to be one of the best ADCs in North America, the rest of the team fell off to the point that other teams would elect to ban multiple champs against just Nien. Finishing the season on a 6-10 run with the new lineup, MRN finished in seventh place and were sent directly to the Promotion/Relegation Tournament, where they lost a close 3-2 series to Velocity E-Sports and therefore their LCS spot. MRN disbanded shortly thereafter.
COL
(Who is this? Image from VoD)
Complexity began their LCS run with an unfortunate 4-14 record, although many of their games were fairly close and it is possible that with some different luck it could have been substantially different. After Week 7, Chuuper was moved to a sub position and Pr0lly was named the starter in mid. Although their record with Pr0lly was a more-encouraging 5-5, this was not enough to pull them out of last place with a final record of 9-19. Additionally, as the last place team, Complexity was unlucky enough to be matched against the strongest challenger team- Cloud 9. After a 3-0 defeat, Complexity's roster was released.
(S3 Summer is after the page break)
Footnotes
[1] WildTurtle replaced Chaox at ADC after Week 5.
[2] VUL replaced Muffinqt with BloodWater (ex-GGU) in Week 8.
[3] Fat subbed for ZionSpartan in the GGU top lane during Weeks 2 and 3. BloodWater replaced I am Anjo at support in Week 2. Week 4 marked Jintae's debut in the mid lane as well as ZionSpartan's return to the top lane. In Week 8, Daydreamin replaced BloodWater as support.
[4]In Week 5, MRN deployed a lineup with HeartbeaT in mid in place of ecco and MeyeA at ADC for their first game. In their second and third games, Nientonsoh made his debut in mid with HeartbeaT returned to ADC and M eye A returned to COL. In Week 6, ecco returned to mid, Nientonsoh took over as ADC, and HeartbeaT replaced AtomicN as support.
[5] Pr0lly took over from Chuuper in COL's mid lane spot in Week 8
Season 3 Summer Split Opening Day Rosters
The North American landscape changed significantly in the summer of Season 3. Erstwhile titans TSM slid all the way back to .500 from their completely dominant run to close out the spring split (which included taking the championship), while Team Vulcun came out of nowhere to finish in second place and claim a spot at the Season 3 World Championship. The Promotion/Relegation Tournament also delivered two highly memorable new teams to the LCS: Cloud 9 (C9) and Velocity E-Sports (VES).
C9
(L to R: Sneaky, LemonNation, Balls, Meteos, Hai, analyst Charlie, team owner Jack. Image from iBuyPower website)
Of course, the most important story of the split was the meteoric rise of Cloud 9. Fresh off a 3-0 dumpstering of Complexity White to claim their spot, C9 immediately flexed their muscle and put the rest of the region on notice. Showcasing a Korean-inspired tactical arsenal heavily focused on map pressure and objective control, as well as innovating on their own (the soon-ubiquitous Ashe-Zyra lane), C9 torched the rest of the scene en route to a 25-3 regular season record and the first place title in the playoffs. Of particular note were the farm-heavy carry jungling style of Meteos as well as the shotcalling and tactical acumen of midlaner Hai. Another fan favorite was the notebook carried on stage by support LemonNation, which has been rumored to contain everything from pick/ban strategies (likely) to nothing (plausible) to the hivemind controlling the players' every move (unconfirmed).
VES
(L to R: Evaniskus, NK Inc, Vileroze, frommaplestreet, Cris. Image from Leaguepedia)
Velocity E-Sports was the other new team in the LCS, but where Cloud 9 succeeded Velocity….did not. Following a narrow 3-2 victory in the Promotion/Relegation tournament over Team MARN, they began the season well with a victory over CLG. Things fell apart very quickly after that, with their record standing at just 2-9 after Week 3. Myriad problems with both the ownership and the players came to light after the fact, including but not limited to players not showing up for practice despite living in the same house and massive chemistry problems between several different players. Their use of constant substitutions and roster changes was also evident of significant internal issues, with midlaner Vileroze electing to simply leave the team midseason to spend more time with his family. However, the most damning indictment of the entire situation was likely their final record: at 5-23, it remains the single worst split in NALCS history by a full 3 games.
CRS
(Support EDward. Image from teamcurse.net)
A very hyped roster simply did not deliver. Curse's import Edward was disappointing, and the whole roster slumped greatly from their excellent spring. Nyjacky and Saintvicious in particular looked washed-up and ineffective for large portions of the split, and concerns about the passivity of their ADC Cop followed him for much of the split.
Certainly, a portion of the fall-off could also be placed with top laner Voyboy. As legend has it, at his peak in Season 2 his play would singlehandedly get certain champions nerfed into oblivion (Olaf knows). With the shifting meta in Season 3 beginning to lead to a much more passive and tank-oriented top lane, though, Voyboy quite simply was not able to be the top lane carry he had been in seasons past, and on a team with a passive and farm-oriented mid- and ADC-like Nyjacky or Cop, this absence was noticeable.
Edward, though, may have hurt the most. As a veteran of the legendary Moscow 5/Gambit terrorsquads (the Western answer to Korea) Edward was thought to be the superstar needed to push Curse over the top. However, the Edward who showed up in America was not the one who had earned the nickname "The Thresh Prince." As Armenians go, he was expected to be Serj Tankian and ended up being that one guy at your school who played a few shows at the bar. Most glaring was his lack of warding and vision control as compared to elite supports within the region. All these factors together contributed to Curse falling to the middle of the pack….fourth place.
TSM
(Nien crushing TSM's dreams at MLG Anaheim, Week 6. Image from YouTube.)
In a similar vein, WildTurtle didn't manage to elevate TSM nearly as much as their run after his debut in spring suggested. Although undoubtedly incredibly skilled mechanically, the inconsistency of his game and tendency to go in too deep became more prevalent during this split. Although he was the only change made from the inaugural TSM LCS roster, the entire team took a solid step back and finished a full 7 games worse than their Spring Split record.
Part of this was certainly due to meta shifts, with the rise of the assassin meta (and especially Zed/Ahri) making Reginald's favored Twisted Fate and Karthus picks substantially less safe than before. However, another large factor was the shift in the larger strategic meta toward more early aggression and objective control. Historically, TheOddOne was known as a supportive, counterganking jungler who favored champions such as Cho'Gath and Maokai for the tankiness and crowd control they brought to team compositions. However, the later half of Season 3 in North America saw the rise of junglers who favored very aggressive gank/skirmish styles (Xmithie and Crumbzz) or farm-centric carry styles (Meteos). Although tank-oriented junglers were certainly successful still, the required gameplay adjustments were not as apparent until the playoffs, when TSM put up a very strong showing to reach the finals (a loss to Cloud 9).
VUL
(Mancloud secures first blood on Korean mid Dade at Worlds. Image taken from VoD)
On the other side of the ledger, very few people expected to see significant results from Team Vulcun. Despite their strong third-place showing in the spring split playoffs, Vulcun were thought to be a mid-tier team at best. Unfortunately for the predictions, with the rise of a meta favoring jungler focus on getting the mid-lane ahead as well as the addition of BloodWater's talents, Vulcun were primed to shock the LCS. Behind a record-setting number of kills from Mancloud, aggressive and solid play from Zuna, and numerous highlight moments from BloodWater (stealing Baron with a rank 1 Janna tornado among them), Vulcun finished with a 20-8 record in the regular season. Jungler Xmithie in particular took a tremendous leap forward, drawing some favorable comparisons to Samsung Ozone jungler DanDy – who was widely considered the best in the world at that time. In the playoffs, Vulcun fell 2-0 in their semifinal series against TSM before defeating Dignitas 2-0 in the third place match to secure a spot at the Season 3 World Championship.
CLG
(The sound of failure. Image taken from VoD)
CLG opted to make wholesale changes in the wake of top laner and team owner HotshotGG's retirement from competitive play. Promising AD Carry Nien was signed from the dissolved Team MARN and switched to top lane, former CLG member bigfatlp (AKA bigfatjiji) was brought in to jungle, and Chauster was moved from the jungle to again support Doublelift in place of the departing Aphromoo. In terms of record, these changes did not seem to make much of a difference. The reunited Doublelift/Chauster lane was mediocre for much of the split, with Chauster looking poor mechanically at times. Nien was understandably uneven, given that he had just been roleswapped (his game on Elise at MLG Anaheim against TSM remains one of my favorites to watch, though). At the end of the season, the team finished 13-15, an identical record to the spring split.
CST/GGU
(Mid laner Shiphtur. Image from lolesports.com)
Finally, after playing with Jintae for most of the first split due to Shiphtur's work permit issues, the rebranded Team Coast (formerly Good Game University) were able to look forward to a full split from him. Although he played consistently and showed solid mechanics as well as a good champion pool, it wasn't enough to pull CST away from slipping into relegations.
ZionSpartan in particular continued to show an aptitude for strong split-pushing and dueling, and seemed likely to be a breakout talent going forward given additional practice and time to dedicate to the game (he was still in high school at the time, and graduated near the end of the split. The common "even his teacher calls him ___" meme originated from an interview with his AP Psychology teacher aired prior to a Coast game).
As befitting a team with such a poor record, though, problems were apparent. NintendudeX slumped when forced onto more tank-oriented junglers as opposed to the carry style he had favored during spring split. The DontMashMe/Daydreamin lane also struggled, with a very passive style which allowed opposing bottom lanes to exert much more map pressure and therefore contest objectives more efficiently. Overall, the gold distribution became problematic- Shiphtur and Zion would have all the gold and therefore the game would generally be in their hands, as opposed to the more balanced style which brought them so much success as GGU.
DIG
(At least he can keep smiling. Image from VoD, first posted by Reddit user Flylighter)
Dignitas, despite making no roster changes, still finished 4 games behind their mark from the previous split. This result was powered (?) by a record-setting number of deaths by KiWiKiD and later-revealed significant synergy issues between Imaqtpie and Patoy in the bottom lane. Nevertheless, their 13-15 record was good enough to finish in the middle of the standings and qualify them for the playoffs. Although they were able to defeat Curse in their quarterfinal playoff series, they were dispatched in short order by Cloud 9 in the semifinals as well as Vulcun in the third place series.Given the significant improvement in the level of play, this seems like the result of stagnation more than anything else, but in any event it served as a signal that changes to the roster would be needed.
Conclusion
Thanks for reading! Please leave feedback here or on Reddit ( I can be reached at /u/ScrapyardSavior there). This is my first article and I'm especially looking to improve the formatting as well as adding more jokes in. Merry Christmas!