This article is brought to you by LoLwiz — The No. 1 in-game stats app.
---
The 2018 NA LCS Spring Split ended this week, and the schedule and bracket for the playoffs have been locked in.
TSM have won the last three championships, and they've never missed an appearance in the finals. With stellar performances coming out of Echo Fox, Cloud9, and the league newcomers led by Zaqueri "Aphromoo" Black on 100 Thieves this season, as well as an unprecedented rocky split for TSM, this may be the first year that TSM don't make it to the top two. If the former champions have proven anything, though, it's never to count them out.
Another new team to the region, Clutch Gaming, as well as the veteran-stacked Team Liquid, have had promising games this season, too. Due to the sheer talent at the top of the league, it's difficult to predict which team has the best shot at coming out on top, although 100 Thieves did end the split in first place.
Here's the bracket for the 2018 Spring Split playoffs.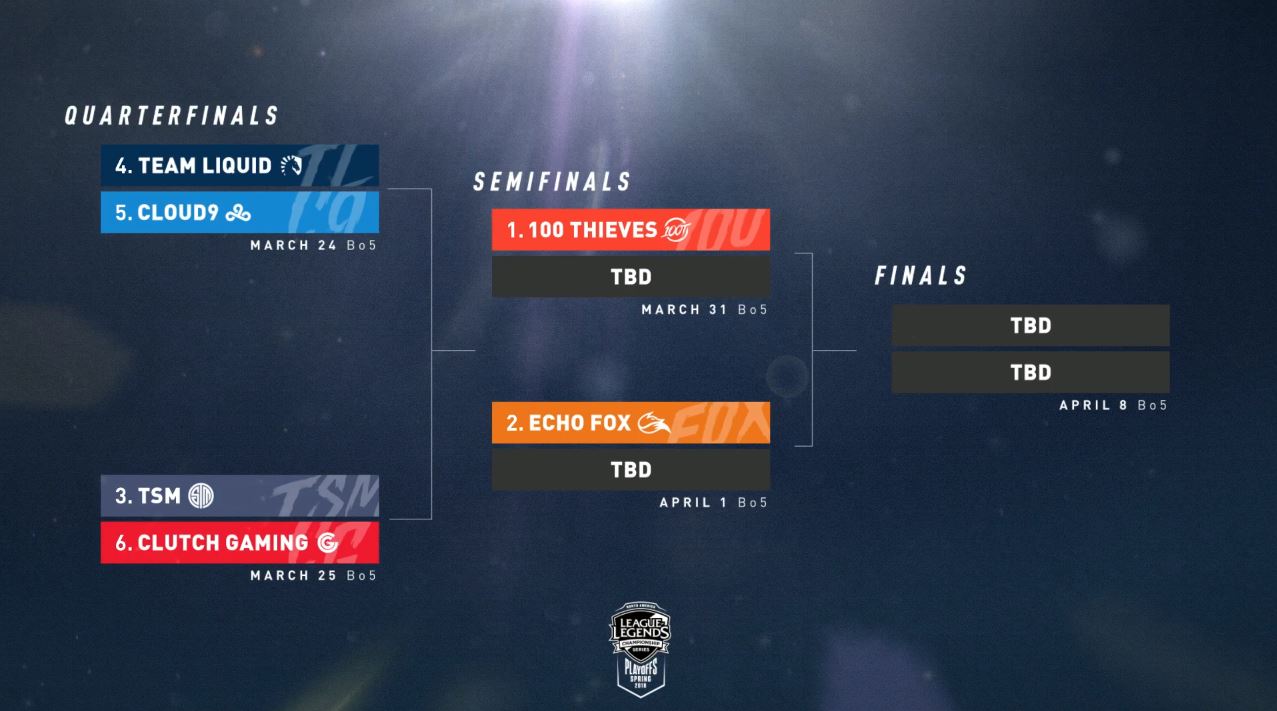 Team Liquid and Cloud9 will kick off the playoffs on Saturday, March 24, followed by TSM vs. Clutch Gaming on Sunday, March 25. The lowest remaining seed after these matches will face first-place 100 Thieves on March 31, while the other squad will earn a spot in the semifinals against Echo Fox. The third-place match and 2018 NA LCS Spring Split Finals will then take place the following weekend in Miami.
You can buy your tickets for the playoffs here.