For a lot of players, ranked can be a frustrating experience in League of Legends. Between the teammates who refuse to coordinate, the vastly different skill levels, and the odd smurf or two, you can sometimes feel like you're going backward. But there are a few champions, if mastered, that can help you beat the system and take you to the next level.
Below are five champions—one for each role—that will help you climb the ranks. They aren't all easy to learn, but they're the kind of champions you've probably already been demolished by and wondered "why are they so good?" Once you master these champions, it becomes easier to learn the mechanics of the lane (or jungle) itself and improve yourself as a player—and then the real climb can start.
With this in mind, let's break down the top five solo que champions for League's Patch 10.6.
Top lane – Wukong
Pros
Strong one-vs-one duelist
Exceptional sustain via passive
High-impact ultimate
Cons
The Monkey King is back in action after his recent rework. He has ascended to an insta pick-or-ban position from never being picked. The rework has kept the core aspects of his original kit and heavily improved them. The most notable change is the decoy, which did nothing before but now acts as an additional damaging tool, copying Wukong's abilities and dealing a ton of damage.
His newly upgraded passive gives him health regeneration and makes him a terror both in one-vs-ones and team fights.
Item build
While the reworked Monkey King has been live only for a couple of days, most players figured out the best runes, items and skill priority.The Precision tree is core since it gives you additional damage via Conqueror stacks, which you can stack quite easily. The tree also grants additional healing via Triumph and Conqueror when fully stacked, Tenacity to reduce crowd control, and Last Stand to do increased damage when low on health. The secondary Resolve tree will grant you additional tankiness via the health gained from Overgrowth and prolonged sustain via Second Wind, which synchronizes really well with your passive
Ability priority
Wukong's skill priority is R>E>Q>W. You want to max your E to be able to get onto targets more often and since it is the primary CS tool in your kit. Q max is second due to the damage granted and lower cooldown with each level, and W max is last since the increased damage from your clone doesn't matter if your abilities don't do damage. The clone will indirectly do more damage if you do more damage with your abilities since it copies them.
Game plan
Wukong became one of the strongest early game champions after his rework. The new passive, which is much more useful on lane, grants him a stacking armor and health regeneration buff. This buff combined with the runes above will make you extremely tanky and hard to kill, especially if you get 10 stacks of Conqueror.

Once you get out of the laning phase, look for opportunities around the map when your ultimate is up. You can go for a fast combo, pop ultimate, and do your combo again once basic abilities are off cooldown then use ultimate again; this will unleash devastating amounts of damage on anyone.In mid to late-game teamfights, look for out-of-position carries and try to flank them before they can react. Use your clone wisely—you can knock-up enemies with it as well. If you position it properly, you could CC an entire team even if they're split.
Jungle – Lee Sin
Pros
Extremely mobile
Insec combo
High skill cap
Cons
Gets outscaled mid to late game
Useless when behind
Lee Sin is the epitome of skill for many jungle players. Even though he received multiple nerfs, he's always found a spot in the meta. His current role is mostly focused on being an aggressive early game jungler, who secures leads for himself and his team and snowballs them to obtain even more advantage. While some junglers can just AFK farm the jungle and come out quite strong, Lee Sin needs to gank lanes to be efficient.
Item build
The Precision tree is essential on Lee Sin. It grants him damage, healing, execute damage, and attack speed, providing all-around great stats for the blind monk. The Inspiration secondary tree is taken for the additional CDR on abilities and the free boots at around 12 minutes, furtherly decreased by takedowns on enemy champions.
Ability priority
Lee Sin's ability priority is R>Q>W>E. His mobility and damaging tool is Q and should be maxed first. While some aggressive Lee Sin players go for E max second, W provides additional sustain for you and an ally and is much more beneficial, especially in games where you're behind.
Game plan
Lee Sin is one of the most mobile junglers in League. You should use this to your advantage and try to gank lanes from unexpected angles. Always carry a Sweeper Trinket to clear wards before you come for ganks. If enemies don't see you, you can easily land a Q>R onto an enemy and kick him into your teammates so that they can finish him off. While Lee Sin doesn't have the worst scaling in the world, he does get outscaled in the mid to late game, so you should focus on getting as much of an advantage as you can early on.
Mid lane – Zoe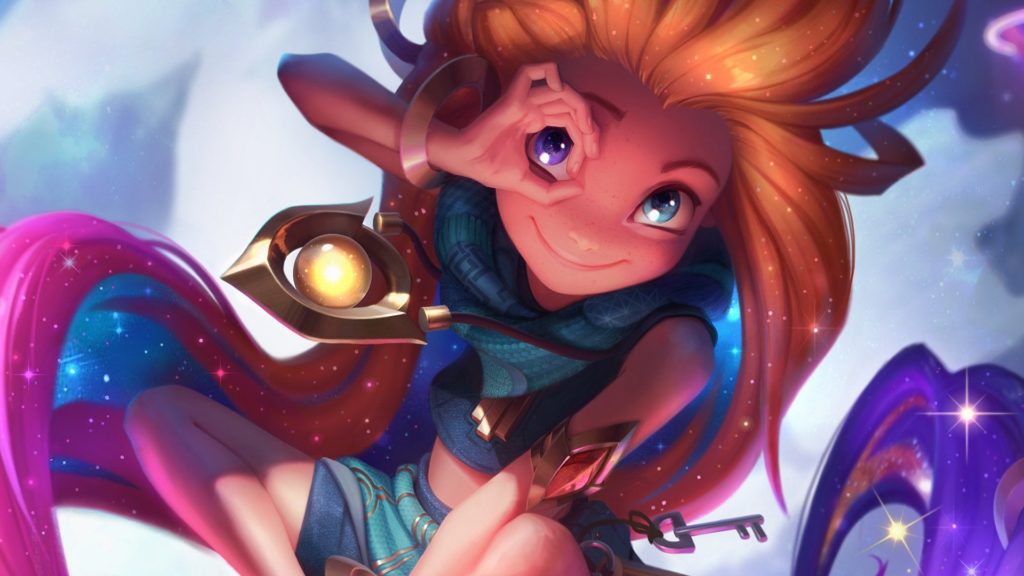 Pros
Great burst damage
Free summoners and items via W
Can delete squishy targets with one combo
Cons
No dash
Requires good positioning and awareness
Zoe is one of the strongest mid laners in the current meta. Her damage is unrivaled and she's extremely valuable during siege situations. Her combo can delete squishy champs or force them to back, giving you enough time to push for an objective. Her ability to pick up used summoner spells is unrivaled and can turn the tides of battle if used properly. There are plenty of outplays where Zoe picks up all the flashes from the ground and combo them for an extreme amount of damage in hectic team fights.
Item build
The Domination primary tree is one of the essential rune paths for Zoe. It grants everything you need: extra burst damage with Electrocute, healing to sustain yourself via Taste of Blood and Ravenous Hunter, and additional ability power after you get kills from Eyeball Collection. The secondary tree is more flexible, with some players going for Inspiration for the improved potions and Minion Dematerializer, while others go for Manaflow Band and Transcendence for the increased mana and CDR required to spam your abilities more often from Sorcery.
Ability priority
Zoe's skill priority is the following: R>Q>E>W. Q is your farm, poke, and kill pressure ability. It's important to learn how it works to maximize the damage output. While you could just throw it from your position with no pressure, it won't be as impactful if you walk backward a bit and then throw it into the wave or enemy champions.
Game plan
Spam your Q early on minions or your opponent. Try to last hit every minion with an item and use it to gain an advantage during the laning phase. Use your bubble on cooldown and follow up with auto and Q to proc Electrocute for a lot of damage. If you pick up a Redemption, look for plays around side lanes. Keep in mind that the range is quite high and you could save your allies or finish a low health opponent.
In team fights, look for a long-range, surprise bubble by using it through walls to increase the range and then follow up with an R into Q for maximum amounts of damage. If you hit this combo on squishy opponents, they'll most likely die or be able to get picked off by your teammates quite easily.
ADC – Kalista
Pros
Strong laner
Strong objective control via her E
Cons
Slows cripple her
Needs excellent orb walking
Kalista became more popular after recent buffs to her base stats. She suddenly started being picked in the top lane but has slowly transitioned to her traditional ADC role as well. While most players are using her for ADC, she's viable in the top lane as well. She's one of the best marksmen to secure objectives, which makes her a high priority in competitive play. In solo que, she's picked for her strong laning phase when coupled with a support who can peel for her.
Item build
While the Domination primary tree is preferred for top lane Kalista, bot lane Kalista prefers the Precision primary tree with access to Lethal Tempo.
The Precision primary page gives you access to two attack speed enhancing runes, Lethal Tempo and Legend: Alacrity, which allow you to stack your spears easier and do more damage in a shorter period of time. Overheal makes you tankier and less susceptible to dying before a fight starts. Coup de Grace is taken as a finisher to help you out during the laning phase to deal unexpected amounts of damage to lower health targets.
The most picked secondary page right now is Sorcery to access Nimbus Cloak and the stacking AD from Gathering Storm.
Ability priority
Kalista's ability priority depends on matchups. We recommend R>Q>E>W against squishier matchups and R>E>Q>W against tankier matchups. Both E and Q have their upsides. Q deals more upfront damage, while E deals more damage if you have the time to stack the spears on the enemy. Max W last since the bonus damage and lower cooldown is much less impactful compared to the other two.
Game plan
Try to go for trades often to proc Lethal Tempo and the bonus damage from W. If enemies engage on you during the laning phase, don't panic. Just start kiting and stacking spears. They do a lot of damage, so you shouldn't waste the cooldown if you have only one or two stacks unless it's a guaranteed kill. Try to stack some spears early on a minion then hit a few autos on the enemy champions and use your E. This will deal some poke damage while also resetting the cooldown on your E, allowing you to do the same combo again.
In teamfights, take care of your support with your ultimate, pay attention to your positioning, and play fights back to front. Don't dive in on enemy champions. You want to be the reliable damage your team needs.
Support – Leona
Pros
Great initiator
Innate tankiness
Lots of crowd control in her kit
Cons
Melee
Relies on follow-up from teammates
No get-out abilities once engaged
Leona is the epitome of an all-in champion. Once you're in, you can't back out. You get dragged into the fray with her Zenith Blade, and if it was a bad engage, you'll pay the price. But her presence is terrifying and her crowd control gives you an opportunity to keep enemies at a safe distance from the carry. Leona is the kind of support that can play the lane both aggressively and defensively. Her mere presence in the lane can force enemy laners into playing safer.
Item build
Aftershock is the go-to rune for tank supports, especially those who have no way of getting out. Once you go in, you need to commit to your plays. The amount of CC you have should keep a target locked down and allow your team to burst it down. Font of Life will grant some additional health to your allies, especially your ADC during the laning phase, while Bone Plating combined with Overgrowth will make you difficult to kill for the first couple of seconds of your engage. The Inspiration secondary helps you have some extra sustain from biscuits and less cooldown on your abilities and summoners.
Ability priority
Leona's skill priority is the following: R>W>E>Q. Her W is one of the most powerful basic abilities a tank could want. It grants her damage reduction, armor, magic resist, and has some decent damage for the laning phase as well. Maxing E second will allow you to have your engage tool on a lower cooldown. You max Q last since it doesn't reduce its cooldown with levels. It only increases damage, which Leona doesn't lack at all.
Game plan
Try to understand your matchup. If it's defensive, try to stay in between your ADC and the enemy support and ADC to allow him to farm up safely. If it's an aggressive matchup, try to look for ways to catch them off guard and engage on them when they go for last hits. You should aim to get to level six as soon as possible and look for ways to help your jungler gank other lanes or set up a gank in the bottom lane to secure a drake. In team fights, either be the initiator if required or peel for your carries by sitting behind and locking down divers.