Gral, the Shark is the latest Rogue legendary minion revealed for the upcoming Hearthstone expansion Rastakhan's Rumble. Hearthstone Youtuber MKRR3 revealed the card today on his channel.

Gral, the Shark is a five-mana 2/2 legendary beast. Its Battlecry has a unique effect that lets it eat a minion from the user's deck and gain its stats. Gral's Deathrattle allows it to then add the consumed card back to the player's hand.
The card description doesn't specify which card Gral eats, but MKRR3's video shows it pulling what seems to be a random card from the deck.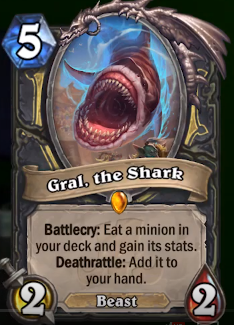 Gral can help a new Rogue archetype with big minions become stronger, since it doubles the value of the card it consumes. Imagine eating a 12/12 Deathwing and having a 14/14 minion on turn five.

Rastakhan's Rumble is available for pre-order in two bundles. Hearthstone players can buy one bundle that comes with 17 card packs for $20, and another bundle that has 50 card packs and the new Shaman hero King Rastakhan for $50. These pre-purchase bundles will be available until Dec. 4, when the expansion is out.

This story will be updated when the official translation is published.