Epic Games has revealed the winners of the first Solo Showdown limited-time mode in Fortnite: Battle Royale.
A player by the name of vRxthless took home the grand prize of 50,000 V-Bucks by scoring 4,881 points out of a possible 5,000. The top 100 players all received a V-Bucks reward, which they can use to purchase skins and other cosmetics in-game.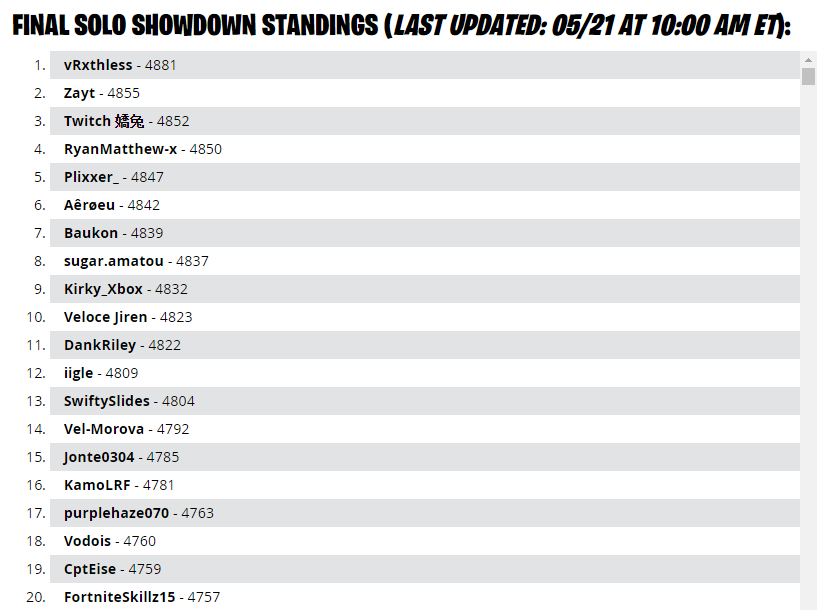 Players in the Solo Showdown mode were awarded 100 points for finishing in first place, which means the grand prize winner and all those near the top had to have won the vast majority of their 50 games that counted toward placements.
Second through fourth place all received 25,000 V-Bucks, and those players were Zayt, Twitch 嬌兔, and RyanMatthew-x. Fifth through 50th place earned 13,500 V-Bucks, and 51st through 100th place all were awarded 7,500 V-Bucks.
"We'll be using the Solo Showdown as a one-off stepping stone to learn how to build great events for all types of players," Epic Games said. So it appears that Solo Showdown is just the beginning when it comes to in-game events and rewards like V-Bucks.
To check the list of the top 1,000 placements, head over to Epic Games' blog post for the full standings.