Season four of Call of Duty: Black Ops Cold War and Warzone brought a new light machine gun into the meta.
The MG 82 is the latest chain-fed LMG to join the game, and it's a bit of a beast. After a few hours of leveling, it can be turned into a true monster in Verdansk when it comes to holding down the trigger and chunking down the armors of multiple enemies.
Warzone's meta is in a solid place at the time the gun has been added to the game, so it's another option in the ever-growing list of weapons that can hold their own in the battle royale title. With each season adding new guns, it's always a great thing when the new content is viable.
Here's the best way to equip Call of Duty's newest light machine gun.
The best MG 82 loadout in Warzone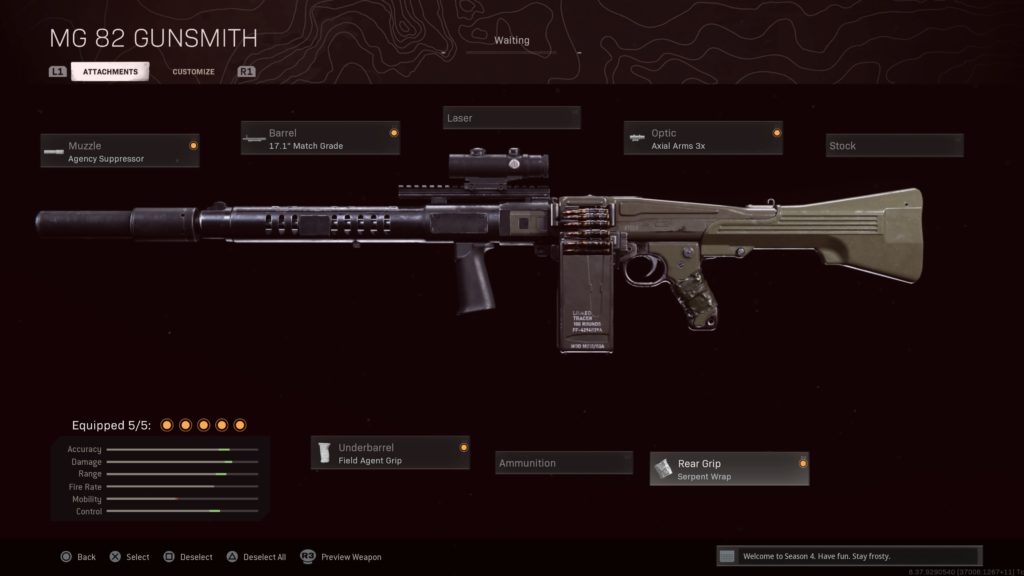 Muzzle: Agency Suppressor
Barrel: 17.1″ Match Grade
Optic: Axial Arms 3x
Underbarrel: Field Agent Grip
Rear Grip: Serpent Wrap
The MG 82 works best with the standard kind of Warzone LMG loadout that long-time players will be used to, especially if they played through the Bruen Mk2 meta. These attachments are all about buffing the LMG's accuracy, damage, range, and control.
LMG's in Warzone are best used as suppression machines that can hold down long sightlines with ease thanks to sustained fire. The MG 82 holds 100 rounds by default so you don't even need to waste an attachment slot for ammunition, which is a big plus.
The 3x Axial Arms scope can be swapped out for a 2x, but either way, you'll want to use this as your long-range option in Verdansk and pair it up with something like a quick assault rifle or submachine gun in the secondary Overkill slot.