The first week of the world's premier Call of Duty league has come and gone, and the standings are a little bit surprising.
After one week of play in Division A of the CWL Pro League's second stage, European team Red Reserve sit atop the eight-team division. Red are the only team in the division without a series loss, with Team Kaliber, Echo Fox, and Team Envy following them up with one loss each.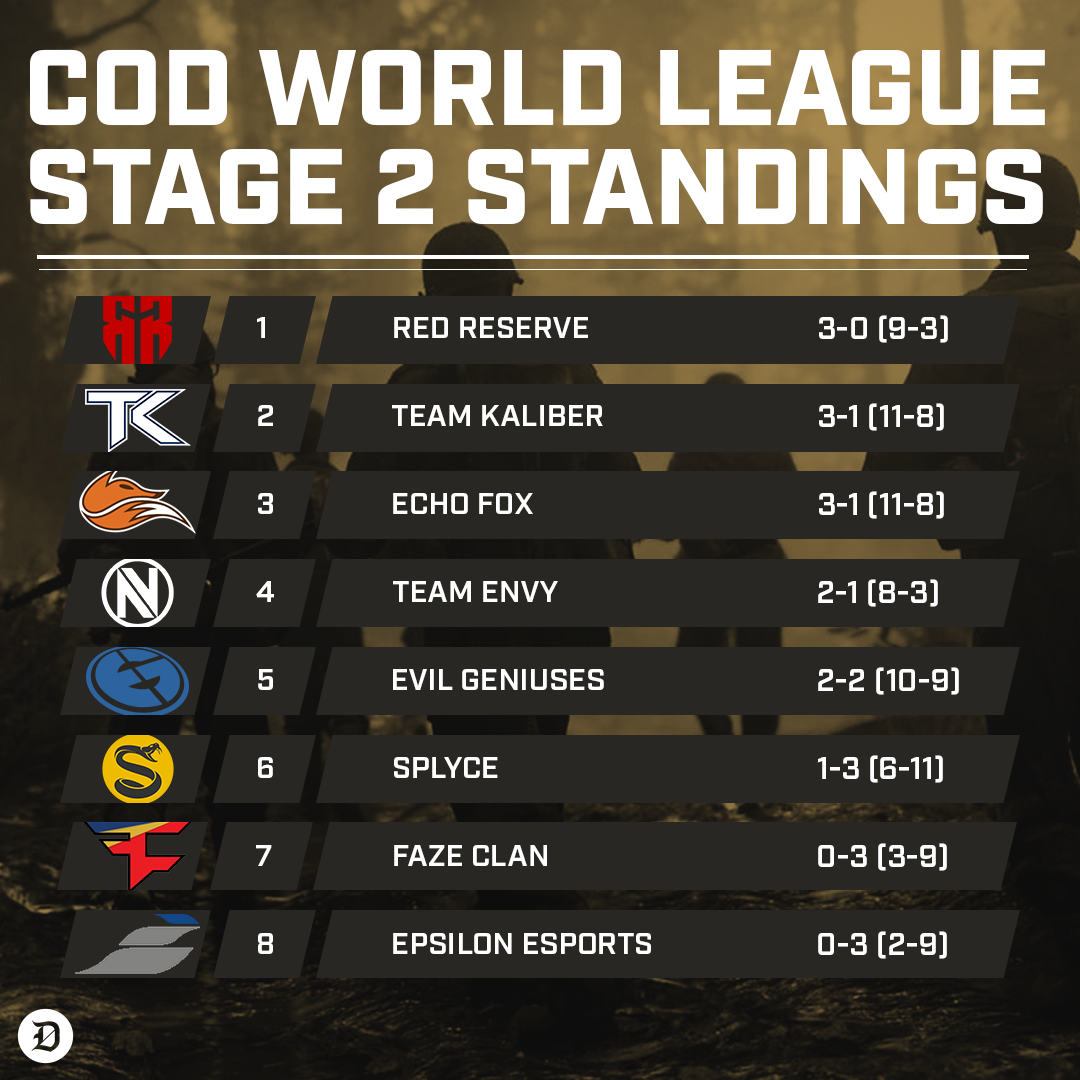 At the bottom of the table, Epsilon Esports and FaZe Clan are winless. Epsilon being at the bottom is not much of a surprise after going 2-12 in Stage One, but FaZe were crowned the Stage One champions in April, so it would be an understatement to say their place after week one is surprising.
FaZe struggled in nearly every aspect of the game in the first week. This is especially evident by their team statistics, where they rank fifth in average Capture the Flag captures, second-to-last in team Search and Destroy kill-death ratio, and last in team respawn kill-death ratio.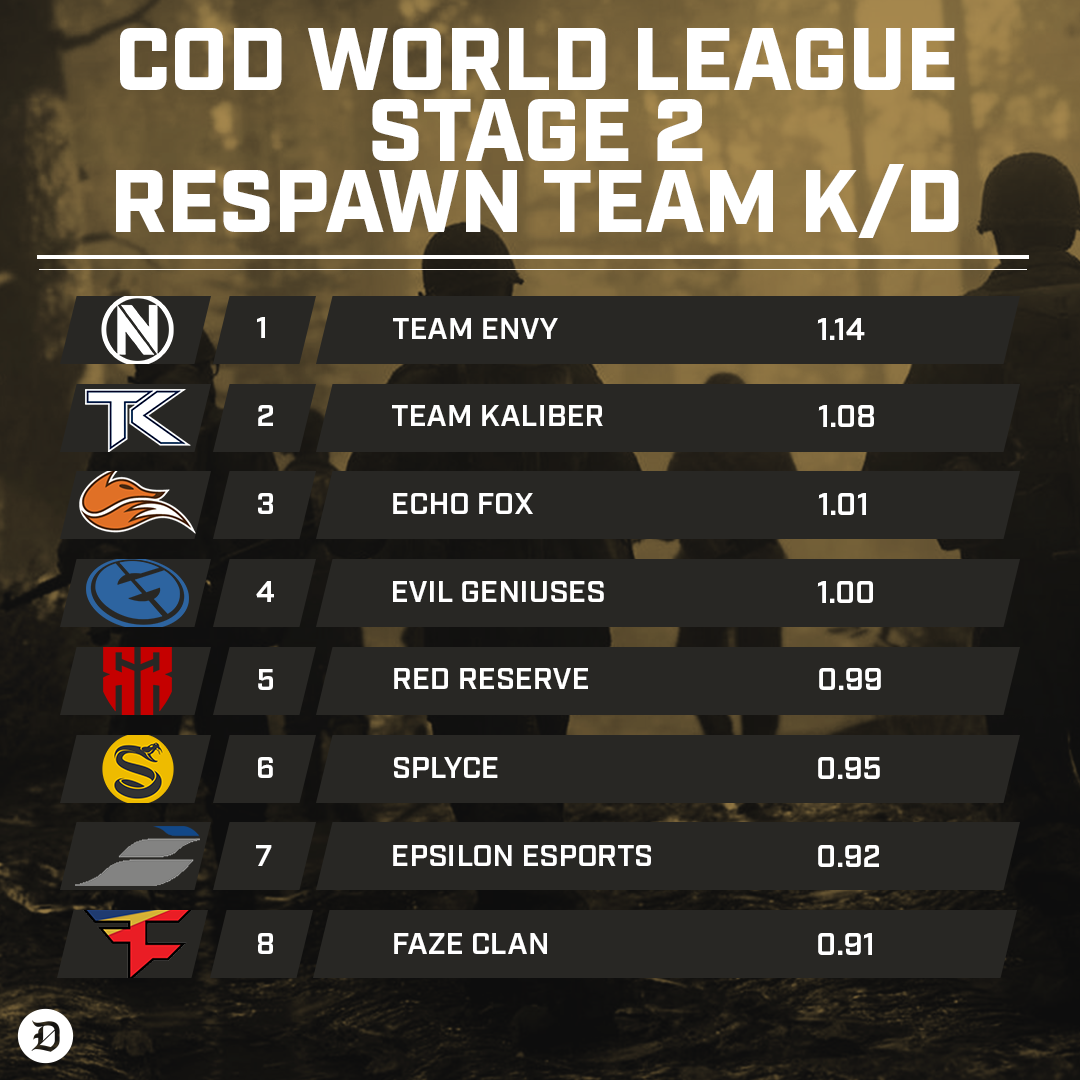 Although K/D is certainly not everything in Call of Duty, a low number in that stat can indicate a poor overall showing from the team, like it has in FaZe's case. Red Reserve, who are undefeated and in first place heading into week two, however, are in the bottom-half in respawn K/D. The impact of that is lessened due to them leading Search and Destroy K/D with an astounding 1.46 ratio.
Red's relatively low respawn numbers come from their struggles in Capture the Flag, where they are 1-2 and have a 0.88 team K/D. The only map they won in the game mode during the first week was a slow-paced matchup against fellow EU team Splyce, which they won 2-1. In the other two CTF games, they were shut out by both Epsilon and Team Kaliber, with the latter beating them 4-0 on Flak Tower.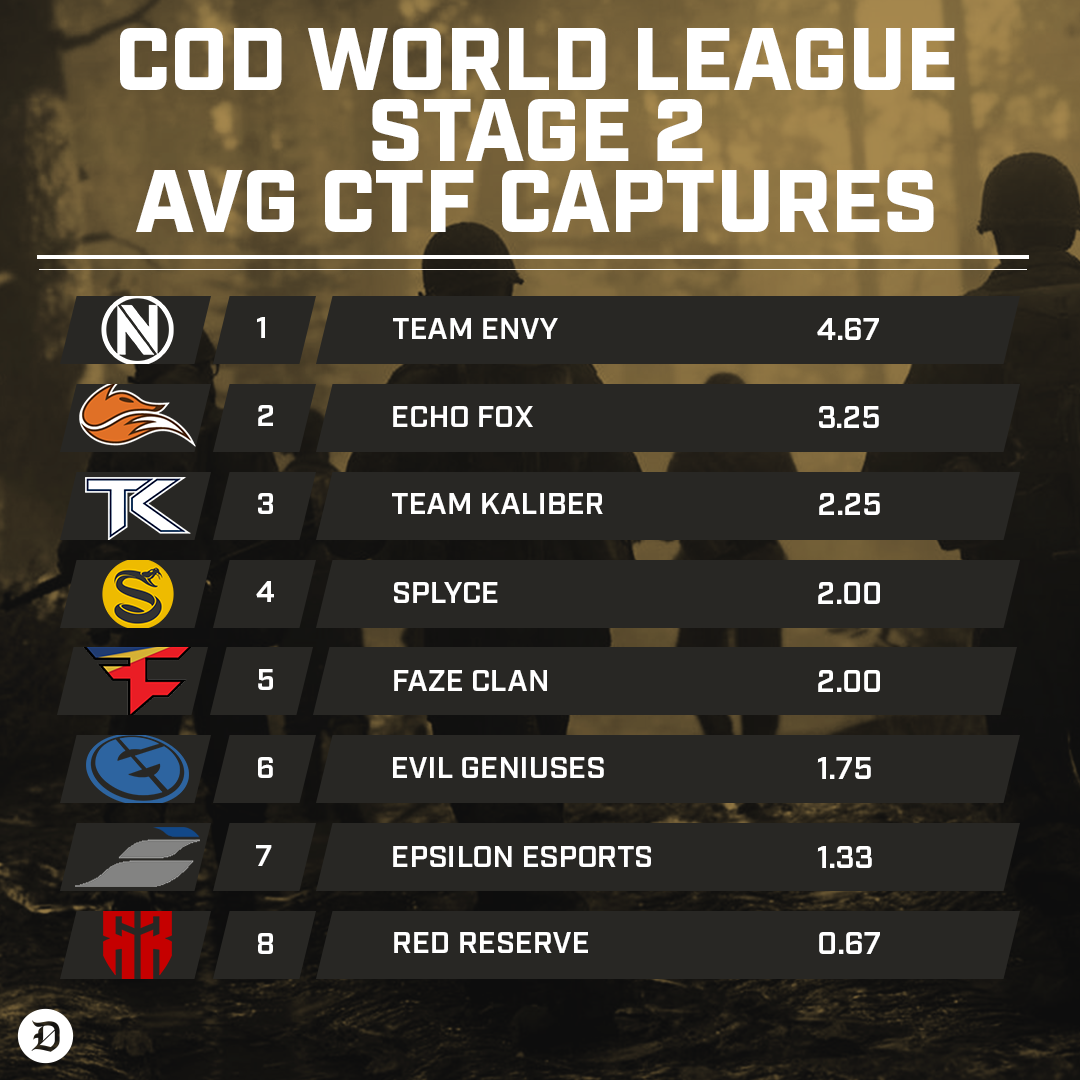 Despite being the top team in the division now, Red will have to pick it up in CTF to maintain their position. Teams like Envy and Echo Fox both averaged more than three captures per game in week one, and they will look to use their aggressive playstyles to their advantage against Red in their meetings in Stage Two.
Red's advantage over the rest of the division at the moment seems to be their Search and Destroy prowess. The Europeans went 4-0 in the first week in SnD, defeating Splyce and Epsilon once each and defeating Team Kaliber twice. The depth of their map pool in the game mode seems to be a major advantage as well, with two maps coming on London Docks and the other two on USS Texas and Valkyrie.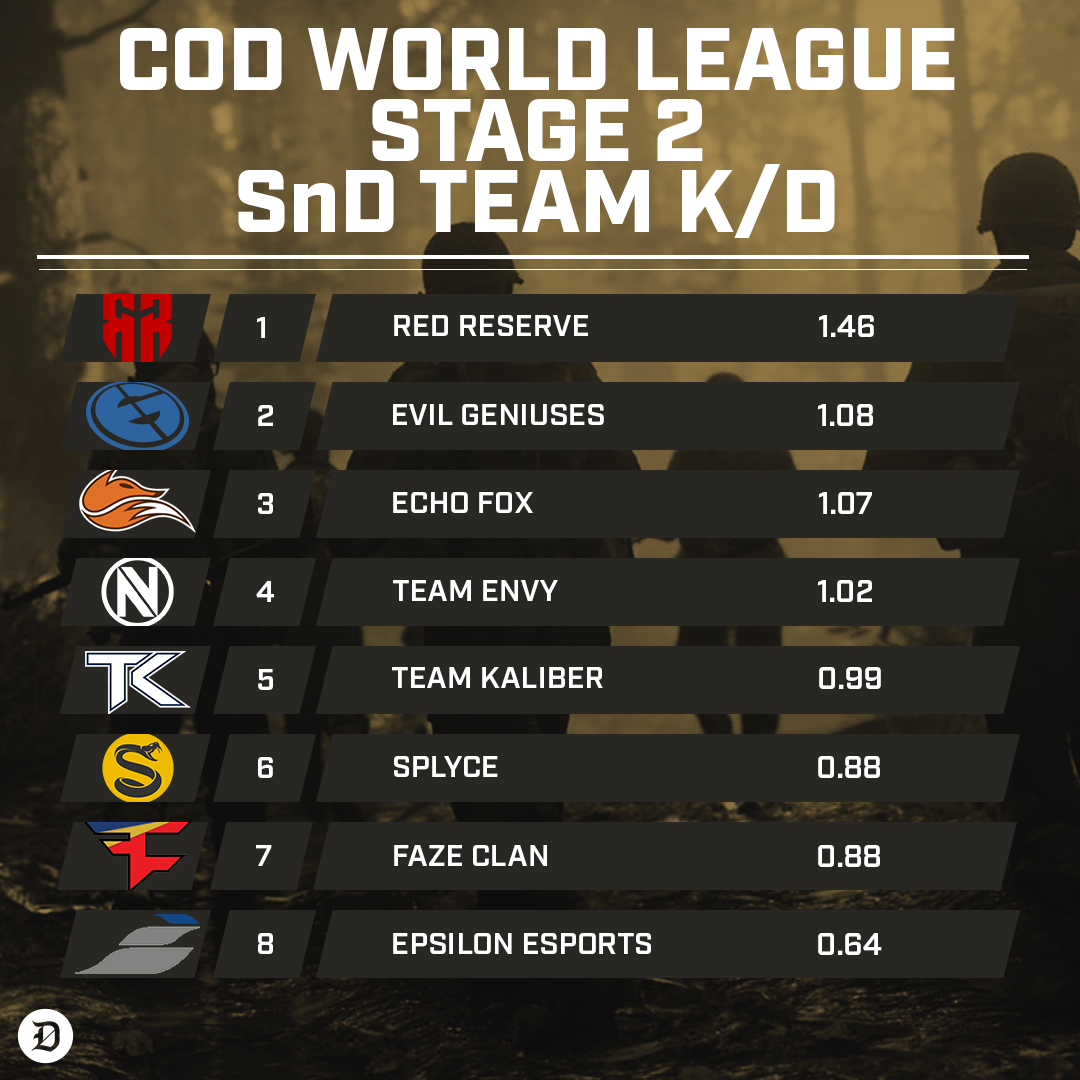 In week two, Red seem to have tough matchups against third-place Echo Fox and fourth-place Team Envy. Both teams are more than capable of taking Capture the Flag over Red Reserve, but beating the Europeans in Search and Destroy will be the most-daunting challenge.
Other matches to watch out for in week two include Team Kaliber vs. Team Envy, Evil Geniuses vs. Team Kaliber, and Echo Fox vs. Team Envy. CWL Pro League action continues with week two's kickoff match between Splyce and Envy at 1pm CT tomorrow, May 22.