Following months of various qualifiers and ladder snapshots, 32 NA Teamfight Tactics players are battling it out over four invitations to the Fates World Championship.
The NA Fates Regional Finals is occurring over the course of two weekends, from March 6 to 7 and 13 to 14. Coverage of the event is taking place throughout all four days, showcasing principal TFT lead designer Stephen "Mortdog" Mortimer as a broadcaster. Following a total of 24 games played over the course of four days, only the top four competitors earned an invite to the TFT Fates World Championship.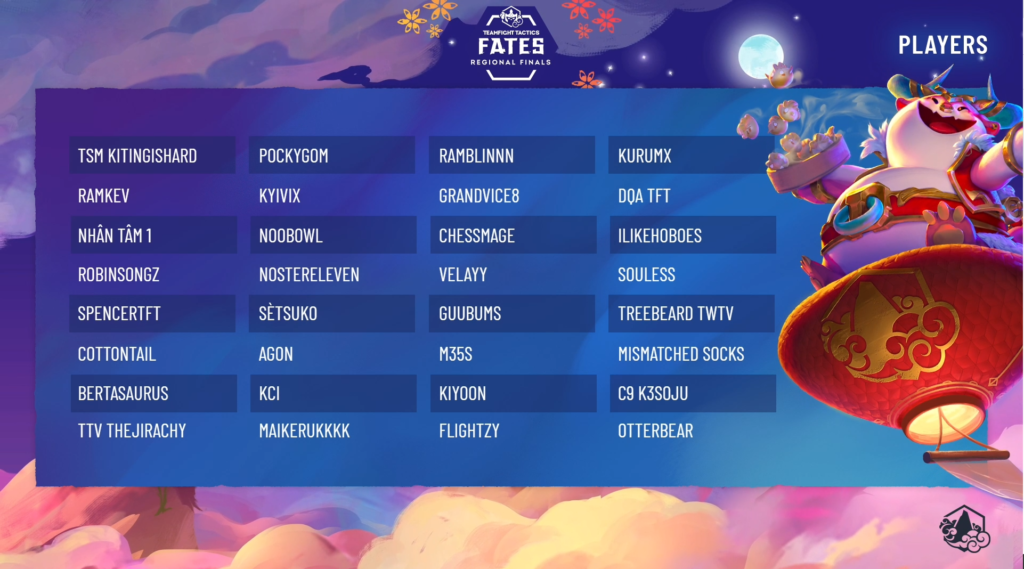 Points were reset each day of gameplay, with the bottom lowest eight-point earners getting cut days one, two, and three.
First: Eight points
Second: Seven points
Third: Six points
Fourth: Five points
Fifth: Four points
Sixth: Three points
Seventh: Two points
Eighth: One point
Day one, March 6
A total of 32 players competed across four lobbies, with lobbies rotating every two games. Day one featured a total of six games, with the top 24 highest point earners advancing onto day two.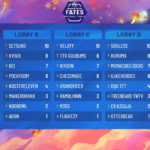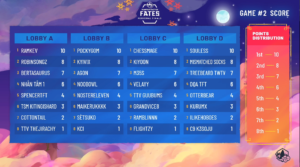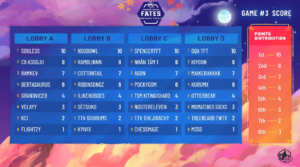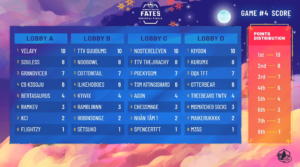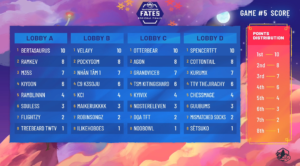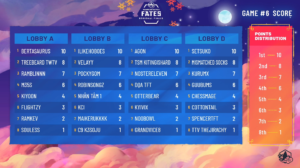 Olaf Slayer/Dragonsoul/Vanguard is often considered one of the best TFT comps and the build lived up to its reputation, earning Souless the first win of the day. TTV TheJirachy, Velayy, and sètsuko were the other three players to open the day with a lobby win. Bertasaurus, the NA player who dominated the Fates Qualifier Four, began the TFT Regional Finals with a solid third-place finish.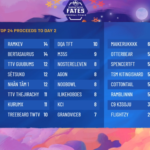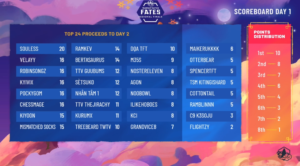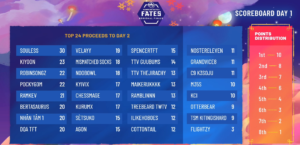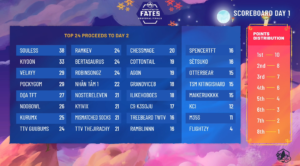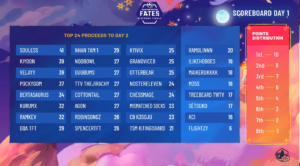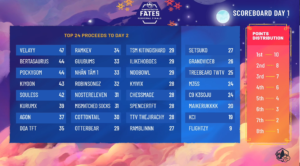 Souless continued his domination over the TFT NA Regional Final lobbies, earning a first with double Kayle in game two and a double Samira in game three. Also sitting at the top of the leaderboard following four games was Kiyoon, VelayyTFT, and PockyGom. Sitting on the bubble were veteran competitors TSM KitingIsHard and sètsuko after four games.
Slayers were the top-performing trait of the day, along with other builds that have proven their worth in the past. Re-roll Tristana took a couple of wins throughout the day, along with Brawler Shyvana and Kayle. Matching Souless for the day with three first-place finishes was the up-and-coming VelayyTFT, earning the most points during the day one competition.
Bertasaurus wrapped up his day with a first-place finish in game six while sètsuko just missed the top-24 cutoff despite also taking a first in game six. Several other veteran TFT players like GrandVice8, C9 k3soju, and KCI missed the cut as well.
Here were the top 24 TFT players advancing onto the second day of the NA Fates Regional Finals.
Velayy: 47 points
Bertasaurus: 44 points
PockyGom: 44 points
Kiyoon: 43 points
Souless: 42 points
Kurumx: 39 points
Agon: 37 points
DQA TFT: 35 points
Ramkev: 34 points
Guubums: 33 points
Nhan Tam 1: 33 points
Robinsongz: 32 points
NosterEleven: 31 points
Mismatched Socks: 31 points
Cottontail: 30 points
Otterbear: 29 points
TSM KittingIsHard: 29 points
ILikeHobes: 29 points
Noobowl: 29 points
Kyivix: 28 points
Chessmage: 28 points
SpencerTFT: 28 points
TTV TheJirachy: 28 points
Ramblinnn: 27 points
Day two, March 7
Points were reset heading into day two of the NA Fates Regional Finals, with eight of the 24 total TFT players getting cut from the tournament following six games. Seeding was based on day one scores with a rotation of the three lobbies every two games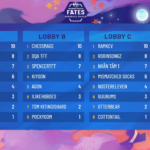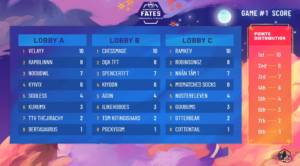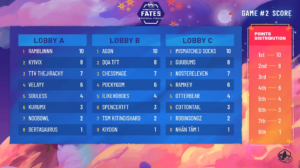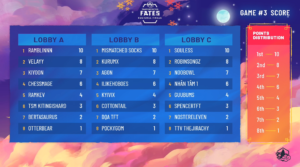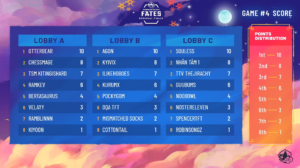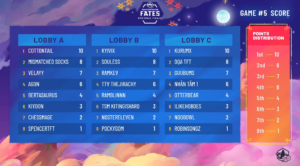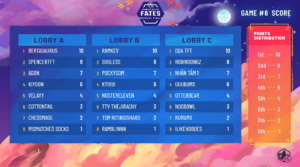 Lobby one featured yesterday's hottest player, Velayy, who kicked off day two with another lobby win. Sticking true to Slayers, Velayy beat out Ramblinnn—who open forted and played seven Mage—with a Cultist start that led to a two-star near perfect item Samira and two-star Lee Sin.
Having a rough start was Bertasaurus and PockyGom, both finishing eighth in their lobbies, after having the second and third highest point totals during day one.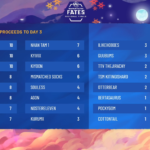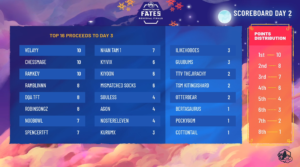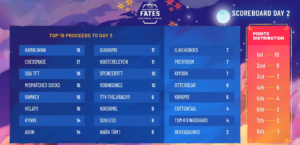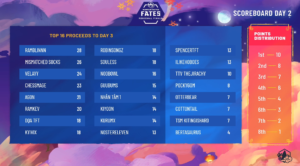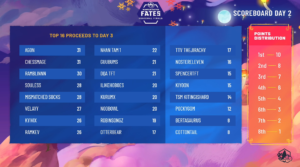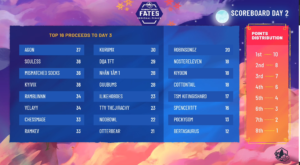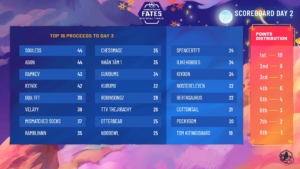 Having squeaked in the top 24 with 27 points during day one, Ramblinnn hit their stride with a back-to-back first-place finish in games two and three. Mismatched Socks was also on fire, earning a back-to-back first-place finish in games two and three as well. Other players dominating their lobbies after three games included Agon, Velayy, and Souless. Sitting on the bubble were SpencerTFT and ILikeHoboes, while players like Bertasaurus and PockyGom continued to struggle during the second day of the NA Fates Regional Finals.
The six Keeper build with Ornn items was the S-plus tier TFT comp of the day in addition to Slayers, landing a number of lobby wins during day two. Following six games played, Souless ended the day with the most points earned—tied in points with Agon who finished in second, and RamKev in third. Top players that missed the cut included SpencerTFT, Bertasaurus, Cottontail, TSM KittingIsHard, and Kiyoon.
Here were the top 16 TFT players advancing to the second round of the NA Fates Regional Finals:
Souless: 44 points
Agon: 44 points
RamKev: 43 points
Kyivix: 42 points
DQA TFT: 39 points
Velayy: 37 points
Mismatched Socks: 37 points
Ramblinnn: 35 points
Chessmage: 35 points
Nhan Tam 1: 35 points
Guubums: 34 points
Kurumx: 32 points
Robinsongz: 28 points
TTV TheJirachy: 26 points
Otterbear: 25 points
Noobowl: 25 points
Day three, March 13
No meta changes had taken place heading into day three of the NA Fates Regional Finals. Players competed in two lobbies, with the top eight points earners advancing to the finals on March 14. Slayers remained a highly contested comp while Keepers remained top-four viable, along with a surprise three-star Sivir/Four Spirit build from Agon that earned him a lobby victory.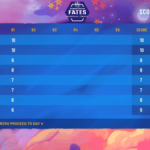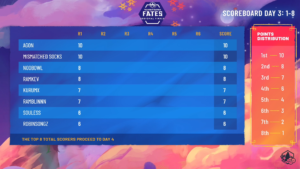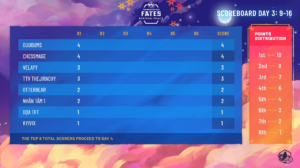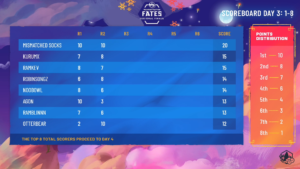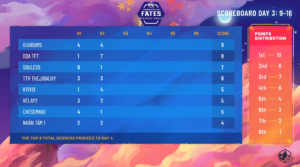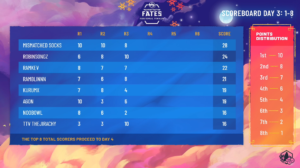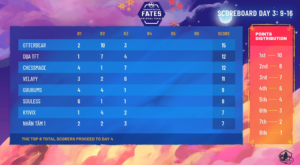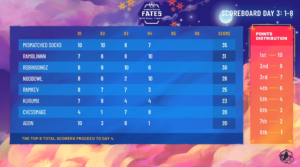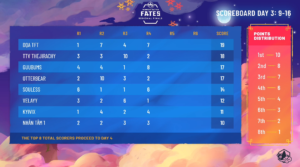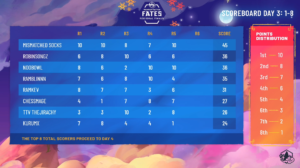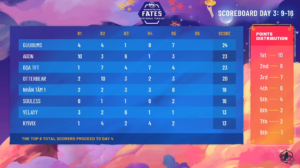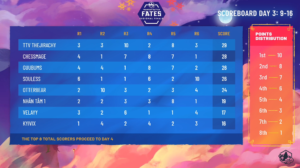 Three players sat atop the leaderboard heading into game five: Mismatched Socks, Ramblinnn, and Robinsongz. All three had top-four finishes in the first four games and separated themselves from the rest of the pack. Four points behind Robinsongz were Noobowl at 26 points and RamKev at 25. Sitting on the bubble were DQA, TheJirachy, Guubums, and Otterbear.
Over the course of six games played during day three, Mismatched Socks never placed below third in a lobby and had a total of three first-place finishes. Strong finishes by Agon, Kurumx, and DQA earned them a seat at the finals, while TheJirachy and Chessmage just missed the cut.
Here were the top eight TFT North American players advancing to day four of the Fates Regional Finals:
Mismatched Socks: 53 points
Ramblinnn: 42 points
Noobowl: 42 points
Robinsongz: 38 points
RamKev: 37 points
Kurumx: 34 points
Agon: 31 points
DQA TFT: 30 points
Day four finals, March 14
Four spots to the Fates World Championship were the focus of all eight players competing during the final day of gameplay. A total of six games were played with the top four earning an invite to Worlds. Ramblinnn started the day off strong, win-streaking himself to a first-place victory—along with Agon, Kurumx, and RamKev.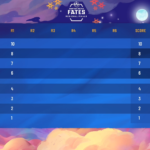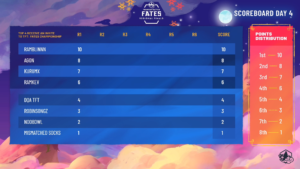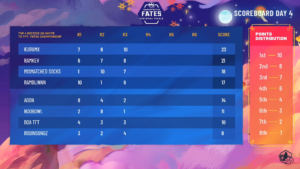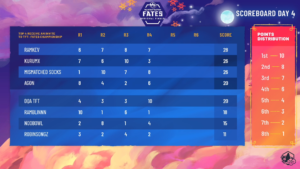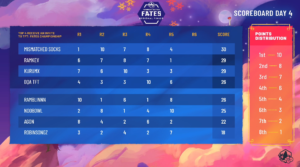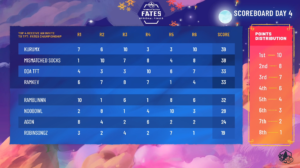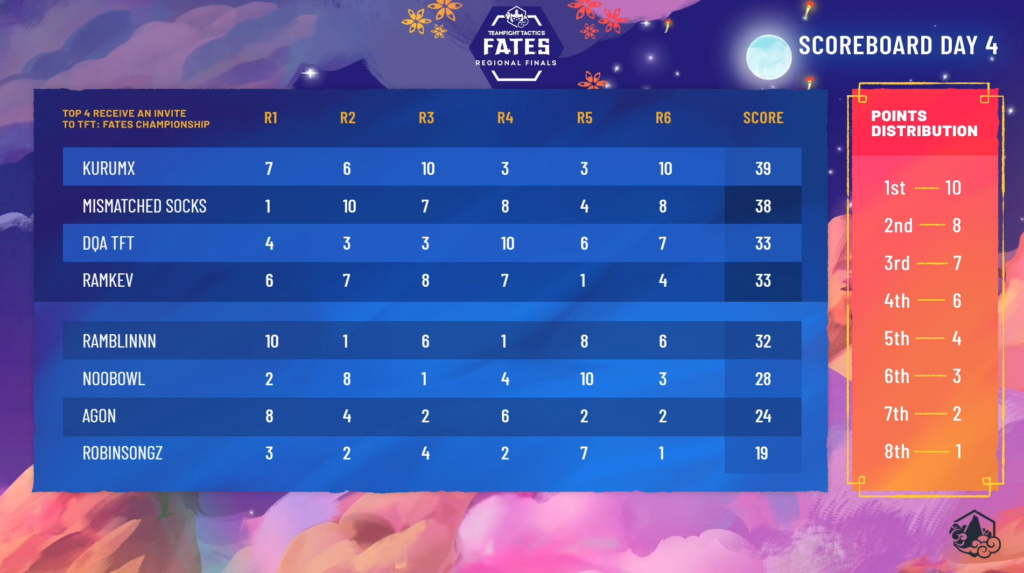 Ramblinnn's advantage quickly dissipated during game two, finishing in eighth. RamKev kept his momentum going with a top-four finish, while Mismatched Socks flipped his own script—earning a lobby win during game two. Heading into game three, no one player was a lock for Worlds. Six players were within four points of one another and a top-four finish from either DQA or Robinsongz could put them back in the mix.
Mismatched Socks continued to hit his fast-eight groove with two more top-four finishes, along with RamKev who led the field with 28 points after four rounds. Sitting in second place was Kurumx, tied with Mismatched Socks at 26 points. Agon was also tied with DQA at 20 points, sitting on the bubble with Ramblinnn right on their heels at 18 points.
Heading into the last game of the NA Fates Regional Finals, seven of the eight players were separated by only eight points. Mismatched Socks sat atop the leaderboard with 30 points, followed closely by RamKev and Kurumx.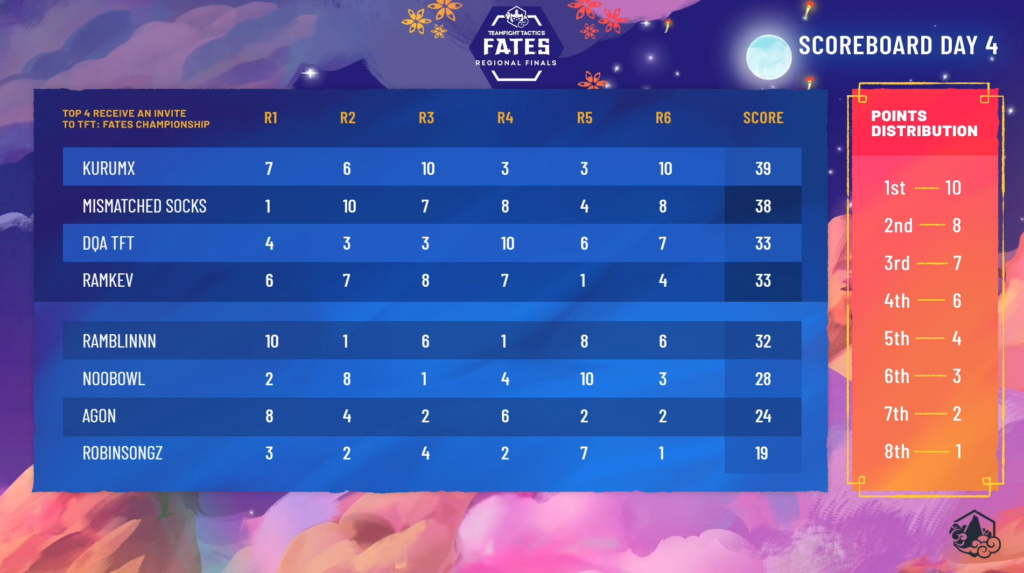 Kurumx ran six Cultists that resulted in a fast nine to earn a game six victory, the NA Fates Regional Finals win, and an invite to Worlds. Joining Kurumx as the North American TFT Fates World Championship representatives were Mismatched Socks, DQA TFT, and RamKev.