Respawn Entertainment's Apex Legends is still in its infancy—but that hasn't stopped players from trying to quickly figure out which characters are the best to play.
Apex Legends is a team-oriented game, so it's important to learn what each character can do if you want to help your team win. But, inevitably, some characters in Apex Legends are just better than others—and that's where we come in.
We've separated the Legends in this battle royale game into multiple tiers: Tier one is the best and tier four is the worst. It's important to remember that Apex Legends is still a young game, so a lot is up for debate and could change relatively soon. The meta could also drastically shift or small balance changes might be introduced, which could completely alter this list.
Here's our tiered rankings of the characters in Apex Legends.
Tier one
Wraith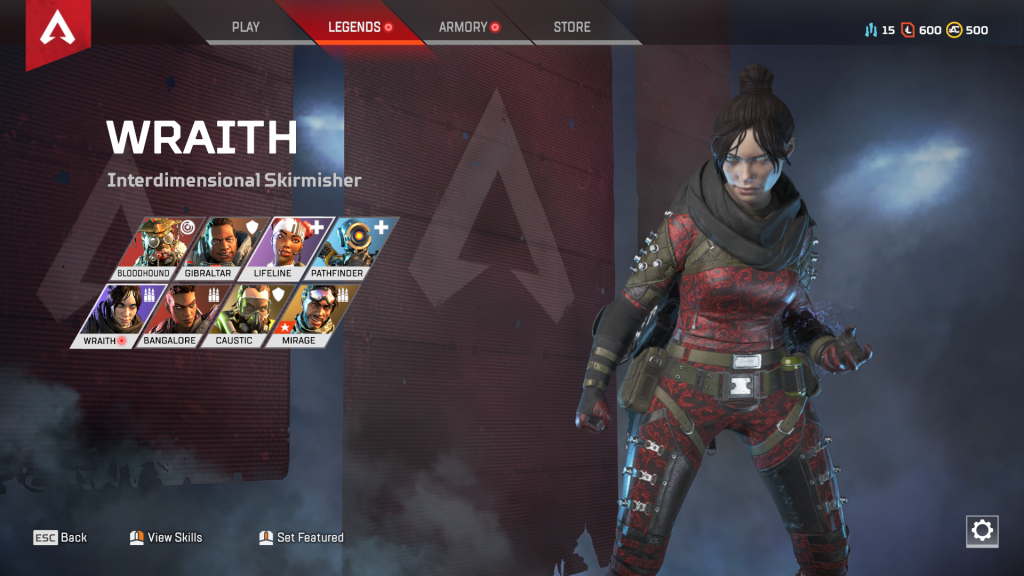 Wraith is one of our favorite Legends so far, mainly because she's great at getting in and out of combat. Her passive, Voices from the Void, is also extremely helpful at warning you when enemies target you, for example.
Related: How to play Wraith in Apex Legends
Wraith's tactical ability, Into the Void, is very powerful—it lets you become invisible and invincible for roughly three seconds, allowing this stealthy Legend to reposition or get out of trouble. It also features a 19-second cooldown, which means you almost always have this ability in case you get caught in a tricky situation.
Her ultimate, Dimension Rift, allows you to place two portals on the map for you and your teammates (or enemies) to travel through. You can use this ability to help your team regroup or you can set it up as a trap to lure in unsuspecting enemies.
Lifeline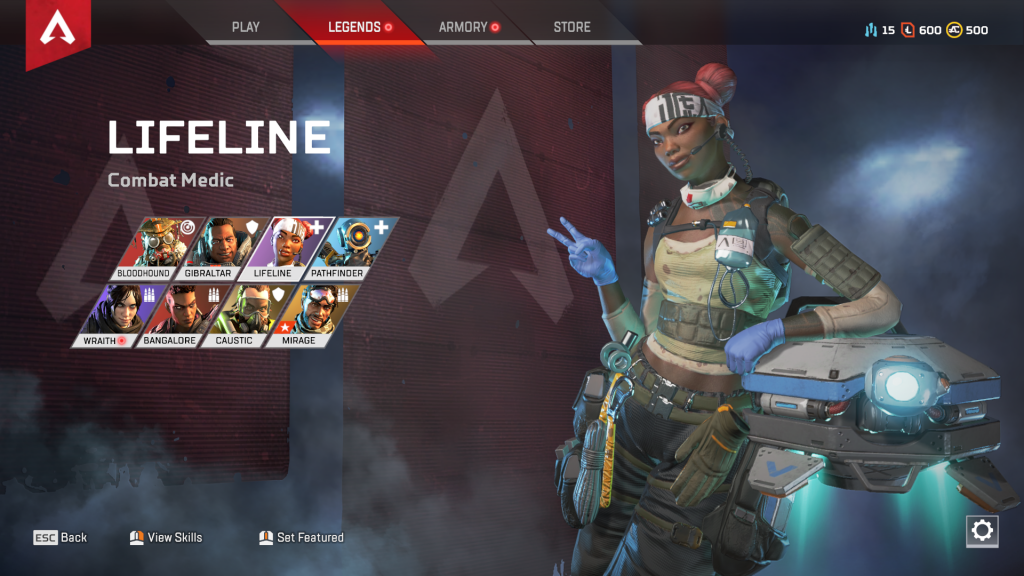 Lifeline is a great team-oriented Legend with easy-to-use abilities. Her passive, Combat Medic, allows you to revive your teammates quicker and use healing items 25 percent faster.
Related: How to play Lifeline in Apex Legends
Lifeline's tactical ability, D.O.C Heal Drone, sends out a little robot that automatically heals any players that are near it. And her ultimate, Care Package, is pretty self-explanatory—Lifeline brings in a supply drop that contains high-quality defensive gear for her and her teammates.
This Legend might seem simple, but she excels at helping her squad and keeping teammates alive. Give her a few Ultimate Accelerants, and she'll be able to call in multiple Care Packages so your entire team can loot up.
Bangalore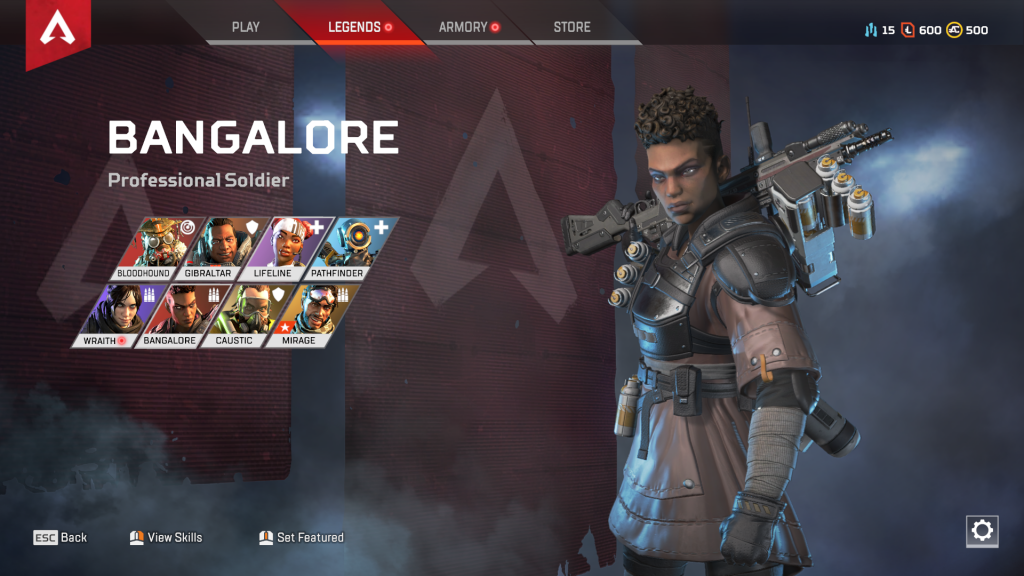 Bangalore is a strong Legend with zoning abilities that help protect your team. Her passive, Double Time, lets Bangalore briefly run faster when she's getting shot at.
Related: How to play Bangalore in Apex Legends
Smoke Launcher, her tactical ability, creates a smoke wall that you can use to distract enemies and reposition. Bangalore's ultimate, Rolling Thunder, calls in a large airstrike—which can deal some damage and be used defensively to help you relocate. Bangalore definitely excels in full, pre-made parties.
Tier two
Bloodhound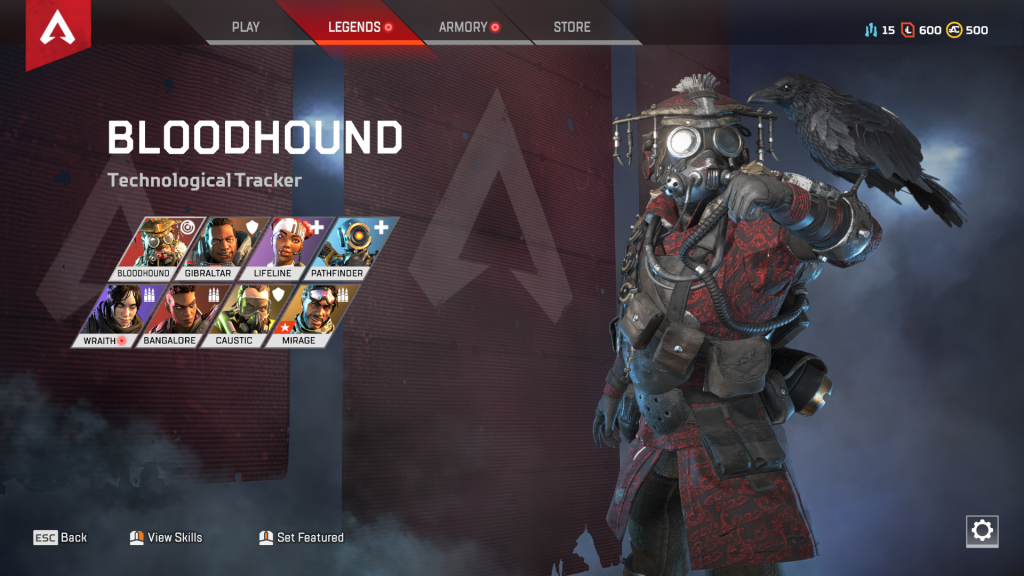 Bloodhound is a strong Legend with powerful abilities that provide vision for their team. Tracker, Bloodhound's passive, allows the Legend to see enemy activity, such as footprints left behind or any doors that were opened.
Related: How to play Bloodhound in Apex Legends
Bloodhound's tactical ability, Eye of the Allfather, allows you to "briefly reveal enemies, traps, and clues through all structures in front of you." Beast of the Hunt, Bloodhound's ultimate, lets you move faster and see enemy "cold tracks." Basically, all of Bloodhound's abilities are great for providing your team with important information about your opponents.
Mirage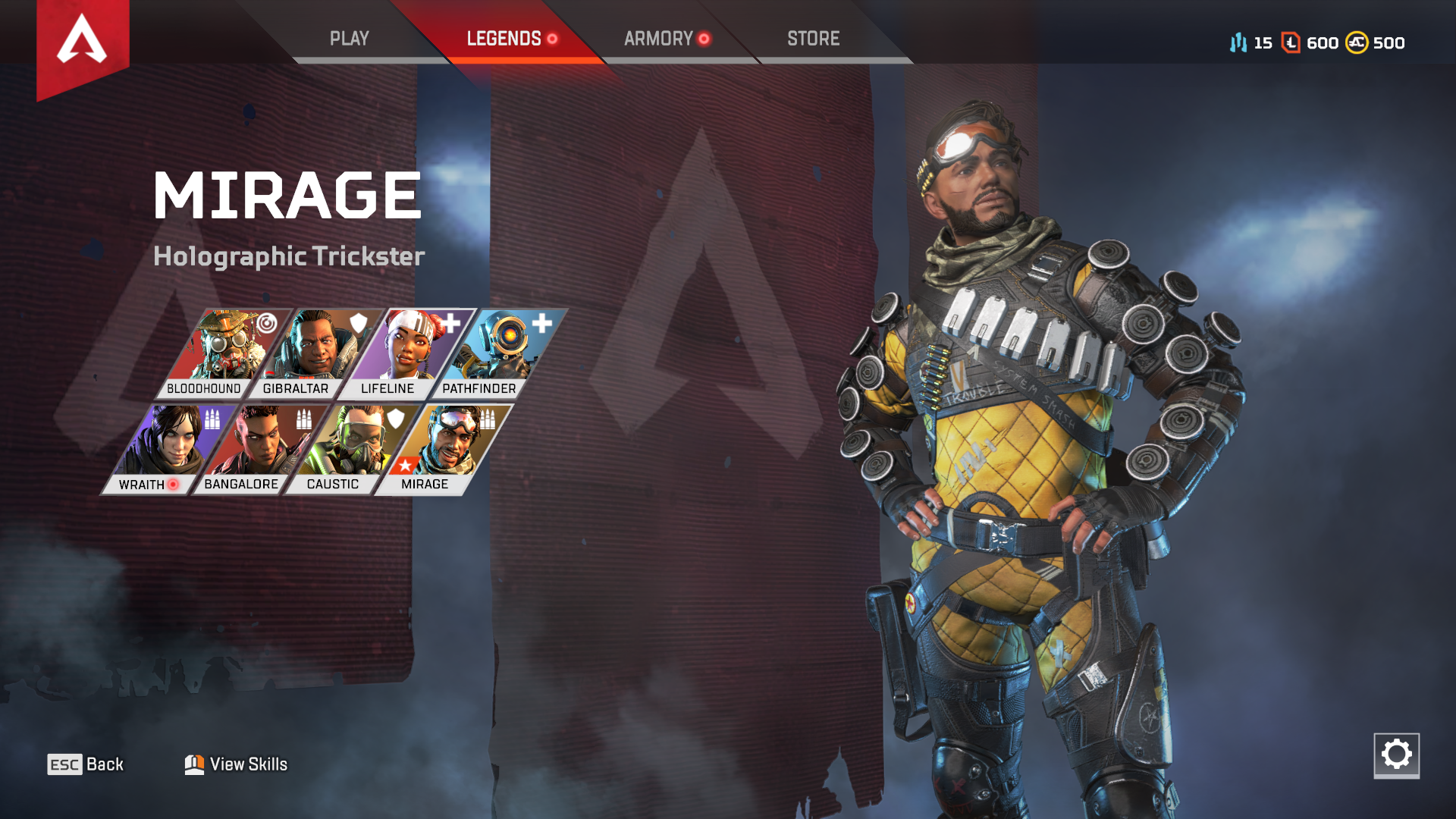 Mirage is the master of deception in Apex Legends. The Holographic Trickster's passive, Encore!, lets you automatically bring in a decoy and cloak for five seconds if you get knocked down.
Related: How to play Mirage in Apex Legends
His tactical ability, Psyche Out, allows you to call in a holographic decoy. And his ultimate, Vanishing Act, summons a team of decoys while Mirage cloaks himself. If you enjoy playing tricks on your enemies, Mirage is the Legend for you.
Tier three
Pathfinder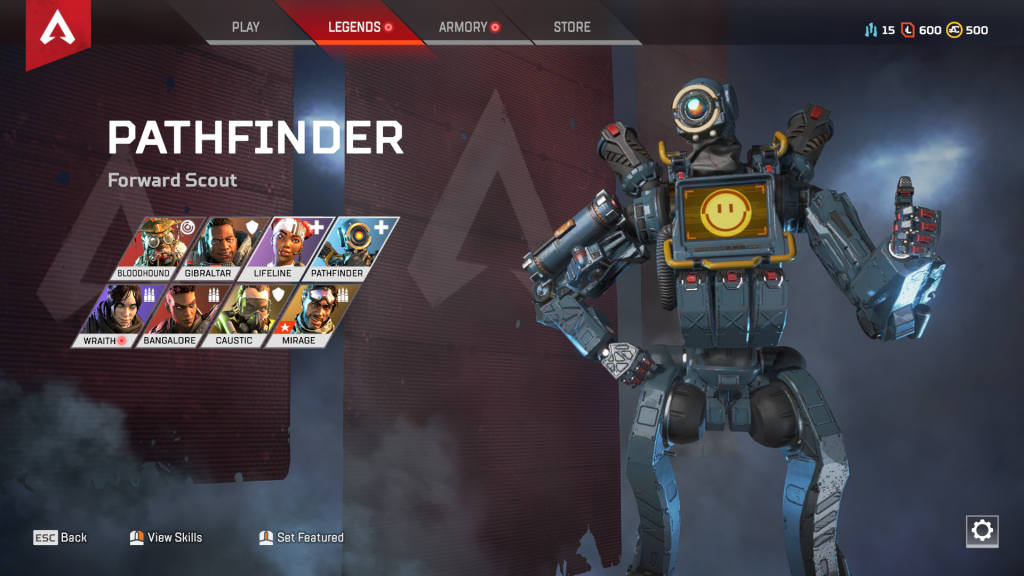 There are only eight Legends in the game right now—but so far, we think Pathfinder is one of the weakest. His abilities are movement based and don't really help the team too much, which isn't the best in a team-oriented game like Apex Legends.
Related: How to play Pathfinder in Apex Legends
Pathfinder's passive, Insider Knowledge, reveals the ring's next location. The robot's tactical ability is a Grappling Hook, while its ultimate simply creates a zipline that anyone can use. If you want to feel like Spider-Man in Apex, use Pathfinder—but if you're playing with a squad and want to win, there are definitely better, more team-oriented Legends to choose from.
Gibraltar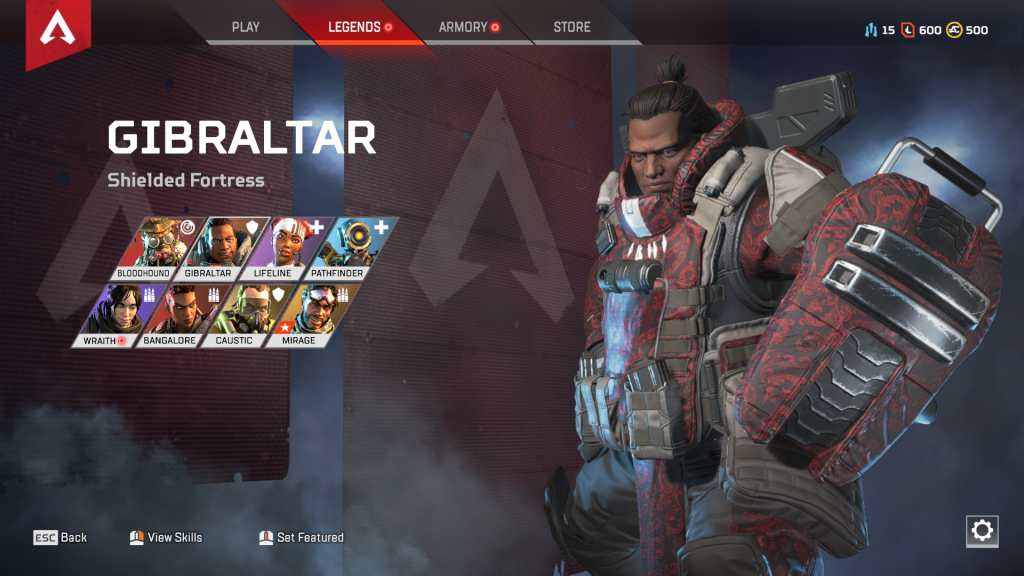 Gibraltar is a decent Legend who excels at being a tank or defensive character. His passive, Gun Shield, is pretty self-explanatory—you get a shield in front of you whenever you aim down sights.
Related: How to play Gibraltar in Apex Legends
Gibraltar's tactical ability, Dome of Protection, provides a large shield that protects anyone inside for 15 seconds. His ultimate, Defensive Bombardment, calls in a "concentrated mortar strike on a position you mark with smoke." Gibraltar should only be used if you plan on trying to defend your teammates.
Caustic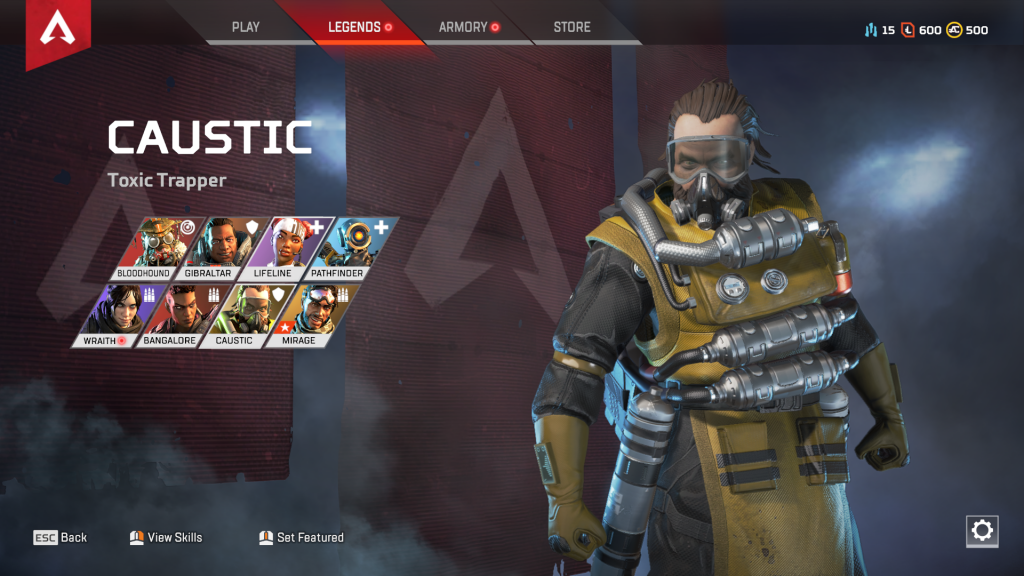 Caustic's entire kit is based around toxic gas. His passive, Nox Vision, grants you threat vision if enemies are moving through your gas.
Related: How to play Caustic in Apex Legends
The Toxic Trapper's tactical ability, Nox Gas Trap, allows you to place up to six canisters that release gas when they're shot or triggered by an enemy. And Caustic's ultimate, Nox Gas Grenade, lets you cover an entire area with toxic gas. Since all of Caustic's abilities deal with gas, he seems like an incredibly-situational Legend right now.