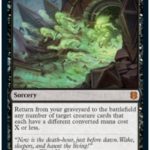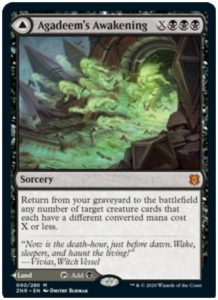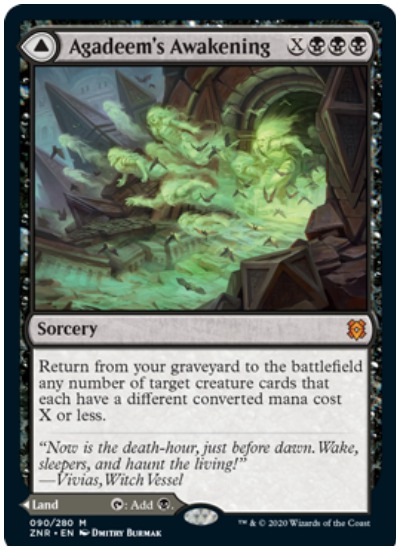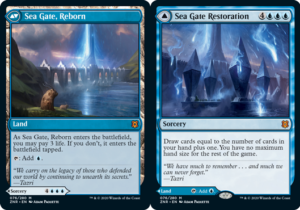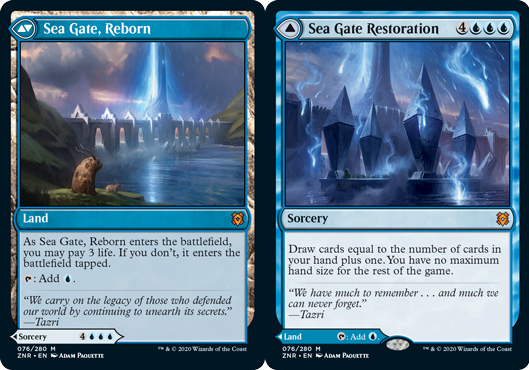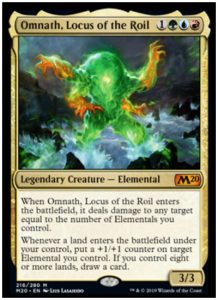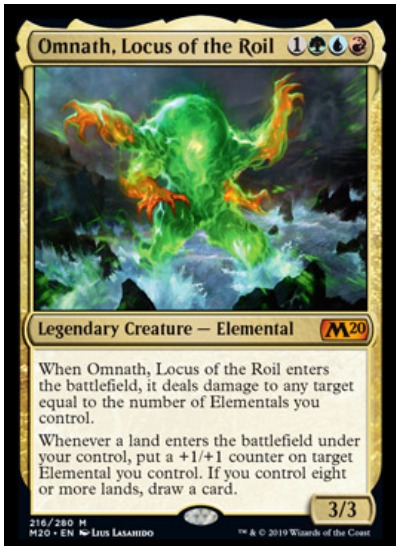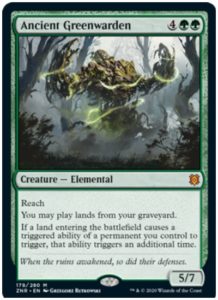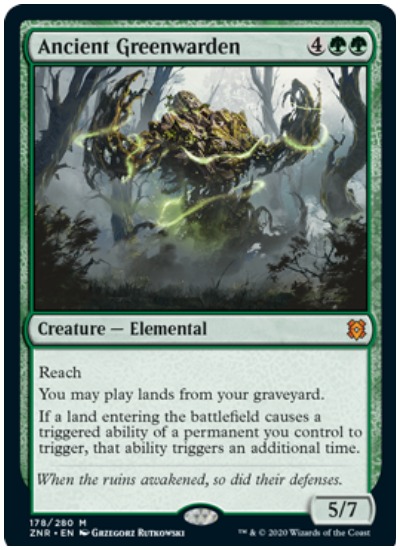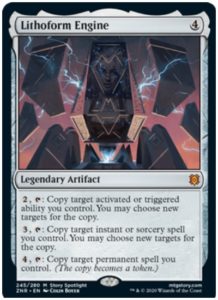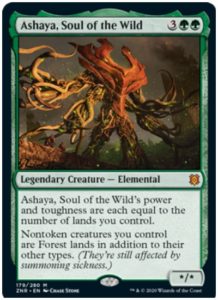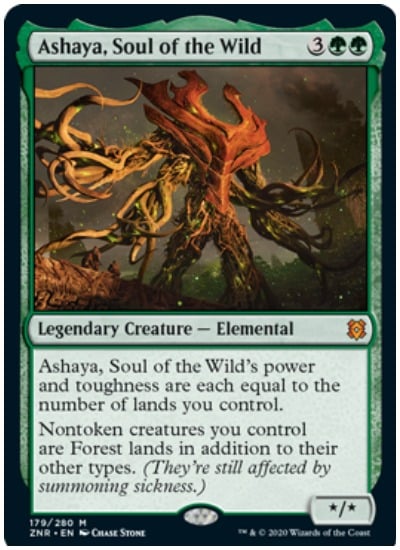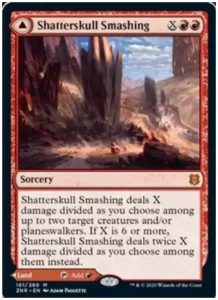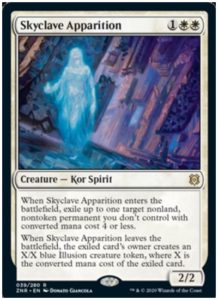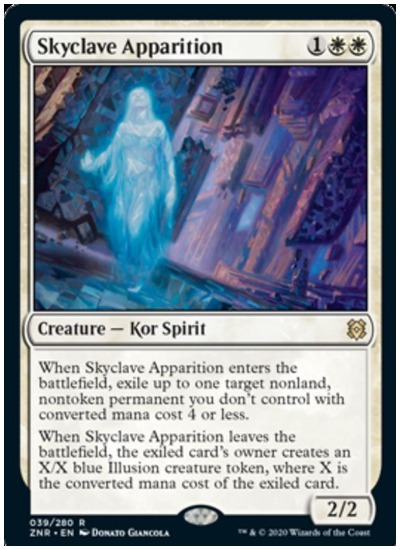 Zendikar Rising arrived with the 2020 Standard rotation in Magic: The Gathering, containing several cards worth money.
Released via tabletop on Sept. 25, 2020, Zendikar Rising contains a total of 280 cards that feature the return of Landfall while also introducing Modal Double-Faced cards to Magic. Better known as MDFCs, these cards are a basic land on one side and a spell on the other. They can also be two basic lands, with either side offering different colored mana.
The fall 2021 Standard rotation took place on Sept. 24, removing four MTG sets from the format. Only minor ZNR price changes took place following rotation, with a total of five cards still valued above $10. Following the release of Innistrad: Midnight Hunt (MID) and Innistrad: Crimson VOW (VOW), though, the value of those five cards fell slightly.
Cards from ZNR that are worth money are listed in descending order. Updates will take place with the release of each new MTG Standard-legal set and after major Magic tournaments, like the upcoming Innistrad Championship.
From Sorcery spells to a multicolor elemental, here are the ZNR Magic cards worth money.
Agadeem's Awakening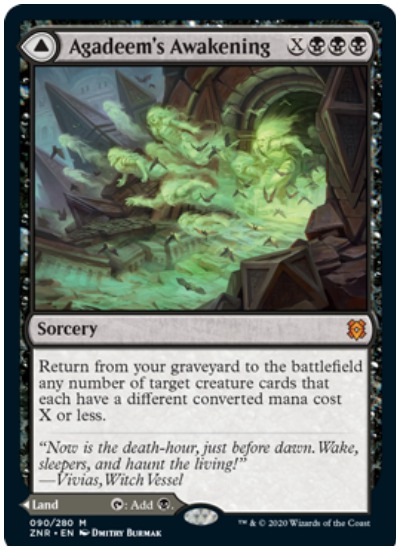 A Black Modal DFC Sorcery, Agadeem's Awakening became the top-valued ZNR card due to its inclusion within the Dimir Rogues deck prior to the 2021 Standard rotation. Reanimation builds also used Agadeem's Awakening, taking advantage of the land on its backside.
Dimir Rogues fell after fall rotation, but Agadeem's Awakening only fluctuated slightly. With the launch of VOW, the Black Sorcery speed spell is still worth around $15.
Sea Gate Restoration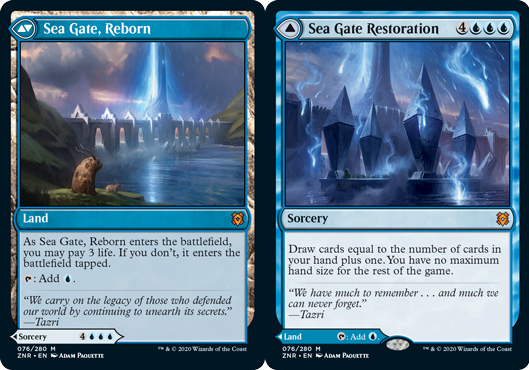 Sea Gate, Reborn//Sea Gate Restoration released with a value of less than $5. Finding a home within Sultai Control Standard Constructed decks, the MDFC rose in value to around $8.50. The Sorcery spell has also found builds in the Historic and Commander formats and continued to rise in value leading up to the 2021 fall rotation.
The release of MID and VOW boosted the value of Sea Gate Restoration up slightly to the No. 2 spot on the ZNR cards worth money list, priced at around $12.
Omnath, Locus of Creation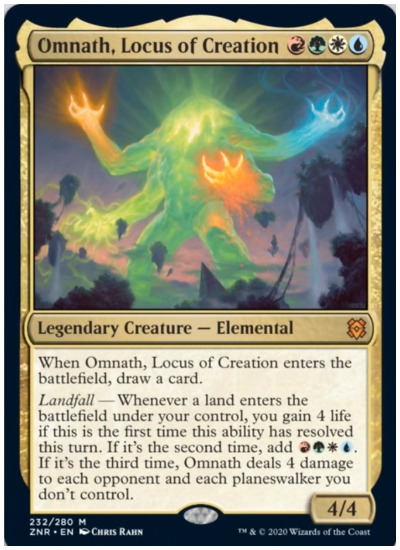 Seeing gameplay in the Commander and Modern format, Omnath, Locus of Creation is a four-color Legendary creature. The elemental was suspended from the Standard format just 18 days after the launch of ZNR and was officially banned on Oct. 12, 2020.
Prior to Standard 2021 rotation, Omnath, Locus of Creation slowly began to rise in value, peaking at around $13. It's dropped slightly to around $11.50 at the time of the VOW global launch.
Ancient Greenwarden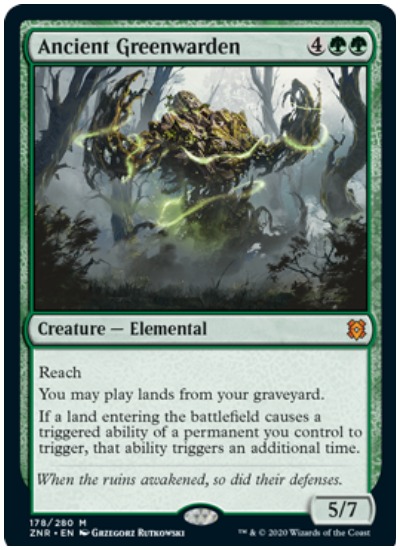 Ancient Greenwarden has found a home in a number of Commander decks within the Magic format. It's a Mythic Rare Elemental with Reach in Green, meaning its cost at six isn't too big of a deal and allows for graveyard shenanigans. Ancient Greenwarden was valued at around $17.50 but dropped to around $11.50 post-rotation.
With the release of VOW, graveyard shenanigan builds received a few new cards. Nothing has popped off yet, leaving Ancient Greenwarden valued at around $11. The Mythic Rare elemental has potential, though, and could see gameplay in the Standard format before the 2022 MTG rotation.
Lithoform Engine
Lithoform Engine is a Mythic Rare Artifact that's slotted into a number of Commander decks. The legendary Artifact was once valued at around $26 prior to falling to around $12. Since the release of MID and VOW, it's continued to dip slightly, worth around $10.
ZNR cards to watch
The cards to watch are ones that have the potential to rise in value based on the Standard meta and other Magic formats.
Shatterskull Smashing
Once sitting under $5, Shatterskull Smashing had its value revived following the 2021 Standard rotation. With the release of VOW, the MDFC Sorcery has seen a decent amount of gameplay in Standard, from Izzet Dragons to Rakdos Vampires. Valued at around $9, Shatterskull Smashing seems to have stabilized for now.
Ashaya, Soul of the Wild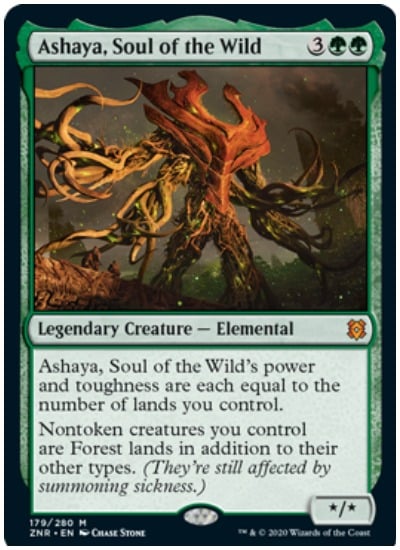 Ashaya, Soul of the Wild is a Mythic Rare Legendary Elemental that thrives off the number of lands on the battlefield. The creature saw a significant price decrease, dropping from $20 to around $9 at the start of 2021. Ashaya, Soul of the Wild dropped slightly following rotation, valued at around $7.50, where the elemental has consistently remained.
Seeing gameplay in Simic Ramp various forms of Midrange decks using the color Green, Ashaya, Soul of the Wild has the potential to pop off should any shifts within the Standard meta take place.
Skyclave Apparition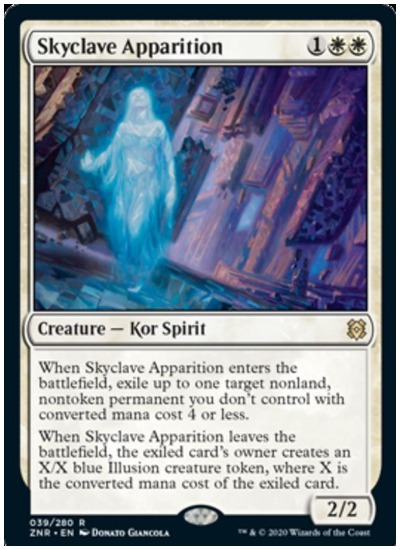 Mono-White Aggro has taken over the Standard meta, with Skyclave Apparition often getting included in certain builds. The Rare Kor spirit has dipped slightly to around $6 but has the potential to rise in value once again. Skyclave Apparition could become a staple creature within multiple Standard decks, depending on how it fits with other spirit cards in the upcoming Kamigawa: Neon Dynasty set.
All images via WotC, Magic: The Gathering.
Update Nov. 24 11am CT: All ZNR cards worth money entries were updated following the release of VOW.