The top 24 Magic Online players duked it out in War of the Spark Limited Draft for day one of the Magic Online Championship and only one player sits atop the leaderboard at 6-1.

Despite technical difficulties with sound during the livestream on Twitch, the matches went on as planned, with many players choosing Esper Control, G/W Proliferate, and Esper Midrange as their draft choices. The commentary duo of Reid Duke and Marshall Sutcliffe worked well together—as did Duke and William Jensen.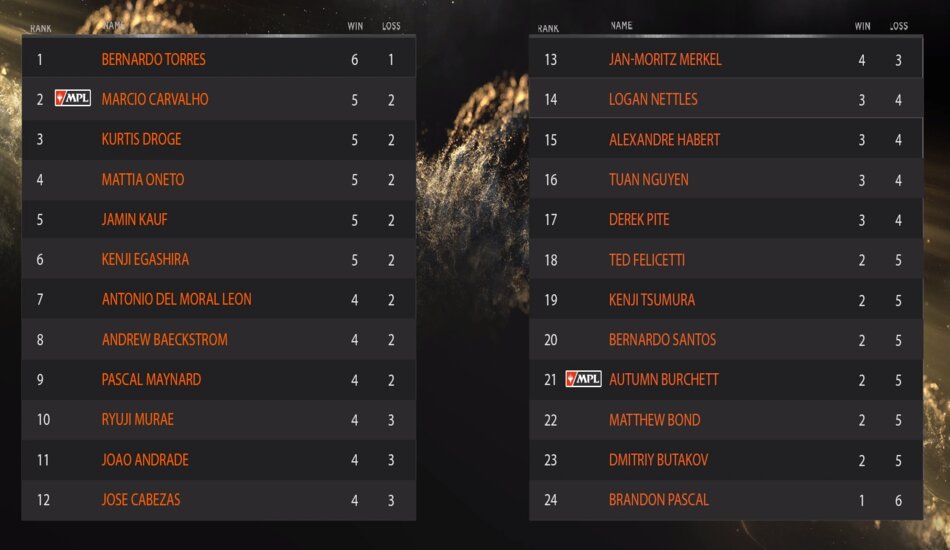 When the dust settled after seven rounds of War of the Spark Limited draft, Bernado Torres sat alone at the top of the leaderboard with a record of 6-1. Not far behind Torres is MPL player Marcio Carvalho at 5-2, along with Kurtis Drodge, Mattia Oneto, Jamin Kauf, and Kenji Egashira.

The only other MPL player in the Magic Online Championship, Autumn Burchett, rounded their day out in slot 21 with a record of 2-5. It's only day one, though, with day two consisting of more War of the Spark Limited Draft in the morning. In the evening, players will resume day two with four rounds of Modern Constructed.

Once day two ends, only the top four players will move on to day three which will consist of Standard Constructed and Modern Constructed rounds to determine a winner for the Magic Online Championship.

Day two of the Modern Online Championship livestreams on Twitch at 10am CT. There will be a break in the stream to broadcast week two of MPL Weekly, followed up with Modern Constructed rounds starting at 6pm CT.