Day two at Mythic Championship V didn't go like any Magic: The Gathering fan would have expected. A variety of archetypes dominated throughout the day for a healthy meta in the finals tomorrow.
The second day at Mythic Championship V began with 28 players fighting for five wins, all seeking to secure a spot in the top eight. And much like day one, Bant Golos failed to dominate the meta while decks like StanCifka's Bant Ramp and Lee Shi Tian's Mono-Red Cavalcade whittled away at the competition.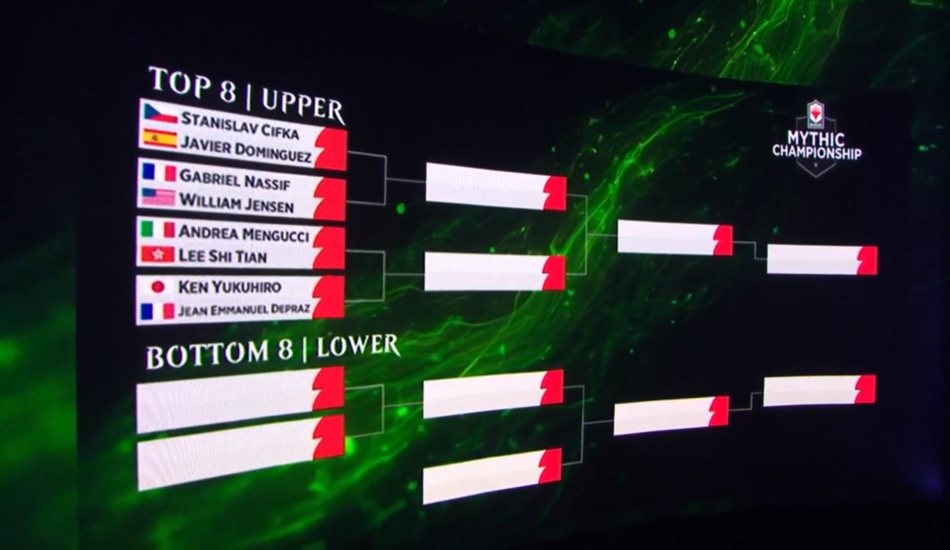 Here are the top eight Magic pros and Challengers in the finals at Mythic Championship V.
Stanislav Cifka: Bant Ramp
Andrea Mengucci: Bant Food
Ken Yukuhiro: Mardu Knights
Gabriel Nassif: Simic Food
William Jensen: Simic Food
Jean Emmanuel Depraz: Bant Golos
Lee Shi Tian: Mono-Red Cavalcade
Javier Dominguez: Gruul Aggro
The story of the day was Lee Shi Tian, who brought the only version of Mono-Red Aggro to MCV. And while other aggro players went with archetypes like Mardu Knights and Gruul, it was Tian who would earn five wins and a guaranteed seat in the finals.
Stanislav Cifka also had an amazing run on day two, showing the world that he's a serious contender fighting for the $100,000 grand prize and a seat at the Magic World Championship. In an intense match with Chris Kvartek, Cifka reminded everyone why he'll always be an MTG pro player.
Day three of Mythic Championship V kicks off tomorrow morning at 11am CT as the top eight battle each other in a double-elimination bracket.
Related: Mythic Championship V playoff highlights and standings
Players who lose in the upper bracket matches will get a second chance at glory in the lower bracket. The winner of the lower bracket, however, is at a disadvantage in the grand final match as they have to win two consecutive matches (best-of-three) in a row.