Players will be able to experience Clan Wars Two in Clash Royale soon.
In Clash Royale's latest YouTube video, Drew Haycock, community manager at Supercell, answered some questions regarding Clan Wars Two. Supercell revealed the release date for the update in the pinned comment of the video. Clan Wars Two is coming on Aug. 31.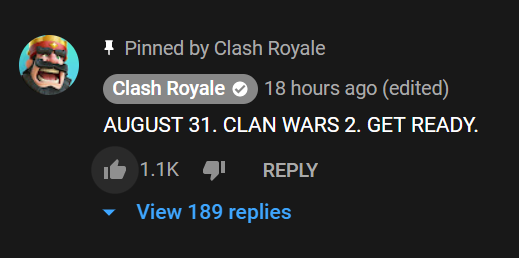 Clan Wars Two is a completely revamped version of Clan Wars. In this, players will be sailing down the river in a boat with their clan members and competing with other clans. Along the river, clan members can battle for rewards that will be distributed equally between teammates.
Related: Everything you need to know about Clan Wars 2 in Clash Royale
Players will be able to encounter four tasks down the river: one-vs-one battles, duels, Boat Battles, and Boatyard. War Decks featuring 32 unique cards will have to be created to complete these tasks.
Boat Battles is the first player-vs-environment mode coming to the game. Other clan boats can be attacked in this mode. These attacked boats will have to go to the Boatyard to repair their ship, halting their progress down the river.
A bunch of other stuff is also coming with the update, such as the Trader from Clash of Clans. Players can trade cards with him on the river.