Some champions in League of Legends are just much stronger than others.
For junglers, there are multiple considerations when weighing which champions are better. The most important thing to look at, and the most obvious, is whether the champion would be good at ganking and either securing kills or aiding their teammates in doing so. Behind the scenes, though, is where things get complicated.
Clear speed, invasion pressure, and macro mobility are all factors that need to be evaluated for keeping up with the enemy jungler. The best jungle champions are the ones that can do it all.
This list of top-tier champions can change depending on a number of things. Sometimes the meta shifts for no apparent reason other than players' tastes, but usually there's some kind of balance update, small or large, that's behind the sudden change. It can be difficult to keep up with the flavor-of-the-month champs, so let us do it for you.
Here are our top five junglers for League's Patch 12.22.
Evelynn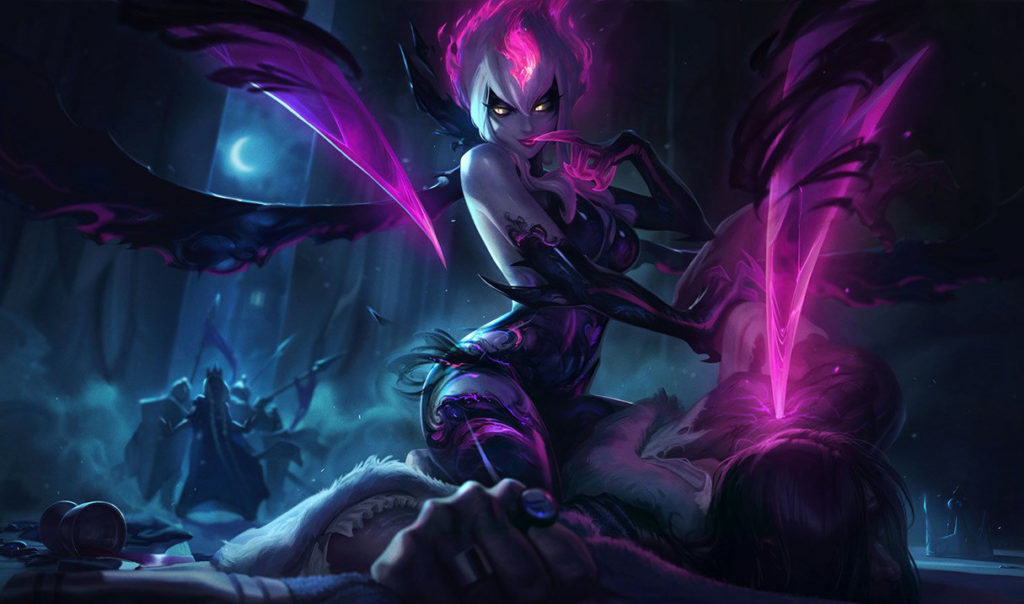 Pros
High burst
Invisible after level six
Fantastic sustain in the jungle thanks to passive
Cons
Weak early
Short range of abilities
Tough to play from behind
Evelynn received minor buffs to her Q and W in Patch 12.20 after her pick and win rates hit rock bottom in solo queue. Despite being relatively small changes on paper, they made her one of the strongest champions in the meta.
Item build
Despite some small changes to two of her abilities, Evelynn's gameplay remains the same. You should still try to go through the early game unscathed and then begin shutting down enemies with your burst damage. Therefore, Electrocute is the rune that fits Evelynn the most. With that, you will be able to deal additional adaptive damage to enemies who you hit with at least three different abilities or attacks.
In her other runes from the Domination tree, it's wise for you to increase Evelynn's damage and mobility. When it comes to the former, Sudden Impact and Eyeball Collection are pivotal. The first rune grants you some Lethality and Magic Penetration after using a dash (like her E) while the second boosts your ability to snowball. Relentless Hunter also improves your movement speed.
Like most junglers in the game, Evelynn suffers from long cooldowns, so to give yourself a hand, grab Magical Footwear and Cosmic Insight from the Inspiration tree as fillers.
Ability priority
As Evelynn, your first goal will be to efficiently clear jungle camps and then gank enemies. Therefore, the best path priority for you is R>Q>E>W. Hate Spike (Q) is your main jungle clearing ability since it has a short cooldown, can be recast, and deals quite a lot of damage. Next, you should enhance your ganking potential, so it makes a lot of sense to put points in Whiplash (E), which allows you to dash to the selected enemy (if you're empowered).
Game plan
Because you're a weak early-game jungler, the game plan isn't complicated for Evelynn. At first, you will need to get to level six as fast as possible. Thanks to your passive, you will be able to heal in the jungle.
Once you get your ultimate and passive upgrade, you should be looking for effective flanks toward enemy laners. Usually, you should begin a gank with a W+E+Q combo and finish your opponents with your ultimate, which also teleports you backward, allowing for some smart and effective tower dives when needed.
As far as the items go, you shouldn't buy anything out of the ordinary for an AP-based, assassin jungler. Hextech Rocketbelt will greatly increase your damage and mobility, therefore, it should be your first pick. Afterward, simply build AP items, like Rabadon's Deathcap and Void Staff.
Shyvana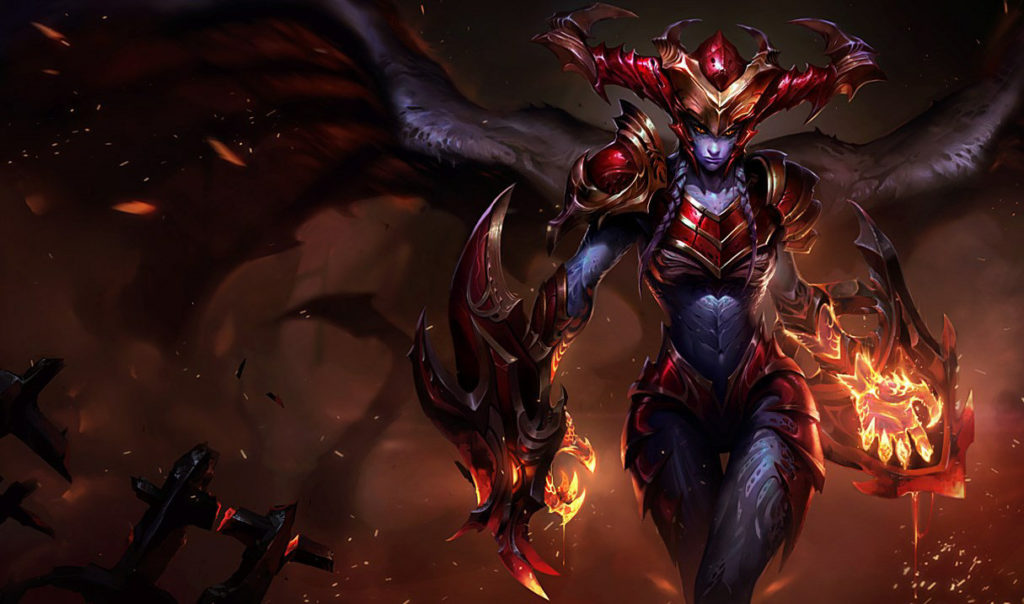 Pros
Tanky with high damage
Versatile
Fast jungle clear
Strong poke
Cons
Falls off a bit in the late game
Can be easily kited
Shyvana is one of the junglers making a comeback following the Patch 12.22 changes. With updated items and a few buffs in Patch 12.19, she's an incredible one-vs-one fighter with teamfight potential.
Item build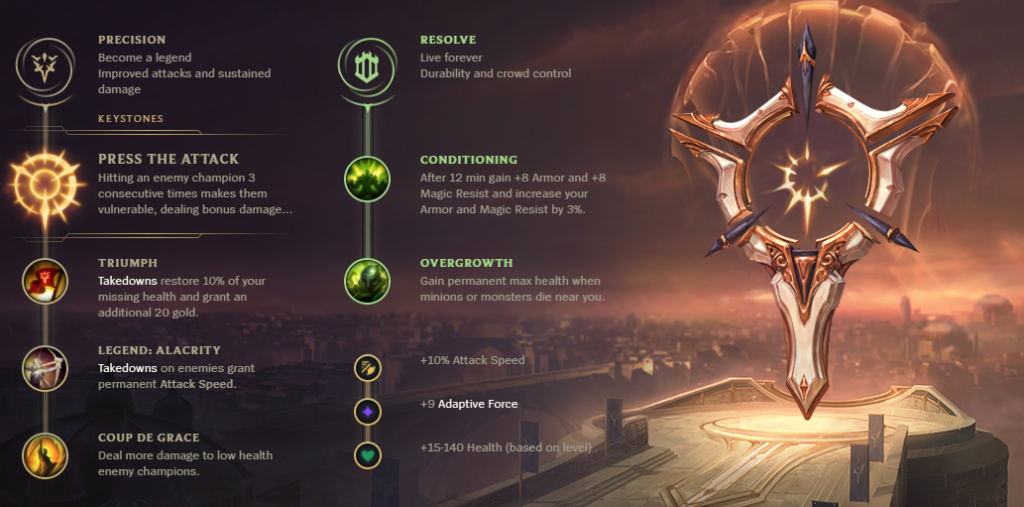 While playing Shyvana, you will be looking to go all-in toward the enemy team, with your primary goal being the squishy enemies who you can shred through with your abilities. To enhance your fighting potential, you should choose Press the Attack as the major rune. With that under your belt, you will deal bonus adaptive damage with every three basic attacks, which will make an enormous difference, especially in the early and mid-game skirmishes.
Other runes from the Precision tree are pretty much self-explanatory. Triumph is important for every bruiser since it heals you with every takedown you score, increasing your chances to survive a teamfight. Legend: Alacrity enhances Shyvana's attack speed, while Coup de Grace is a perfect round-up to the main runes since it makes you deal more damage to low-on-health opponents.
When it comes to filler runes, there are hardly better choices than Conditioning and Overgrowth. They provide you with some much-needed resistances and permanent health, respectively.
Ability priority
While Shyvana has typically been an AD-based champion, in the latest meta she's the strongest when she builds ability power items. Therefore, your ability path should look like this: R>E>W>Q. Flame Breath (E) is Shyvana's strongest AP-scaling ability and is fantastic for poking, especially with her Dragon Form. Afterward, you should maximize Burnout, as it's strong to disrupt enemies on the battlefield and it also scales with ability power.
Game plan
When playing Shyvana, your first objective is to hit level six as fast as possible. Thanks to your kit, you won't have to be afraid of potential counterganks because Shyvana is a formidable option in early solo battles. Once you hit level six, you should start ganking lanes, but it's possible to gank before that point if you find the right opportunity.
In fights, Shyvana should go in as one of the front-line champions. The usage of your ultimate is pivotal here. You should use it either as a gap closer to find yourself in the middle of the enemy team or to poke the enemies with your Flame Breath. In your Dragon form, you will become a priority target, but you will be able to change the battlefield with your W and E. Remember to always go in for squishy targets, as they are your main priority. If you're caught out of position, you can also use your ultimate as an escape tool, and you shouldn't be afraid of doing so since its cooldown isn't long.
With such an aggressive kit and quite powerful abilities on their own, Shyvana should stack defensive items to increase her survivability in teamfights. At first, you should pick Iceborn Gauntlet and Demonic Embrace so your abilities hurt more in the early game. Afterward, you may collect more aggressive items if you're at a significant advantage, like Rabadon's Deathcap or Zhonya's Hourglass. At that time, though, you should start stacking armor and resistances with Force of Nature, Gargoyle's Stoneplate, or Thornmail.
Rek'Sai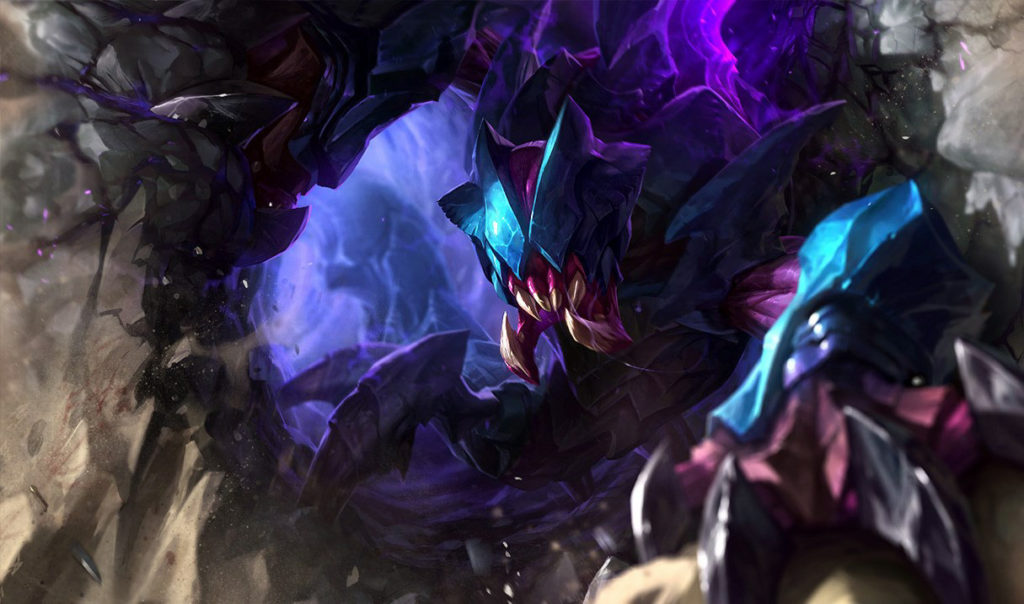 Pros
Tank with high damage
Mobile
Can easily finish off low-health enemies with her ultimate
Quick camp clearing
Cons
Tough to play from behind
Falls off in the late game
Despite receiving minor nerfs in Patch 12.19, Rek'Sai is still one of the best junglers in the game. Her tankiness mixed with rapid camp clearing and easy-to-execute ganks make her one of the most dangerous junglers in both the early and mid-game. If perfectly executed, you may quickly put your team in the driving seat and allow them to take care of the rest in the late game.
Item build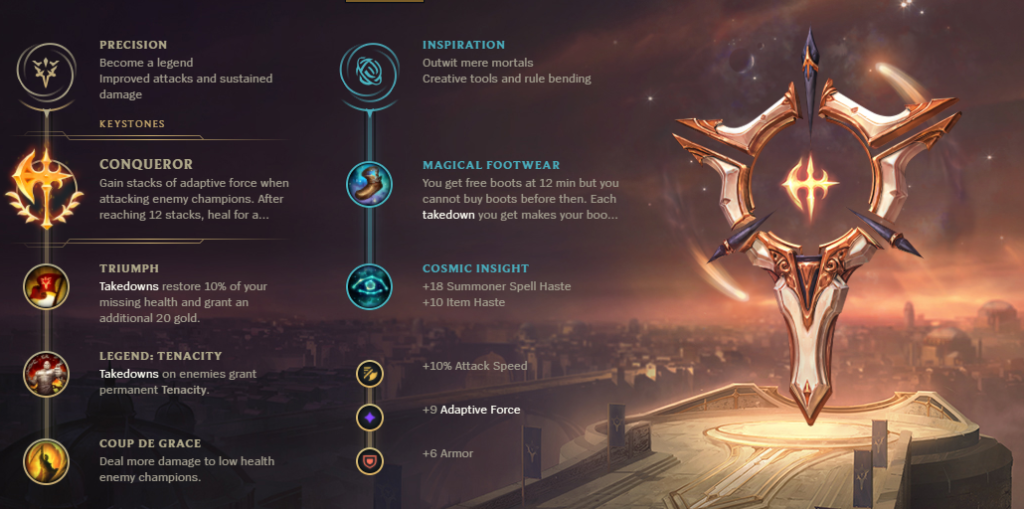 When playing Rek'Sai, you should prioritize getting through camps quickly and utilizing your high damage early. To further improve it, it's wise to pick Conqueror: you will gain additional damage simply by attacking enemies by stacking it. Furthermore, once fully stacked, you will heal for some of the damage dealt to enemy champions, which will enhance your sustain in teamfights.
Afterward, it's best to pick standard runes for AD-based bruiser junglers like Rek'Sai. Triumph is pivotal, since it heals a portion of your health with every takedown, being yet another tool that makes you tough to take down in fights. To finish off enemies quicker, pick Coup de Grace, which boosts your damage to low-health targets. Legend: Tenacity, on the other hand, will make you more mobile in teamfights since you will have more resistance to crowd control effects.
As for the filler runes, it's best to choose Magical Footwear and Cosmic Insight to improve your utility a bit.
Ability priority
You should put points in your abilities in the following order: R>Q>E>W. Your Queen's Wrath / Prey Seeker (Q) is your main ability to clear camps and to also deal decent damage to enemies in early-game ganks. Down the line, you want to continue increasing your damage, therefore, maximizing Furious Bite / Tunnel (E) is the only sensible option.
Game plan
The game plan is simple when you're playing Rek'Sai. You want to get to level three as fast as you can by some efficient, quick camp clearing in the first minutes of the game. Once you do that, you should have all the tools needed to start ganking enemies. While it's not as hard on Rek'Sai, sometimes it won't be possible or worthwhile to do so, since enemies may be playing under their towers. In that case, focus on clearing the jungle and possibly try to steal some camps from the enemy jungle.
Once you hit level six, you should have the ability to quickly aid your teammates in need. You should also have a somewhat advanced system of tunnels by that point, so navigating through the map should be a piece of cake. Try to take control over the neutral objectives and aim to put your teammates in an advantageous position with successful ganks.
In terms of items, Rek'Sai players should be going for a mix of aggressive and defensive choices. The best mythic item for the champion is most likely Prowler's Claw, which should be completed first. Next, get yourself Edge of Night, Death's Dance, and Guardian Angel. Once you get those items under your belt, you may round up your build with defensive items like Randuin's Omen or Force of Nature, which is up to you.
Fiddlesticks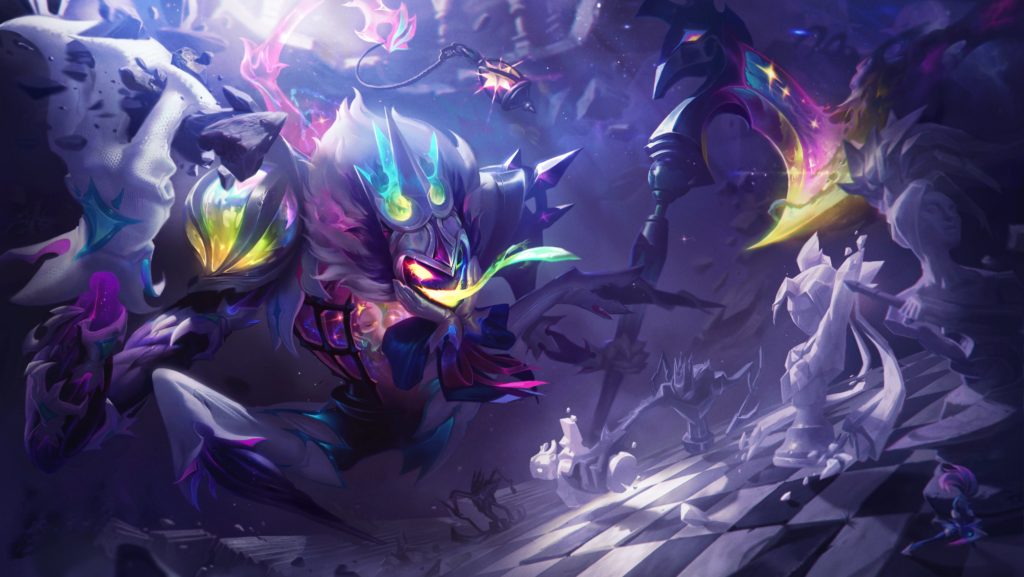 Pros
Unique gameplay
High damage
Lots of CC
Cons
Squishy
Requires perfect timing to use the ultimate
Fiddlesticks is one of the most old-school junglers in League of Legends. In season 12, he's a rather unusual pick due to low tankiness and gameplay that relies on perfect timing, specifically in terms of when to use his ultimate. Still, his pros outweigh the cons, making him one of the best junglers in today's meta.
Item build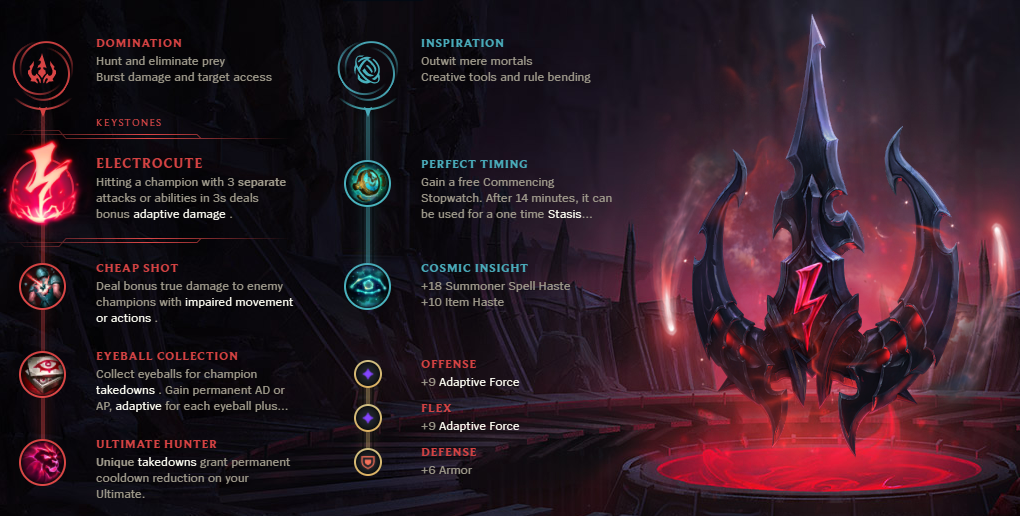 While playing Fiddlesticks, a player's ultimate goal is to find the perfect ultimate where they can wreak havoc by dealing tons of damage to CC'd enemies. Therefore, the wisest option rune-wise for him is Electrocute. With that under your belt, you will deal adaptive damage to opponents that are hit with three separate attacks, which your full combo should proc easily.
Afterward, it's best for you to increase his damage and snowball potential. For that, you should be picking Cheap Shot, Eyeball Collection, and Ultimate Hunter. The second and third rune grant him adaptive damage and ultimate cooldown reduction based on stacks, while the former allows Fiddlesticks to deal bonus damage to those who have impaired actions. And looking at the tools you have, there should be plenty of enemies like that.
Fiddlesticks needs a bit of help in terms of utility, especially since you're going to be grabbing some items with active abilities, like Zhonya's Hourglass and Hextech Rocketbelt, which are core for him. Therefore, Cosmic Insight is pivotal to the champion, with a free Stopwatch coming from Perfect Timing being no less important.
Ability priority
On Fiddlesticks, you want to prioritize abilities in this order: R>W>Q>E. Bountiful Harvest (W) is key in clearing the jungle, especially big monsters. It's also great for eliminating single-target enemies that aren't that mobile and can't escape the range of your ability that easily. When the mid game comes around, it's important for you to keep your enemies CC'd as long as possible, so you should be putting points in Terrify (Q) instead of Reap (E).
Game plan
Fiddlesticks' game plan is fairly simple. In the first minutes of the game, your goal should be farming the jungle and getting to level six as fast as possible. Before that, your ganks won't be that fruitful, especially since you don't have any gap closers since your Hextech Rocketbelt isn't yet completed. There are, however, some champions that might be gankable before level six, like immobile ones from the top lane, that should be easy to eliminate if they overextend.
Once you hit level six, the game doesn't immediately become easy. You still need to properly place your ultimate and yourself so that you don't get interrupted while casting it and enemies won't escape the area that you're planning to ult before you do. Therefore, proper vision control is pivotal for Fiddlesticks. Try to set that up alongside your support and always try to pop in with a surprise element. Usually, his kit is used the best once fighting in the jungle, so try to engage in fights over neutral objectives as much as you can.
Players will probably need some time before mastering Fiddlesticks' ability order in teamfights. After all, you will need to use ultimate and your CC skills and active items afterward. With so many tasks, it's easy to mess the sequence up. First, you close the gap with Hextech Rocketbelt, use your Terrify and Reap, start channeling Bountiful Harvest (W) if possible, and then go into stasis with Zhonya's Hourglass.
Last but not least, it's best to use Fiddlesticks on the enemies' back line. Therefore, maintaining great vision control is pivotal. It will allow you to set up proper flanks, which will keep getting harder and harder to navigate as the game goes on.
Ekko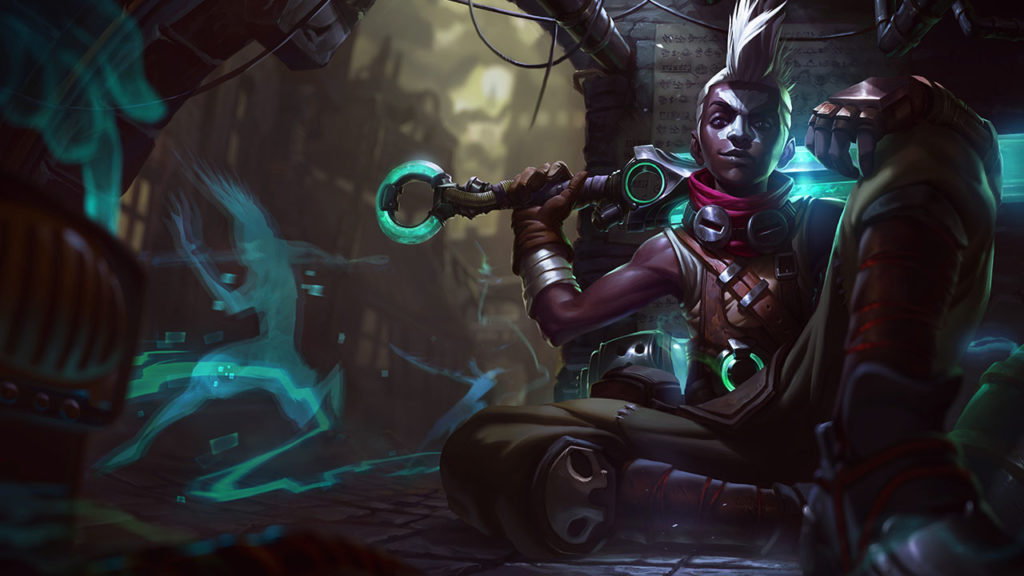 Pros
High damage
Can go for risky plays thanks to ultimate
Scales well throughout the game
Has an easy gap closer
Cons
Hard to play from behind
Reliant on proper ultimate usage in teamfights
Another jungler reigning on the Summoner's Rift after Patch 12.22 is Ekko. Similarly to Shyvana, he has received some buffs in Patch 12.19, and with jungle and item changes in the preseason, he's one of the best picks for the role if you can get around his tricky kit.
Item build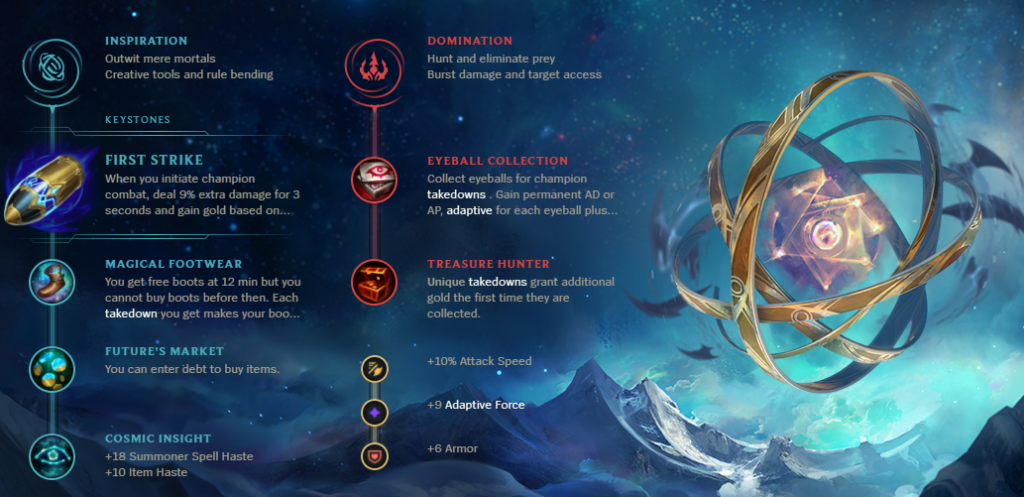 Ekko's gameplay relies on going in with Phase Dive, dealing some damage, and quickly disengaging with his ultimate. Therefore, it's smart to pick a high-risk high-reward major rune like First Strike. With that, Ekko will deal significantly more damage for the first three seconds of combat. It's a fantastic rune for assassins in League and it does wonders for Ekko.
With the Inspiration tree chosen as the main one, it's best to boost Ekko's utility with other runes in it. Magical Footwear will save you some gold by giving you free shoes in the early game. Future's Market allows you to get ahead of your opponents by literally entering debt at the shop. Cosmic Insight lowers your cooldowns on your Summoner's Spells and item abilities, which will also come in crucial as the game goes on.
To finish the runes, you should choose Eyeball Collection and Treasure Hunter from the Domination tree. They will grant you adaptive damage and gold, making the snowball even easier.
Ability priority
As Ekko, your main and only goal in terms of abilities is to increase your damage. Therefore, the smartest pick would be to go for R>Q>E>W. Timewinder (Q) is best for a rapid jungle clear and for finishing off enemies or simply poking them. Once you get that ability to level five, you will be able to choose between Parallel Convergence (W) and Phase Dive (E), and you most definitely should go for the latter. It's an easy gap closer that deals formidable damage, making it an obvious choice.
Game plan
As Ekko, you can have strong ganks against aggressive enemies as fast as level three. The key to having successful ganks in the early game as Ekko is proper Parallel Convergence usage. If you manage to land it with Ekko inside the sphere, you will stun your enemy. Forcing a Flash out of enemy laners in the early game should be really helpful for your allies, though, it takes some time to master.
The champion excels in the mid game when he hits his power spike and can navigate fights around the neutral objectives. You will have quite an unusual gameplay. If you're waiting for the enemy team to engage, you should always throw your Q to poke down the enemy team. If you have a top laner capable of engaging in fights, look for ways to flank the enemies, so you can quickly delete squishy targets from the enemy team. Either way, you will have a few ways to make yourself useful.
Despite being quite mobile, Ekko should grab Hextech Rocketbelt to increase his mobility and damage as the first core item. Afterward, grab Lich Bane, another key item for Ekko. With that, you will have empowered basic attacks after you use your Phase Dive. Once you have both of those items under your belt, collect Rabadon's Deathcap, Zhonya's Hourglass, and Void Staff to round up your build.