Hearthstone's ladder resets every month. Each calendar month is a new ranked play season, and it comes with its own unique rewards.
That monthly reward is part of what keeps players coming back month and month. The game is constantly giving you rewards just for playing a few games every season.
All you have to do to receive a seasonal reward is win five ladder games each month. That was introduced in the March 2017 ladder revamp—previously only players who reached rank 20 received any reward.
Now just for winning five ladder game, you'll receive the monthly card back. If you've been playing since the beginning of Hearthstone, your collection of card backs will be massive at this point.
The cardback for July's ranked play season is the Lightforged cardback.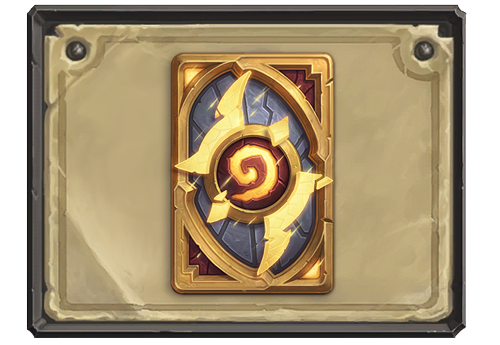 To get a ranked play chest however, you still have to get to rank 20. These chests are awarded based on your highest rank achieved throughout the month, with different themed chests for each of the ranked floors.
Exactly what cards you receive each month is random, and determined when you open the chest. All the cards are golden, with Legend rank players obviously receiving the most lucrative rewards. The biggest jump in value is reaching rank five—that golden epic really makes all the difference.
Here are the details of exactly how good the rewards are at each rank.
Legend—three golden commons, one golden epic
Rank one—two golden commons, one golden epic, 25 dust
Rank two—two golden commons, one golden epic, 20 dust
Rank three—two golden commons, one golden epic, 15 dust
Rank four—two golden commons, one golden epic, 10 dust
Rank five—two golden commons, one golden epic, five dust
Rank six—two golden commons, one golden rare, 25 dust
Rank seven—two golden commons, one golden rare, 20 dust
Rank eight—two golden commons, one golden rare, 25 dust
Rank nine—two golden commons, one golden rare, 10 dust
Rank ten—two golden commons, one golden rare, five dust
Rank eleven—one golden common, one golden rare, 25 dust
Rank twelve—one golden common, one golden rare, 20 dust
Rank thirteen—one golden common, one golden rare, 25 dust
Rank fourteen—one golden common, one golden rare, 20 dust
Rank fifteen—one golden common, one golden rare, five dust
Rank sixteen—one golden common, 25 dust
Rank seventeen—one golden common, 20 dust
Rank eighteen—one golden common, 15 dust
Rank nineteen—one golden common, 10 dust
Rank twenty—one golden common, five dust
Rank twenty-one to rank twenty-five—no reward