Farraki Battleaxe is the latest Paladin weapon revealed for the upcoming Hearthstone expansion, Rastakhan's Rumble. French YouTuber Torlk unveiled the card today in a video.

This card is a Rare weapon. It costs five mana and it has three Attack and Duration. It features the new Overkill keyword, which means its effect is triggered after it kills a minion with less health than its attack.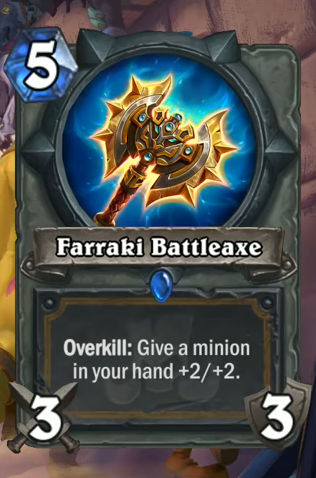 Farraki Battleaxe will be great for Paladins who rely on empowering their cards with card effects. Having a minion receive +2/+2 is a huge advantage in the mid-game, and it can be a game changer if you're about to hit your opponent with a last strike from a Charge minion.

Hearthstone players who want to pre-order Rastakhan's Rumble have two bundles to choose from. One comes with 17 card packs and costs $20, while another bundle has 50 card packs, costs $50, and comes with the new Shaman hero King Rastakhan. These pre-purchase bundles will be available until the expansion is released on Dec. 4.