Fortnite: Battle Royale's season eight is about to begin. Players will have access to its full content on Feb. 28 when season seven ends.

Fortnite developer Epic Games has yet to reveal when season eight ends, but a PlayStation 4 image for Fortnite's season eight shows an end date set for May 8 at 7pm CT. All players with a PS4 can find this event page and reproduce it, and apparently they should show the same date and time.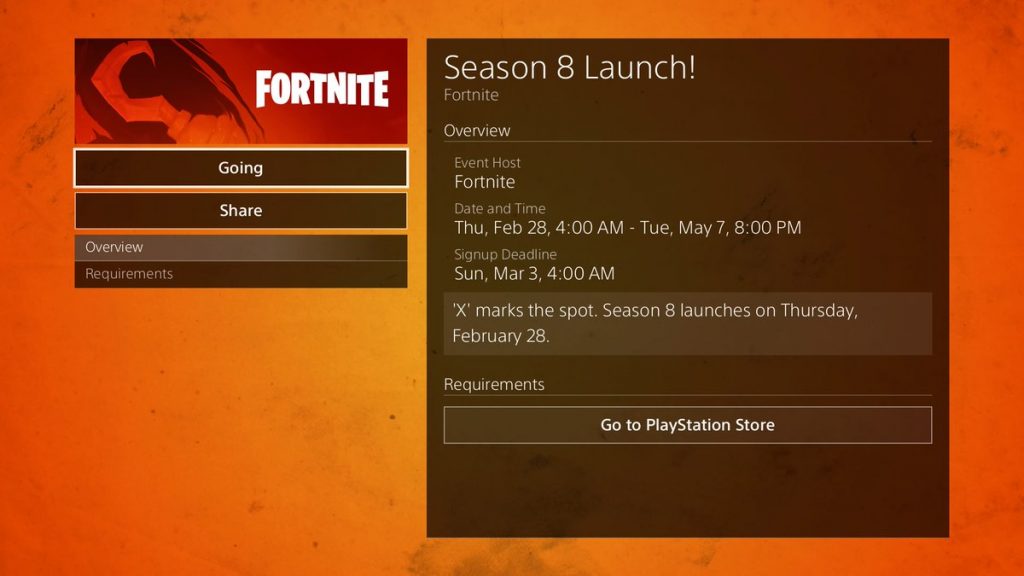 These dates would make season eight last 70 days, or 10 full weeks of Battle Pass challenges, which is the standard duration of a season. That means season eight will be shorter than season seven, which lasted 12 weeks due to the holidays, which led Epic to extend the season's duration for two weeks.

So Fortnite players should have a standard season ahead of them. We might understand the update and weekly challenge schedules for season eight once the season is out, but if it follows current trends, players should see updates on Tuesdays and new Battle Pass challenges on Thursdays.

Knowing the end date of season eight might be interesting to some players. When you play less than you want to, planning your gaming schedule ahead of a new Fortnite season might be important to go after that sweet new tier 100 Battle Pass skin that's about to become available.

We'll update this story once season eight goes live and Epic reveals the official end date of the season.