Another major organization has revealed its Call of Duty roster for the upcoming season of WWII.
Echo Fox has signed Brice Faccento, Renato "Saints" Forza, Adam "Assault" Garcia, and Peirce "Gunless" Hillman for Call of Duty: WWII, the organization announced earlier today.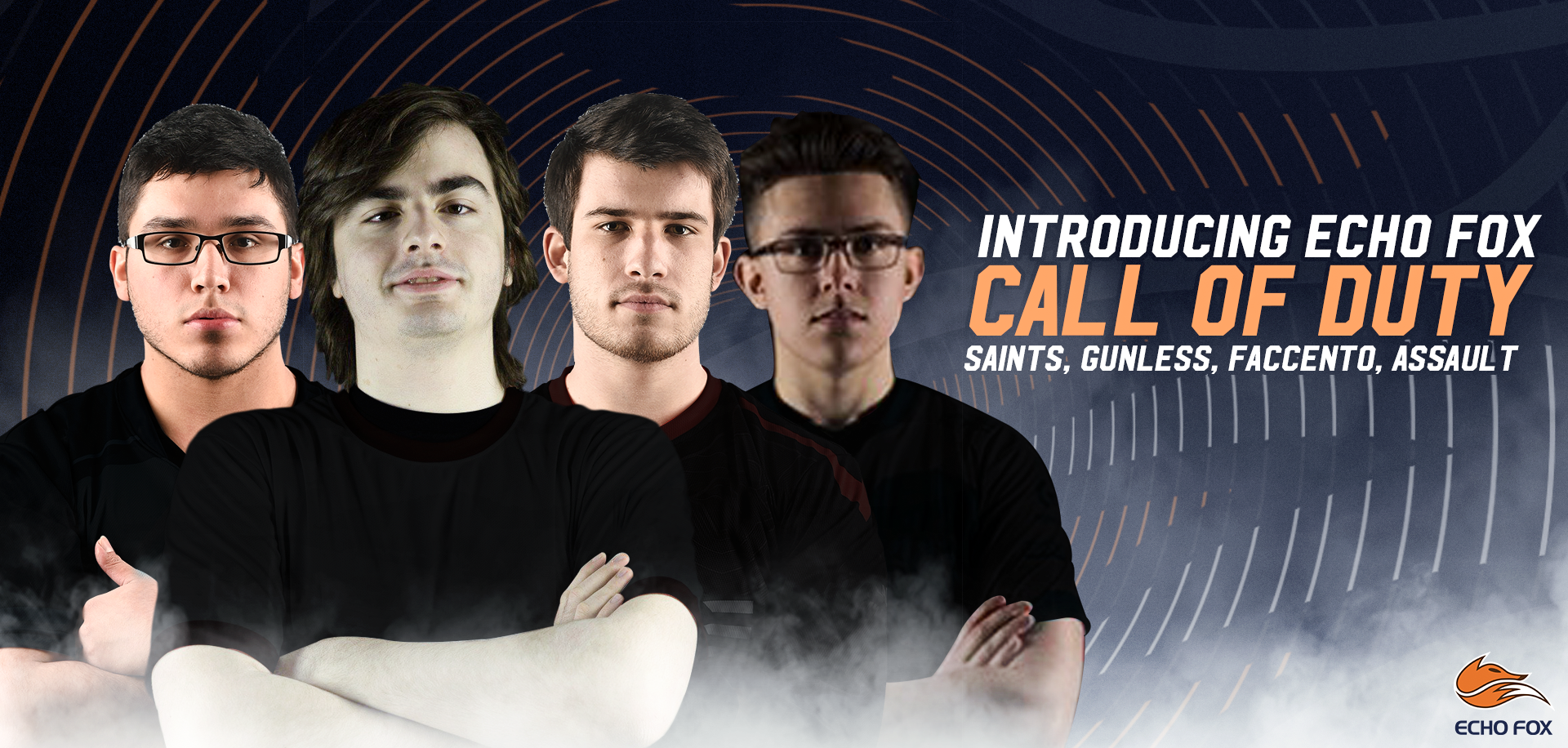 These players all performed extremely well last year on separate teams during Infinite Warfare. Faccento, who spent the entire Infinite Warfare season with Rise Nation, won the first major event of the year—the Call of Duty World League Las Vegas Open in December—and he was also named the tournament MVP. He also came in fourth at this year's $1.5 million Call of Duty World League Championship in August, but was later released from Rise on Aug. 26.
Saints enjoyed a very successful 2017 season as a part of Luminosity Gaming—the organization he's competed with since December 2015. He had several top placings, including a first-place finish at the CWL Anaheim Open in June, as well as coming in third at CoD Champs 2017.
After nearly two years with Luminosity, however, Saints is ready to play with his new squad.
"I'm looking forward to competing with this team under Echo Fox," Saints said. "Everyone on this team has competed at the highest level. Adam, Brice, Peirce, and I all have the same goal and that's to win the Call of Duty World League. I'm excited for the future and look forward to competing with my teammates."
One of Saints' newest teammates is Gunless, who was a breakout player during Infinite Warfare. Gunless started to make a name for himself after winning the CWL Atlanta Open in February with eUnited—he was also crowned the tournament MVP. After some internal conflict with eUnited, however, Gunless was traded to FaZe Clan for Call of Duty legend James "Clayster" Eubanks, and he finished the Infinite Warfare season with FaZe.
Last, but certainly not least, Assault is a very talented assault rifle player who has spent the majority of the past two years with Cloud9. In Infinite Warfare, he helped C9 place second at CWL Vegas—where he lost to Faccento's Rise Nation squad in the grand finals—and fourth at CWL Anaheim. Assault announced his departure from C9 on Aug. 20.
This team truly has a lot of slaying power, although the players have limited experience competing together—Assault was a substitute for Saints' Luminosity roster in the first season of the 2016 NA CWL for Black Ops III. But, at least on paper, Echo Fox's new roster seems to have the potential to contend for some championships in 2018.
More organizations will begin to finalize their rosters as the upcoming season quickly approaches, with Call of Duty: WWII set to be released on Nov. 3.