Riot Games' multiplayer tactical shooter VALORANT attracts thousands of players daily. But just like any multiplayer title, server issues are inevitable, especially around planned maintenance, large updates, or new acts and episodes.
VALORANT fans may be experiencing different errors, including the infamous error code 43. Riot is generally communicative in handling these issues, explaining exactly what the developers are doing to manage the madness.
Here's how to check on the status of VALORANT's servers.
How to check VALORANT's server status
A player's best bet is to check the VALORANT Twitter account, which regularly updates fans on the game's status. The VALORANT account will typically post when serious server-side issues are ongoing. The Riot Support account will also tweet about important VALORANT issues.
VALORANT is also featured on the Riot Games Service Status page. Updates for all of the company's titles, like League of Legends and Legends of Runeterra, are found on the Service Status page. Any errors are usually accompanied by a timestamp for when they began and sometimes include a time frame for when the servers will be up and running. Users can also select the Service Status page for VALORANT specifically.
Active outages or errors will be listed under the "Current Messages" section on Riot Games' Service Status page for VALORANT.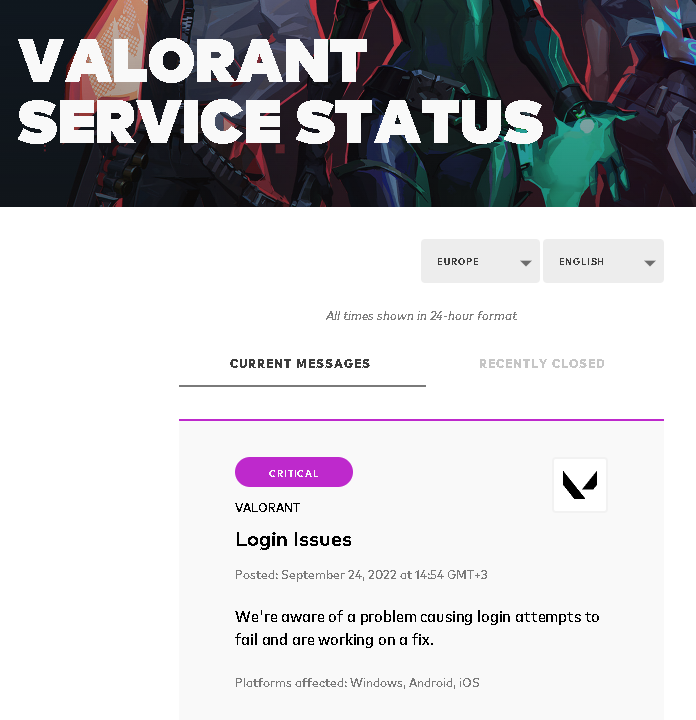 Numerous third-party sites also track server status, with the most well-known being Down Detector. The VALORANT page on Down Detector will show the number of reports posted over the past 24 hours, including a graphic of the most commonly reported problems. Users can check the status of VALORANT for specific countries on this page.
Fans receiving pesky error messages can also check out VALORANT's support page. There, players can see a list of errors, their meaning, and ways to solve the issue potentially.
Riot also has a VALORANT support section on its website with urgent notifications at the top.