A total of 16 Teamfight Tactics players from around the globe are competing for the first Worlds title and a piece of a $200,000 prize pool at the Galaxies Championship.
The semifinal and final rounds of the TFT Galaxies World Championship will take place over the course of two days, Sept. 3 and 4. A total of eight region Qualifier Finals were held over the past several weeks in which a total of 16 players earned a spot to compete at the Galaxies Championship.
Shoemaker
Mismatched Socks
Hazte
Voltariux
ITZ Slooper
Achen
Juanzi
Alphago
KC Doouble61
Lev D TrotskiJ
Panda
Bobae
Adastra
Cupidtas
Calcifer
Oubo
Semifinals
The TFT Galaxies Championship semifinals showcased five rounds of play with the 16 players split into two lobbies. Players had the goal of trying to get top-four finishes per round since the four players with the most points at the completion of five rounds in each lobby advanced to the finals. A rundown of the semifinal format can be found here.
Lobby one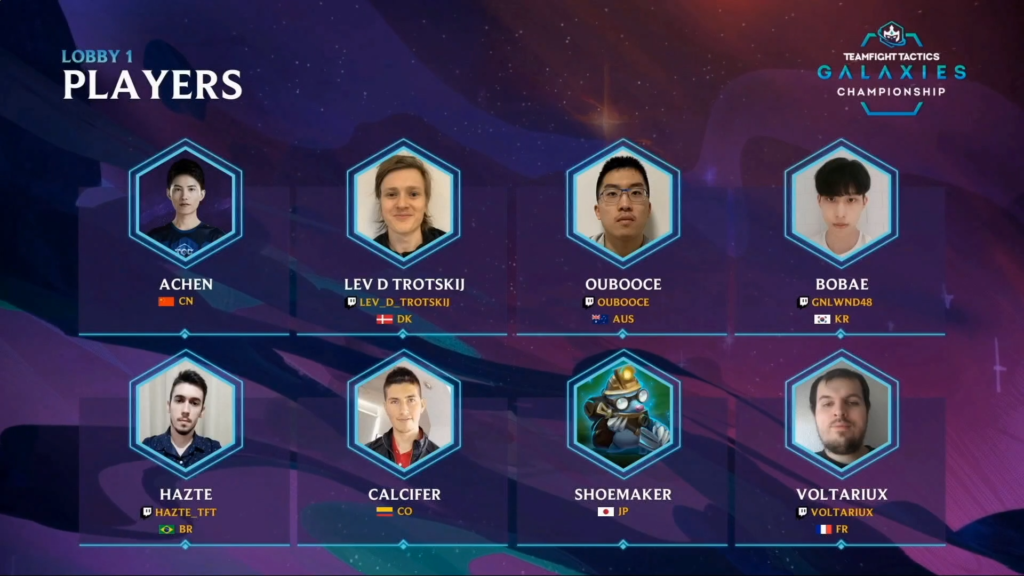 Round one
Voltariux had a solid early game start with Space Pirates/Vanguard, sitting at the top of lobby one until stage 4-6. Achen also had a decent start, focusing on Dark Stars despite multiple opportunities to transition over to Mech.
Heading into stage six, there were four players left: Shoemaker (Cybernetics), Voltariux (Vanguard/Dark Star), Achen, and Hazte. Voltariux earned the first win of the day.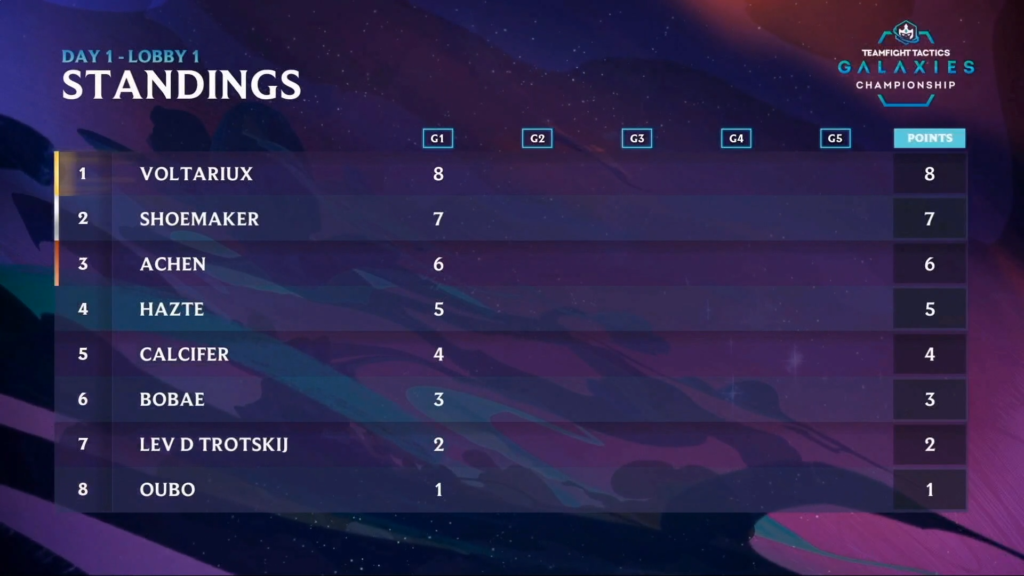 Round two
Superdense was the Galaxy for game two. Hazte took an early lead running Rebels/Infiltrator as he transitioned into six Rebel/Demolitionist. Voltariux was also at the top with Brawler/Rebel, along with Lev D playing Cybernetics.
Bobae took the lead in the late game with Star Guardians, winning game two over Hazte and Lev D.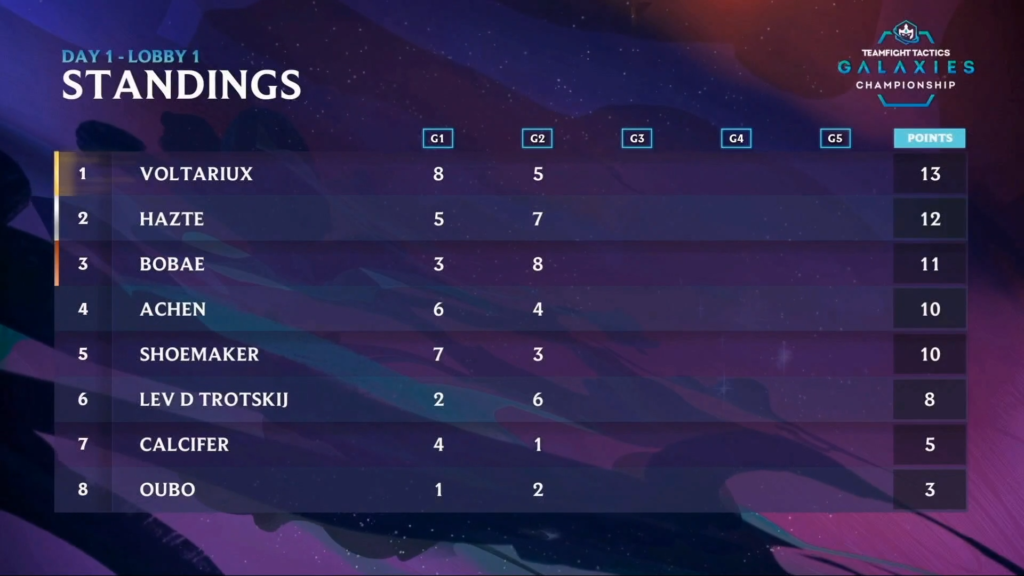 Round three
Game three featured the Trade Sector Galaxy. Bobae hyper-rolled on stage 3-1, hitting a three-star Illaoi and two-star Kog'Maw. Lev D decided to go with Star Guardian and Voltariux hit the top of the lobby standings with a three-star Mordekaiser Astro/Vanguard build. Hazte also separated himself from the lower half of the lobby with Mech while Shoemaker climbed with six Blademaster three-star Xayah.
Voltariux hit a three-star Teemo at stage 6-4 while Bobae was stuck on only four Battlecast with three-star Illaoi, Kog'Maw, Graves, and Nocturne. Shoemaker hit the top two in game three via Blademaster/Shredder and Thresh with two-star Urgot on the bench, beating Voltariux and his three-star Teemo.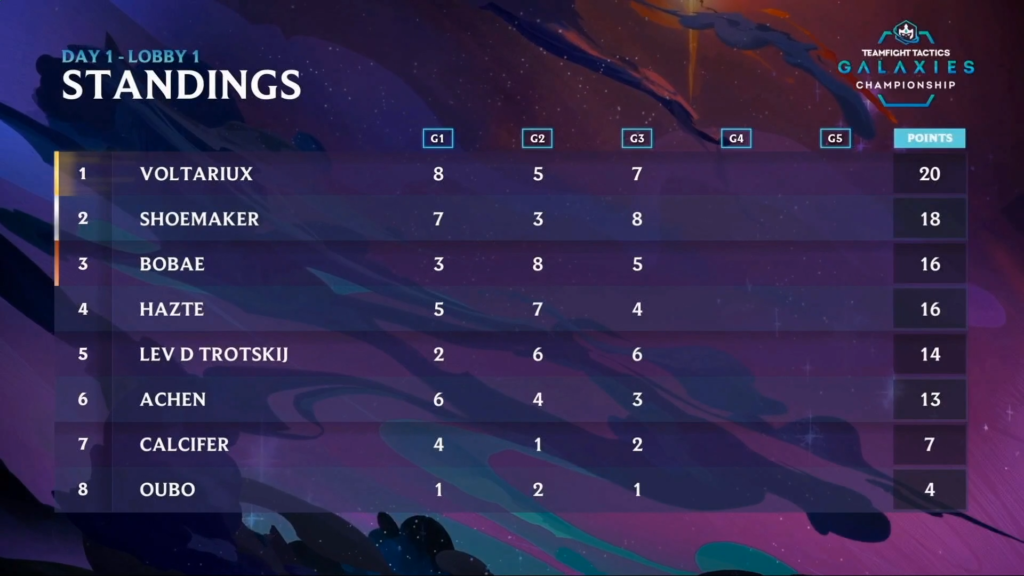 Round four
Game four featured the Superdense Galaxy. Hazte grabbed an early lead with Star Guardians. Voltariux (Cybernetics) and Lev D (Astro/Vanguard) were also at the top of the lobby during the early game. Shoemaker was the first eliminated and Voltariux finished in sixth.
Achen hit a three-star Master Yi at the last minute with only 21 life points left, while Lev D transitioned over to Astro/Sniper. But both didn't make the top two. It came down to Bobae (Dark Star) and Oubo, with Bobae winning round four.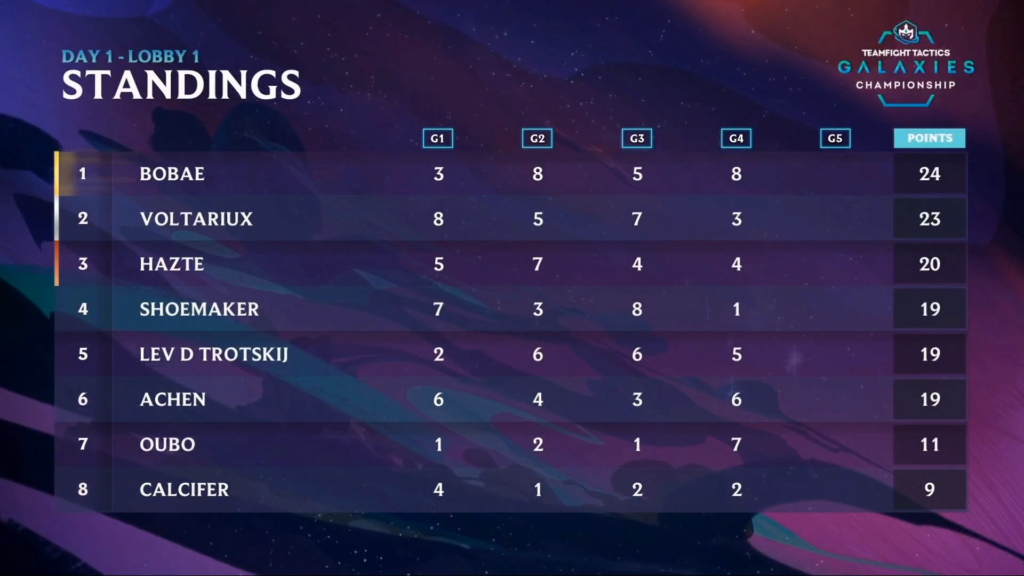 Despite a second-place finish, Oubo didn't have enough points to place top-four in round five—along with Calcifer.
Round five
Trade Sector was the final Galaxy for lobby one in the semifinals. Bobae was sitting at the top of the leaderboard but found himself building a Battlecast comp that Shoemaker was also attempting to build. And he ended up finishing in eighth, putting him at risk of not advancing to the finals.
Achen was also on the bubble, finishing seventh in game five. Oubo finished fourth and Lev D was out in third with Cybernetics. It came down to Shoemaker on Battlecast and Voltariux playing Jinx Infiltrator/Rebels—and Voltariux earned another game win.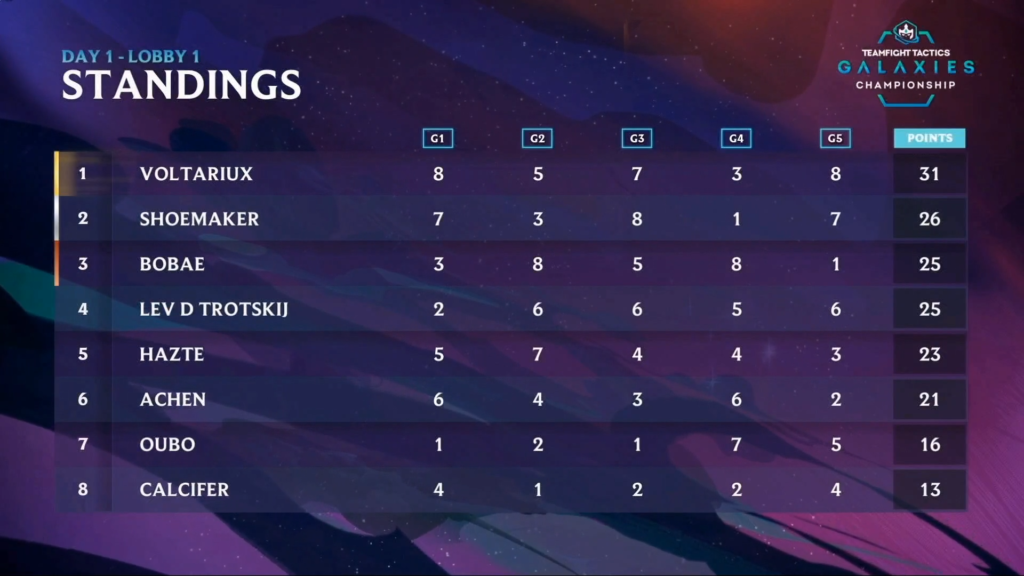 Voltariux, Shoemaker, Bobae, and Lev D will advance to the TFT Galaxies Championship finals on day two.
Lobby two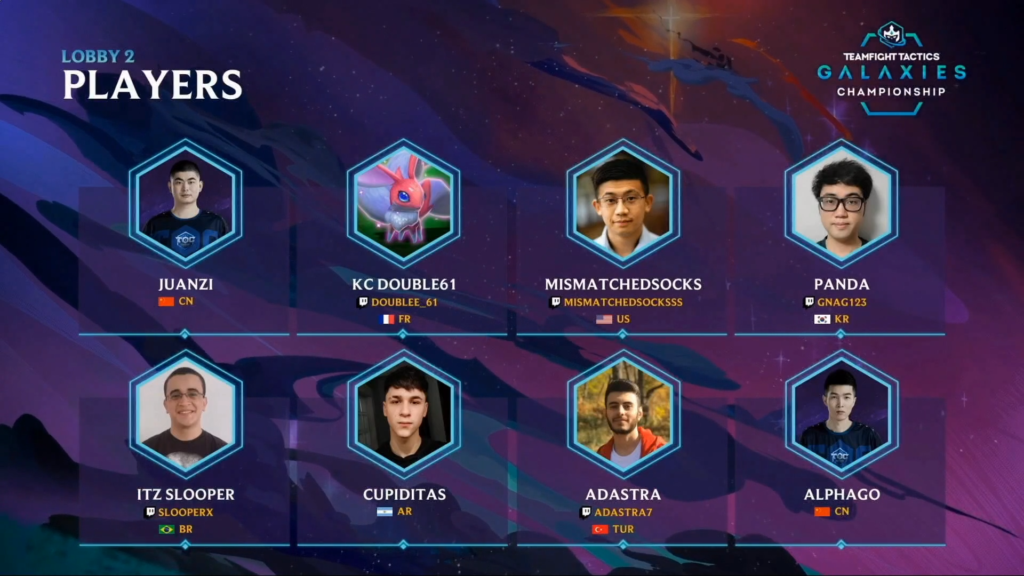 Round one
The first Galaxy for lobby two was Superdense. Mismatched Socks began game one with Protector/Star Guardians, contested by Slooper, while Juanzi high-rolled a Mech by stage 3-3.
Double61, Alphago (Cybernetics), Mismatched Socks, and Juanzi made it to the top four, with Double61 and Mismatched Socks getting eliminated first. It was all about Mech over Cybernetics with Jaunzi earning the first win in lobby two.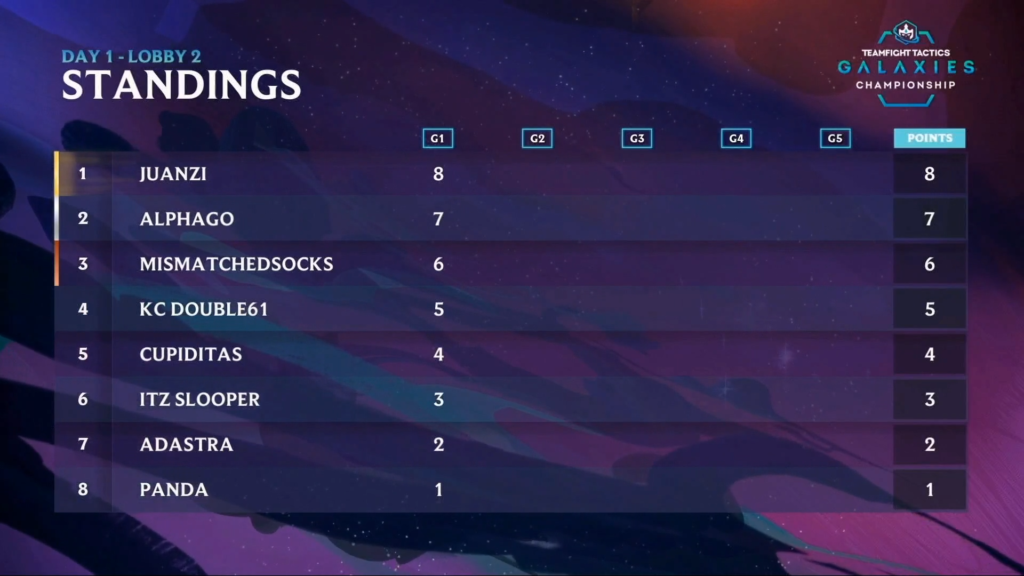 Round two
Round two was played in a Normal Galaxy with Cupidtas and Juanzi (Space Pirate) taking early leads. Panda climbed to second in the lobby playing a version of Brawler/Blaster and Mismatched Socks got stuck at low HP running Star Guardians again.
Alphago and Double61 were the first players eliminated during game two, while Mismatched Socks finished in fifth. Jaunzi, with his Space Pirates, and Cupidtas were the final two players left in the lobby.
The final battles were all about GP and Jaunzi earned his second win of the day.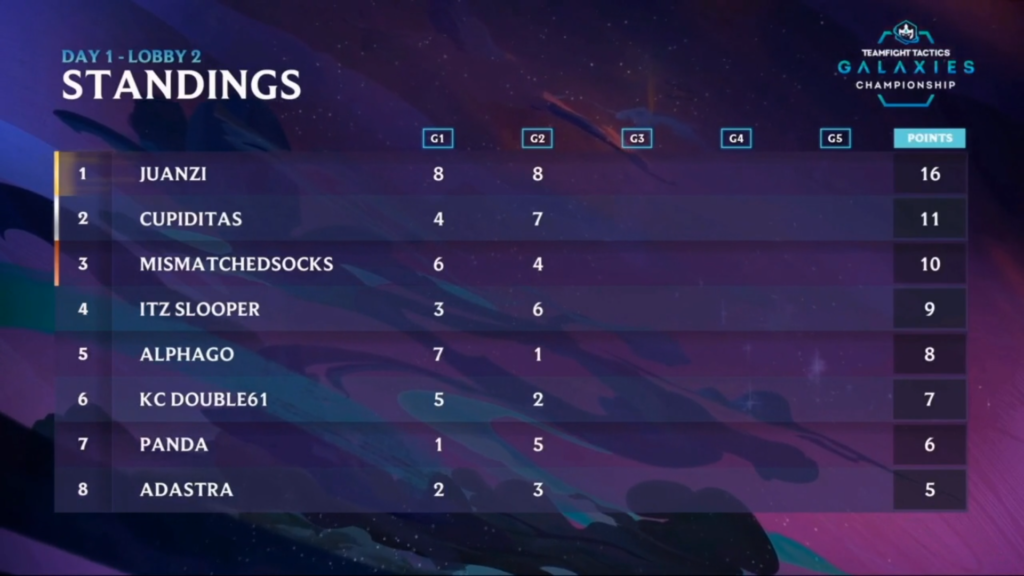 Round three
For the first time during the semifinals, Big Bang was the Galaxy, providing a free reroll each round, a Force of Nature at stage three, and loot orbs from all minions and monsters.
Mismatched Socks started off game three aiming to play Blademasters. But he was unable to find a Master Yi and finished in seventh. Alphago led the lobby with a Cybernetic/Thresh to Urgot comp, followed by Juanzi in second. Playing Battlecast, Slooper finished in third.
Juanzi faced off against Alphago, winning his third-straight round in the TFT Galaxies Championship semifinals.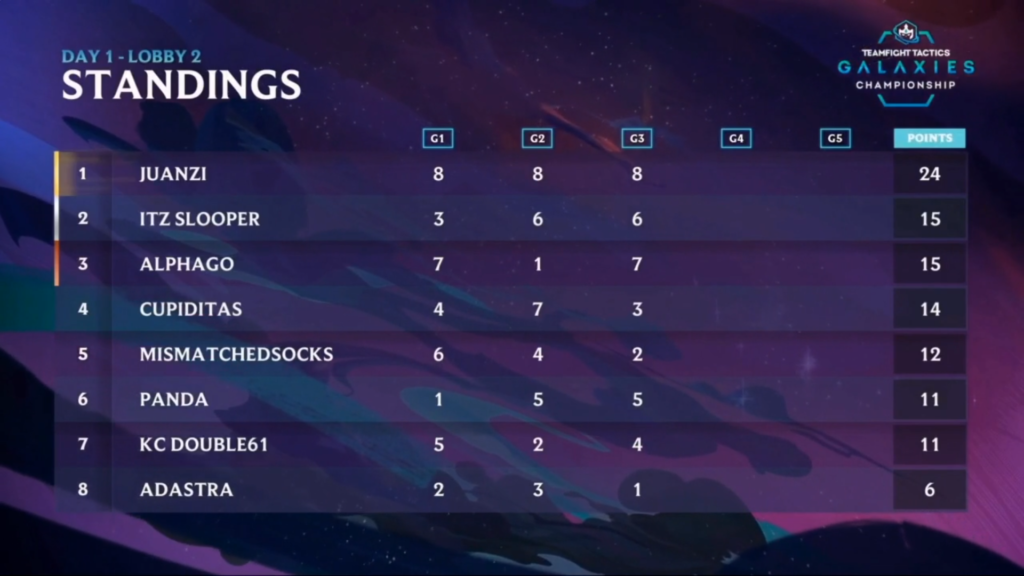 Round four
Game four featured the Plunder Planet Galaxy. Despite three wins in a row from Juanzi, he fell first in game four, taking an eighth. Round four came down to Double61 against Slooper in a Star Guardian mirror, with Double61 earning the win.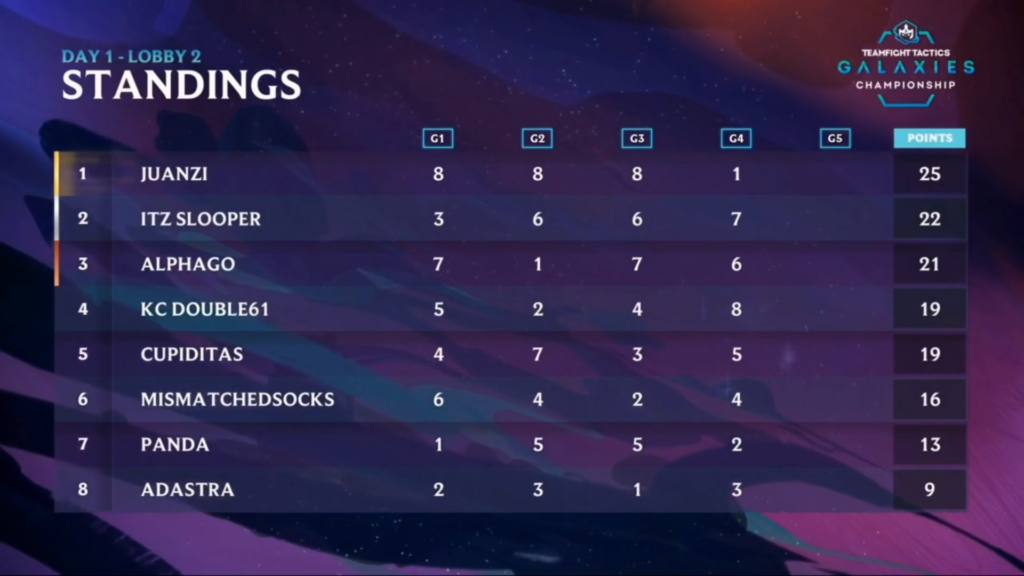 Round five
The final round of the semifinals was once again the Big Bang Galaxy. Mismatched Socks went for Blademaster for the second time in the semifinals, missing a Master Yi until stage four.
Juanzi finished in eighth for the second round in a row while Mismatched Socks climbed out of seventh once finding Master Yi. but it wasn't enough, finishing in fifth place. Alphago ended up winning round five, securing him a spot in the finals.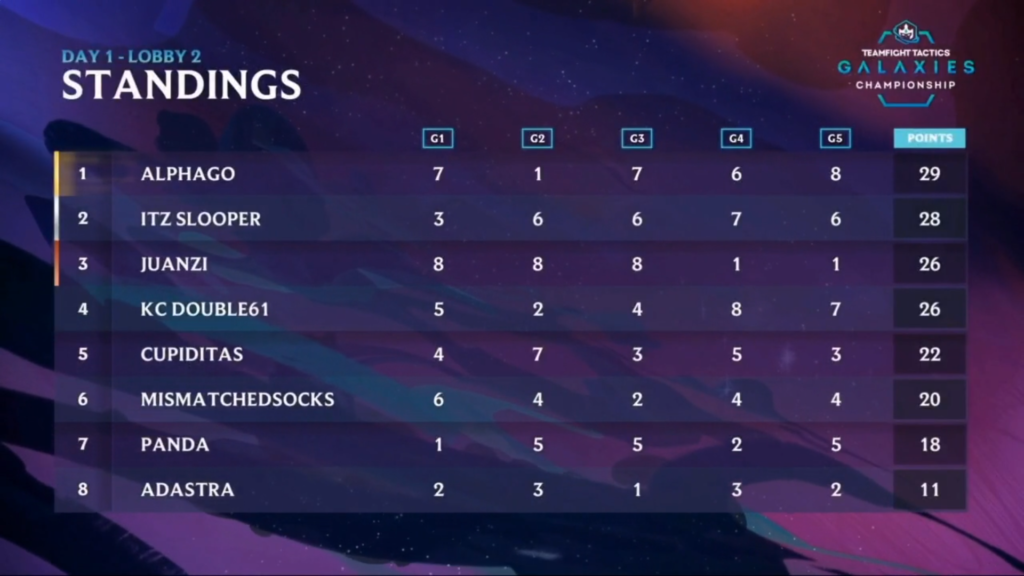 After five rounds of play the top four players in lobby two advancing to the finals on day two were Alphago, Slooper, Jaunzi, and Double61 .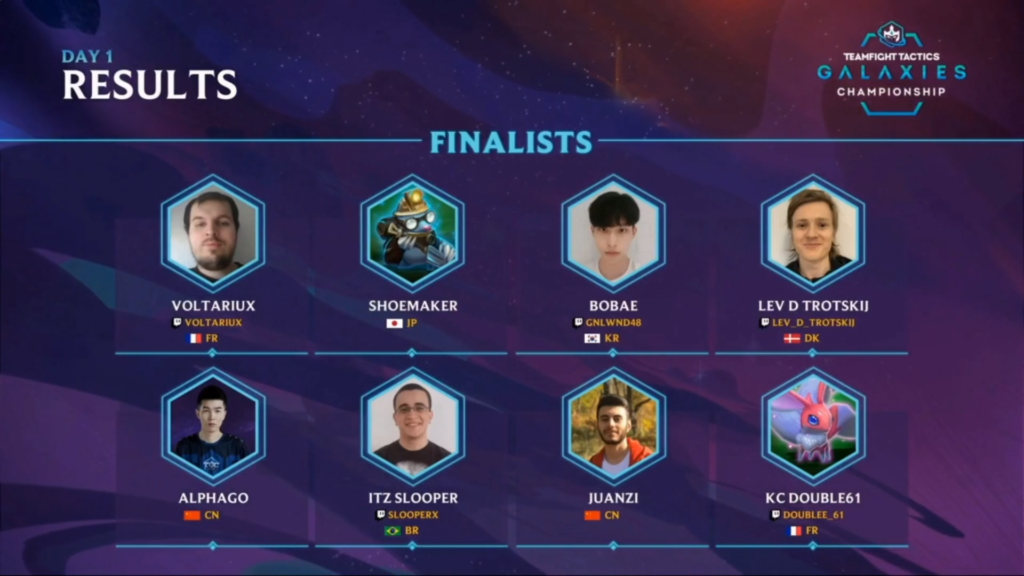 A total of 10 rounds were played between two lobbies with eight players advancing to the TFT Worlds final.
Voltariux
Shoemaker
Bobae
Lev D
Alphago
Slooper
Juanzi
Double61
TFT Worlds finals
Day two of the TFT Galaxies Championship featured the top0eight competitors from the semifinals. The format was different in the finals, with a goal of players reaching 18 or more points and then winning one of the following rounds to become the TFT Galaxies world champion.
Round one
The first Galaxy of the day was Plunder Planet. Voltariux started the round off strong with Rebels, win-streaking to a fast eight at stage 4-1 and a double Luden's Echo on Ziggs. Juanzi started at the bottom of the lobby but climbed during the late-game by running Star Guardian/Protector.
Bobae and Alphago were the first to fall, followed by Double61 and Slooper. Juanzi went from eighth to the top four of the lobby, pressuring the other players. Voltariux placed fourth and Juanzi came in third after falling to Lev D, who took first with Blademaster/Shredder.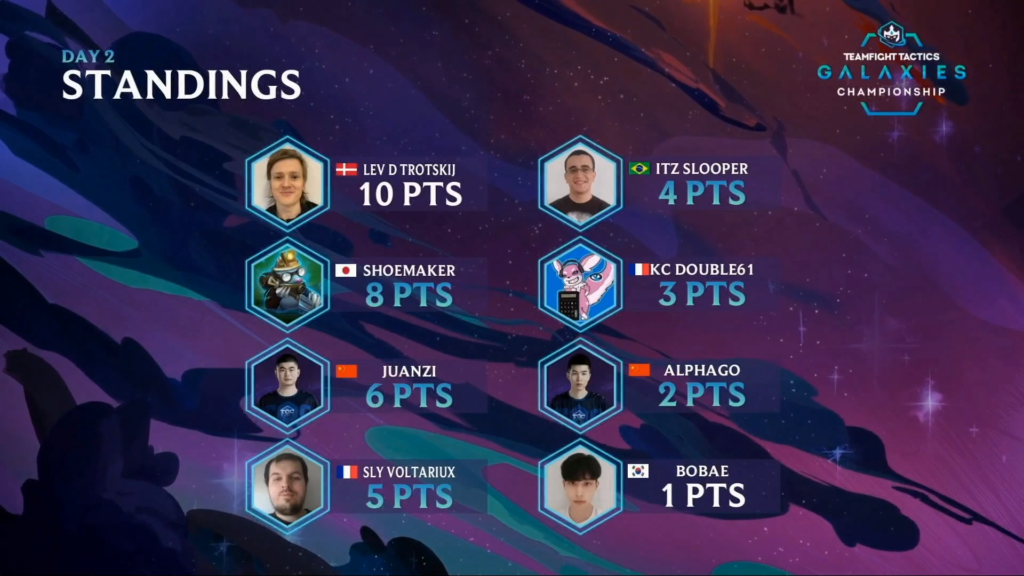 Round two
Big Bang was the Galaxy for game two, with a first-place finish from either Lev D or Shoemaker putting them at the 18-point mark. Cybernetics was highly contested in round one, and during game two as well, with a total of three players running the comp. Bobae went for a reroll strategy, acquiring four three-star units by stage 4-3 (four Celestrial and three Protector).
Juanzi found himself in eighth again during the mid game, running Mech. Voltariux was the first to get eliminated, followed by Juanzi due to his Ekko getting Zephyred. Alphago and Showmaker were the next to fall with Slooper taking fourth and Lev D in third.
Bobae sat at the top of the lobby with his reroll comp against Double61's Astro Sniper with a Teemo three-star. But it wasn't enough to take first. Lev D maintained his lead in the lobby standings, but five other players could hit the 18-point mark with a first-place finish in round three.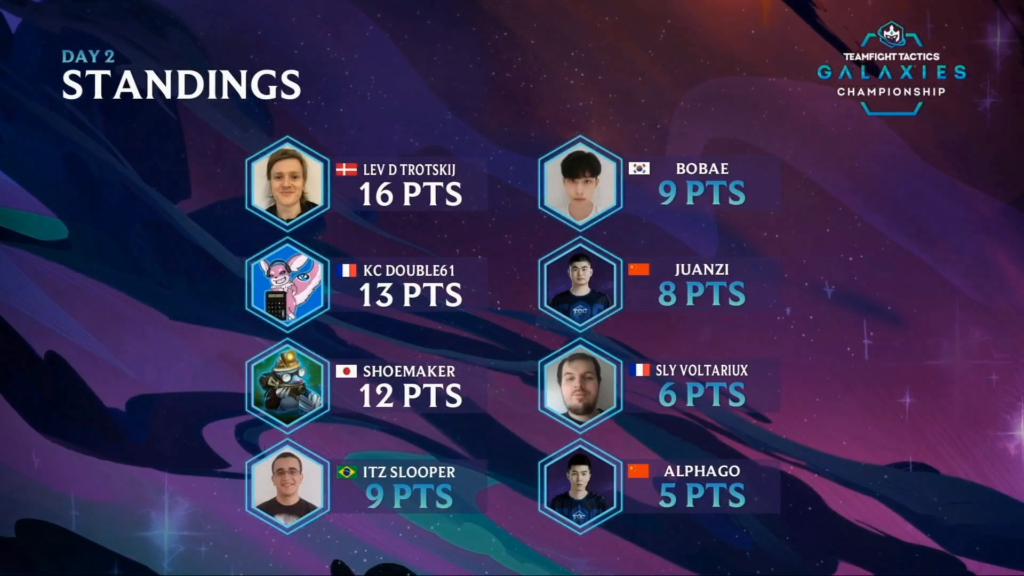 Round three
Game three featured a Big Bang Galaxy again with a full Spatula carousel to kick off the round. Juanzi started the round by aggressively leveling up to five at stage 2-2, running Cybernetics. And Bobae created a Rebel Spatula prior to the second carousel, aiming for a top-four finish in the round.
Juanzi finished eighth with Shoemaker taking seventh. Alphago was eliminated next, followed by Bobae, despite his three-star Ziggs and Star Guardian Jinx. Double61 hit a three-star Teemo sniper again. Lev D took fourth and Voltariux finished in third. Slooper attempted to take out Teemo with his multiple three-star reroll Battlecast comp, but it wasn't enough.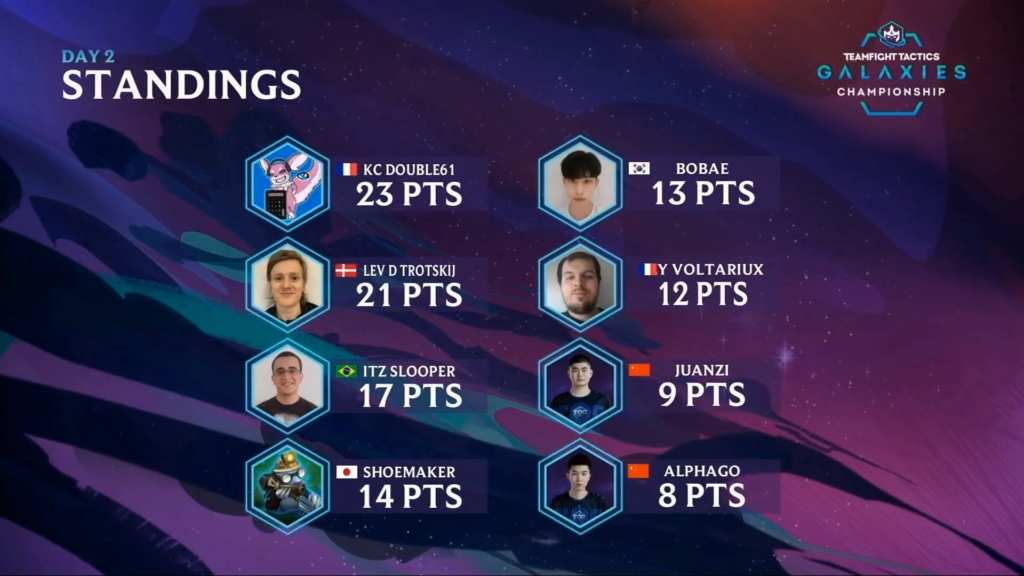 After winning two rounds in a row, Double61 only needs one more first-place finish to win TFT Worlds. Lev D also crossed that 18-point threshold, which means the same thing applies to him heading into round four. The rest of the lobby, however, still needs to hit 18 points before being in contention for the title.
Round four
Plunder Planet was the game four Galaxy with Double61 high-rolling Star Guardians for that Galaxies Championship title. Despite being contested, the 16-year-old from France looked almost unstoppable heading into stage five.
Sitting in second, Juanzi finally broke through Double61's Star Guardian comp with Cybernetics. But Double61 hit a three-star Syndra at stage 5-5, tearing up the rest of the lobby.
Voltariux then hit a Jinx three-star in stage six, playing Rebels again, putting additional pressure on Double61. Vayne and Jinx weren't able to outplay Syndra, though, and Double61 earned the first TFT Worlds Galaxies Championship title.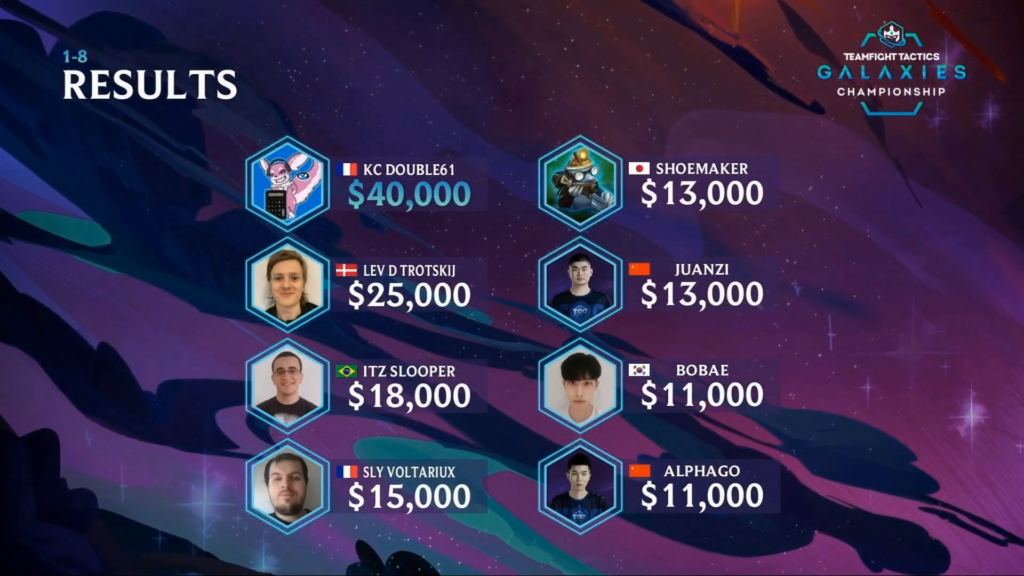 Here are the final standings for the TFT Galaxies World Championship.
First: KC Double61
Second: Lev D Trotski
Third: ITZ Slooper
Fourth: Voltariux
Fifth: Shoemaker
Sixth: Juanzi
Seventh: Bobae
Eighth: Alphago