A total of 64 of the best European Teamfight Tactics players competed for three seats at the upcoming Galaxies Championship.
The TFT Galaxies Championship will take place on Sept. 3 to 4, featuring the top 16 players from around the world who qualified via Regional Finals. Through a number of regional qualifiers, a total of 64 players competed in the EU Galaxies Championship Qualifier Finals over the course of four days.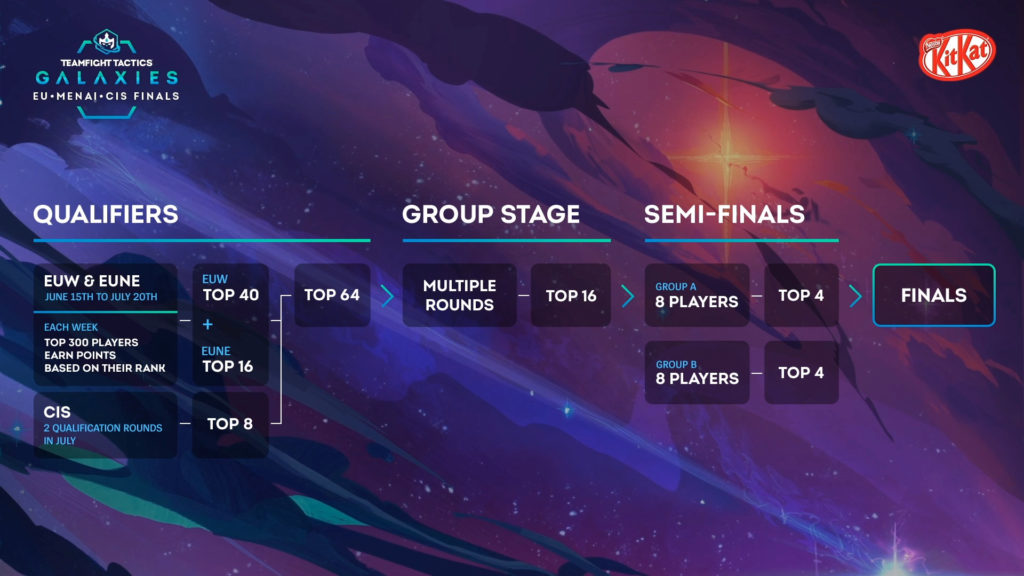 Aug. 8: 64 players competed in five rounds with the 32 highest-scoring players advancing to day two.
Aug. 9: The top 32 competed in another five rounds with the top-16 players advancing to the day three semifinals.
Aug. 15: The top-four players from the two lobbies of 16 players advance to the final lobby on day four.
Aug. 16: The top three highest-scoring players in the final lobby earn a seat at the TFT Galaxies Championship.
Related: How to watch TFT Galaxies Championship European Qualifier Finals
Day one, Aug. 8 standings
Competition during day one of the EU Galaxies Championship Qualifier Finals was intense, resulting in a number of tie-breakers following five rounds of gameplay. Tie-breakers were determined by an SOS score.
"Any ties in points will be broken by SOS Score (total points scored by all opponents in your previous lobbies/total games played by all opponents in your previous lobbies)," the rules state. "The SOS score will be used for each round's matchmaking and will also decide the final cut. In the event that two players have the same points and SOS score, the tie will be broken at random."
Heading into day two of the EU Galaxies Championship Qualifier Finals, 32 players made the cut.
Deisik: 41 points
Isochan: 39 points
TFTACKK: 38 points
Torlk: 36 points
BenVK: 35 points
2081251: 35 points
TheAware: 35 points
INT Magarky: 34 points
Higa: 33 points
JJPasak: 32 points
iHG Vicer: 32 points
LeaD36: 31 points
T4nPop: 31 points
eLS Tiaan: 31 points
TFT AUG: 31 points
Dark Hydra: 30 points
aLeProfane: 30 points
Thrae: 30 points
Ukkkkko: 29 points
Double61:29 points
ZhaO: 29 points
Voltariux: 29 points
Viziertft: 29 points
Am Hadaf: 27 points
Shaunz TFT: 27 points
Ace of Spades ITA: 27 points
HASHIDA: 27 points
Zomgowy: 27 points
ToonTv: 27 points
Un33d: 26 points
Brank: 26 points
ImSoFresh:26 points
Just missing the cut with 26 points also was Swellertiger and FluffyHS.
Related: TFT European Qualifier Finals day one standings potentially compromised over tie-breaker errors
Update Aug. 8 at 6:30pm CT: An investigation into the tie-breakers took place by FluffHS following the final results and led to the tournament admins walking back the day one eliminations. After hours of deliberation, the admins revealed that day two would begin with all 64 players competing, and that scores from day one would carry over.
Aug. 9 day two group standings
Day two of the TFT European Qualifier Finals began with two no-shows, Peiratiko and SeakN7eak, following the decision from day one to walk back the initial eliminations. This forced tournament organizers to reduce the playing field to 56 competitors and seven lobbies. Those who were cut from day two included the sixth-lowest scoring players from day one.
Competitors played a total of five rounds with the top 16 highest-scoring players after a total of 10 rounds (including those from day one) advancing to the semifinals on Aug. 15.
Here were the top-16 players advancing to the TFT European Qualifier Final semifinals:
Deisik: 79 points
INI magarky: 71 points
Swellertiger: 68 points
Double61: 66 points
Isochan: 64 points
Salvyyy: 64 points
T4nPoP: 63 points
Lev D Trotskij: 63 points
El S Tiaan: 61 points
BenVK: 61 points
TFTACKK: 59 points
Ukkkkko: 59 points
Voltariux: 59 points
Blood Dragon: 58 points
Toon TV: 58 points
Luque: 58 points
Top performers during day two of the group matches included Deisik, who finished first with a total of 79 points, Isochan with two lobby wins, and a comeback from Salvyy, who went from missing the cut initially on day one to qualifying for the semifinals.
Aug. 15 semifinal standings
The semifinals of the Teamfight Tactics EU Qualifier Finals began with 16 players divided up into two lobbies of eight. A total of five rounds were played with the top four from each lobby advancing to the grand final rounds on Aug. 16.
Players who finished first in a lobby were awarded 10 points, eight for a second, seven for third, down to one point for an eighth-place finish.
Lobby A
Sologesang
Deis1k
Voltariux
ToonTv
Ukkkkko
BenVK
eLS Tiaan
Double61
Lobby B
Swellertiger
Salvyyy
Lev D Trotskij
Luque
Blood Dragon
INI Magarky
T4nPoP
TFTACKK
Round one
Sologesang started off the day with a round one win in Lobby A, with Deis1k finishing second and eLS Tiann third. Lobby B saw Swellertiger take first, Luque second, and Lev D Trotskij third.
Round two
The leaderboard quickly shifted during round two as Blood Dragon earned a first in Lobby B, followed by Salvyy with a second, and Lev D Trotskij earning another third-place finish. Toon Tv won Lobby A, with Voltariux earning a second-place finish, and Ukkkko coming in third.
Round three
Swellertiger kicked off round three in Lobby B with a second-place finish, putting him at the top of the leaderboard. INI Magarky won the lobby while Blood Dragon finished third.
Here were the standings in Lobby B following three rounds:
Swellertiger: 22 points
Salvyy: 18 points
Blood Dragon: 18 points
Lev D Trotskij: 16 points
INI Magarky: 15 points
Luque: 15 points
T4nPoP: 11 points
TFTACKK: eight points
Deis1k bounced back a fifth-place finish in round two, winning round three in Lobby A and taking over the top spot on the leaderboard. Voltariux finished second again and Double61 came in third.
Here were the standings in Lobby A following three rounds:
Deis1k: 22 points
Voltariux: 20 points
Sologesang: 19 points
Ukkkkko: 16 points
ToonTv: 13 points
Double61: 12 points
BenVK: 12 points
eLS Tiaan: nine points
Round four
eLS Tiaan had a huge comeback in round four, taking first place in Lobby A, putting him back in the running. BenVK also had a comeback, finishing second, and Double61 placed third. Lobby B produced similar results with Lev D Trotskij earning a first-place finish. T4nPoP came in second and INI Magarky finished third.
The round four standings shook up the leaderboard in both lobbies, putting pressure on all players to place in the top four via round five to advance onto the grand final.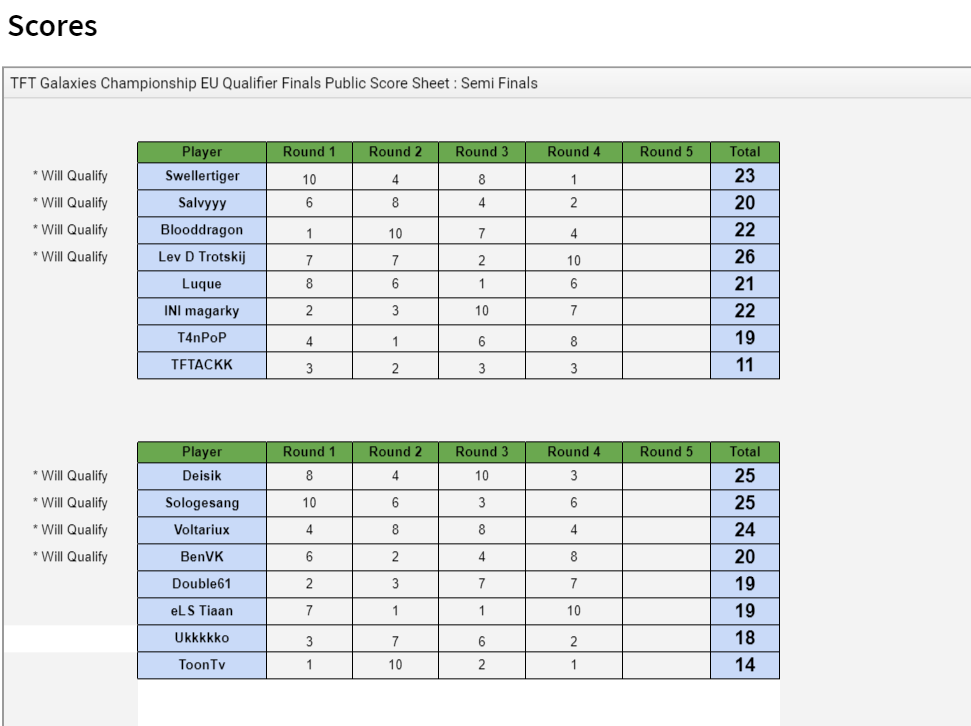 Round five
It was anyone's game in round five, as 14 of the 16 competitors still had a chance of placing in the top four of their lobbies after five rounds. Deisik earned another first place in Lobby, guaranteeing his advancement to the grand final. Double61 finished second, just making the cut, and Voltariux finished third to also advance.
Lobby B had two tiebreakers after five rounds following a win from T4nPoP, second-place finish from Swellertiger, and third for TFTACKK. Getting bumped due to tiebreakers, Salvyyy just missed the cut, edged out by INI Magarky.
Here were the eight TFT players advancing to the EU Qualifier Finals grand final: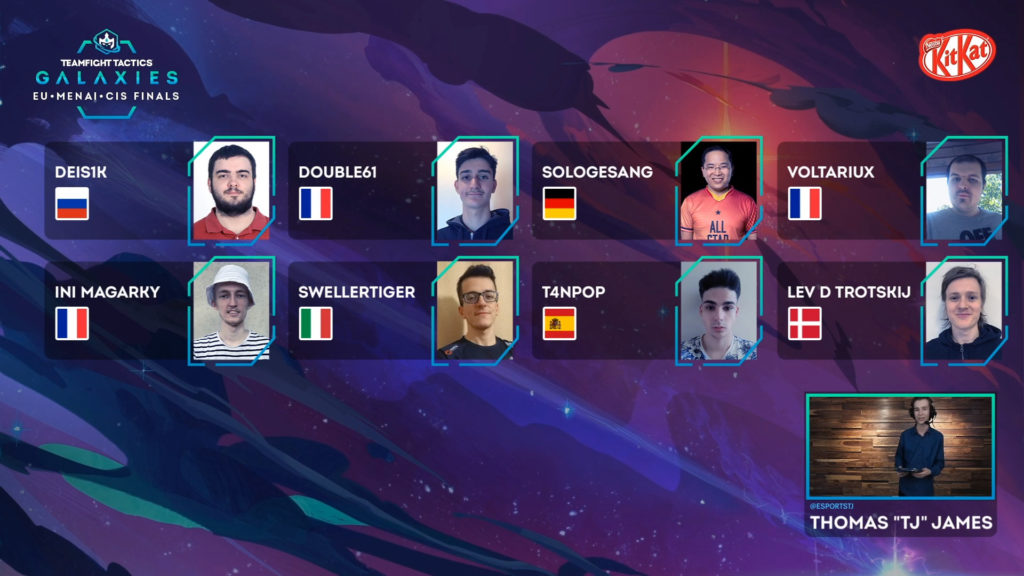 Deisik
Sologesang
Voltariux
Double61
Swellertiger
T4nPoP
Lev D Trostskij
INI Magarky
Aug. 16 day four standings
The fourth day at the EU Qualifier Finals featured eight players that would compete in a single lobby. And the format was slightly different than the other three days of competition, with players needed to reach a total of 18 points.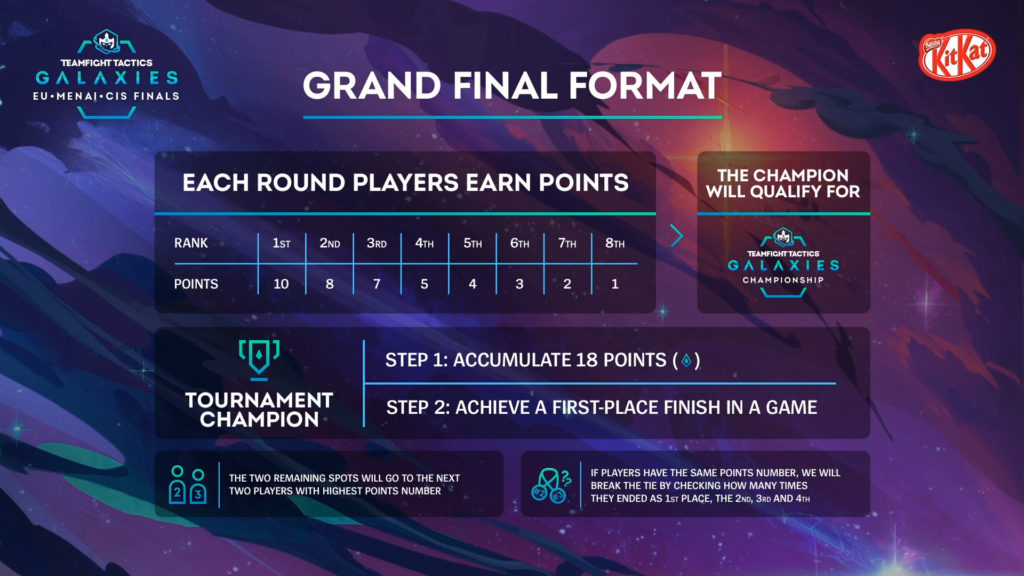 Once earning 18 points, players would then need to place first in the following round to win the Finals and qualify for the Galaxies Championship on Sept. 3. Points per round were also different, with the next two highest-scoring players also advancing to the TFT Worlds.
First: 10 points
Second: 8 points
Third: 7 points
Fourth: 5 points
Fifth: 4 points
Sixth: 3 points
Seventh: 2 points
Eigth: one point
Round one
Round one featured gameplay in the Dwarf Planet Galaxy. Double61 began the round win-streaking with Protector/Star Guardian all the way to stage 3-6. Swellertiger also had a good start, sliding into six Blademaster.
Deisik was eliminated first after attempting to run Shredder, followed by Sologesang who was on Battlecast re-roll. Voltariux and Magarky fell next, leaving Swellertiger, T4nPoP, and Double61. T4nPoP dominated with Mech, eliminating Swellertiger and Double61, winning the first round.

Round two
Treasure Trove was the Galaxy in round two, with T4nPoP getting a Vayne before 2-1. But Cybers failed to come online during the early game for T4nPoP as he was contested by Double61. Lev D Trostskij, however, went on a win-streak that dominated the lobby with Demolitionist.
Transitioning into Rebels, Lev D Trostskij continued to maintain the highest HP in the lobby while T4nPoP was the first to get eliminated at stage 5-2. Also having a decent amount of HP heading into the late game was Double61 on Cybernetics.
Deisik recovered from his eighth-place finish in round one, finishing third with a Dark Star Shaco carry comp. Round two came down to Lev D Trostskij against Double61, with Cybernetics triumphing over Rebels.

Round three
Double61 was the first player to reach 18 points, potentially meaning he could win the tournament in round three with a first-place finish. Galactic Armory was the Galaxy in round three, with Double61 dominating the early game via Star Guardian/Sorcerer. Lev D Trostskij was also sitting comfortably at the top of the lobby, running Cybernetics.
Transitioning into Astro Sniper, Double61 dropped some HP while Voltariux took over first with Vanguard/Mystic. Also in the race to win the lobby was Lev D Trostskij. Magarky and T4nPoP were the first players to get eliminated followed by Swellertiger and Double61.
Round three came down to Voltariux against Lev D Trostskij, with six Vanguard winning the lobby. Despite finishing second, Lev D Trostskij passed the 18 point mark, making him and Double61 elegible to win the tournament in round four.

Round four
Round four was played in the Salvage World Galaxy, added in Patch 10.16, allowing players to sell completed items in order to break them up into individual components again. Voltariux began the round with two Neeko's Help while Double61 went on a win-streak, hitting level eight at stage 4-1 with Battlecast/Brawler.
Heading into the mid-game Votariux was sitting at the top of the lobby, playing Vanguard/Dark Star/Mystic. Deisik and Swellertiger were eliminated first, followed by T4nPoP and Sologesang. Round four came down to Voltariux against Double61 with Voltariux taking the win. 

Ironically, if Double61 had won, Voltariux would have qualified for Galaxies. His victory, however, meant another round of gameplay with Voltariux, Double61, and Lev D Trostskij eligible to win the EU Qualifier Finals.
Round five
Superdense was the Galaxy in round five with Magarky, Deisik, and Voltariux sitting at the top of the lobby during the early game. Closing the gap heading into the midgame was Double61 with Cybernetics, while Deisik maintained top HP with six Rebels.
Voltariux and Swellertiger were the first two players to get eliminated, followed by Sologesang and Magarky. Double61(Cybernetic), Deisik (Rebels), and Lev D Trostskij (Dark Star/Protector/Star Guardian) were the last players standing. Deisik found a two-star Aurelion Sol and two-star GP, but it wasn't enough. Finishing first in round five was Double61, winning the EU Qualifier Finals.

Despite placing third in round five, Deisik just missed the cut to qualify for Galaxies. Qualifying for the TFT Galaxies Championship on Sept. 3 was Double61, Lev D Trostskij, and Voltariux.