A solid and balanced Uncommon rarity, Nyx Herald, and a spider producing tokens were revealed today during the flood of Theros: Beyond Death spoilers.
Green is a go-to color option in the Theros: Beyond Death (THB) Limited Draft with the addition of Nyx Herald. At its worst, the shaman centaur is three mana (one Green) 3/4 with trample. It can also change the course of a match when Nyx gives +1/+1 to a God or a creature with evasiveness.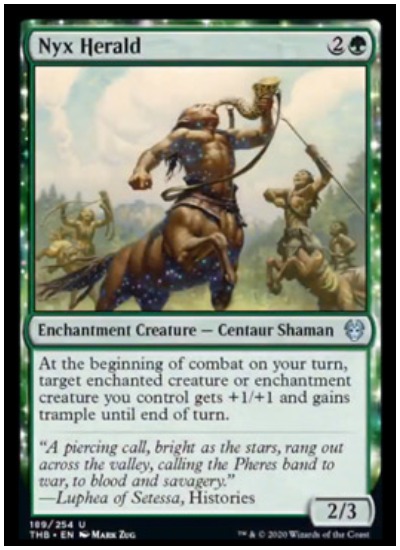 Nyx Herald has a solid value that players want in a THB Limited Draft. And it'll likely be used in Standard Constructed too, perhaps in a Gruul Adventure deck in combination with Embercleave or Mono-Green stompy.
It can also be used for defensive measures when attached to another THB spoiler that dropped earlier today, Arasta of Endless Webs.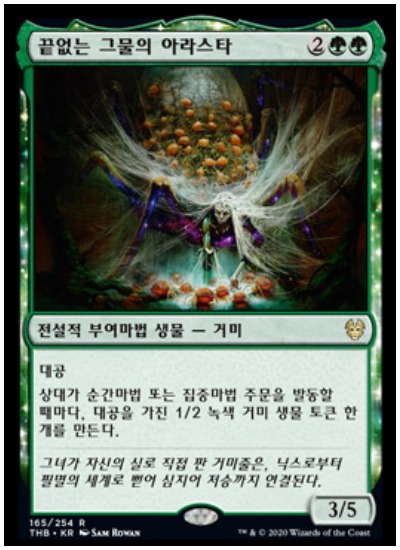 Arasta of Endless Webs is a unique spider with Reach, producing 1/2 tokens with reach anytime an opponent casts a Sorcery or Instant spell. With a +1/+1 from Nyx Herald, Arasta becomes a 4/6 with Reach or one of the tokens becomes a 2/3 with Reach.
Nyx Herald can also add a +1/+1 to Tectonic Giant, enabling it to possibly survive an attack with an increase in defense to five. Another pairing option in Red is with Terror of Mount Velus, a 5/5 flyer with double strike.
Experiment with Nyx Herald and all the Theros: Beyond Death cards during the prerelease on Jan. 17 to 19. The official release date of THB is on Jan. 24.