In a Magic: The Gathering set designed around fairy tales, Fae of Wishes is the first decent faerie spoiler in Throne of Eldraine.
The Throne of Eldraine (ELD) set has introduced a variety of new mechanics and styles of cards to the game. Fae of Wishes is a Showcase card, better known as an Adventure.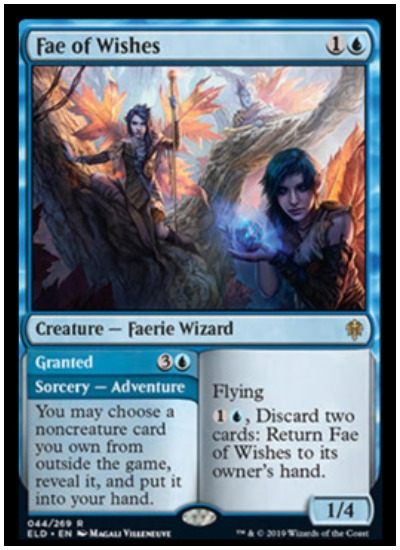 Most of the Adventure cards in ELD have been average, with a few standing out from the crowd. Fae of Wishes is one that shines in a valley of Blue, allowing players to access their sideboard in best-of-one matches (MTGA). In a best-of-three tournament-style match, a player can pull from the sideboard during the first game. 
Another ELD spoiler called Rosethorn Acolyte increaseing the tempo of Fae of Wishes in a Simic deck by producing one mana of any color either by tapping it or casting its Adventure sorcery spell (Seasonal Ritual).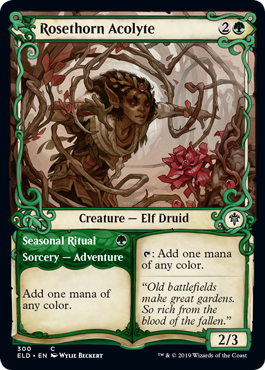 The Adventure of Fae of Wishes, titled Granted, costs four mana while Fae only costs two. A two-drop 1/4 flyer is valued high at two mana. In addition, Fae of Wishes can be bumped back to hand.
The Adventure sorcery spell comes into play later in a match, giving the player access to a much-needed non-creature card from their sideboard to gain an advantage. 
Being able to bump Fae of Wishes back to hand also increases tempo by allowing a player to alternatively cast the creature side first and then the Adventure instead of waiting for a second copy. 
The Throne of Eldraine set releases on Oct. 4 and digitally via MTG Arena on Sept. 26.