The upcoming Modern Horizons set is ready to take the Modern format in Magic: The Gathering to new levels.

Modern Horizons will contain 239 cards with a mix of reprints not eligible in the Modern format and new cards and it'll be released on June 13. Magic: The Gathering is revealing cards from Modern Horizons every day during the last week of May, with the most recent being two rare cards that are worth checking out.

Force of Negation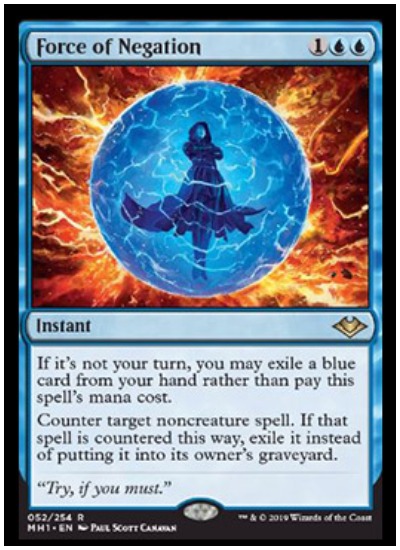 Costing three mana (two blue), or nothing at all if it's not your turn, Force of Negation is a counterspell card that's worth having around. While it's not cost efficient on mana, being able to discard a blue card and cast Force of Negation for no mana cost is priceless.

Related: Several MTG Modern Horizons Common spoilers revealed
"Counter target noncreature spell," the card reads. "If that spell is countered this way, exile it instead of putting it into its owner's graveyard."

Deep Forest Hermit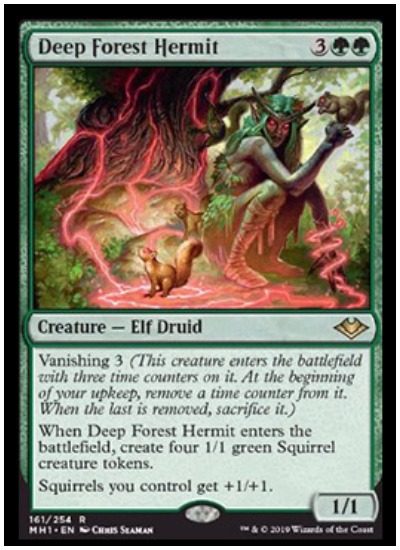 Deep Forest Hermit is a five mana (two green) creature with an older mechanic called Vanishing. The idea behind this mechanic is much like a countdown timer.

Deep Forest Hermit has a Vanishing of three, but before it disappears, it leaves quite a mark on the battlefield.

"When Deep Forest Hermit enters the battlefield, create four 1/1 green Squirrel creature tokens," the card reads. "Squirrels you control get plus one/plus one."

Black/White tokens are the hottest in the Modern format, but perhaps Deep Forest Hermit can alter the metagame.

Modern Horizons is set to hit local game stores for a pre-release on June 8 and 9. Pre-release kits will contain special features like foil cards and a buy-a-box promo card not found in booster packs.