The Modern format in Magic: The Gathering is getting an upgrade with the new set, Modern Horizons.

Modern Horizons contains a total of 239 (new or reprinted) cards and is set to be released on June 13. And with the pre-release just around the corner, Wizards of the Coast is premiering various cards from the set until the end of May.

The Common Modern Horizons cards that premiered today during the Magic Online Championship vary in power while bringing back a host of mechanics throughout the history of Magic: The Gathering. Each of the common cards was opened from a booster pack during the Magic Online Championship, but they're only a small sample of all the Modern Horizons cards to come.

Imposter of the Sixth Pride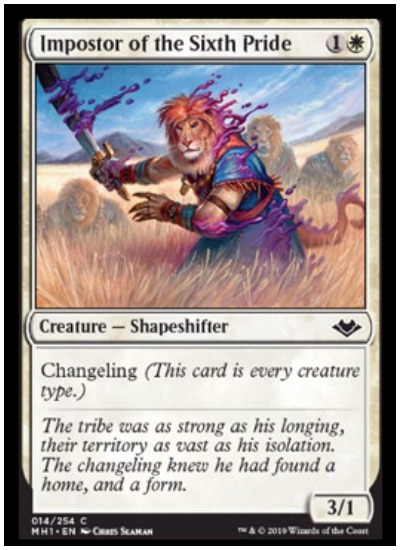 As a quick three/one, two white mana cat, Imposter of the Sixth Pride is a changeling. It fits every creature type, which can come in handy with certain EDH Modern Constructed decks.

Martyr's Soul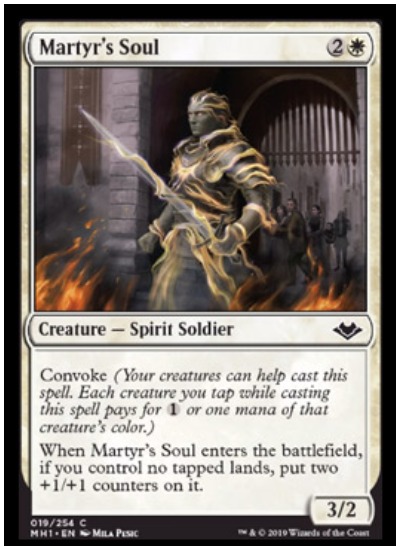 Convoking creatures is common in Standard, but the added benefit of Martyr's Soul is that it gains an additional two plus one/plus one counters if no lands are tapped upon casting.

Martyr's Soul is a three/two, three mana (one white) spirit soldier.

Stream of Thought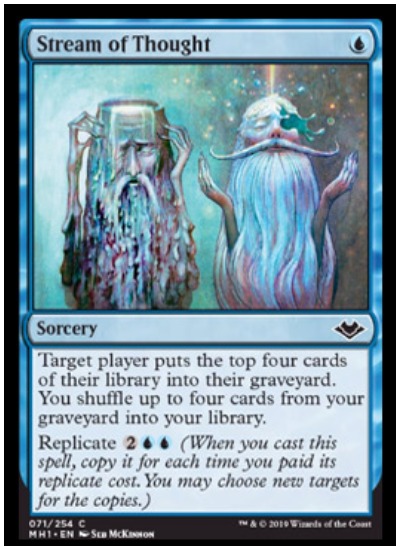 Featuring the amazing artwork of Seb Mckinnon, Stream of Thought is a one blue mana sorcery mill card that everyone will want during a draft. It also features the mechanic replicate for four mana (two blue).

The mechanic works just like it sounds, in which whenever the replicate cost is paid, a copy of that instant or sorcery card is added to the stack.

Prohibit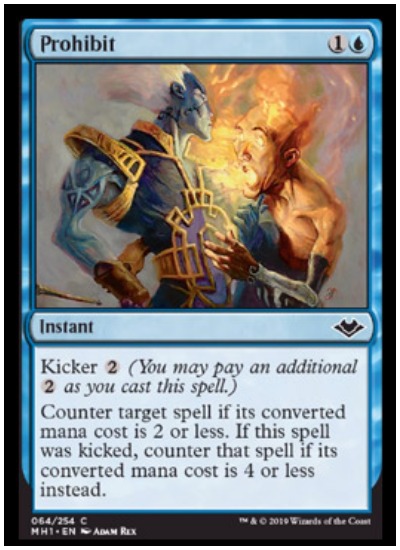 Prohibit is a two mana (one blue) counterspell that looks weak upon first glance. But with the addition of its kicker, it can counter just about any card in a Modern Constructed deck.

Wall of One Thousand Cuts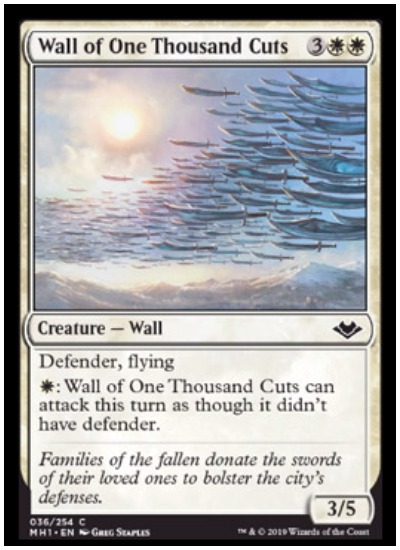 This defender card with flying costs five mana (two white) to cast, however, Wall of One Thousand Cuts can attack by paying one white mana per turn. Its defense is a five and offense a three, which is decent in Modern, but not spectacular. The artwork by Greg Staples, though, is off-the-hook.

Lava Dart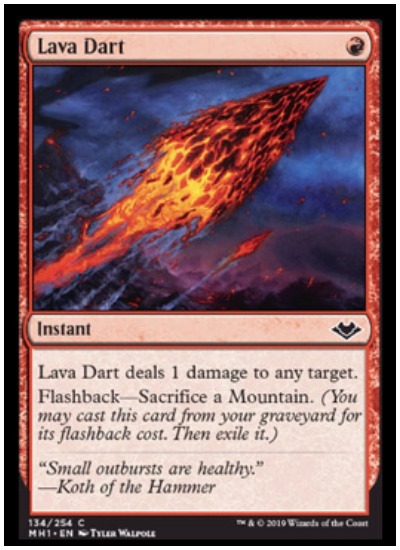 Reid Duke seemed thrilled upon announcing Lava Dart, even claiming that he'll likely add it to his Modern deck. It's a one red mana that deals one damage to any target card with the mechanic Flashback. Paying an alternative cost to play Lava Dart from the graveyard or take out multiple creatures is a powerful tool in MTG Modern Constructed.

Headless Specter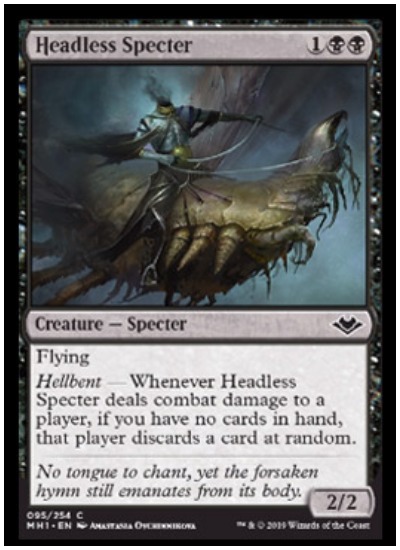 Costing three mana (two black) to cast, Headless Specter is a simple two/two black card. It has an activated ability to force a player to discard, however, the stars likely won't line up in a way to make Headless Specter worth it.

Venomous Changeling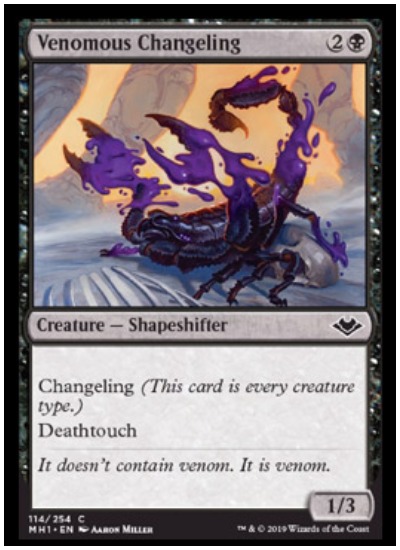 Costing three mana (one black) to cast, Venomous Changeling is a shapeshifter changeling with deathtouch. It has a defense of three, which is decent, but not so much with the high three mana cost to cast.

Elvish Fury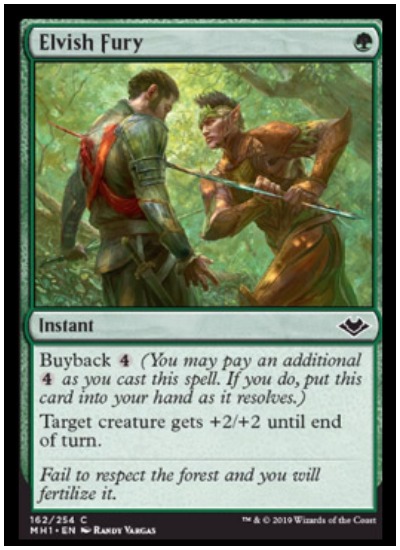 Elvish Fury gives your creature plus two/plus two as a combat trick and uses its mechanic to keep it useful. Featuring the mechanic buyback, it allows a player to pay a cost and have it return to hand and be used again. In the case of Elvish Fury, the buyback is four mana.

Savage Swipe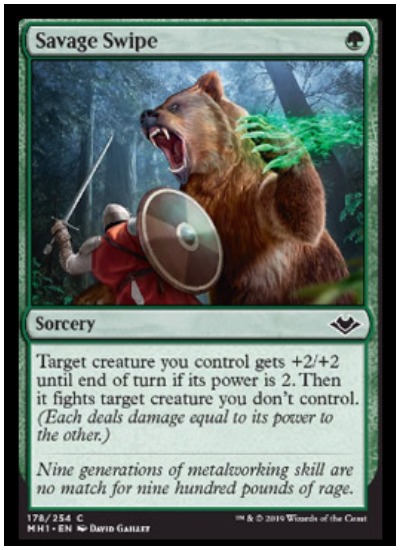 Similar to Rabid Bite, Savage Swipe is an instant that has your target creature attack opponents without them choosing blockers. It also has a combat trick of plus two/plus two built into it. The only problem with Savage Swipe is it only works on creatures with a power of two, but has a cheap one green mana to cast.

Goblin War Party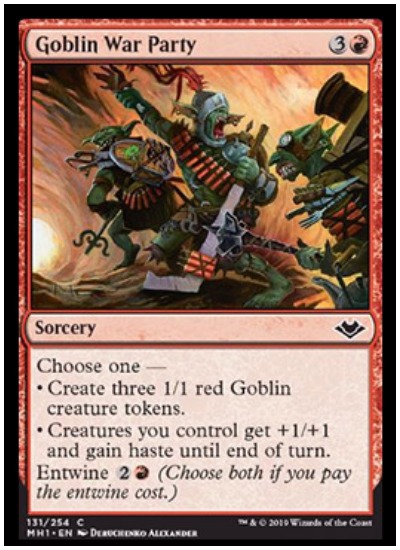 Costing four mana (one red) to cast, Goblin War Party has multiple functions to choose from. Either a player can create three one/one goblin tokens, give all your creatures plus one/plus one and haste until end of turn, or Entwine for three mana (one red). Entwine is an older mechanic that allows a player to choose both options for an additional mana cost.
Modern Horizons is set to release on June 13, but there's a pre-release draft taking place at all WPN locations on June 8 and 9. Pre-release kits will contain special features like foil cards and a buy-a-box promo card not found in booster packs.