Following Riot Games' reveal of new League of Legends champion Neeko, a bunch of skins—including one for the new champion herself—have been leaked via a Chinese website and posted to Reddit. With the United States just days away from Thanksgiving, Riot is prepping for its holiday- and winter-themed content. As always, new skins are coming to bundle up a number of League heroes.

The new skins are for Neeko, Master Yi, Mundo, Twitch, and Soraka. Neeko's skin is very likely her release skin—but it's a bit hard to tell exactly what line it's from. It looks like it could be a wintery skin, like the rest in the leaked images, but it's not clear. The skins for Master Yi, Mundo, Twitch, and Soraka are more obviously winter themes, giving each hero scarves, boots, and jackets.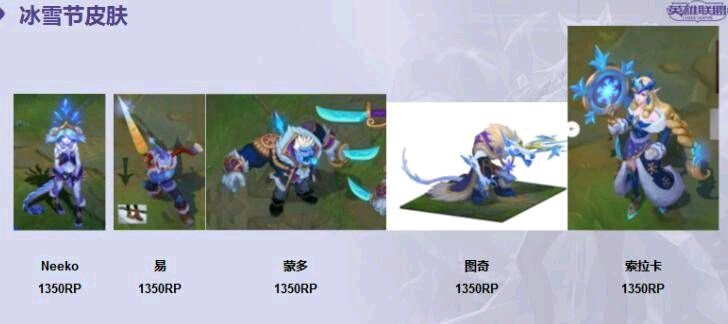 Related: Neeko is League's new, and completely adorable, champion

Folks on Reddit are speculating that the skins are part of the Snow Day line, but there's a possibility it's skins from Winter Wonder, too. Of course, since this is a leak, there is no pricing or release timing information immediately available. Standard pricing for skins starts at 1,350 RP, and it's very likely these will follow suit there.
Earlier today, Riot revealed its newest champion, Neeko, with a short video. The new hero already has a bunch of lore for players to dive into. Riot posted her kit to the League website soon after her abilities were leaked on a fan's YouTube channel. She looks fun to play, with the ability to shape-shift into an allied champion.