At the start of every competitive year in League of Legends, caster Erik "DoA" Lonnquist predicts SKT to win the World Championship. It's a little tongue-in-cheek, but DoA's statement echoes a sort of mantra within the community: Never bet against SKT.
Time and time again, pundits have tried to predict SKT's defeat. And time and time again, those same pundits were proven wrong.
In the organization's four-year stay in League of Legends, SKT created an esports dynasty. Boasting a combined record of 16 domestic and international tournament titles, three of which were World Championship victories, SKT created an unrivaled legacy. Aside from 2014, where the organization fell into a seven-month slump during the rise of the Samsung sister teams, SKT has held the title of world champions.
No matter the changes SKT made to its starting roster and substitute bench during the yearly winter offseason, two things remained constant: SKT's rise to the top of the world by the end of the season, and mid laner Lee "Faker" Sang-hyeok leading the team throughout this rise.
That was until last week.
Related: Samsung Galaxy sweep SKT 3-0 to win the League of Legends World Championship
Not only did Samsung Galaxy usurp the championship crown in a shocking clean sweep, but they also denied SKT's shot at a World Championship three-peat.
Heading into this recent World Championship final, all eyes were on SKT's commander-in-chief, Faker. Throughout the tournament's bracket stage, SKT struggled to overcome their in-game issues. In their two best-of-five matches against Misfits Gaming and Royal Never Give Up, both of which went all five games, SKT hung from the brink of defeat.
SKT's savior was, of course, Faker. If not for Faker's almost inhuman carry performances in both the quarterfinals and semifinals, SKT would already have returned to South Korea weeks ago, lamenting over an offseason which came earlier than expected.
Wearing SKT's signature red, Faker had truly become the unkillable demon king. But in the final series, in a showing of beautiful teamplay and a deep understanding of pressure control, Samsung succeeded in what so many others failed: They slayed the demon king in a World Championship final.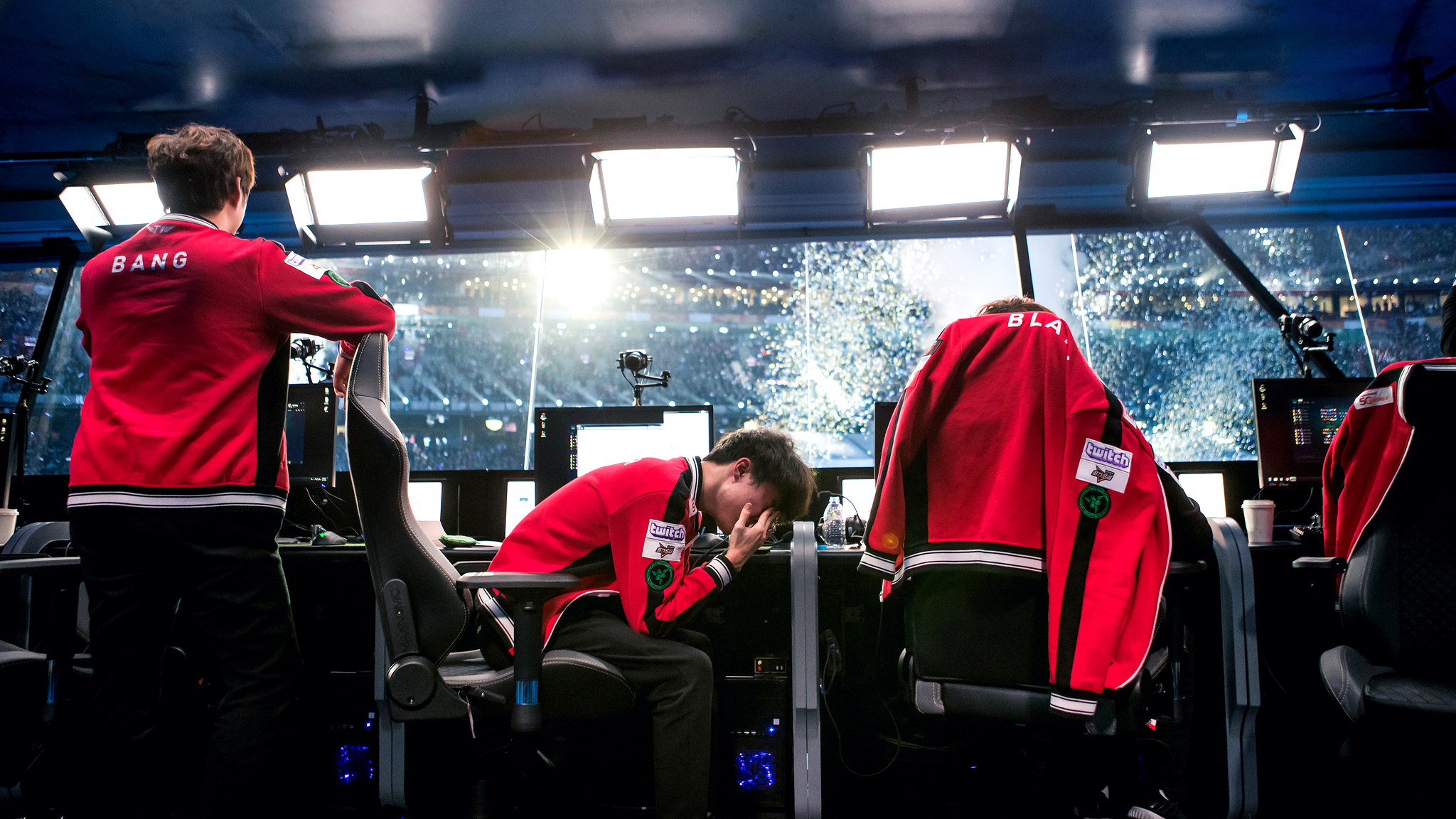 As Samsung's players made their way into SKT's booth to shake hands with their opponents, fans saw a different side of Faker. Hair disheveled, and tears streaming down his face, Faker tried his best to compose himself as he shook the hands of his victorious opponents. As someone who seldom shows emotion in public, Faker's demeanor caught many off-guard. 
For many, it's fair to say this was when the reality set in. SKT were no longer the same immortal giants who easily stomped over competitive League of Legends for three straight years.
Since the unification of Korean sister teams in 2015, SKT had slowly gained the reputation of being the "late-game team." No matter how large the gold deficit they accrued during the first 20 minutes of play was, by the mid to late game, SKT would make a comeback through smart macro and strong teamfighting.
But in 2017, those early game deficits started to become too great to overcome. It was a combination of teams learning to snowball their leads better and SKT's top lane and jungle roles struggling over the course of the summer. SKT began to lose games before the team reached their late-game power spike.
These problems culminated in SKT's LCK 2017 Summer Split finals defeat, where Longzhu Gaming abused their struggling roles and overreliance on the late game.
But despite all these glaring issues, fans and pundits alike believed that come World Championship time, SKT would rectify their issues and claim yet another global victory.
But the World Championship came, and SKT's problems persisted. Still, through all of SKT's struggles, the same fans and pundits kept hope in SKT right up until Samsung destroyed them.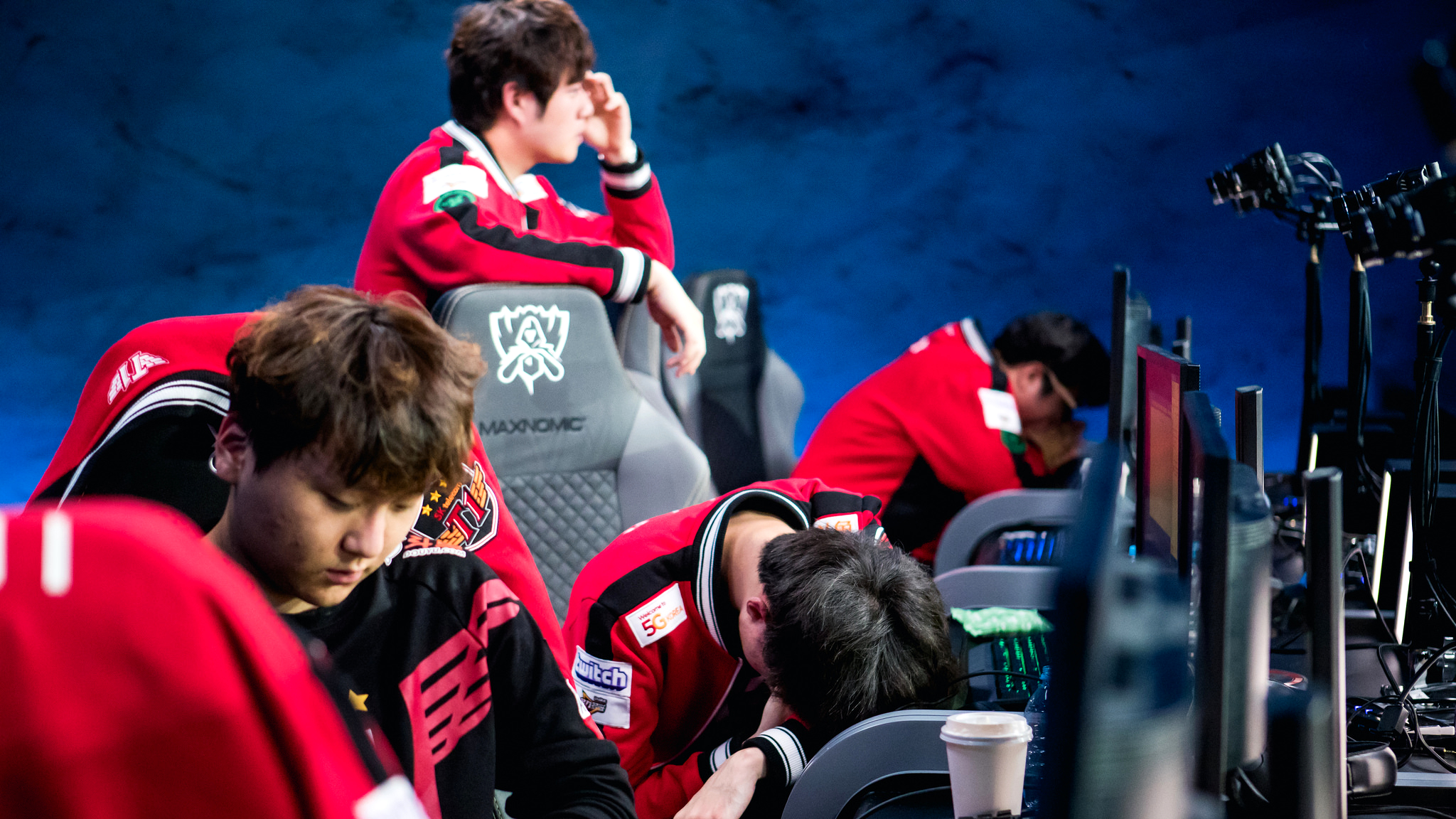 With the end of SKT's reign comes the loss of the organization's reputation of infallibility, an identity that took three years to build after SKT's 2014 slump.
But this identity can return. SKT, like in 2015, can regain the status of the world's best. To do this, the team need to change. And after this year's World Championship performance, virtually no one on SKT other than Faker is safe from the looming roster changes.
Heo "Huni" Seung-hoon and Han "Peanut" Wang-ho's names are the two most obvious targets on the roster. The two players, and especially Huni, spent a majority of summer on the team's bench as they struggled to play within SKT's scaling style.
SKT's bot lane, a duo who've been a part of the organization since 2013, have also come under fire, and could join Huni and Peanut on the chopping block. From Bae "Bang" Jun-sik's mispositioning in teamfights during the World Championship final, to Lee "Wolf" Jae-wan's champion pool issues when passive supports like Janna returned to the meta, the underperformance of SKT's duo over the last month warrants a review of their place on the team.
Whether we see one or all of these players removed from the starting lineup, expect changes in the SKT camp. With a wide array of individual talent in the LCK, like Jin Air Green Wings AD carry Park "Teddy" Jin-seong and Afreeca Freecs top laner Jang "MaRin" Gyeong-hwan, ready to be taken, SKT have the chance to do what KT Rolster failed at: Making the Korean superteam.
Next year could be one of redemption for SKT. While they rebuild their team, SKT will also be repairing their now fractured dynasty. SKT's legacy may be tarnished, but it's not over.