Legendary AD carry Uzi retired from professional League of Legends today.
Many fans and pros, like Fnatic ADC Rekkles, reacted to the news of the popular Chinese player's retirement. But global athletic company Nike also joined the celebration of Uzi's career by posting a graphic on its official Weibo page in honor of the 23-year-old.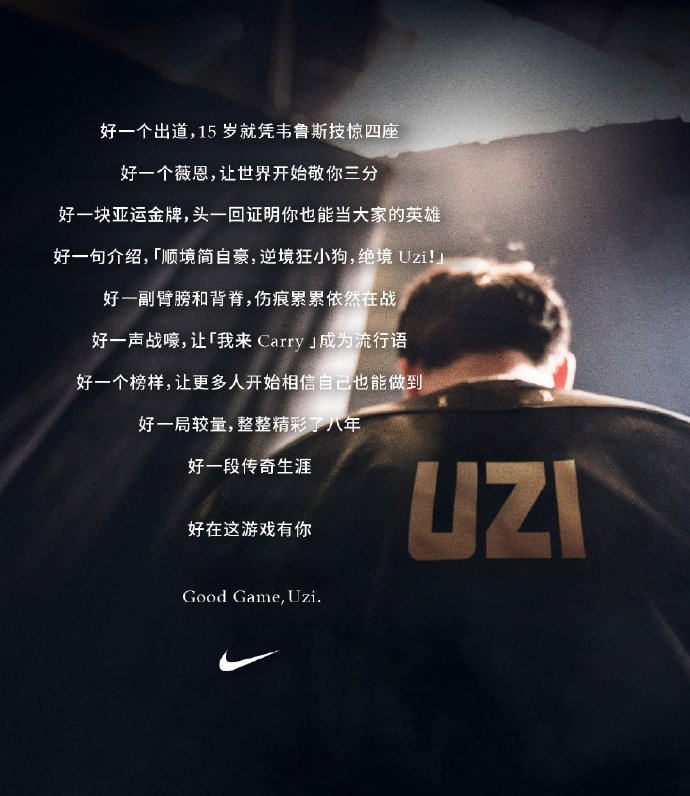 The graphic's text was written in Mandarin. Here's a full translation of the image:
A good debut, a 15-year-old using Varus to shock all that were watching
A good Vayne, as the world learned to give you respect
A good Asian Games gold medal, proving that you could be everybody's hero for the first time
A good introductory line, "Smooth sailing situations Jian Zi-Hao, poor situations Little Dog, desperate situations Uzi"
A good set of shoulders and back, continuing the fight even when laden with battle scars
A good war cry, allowing "let me carry" to become a popular phrase
A good role model, inspiring others to believe that they could achieve their goals
A good bout, lasting an exciting eight years
A good, legendary career
A good thing that this game had you
Good Game, Uzi.
Uzi previously collaborated with Nike in NBA superstar LeBron James' ad campaign, "Dribble &." He modeled a shirt titled "Dribble & Carry," an apt descriptor of his legendary player's abilities on Summoner's Rift.
Uzi's decision to retire comes on the back of debilitating health issues. Upon advice from medical professionals, the 23-year-old decided to retire just over two years since winning MSI 2018 with Royal Never Give Up. Uzi and RNG also finished top four at Worlds 2017, losing to SKT T1 in the semifinals.