Few League of Legends fans expected to see both Giants Gaming and Team ROCCAT start the split as strong as they have. The two teams each have a 3-1 record through two weeks of play in the European League Championship Series Spring Split, and on Friday they're going head-to-head.
ROCCAT and Giants have already taken down some of the best teams in Europe, showing that their rosters are strong and not just at the top because of an easy schedule.
Giants have beaten G2, H2K, and Unicorns of Love while only losing to Team Vitality (who also have a 3-1 record). The win against G2 is a big one as they have won the past four EU LCS titles, and even though G2 have a new roster they are still thought of as a strong team.
Team ROCCAT have also beaten G2 and Unicorns of Love, grabbed a win over Splyce, and lost to FC Schalke 04. The win against G2 also bodes well for them, but it's the win against Splyce that sets them apart, as Splyce has a star-studded roster.
The teams' good start to the split is rather surprising, seeing as they both feature almost entirely new rosters. Only Giants top laner Kim "Ruin" Hyeong-min is returning for a second split, while ROCCAT has no returning players from last split.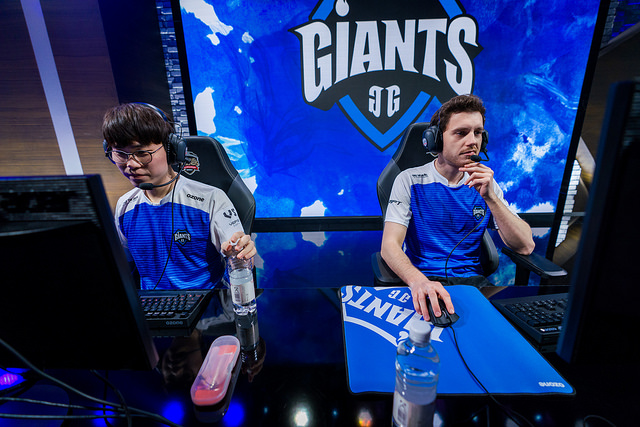 Giants first entered the league in Season 3 with a full Spanish line-up. The team had one good split where they made the playoffs, but every other split that Giants played in was mired by poor performances and constant roster changes. The Giants we see today is greatly changed and only the team's management are Spanish, while the players are from around Europe and South Korea.
The team has looked to EU LCS veteran Pierre "Steeelback" Medjaldi to help carry the squad to victory in the first two weeks of play. The ADC has played for top European organizations and now finds himself on a Giants team that is attempting to punch above their weight and make it back to the playoffs. Steeelback has played a different champion in all four games, showing his versatility and his ability to perform on multiple champions.
Team ROCCAT also has many years of experience in the LCS, and the current roster all have at least one split of experience in the EU LCS. Each of the players are new to the organization, though some were teammates in the past—Jonas "Memento" Elmarghichi and Tore "Norskeren" Hoel Eilertsen were teammates on Schalke last year, while Profit and Martin "HeaQ" Kordmaa played together on Ninjas in Pyjamas last split.
Jungler Memento and top laner Kim "Profit" Jun-hyung have had some stellar performances this split to help ROCCAT make their strong start. Former SK Telecom substitute Profit had a rough 2017 Summer Split with Ninjas in Pyjamas but this year he is showing why he was a substitute on SKT for a brief time with his great play on Gnar. Profit has maintained the highest creep score per minute among all top laners in the EU LCS and the third highest KDA due in large part to his three games on Gnar.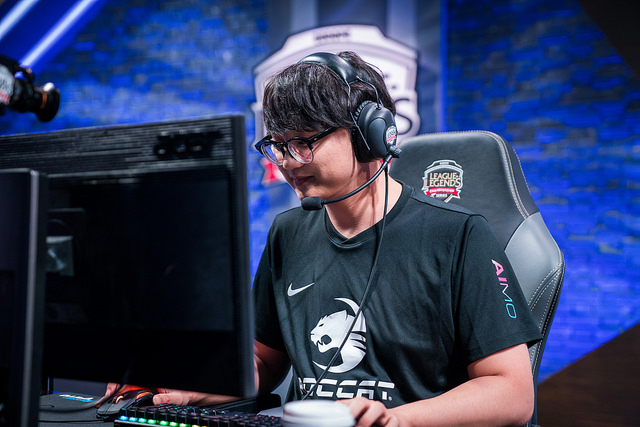 The match-up to watch in this game will be the top lane. Both Profit and Ruin are Korean, but Ruin only has competitive experience in Europe while Profit has played in three different regions. ROCCAT and Giants have benefited greatly from the strong performances put in by their respective Korean top laners. With Patch 8.2 being played this week, both players have an opportunity to pick up new champions to carry the game. Profit comes into the match-up with the advantage, so Ruin will have to perform at his best to get Giants an advantage in top lane.
We expect the game to be close. Both teams have come out strong in the first two weeks, beating similar teams. Giants may have the upper hand due to the vast experience of some of their players. Giants players Steeelback and Felix "Betsy" Edling are no strangers to high-pressure games against good teams and can lead their teammates when all eyes are on them.
Giants vs. ROCCAT will be the second game played on Feb. 2, with an estimated start time of 12pm ET.