For a team to ascend to League of Legends kingship, an international crown is compulsory. Longzhu Gaming were supposed to seize theirs at the 2017 World Championship, but were dumped out by Samsung Galaxy in the quarterfinals. Now seven months later, they have another chance at international stardom at the Mid Season Invitational, this time under their new organization, KINGZONE DragonX.
The World Championship should have been the event where Longhzu's redemption ark reached its glorious conclusion. After spending three splits in the lower half of the LCK standings, with nothing to show but mismanaged finances and two failed attempts at building a team, Longzhu finally found success in the summer of 2017.
Instead of simply paying for the best talent available, Longzhu crafted a roster with a mix of young talent in addition to the star veteran bot lane duo of Kim "PraY" Jong-in and Kang "GorillA" Beom-hyeon. And unlike previous iterations, this Longzhu roster didn't implode. They did more than just survive—they won. Longzhu secured first place in the regular season, then beat World Champions SK Telecom T1 in the LCK Summer Split finals to hoist the organization's first domestic trophy.
During their LCK championship run, Longzhu's players were showered with praise from fans and pundits for their strong individual laning and teamfight ability—save for jungler Moon "Cuzz" Woo-chan, who received a fair bit of criticism for his poor early pathing. By September, Longzhu top laner Kim "Khan" Dong-ha and mid laner Gwak "Bdd" Bo-seong were already in consideration to be named best in their respective roles for summer. Longzhu came into the World Championship as the overwhelming favorites.
Between an out-of-form SK Telecom T1 and Samsung Galaxy just barely making Worlds through the regional gauntlet, no team looked strong enough to challenge the goliath which was Longzhu. Just a couple of months after their first LCK title, Longzhu was on-course to find their international crown and be cemented in League of Legends history.
But Longzhu lost to Samsung in the quarterfinals—horrendously. There was no five game series nor any 50-minute, back-and-forth games in Longzhu's quarterfinal loss. Samsung simply swept Longzhu in three games with average end times. Samsung easily toppled what seemed to be the LCK's immoveable monolith for most of summer.
There didn't appear to be any self-pity from Longzhu following their quarterfinal loss. Instead, the five Longzhu players quickly and quietly packed up their equipment after their post-game handshakes, then left the stage in what appeared to be one fluid motion. Longzhu's players looked more like they had left to regroup and plan for their next game rather than a team who had just made their World Championship exit.
"I'm not so sorry about our team's result—It will help do better next year," Khan told Chinese press, as translated by INVEN Global. It was a more unexpected answer from a player who had fallen out of contention for the Summoner's Cup just a day prior.
Khan and Longzhu's focus wasn't on the loss they had just suffered, but on rectifying their mistakes. They didn't intend to fall at the next international event they attended.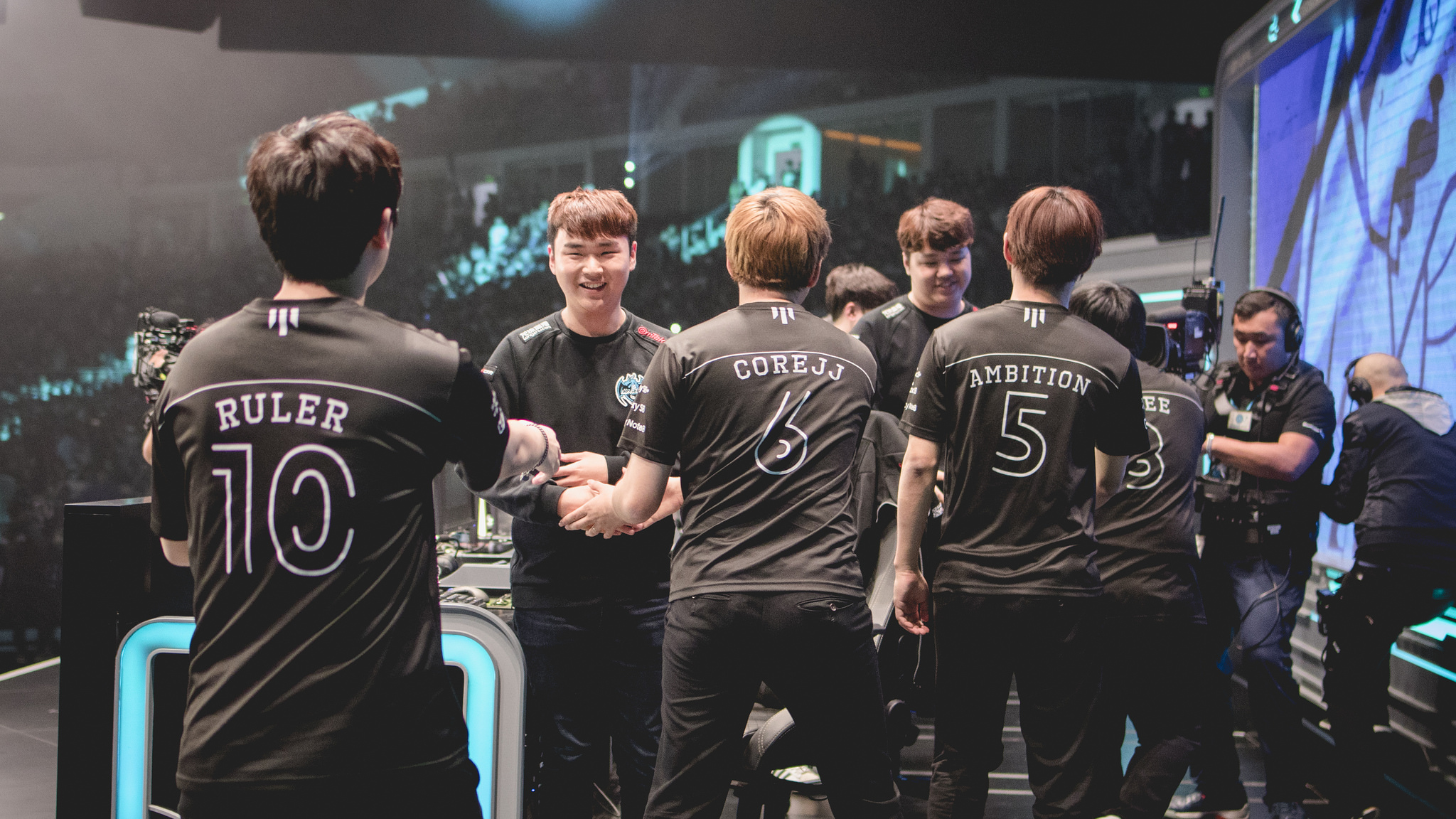 Fast forward to 2018 and Longzhu have gotten even stronger over the course of their two-month offseason. Rebranded to KINGZONE DragonX and adding former SKT jungler Han "Peanut" Wang-ho, the reigning LCK champions' roster resembled that of the 2016 iteration of ROX Tigers, who were also for a time considered the best team in the world. But where ROX Tigers failed to find glory on the international stage, KINGZONE hope to succeed and finally earn their global crown. And now KINGZONE have found another chance to grab that crown at this year's Mid-Season Invitational.
KINGZONE handily won their second LCK split in a row with no team able to take a single series against their starting roster. KINGZONE's players managed to look even better with Peanut supporting them in the jungle. Once again, KINGZONE head into international competition as the overwhelming favorites.
"I've conquered Korea now. All top laners of the world, come bow down in front of me and kneel," Khan proclaimed in KINGZONE's SPOTV interview after winning their second LCK title, as translated by INVEN Global. Khan's comment was a message to his MSI top lane competition, who were either watching live or would surely see the video later: Khan is on his way.
With only a few game losses in 2018, Khan heads into MSI poised to crush the top laners from opposing regions, and prove he is the best in his role globally. And although Khan's teammates haven't made any bold statement themselves, they too will move into MSI with similar intentions as the tournament favorites.
The kings of Korea have continued their rule over the LCK for yet another seasonal split. Now it's time for KINGZONE to seize their international crown.