Mechanical keyboards are the go-to choice of all competitive gamers. Their low response time and special switches make them a powerful weapon to have in multiplayer games. But any computer user who just enjoys typing can also be in the market for these keyboards. The nice "click" sound the keyboards make has spawned devotees all over.
The size of the keyboards has been the main issue of low-DPI mouse users alongside people who just don't have enough desk space. Most feature dedicated macro keys and a numpad, which occupy a lot of space. To be fair, a majority of users can do without a numpad and don't use the macro keys due to the nature of their usage.
For those who want a little bit more space to move and travel with their equipment, compact keyboards emerged. The options are endless in the market, and picking the right one for your needs could be a struggle.
We've gathered the best compact gaming keyboards on the market right now to help you on your quest to find the right keyboard.
Best high-end small gaming keyboards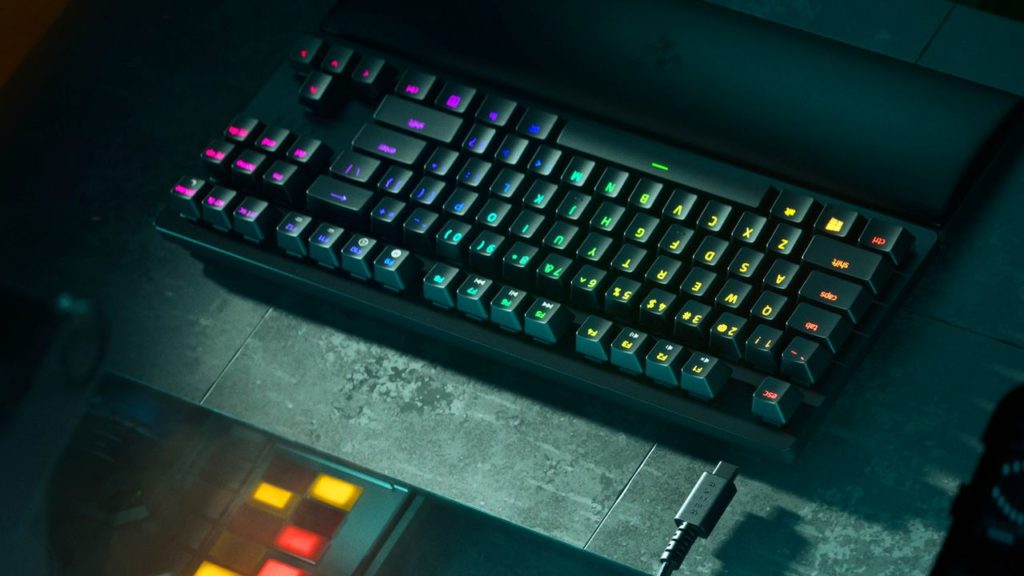 Razer's keyboards have come a long way over the past two years. The adoption of doubleshot PBT keycaps and the company's proprietary optical switch provides a gaming experience that feels natural and responsive—and that's before the additional bells and whistles.
The Hunstman line of keyboards is a tried-and-true staple of Razer's product line, and the Huntsman V2 TKL takes everything from the Huntsman Tournament Editon TKL a step further. Borrowing from the enthusiast crowd, Razer also supplies case foam in the keyboard's stock form to make the typing experience quieter. Razer also adds in a magnetic rest that can come in handy over longer gaming sessions.
Combing the wrist rest, case foam, and more premium feeling keycaps and switches, the Huntsman V2 TKL is a strong option for those seeking a keyboard with durable switches and keycaps as well as a bit more than just the usual creature comforts.
If you've followed any esport within the past several years, you've likely seen the Ducky One 2 Mini or SF in action. Now, Ducky has upgraded the winning One 2 Mini formula with the hot-swappable One 3 Mini and One 3 SF, but we'll be focusing on the latter option.
The Ducky One 3 SF is a 65 percent keyboard that retains the arrow keys sacrificed by the ever-popular 60 percent format. Having access to arrow keys while tacking on a negligible amount of length provides a decent amount of everyday utility without making a desk feel crowded while gaming. It may seem like a small feature of the form factor, but once those arrow keys are gone, you'll be missing them.
In line with other options like Razer's Hunstman V2 TKL, the One 3 SF also features sound dampening materials. But, unlike the Huntsman V2 TKL, Ducky's One 3 SF boasts two layers of sound dampening material in the way of silicone and EVA foam dampening layers. These help to mitigate case ping and echoes caused by any stabilizer rattle.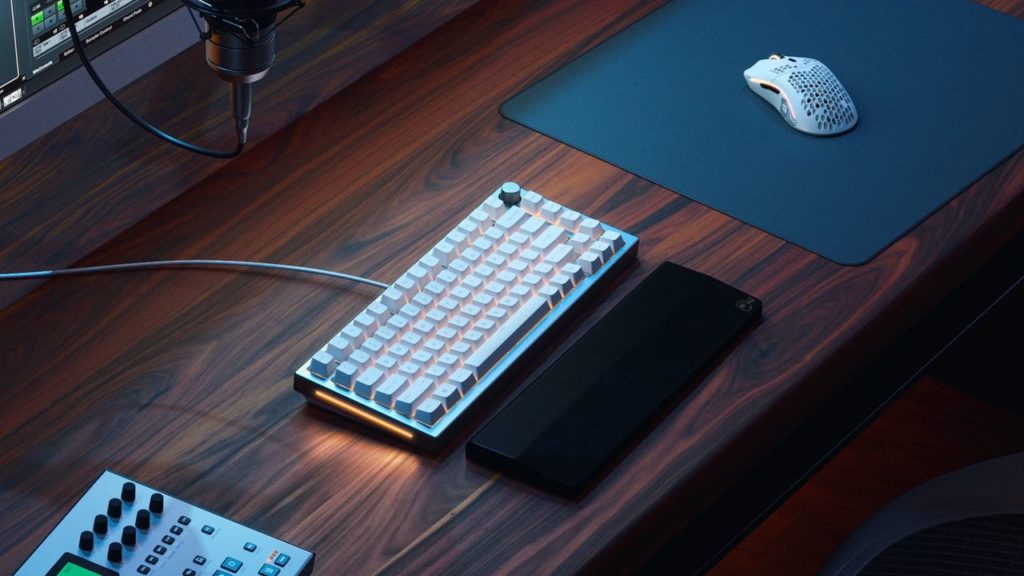 For those who are in the mood for a more premium option, Glorious' GMMK Pro is a 75 percent aluminum keyboard that serves as a reliably in-stock option for beginning keyboard builders.
While it may not appeal to every gamer, building a keyboard to your specifications can be a rewarding experience that turns the physical act of gaming into a more personalized experience. But this bespoke experience does cost a small fortune. Selecting a brass weight can tack on $50 right off the rip and adding switches can have you on the hook for $70 to $100 past the initial investment.
Still, building your own gaming keyboard complete with a programmable rotary encoder knob, a hot-swappable PCB, and the robust yet economical 75 percent form factor can set you up for years to come. Pair these features with a sturdy aluminum case most mainstream gaming keyboards can only dream of, and the dividends will pay in the long run.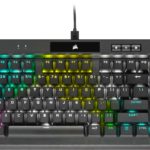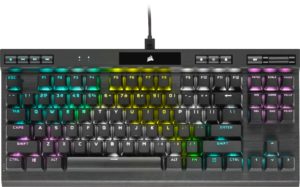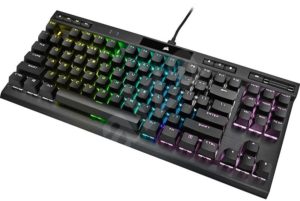 Most Corsair models lack the flashy designs that give products the "gamer" look but don't let that fool you. These keyboards pack some of the most advanced features you can find. For example, the K70 Champion Series is equipped with Axon hyper-polling technology. This tech boosts the keyboard's report rate to 8,000Hz, eight times faster than most gaming keyboards.
Corsair K70 is one of the brand's most popular keyboards, and now it's back in a smaller form factor. The TKL version of the K70 is decked out with double-shot PBT keycaps, which are quite resistant to sweat and oil, but it isn't an excuse to eat a bag of cheese puffs while still using your keyboard.
Compared to its rivals, the K70 TKL's keys are slightly closer to each other, meaning it may take you some time to fully adjust to your new keyboard. While ordering a K70 TKL, buyers have the option to choose from Cherry MX Silent Red, Red, or Speed Silver. While Cherry MX Reds are one of the most common switches among professional players, going with the silent variant can be helpful if you're sharing a room with a light sleeper or enjoy late-night gaming.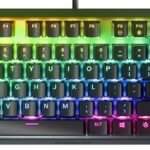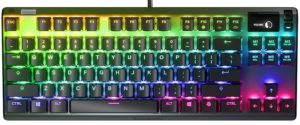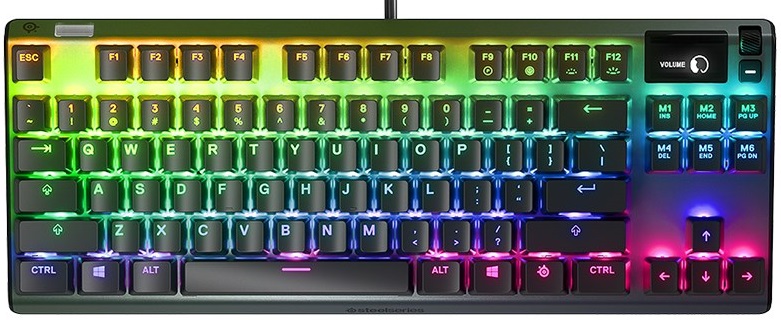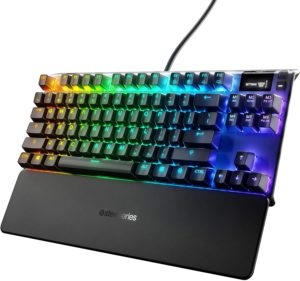 SteelSeries has been in the keyboard game for a long time, and it has quite the reputation of upping its game with every product cycle.
Alongside its aircraft-grade aluminum body, the Apex Pro TKL features OmniPoint switches that are considered to be the latest innovation in terms of switches. OmniPoints' actuation points can be adjusted both for gaming and typing. This can be done via the OLED display on the right corner of the keyboard.
If you'd like to keep it traditional, you can also opt out or have Cherry MX Red, Blue, or Brown switches.
Best mid-range small gaming keyboards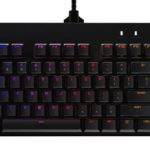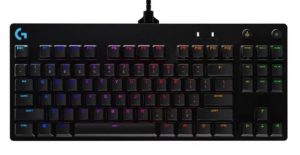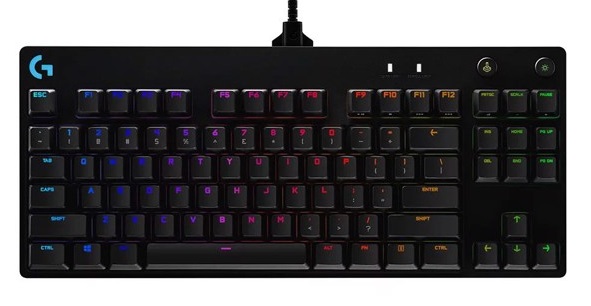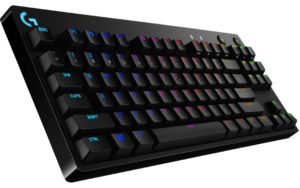 Choosing the right switch when buying a keyboard can be tough. You may end up not liking your choice, and it may be too late to get a new one.
Pro X's switches can be changed manually—given that you have the right type of switches. This essentially prolongs the lifetime of the keyboard. Logitech has three types of switches in its store that can be used with the Pro X: GX Blue Clicky, GX Red Linear, and GX Brown Tactile switches.
Thanks to its tenkeyless design, it can easily be carried around and fit into any bag with its detachable cable.
It doesn't have any macro keys, but the function keys on top of the keyboard are fully customizable with Logitech's G-HUB.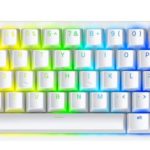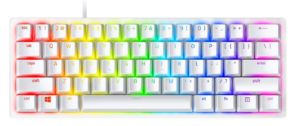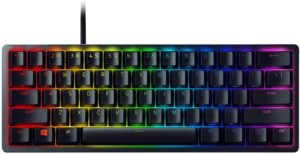 Razer's Huntsman's line has been a game-changer for the company's approach to mechanical keyboards. Razer always had the Blackwidow series as a nice stable piece but hesitated from experimenting with different setups. Though the Blackwidow line continues to improve with new quality-of-life features, the Huntsman line slowly became the pioneer of what Razer had to offer in terms of keyboards.
Huntsman keyboards feature Razer's optical switches that take advantage of light technology to make them more responsive. While the first iterations of the keyboard were only in full-sized cases, Razer recently introduced a 60-percent form factor of the Huntsman.
Huntsman Mini features all the core characteristics of what makes it the unique keyboard that it's. Razer completes this setup with Doubleshot PBT keycaps that have side-printed secondary functions. These functions will help you get the same amount of functionality you'd get from a full-sized keyboard from your Razer Huntsman Mini.
You'll have to pick between Purple Clicky Optical Switches and the second generation of Razer's Red Linear Optical Switches. The second generation of the Linear Reds is considerably more silent than its predecessor, and you can check out the sound comparison on Razer's official webpage. While Reds are known for being good for gaming, the Purple switches could confuse first-timers.
The Purple Clicky Opticals are the equivalent of your classic Blue switches, which are mostly preferred by gamers who type more than they play games. There are a total of six different light modes, but you can also install Razer's software to customize them by yourself or download other modes that you may like.
We recommend going with the Linear Red switches for now since the community reviews of the Purple Switch version has been concerning. Most of the improvements included in the model were designed with the Red switches in mind, which worsens the overall gaming/typing experience for the Purple switch version.
Another Glorious offering, the GMMK Compact is one of the company's first outings into mechanical keyboards. This keyboard helped to popularize the trend of including a hot-swappable PCB, which adds infinite value for those who need to dial in their switch preferences.
Beyond its hot-swappable capability, the GMMK compact boasts a heavy aluminum top plate, a wide variety of switches and keycaps to choose from, and a choice of a white or black case. Selecting your switches, keycaps, and case color works the same as the GMMK Pro keyboard, meaning these options can quickly add to the $109 base price. But you won't find many mainstream boards that allow for this much customization.
While the Razer Huntsman Mini provides a comparable stock experience with doubleshot PBT keycaps for the same price, the GMMK is geared more toward customization and freedom to explore rather than anything else.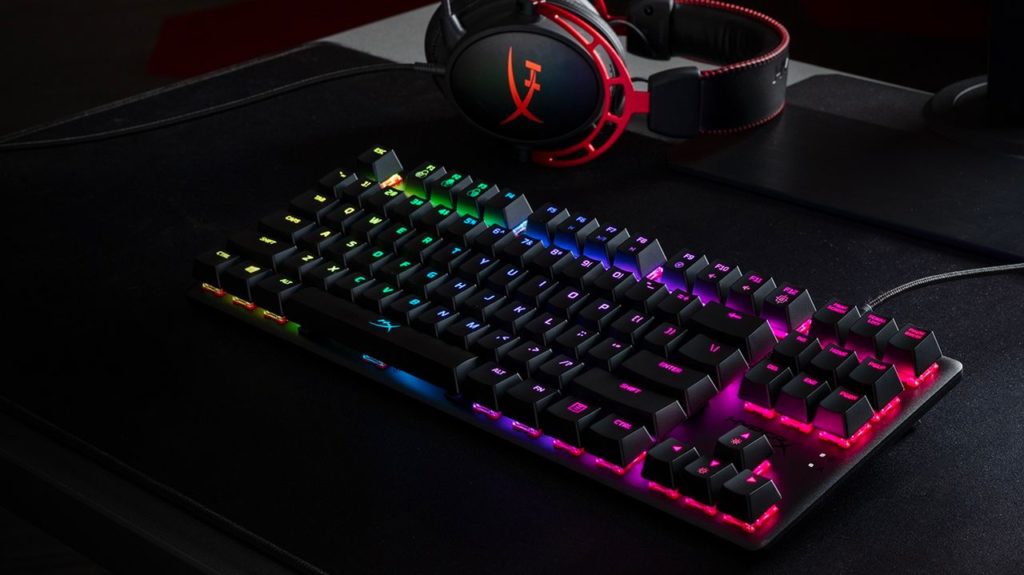 There are plenty of big-name gaming keyboards that claim to feature fully aluminum constructions, but most of them only shop with an aluminum top plate and a rigid plastic case. HyperX's Alloy Origins Core is on the opposite end of the spectrum and comes through on its promise of a fully aluminum case for less than its competitors.
Touting HyperX's own proprietary switches, a fully aluminum construction isn't the only trick up the Alloy Origins Core's sleeve. HyperX's switch line is one of the best in the game, often feeling smoother than any comparable stock offering from Cherry or Gateron. The Alloy Origins Core comes in a clicky Blue variant, tactile Aqua variant, and a familiar Red switch variant.
HyperX's Alloy Origins Core may not be the flashiest keyboard in town, but it's one of the most durable and is packed with high-quality HyperX switches to suit a wide variety of gamers. As a cherry on top, this sub-$100 keyboard features a detachable USB-C connection, which took many companies a while to adopt after the Alloy Origins line had already been established.
Best low-end small gaming keyboards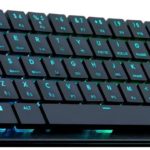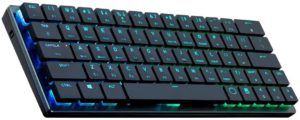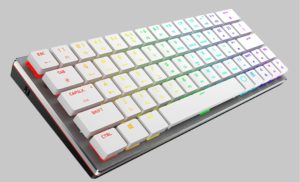 Cooler Master produces some of the most customizable mechanical keyboards on the market both with its switch options and software.
The SK621 is one of the lightest compact mechanical keyboards, weighing only a pound. The keyboard has a 60-percent layout and features Cherry's new MX Red switches that had their actuation point lowered by an extra 0.8 millimeters.
It can also be used wirelessly, thanks to its integrated Bluetooth. If you don't turn on its RGB lights, the keyboard can go up to four to five months without charging.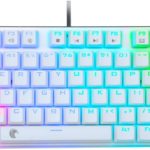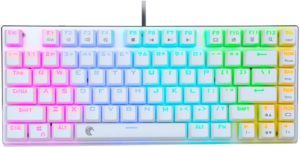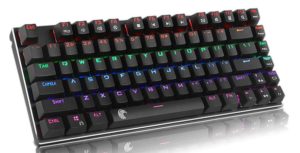 Though it may feel like the price tag should also decrease alongside a keyboard's size, it could be quite the opposite if you're shopping through the industry's household names. Budget options may feel as premium as your reputable brands, but most of them last as long as them, if not longer.
HUO JI E-Yooso Z-88 is a stunning keyboard that offers an unheard number of customization options in its price range. You can choose from five different board colors: black, blue, gold, pink, and white, but you'll need to sort through individual listings to find them. HUO JI E-Yooso also lets gamers select the type of switches they'd like in their keyboards, and you can pick one from the Outemu Blues, Browns, or Reds.
If this is the first time you hear about Outemu switches, the company also produces Razer's switches for them, so they certainly aren't strangers to the mechanical keyboard game.
This tenkeyless keyboard comes with 10 different light modes. While the mods are miles away from the RGB, you'll get in more expensive models, and they still look pretty. The keyboard is mainly made out of ABS and metal. There's a matte feeling on the keyboard, which you can feel when you slide your finger around its frame.
The keyboard lacks dedicated media keys, but those are rare to see in small form factor keyboards. You'll need to use the FN key alongside the function buttons as a replacement.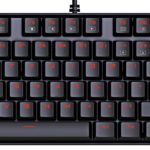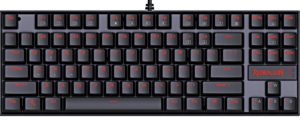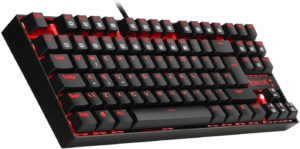 Redragon is known for putting out quality products that cost half as much as the competition. It gained popularity because its products were as good as the more expensive options on the market—if not better.
Of course, to cost less, one must cut some things first. The K552 has a tough plastic body that's strong and comes with custom-made switches. In the case of this keyboard, the custom-made switches are Cherry MX Blue equivalents.
On a positive note, the keyboard comes with a gold-plated USB connector and decent keycaps. It's also splash-proof, so you can enjoy your meal in front of your computer without worrying.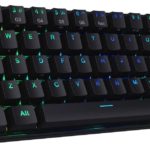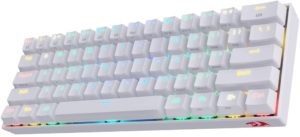 The Redragon K552 isn't the only compact keyboard that the company has to offer. If you're looking for an even more compact solution and don't prefer Blue switches, then K530 might be the one for you.
What makes this keyboard more unique than Redragon's other products is that it can also be used wirelessly. The keyboard comes with two connection modes: wired Type-C and Bluetooth 5.0. The 2400 mAh battery should be enough for days of gaming, and you'll be able to use your K530 with up to three different devices. Redragon's K530 features one of the better RGB setups in this price range and comes with Brown switches.
Though Redragon doesn't disclose the branding on the switches, the manufacturer's reply to a customer question on Amazon indicates that the switches were an end product of a collaboration between Outemu and Redragon. The keyboard still ships in a box that fits its size but also comes bearing gifts. You will get two switch pullers, a box of backup switches (Black/Red/Brown/Blue), and a user manual to get things going.
The switch pullers you get will especially come in handy when you decide to clean your keyboard since cleaning a mechanical board with its key attached is quite a challenging task.
---
This article includes affiliate links, which may provide small compensation to Dot Esports.