National non-profit The 1,000 Dreams Fund's 24-hour charity Twitch stream, which will raise money for micro-grants for female content creators, begins today. The stream will run from Dec. 18 to 19, with a kick-off at 2pm CT. 1DF's partnership with Twitch was announced in February.

The event, called Stream The Halls, will continue annually to showcase women on Twitch and raise money for "up-and-coming women" in the industry. In the first event, Stream For Dreams, 1DF raised $44,000 for the Twitch BroadcastHER grant program. (1DF is a national scholarship fund and provides support to girls and women in a number of different sectors.)

Related: 1,000 Dreams Fund to award grands to women streaming on Twitch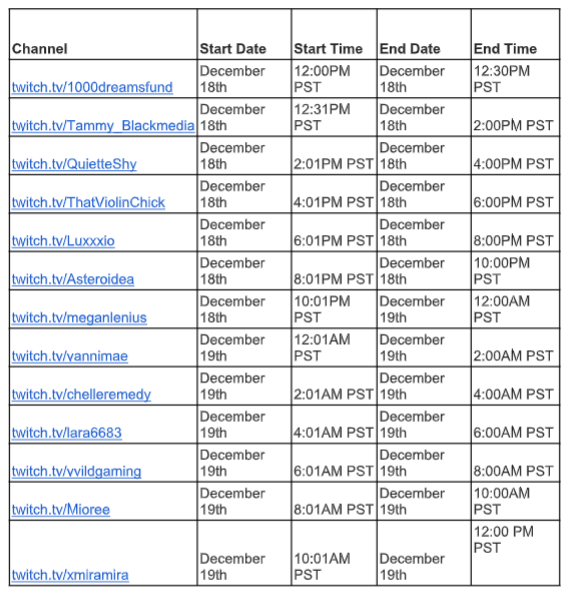 "This Stream The Halls event is so important to the female gaming community for two reasons," streamer Amira "Xmiramira" Virgil told Dot Esports. "First, the reality is that female gamers face multiple challenges every day within a male-dominated environment… Second, 1,000 Dreams Fund can really change the world one event at a time, by turning dreams into reality through financial grants, mentorship, partnerships, and a positive and empowering community."

Xmiramira will participate in the broadcast alongside other streamers, like Tammy_Blackmedia, QuietteShy, Luxxio, cherremedy, and ThatViolinChick. The full schedule is available above.

"We are excited to again partner with members of the Twitch community to build on the success of the first Streams For Dreams charity event for a very important cause—the advancement of women in broadcasting and gaming," 1DF founder and CEO Christie Garton. "We have received 1,000+ applications for funding, underscoring the need for the support we are providing."