The season-exclusive Ruin outfit can now be unlocked by all Fortnite players who own the season eight premium Battle Pass. With the release of the week eight challenges, the total of weekly challenges available this season is now 56, one more than the number players need to finish off to unlock Ruin.
Players who unlock Ruin will also get its special challenges that award them with the character's back bling and pickaxe.
Ruin is a special outfit that can only be unlocked from today to May 8, when season eight ends. It's part of this season's Discovery set of challenges, and players who complete any 55 weekly challenges will permanently add Ruin to their Locker. Those who miss out on this opportunity will most likely never have a chance to get the skin again, considering that previous season-exclusive skins have never returned to the game in any shape or form.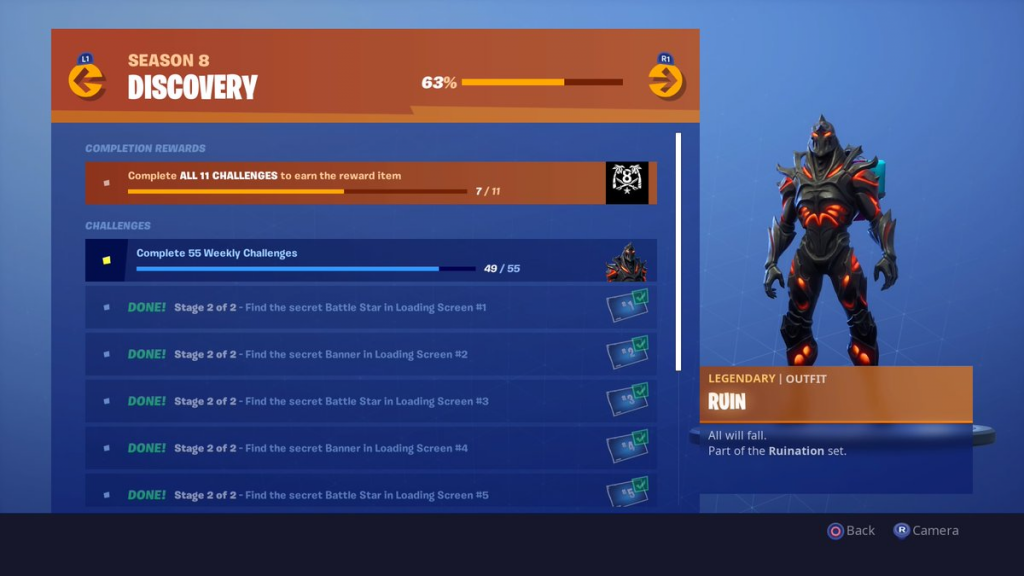 Players who don't own the premium Battle Pass can't unlock Ruin. They can only complete 30 weekly challenges throughout the entire season, since there are only three free challenges in each of the 10 weeks. But those who buy the premium pass at any point can unlock the premium challenges and try to rush them to get Ruin.

Related: Fortnite data miners find audio files in v8.40 for potential season 8 events
So far, it's unclear if Ruin has any ties to the season eight lore. As season nine approaches, we should learn more things about Ruin's influence over the Fortnite island, if there's any, and how it's related to the giant metal hatch that appeared in Loot Lake after the v8.40 update.

Even if Ruin isn't part of the Fortnite lore, it's still a cool skin that players won't have the opportunity to unlock later. Hop into your game, check out all of our season eight challenge guides to breeze past them, and unlock Ruin for your account.