K1nzell and Team Atlantis' Dmitri "Mitr0" Van de Vrie won today's $500,000 Fortnite Summer Skirmish Duos tournament, securing the $75,000 first-place prize.
After some intense gameplay in yesterday's North American tournament, which was won by Vivid and Jake "Poach" Brumleve, K1nzell and Mitr0 followed suit in today's European event to conclude the fifth week of this eight-week tournament series.
Related: Vivid and Poach win today's $500,000 Fortnite Summer Skirmish Duos tournament
Week five featured a new scoring format called King Pin. Each elimination was worth one point. A Victory Royale gave that duo a three-times elimination bonus in their next match, while a two-times elimination bonus in the following game was earned by getting seven or more kills. K1nzell and Mitr0 won this tournament because they had the most points after eight matches.
Mitr0 previously won a Summer Skirmish event alongside fellow Team Atlantis player Max "Magin" Merrien on July 28. Last week's Solo tournament winner, Team Secret's Domeniks "Domentos" Bunts, didn't place in the money in today's competition.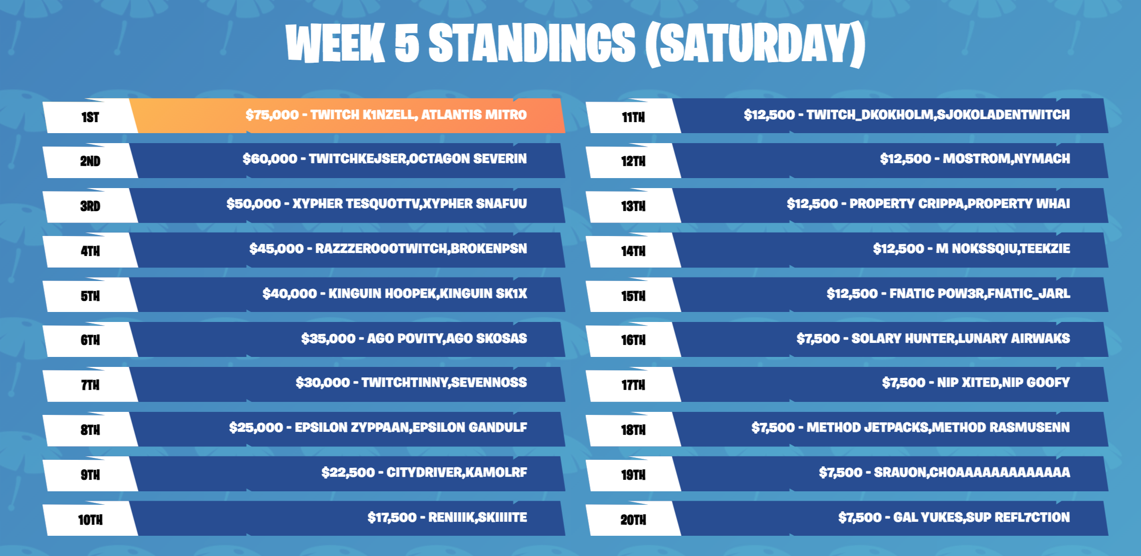 Here are the final placings for the Aug. 11 Fortnite Summer Skirmish series tournament.
1) K1nzell and Mitr0
2) Kejser and Octagon Severin
3) Xypher TesquoTTV and Xypher Snafuu
4) RazzzeroooTwitch and BrokenPSN
5) Kinguin Hoopek and Sk1x
6) AGO Povity and Skosas
7) TwitchTinny and Sevennoss
8) Epsilon Pontus "Zyppan" Eek and Vincent "Gandulf" Johansson
9) CityDriver and Kamolrf
10) Reniiik and Skiiiite
11) Twitch_Dkokholm and SjokoladentTwitch
12) Mostrom and Nymach
13) Property Crippa and Whai
14) M Nokssqiu and Teekzie
15) Fnatic Giorgio "POW3R" Calandrelli and Christoffer "Jarl" Jensen
16) Solary Corentin "Hunter" Tardif and Lunary Airwaks
17) NiP Patrik "Xited" Heiberg and Max "Goofy" Rosenlind
18) Method Jetpacks and Rasmusenn
19) Srauon and Choaaaaaaaaaaaaa
20) Gal Yukes and Sup Refl7ction