Vivid and Jake "Poach" Brumleve finished atop the leaderboard in today's $500,000 Fortnite Summer Skirmish Duos tournament, capturing the $75,000 grand prize in the process.
Some of the best and most popular players in North America came together to compete in today's event, which kicked off the fifth week in this eight-week tournament series. Among the competition, Tyler "Ninja" Blevins and Jack "CouRage" Dunlop were vying for the top spot that was eventually claimed by Vivid and Poach.
Week five features a new scoring format called King Pin. Each elimination is worth one point. A Victory Royale gave that duo a three-times elimination bonus in their next match, while a two-times elimination bonus in the following game was earned by getting seven or more kills. Vivid and Poach won this event since they had the most points after eight matches.
Vivid is no stranger to winning Summer Skirmish events, though. After emerging victorious in the inaugural event in the series, Vivid claimed his second title last Friday.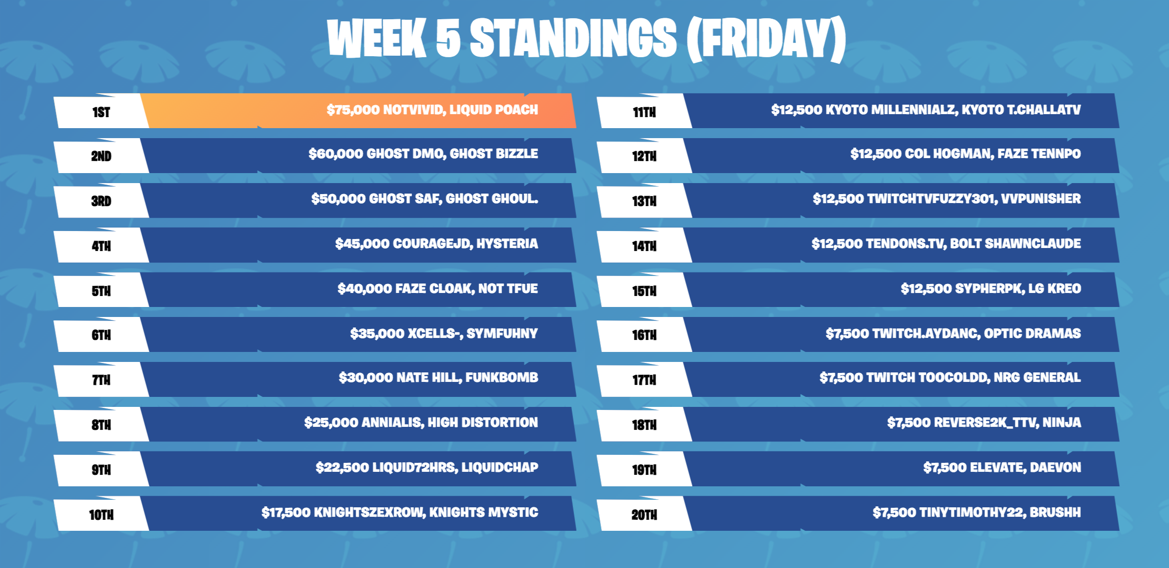 Several notable players placed in the money during tonight's competition. Most notably, CouRage and Jacob "Hysteria" Reiser came in fourth place, while FaZe Clan's Turner "Tfue" Tenney and Dennis "Cloak" Lepore finished in fifth.
Here are the final placings for the Aug. 10 Fortnite Summer Skirmish series tournament.
1) Vivid and Poach
2) Dylan "Dmo" Moore and Ghost Bizzle
3) Ghost Saf and Ghost Ghoul
4) CouRage and Hysteria
5) Cloak and Tfue
6) XCells and Symfuhny
7) Nate Hill and Funkbomb
8) Annialis and Jimmy "HighDistortion" Moreno
9) Thomas "72hrs" Mulligan and Ryan "Chap" Chaplo
10) Zexrow and Mystic
11) Millennialz and T.ChallaTV
12) Michael Hogman and Jason "Tennp0" Wang
13) Fuzzy301 and vvPunisher
14) Tendons.TV and Bolt ShawnClaude
15) Sypher "SypherPK" Ali and Nate "Kreo" Kou
16) Aydanc and Dade "Dramas" Lesch
17) TooCold and Chris "TheGeneral" Lee
18) Ninja and Reverse2K
19) Elevate and Daevon
20) TinyTimothy22 and Brushh