This year, Evo is kicking off the festivities early by organizing a tournament in Japan—and it all starts tomorrow.
Evo is one of the biggest annual fighting game esports events on the calendar. It's part tournament and part experience, and has created some of the best moments in fighting game history, such as the legendary fight between Daigo Umehara and Justin Wong back in the 2004 Street Fighter III Evo finals.
The tournament organizers finally released the official schedule earlier today, giving fans time to empty their schedule for tomorrow's chaos. To make sure you don't miss out on any of the action, this guide should help make sense of it all.
What is Evo Japan?
This is the first Japanese Evo tournament, and its success will determine whether or not it returns again next year. Evo Japan will feature over 5,000 competitors battling it out in seven different games.
When does Evo Japan start?
Evo Japan kicks off at 4pm PT (9am JST) on Jan. 26 and finishes on Jan. 28. All matches will take place at Akihabara, Japan in the Akihabara UDX complex.
What games are being played at Evo Japan?
The seven games that make up the Evo Japan lineup are:
Street Fighter V
Tekken 7
Guilty Gear Xrd REV 2
Super Smash Bros. for Wii U
Blazblue Centralfiction
The King of Fighters XIV
ARMS
What is the prize?
The main prize at Evo Japan will be money. Each title will have a prize pool of one million yen ($9,000) except for Smash Bros and ARMS, with the prize pool for the two Nintendo titles having not been announced yet.
How can I watch Evo Japan?
The only way to watch Evo Japan this year is through a livestream. Fans will need to head over to Twitch or OPENREC to watch their favorite games.
In total, there are nine different streams to choose from, depending on the language you speak. Four streams will be in English, four will be in Japanese, and one will be in Chinese, with each stream having its own unique commentators and talent.
You can see the full schedule and streams below: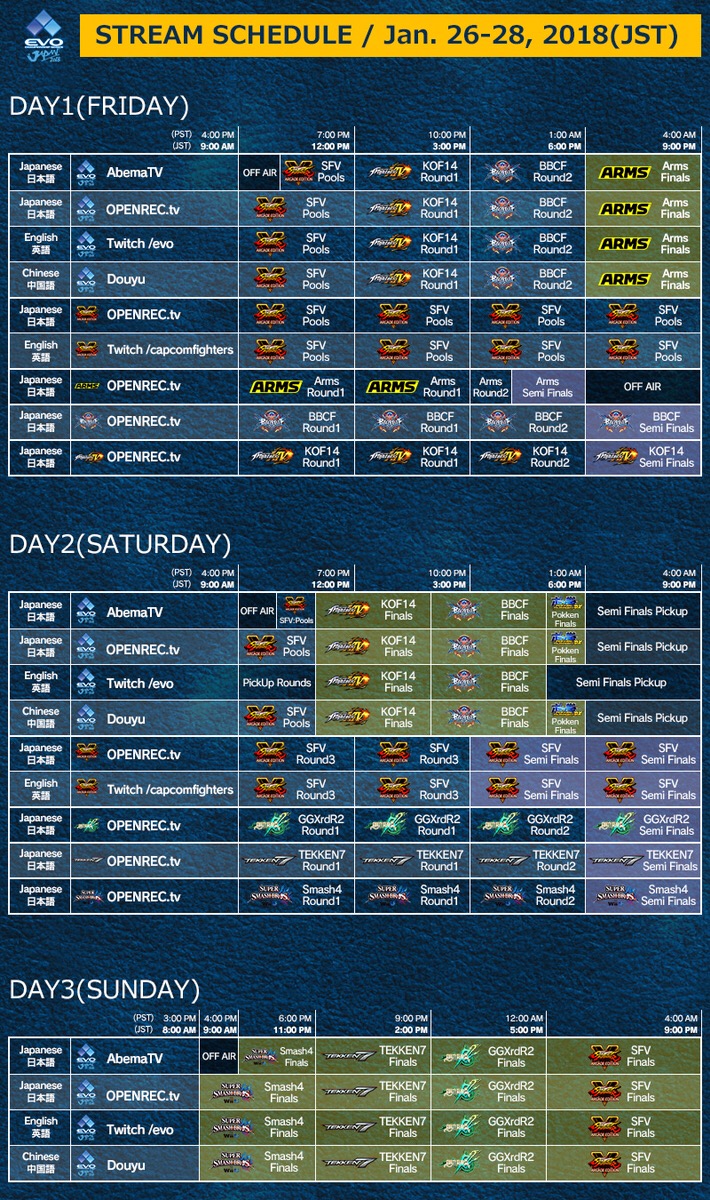 Certain games will only be watchable in one language, however. ARMS will only show its first round matches on the Japanese OPENREC stream, meaning fans who want to watch the round one matches will be forced to listen to Japanese commentators on Friday.