After being delayed a week from its original implementation date, the new seasonal ranked matchmaking system for Dota 2 has finally arrived on the live servers. With its arrival, the inaugural season has also begun—and will run for a whole six months.
Gone is the old stacking matchmaking rating (MMR) value, replaced entirely by a total of seven league tiers. Every tier has its own unique Rank Medal icon, proudly displayed on every ranked player's profile.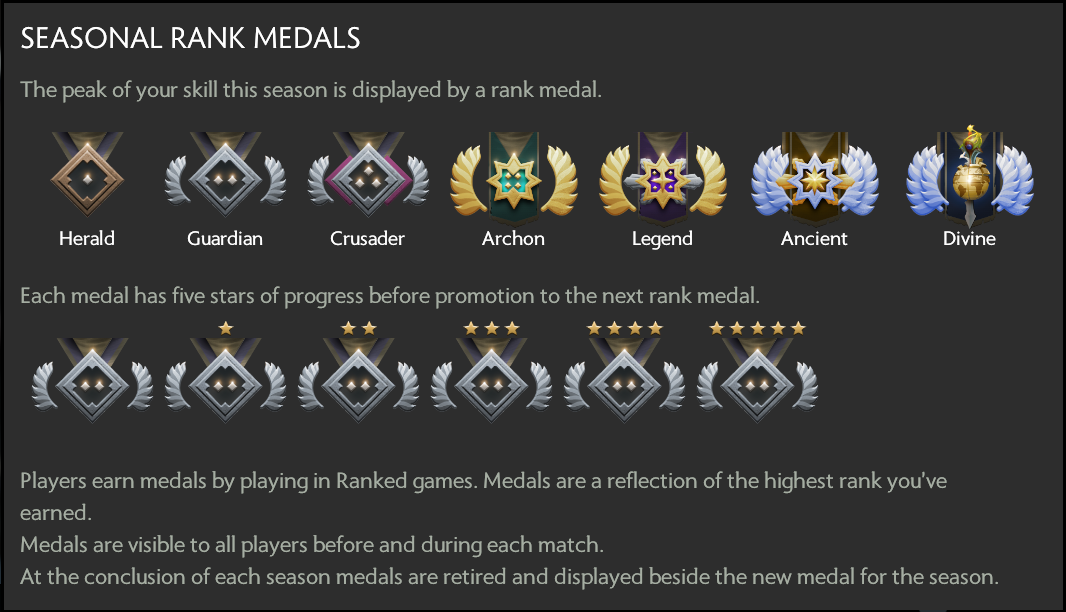 In ascending order, the leagues are called Herald, Guardian, Crusader, Archon, Legend, Ancient, and Divine. Within each tier, players will have to earn five stars in order to progress to the next league.
Up until the Legend rank, both solo and party matchmaking will count towards a player's progression. Players who wish to earn the Ancient and Divine medals, however, must grind it out in solo queue only. In all cases, though, solo queue will have a bigger impact on progression.
Should a player successfully go up in rank, their medal will change to reflect their progression. The corresponding medal will never go back down to a lower tier during that season, even if a player loses enough games in a row. This is similar to the system used in Overwatch, where a player's league badge stays the same even if their skill rating (SR) dips below the cutoff for that league.
The old MMR-based leaderboards have been wiped completely with the update, and all previous MMR values have been removed from view. An expanded version of the leaderboards, which includes one exclusive to Divine ranked players, has been implemented to replace the decommissioned ones.
Those who have yet to enter the new ranked season will have to go through calibration matches in order to get placed into one of the seven leagues. According to Valve, the calibration matches are based on MMR before the wipe.