Esports and battle royale games were top of the charts on Twitch last year, according to live stream data collector Gamoloco.
Gamoloco's top 10 most-watched games on Twitch in 2017 features a lot of long-time mainstays and esports games—but some impressive new additions as well.
The number one game, by a huge margin, was League of Legends, clocking in at over one billion hours watched. This should come as no surprise, as the game's constant presence and nearly year-long esports campaign has people tuning in most days of the week.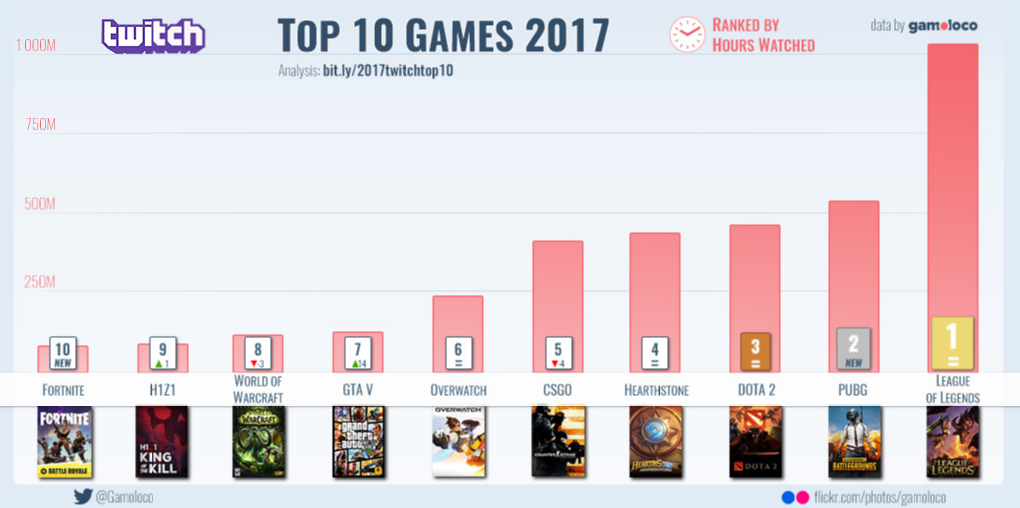 Second on the list is PlayerUnknown's Battlegrounds, which should also come as no surprise. PUBG burst onto the scene in Steam's early access program in March, but shot to prominence on Twitch over the Summer. While some of the platform's biggest streamers made it a hit, the game sold millions of copies on its way to becoming the phenomenon of 2017. Viewers consumed over 500 million hours of PUBG content last year.
Esports mainstays Dota 2, Hearthstone, and Counter-Strike: Global Offensive round out the top five, with Overwatch coming in at number six. Blizzard will be hoping for big things for Overwatch on Twitch this year, considering the Overwatch League's two-year exclusivity deal with the platform.
Up next are Grand Theft Auto V and World of Warcraft, the two oldest games one the list. Much of GTAV's success in 2017 can be attributed to the surge in popularity of role-playing. H1Z1, one of the battle royale genre's early adopters, sits at number nine.
Incredibly coming in at number 10 is Fortnite, largely on the back of the success of free-to-play Fortnite: Battle Royale. Some of the game's success can be tracked to PUBG popularizing the battle royale genre earlier in the year, but Fortnite's unique style definitely appeals to a wide audience as well. But Battle Royale only released in September, which makes its inclusion on the list even more impressive.
Looking forward into 2018, it's likely that most of these games will continue to sit at the top of the viewership list for the foreseeable future—but it's also possible 2018 could produce another smash hit like PUBG.