The yearly charity marathon for the Destiny-inspired community meetup convention known as GuardianCon is now live. All proceeds from the event will benefit St. Jude's Children's Research Hospital.
This year's week-long marathon has added some heavy hitters in the world of streaming. While mainstays like the founders of the event, King Gothalion and ProfessorBroman, are still there, they have enlisted the help of the one and only Tyler "Ninja" Blevins to close out the event. Other participating streamers include DrLupo, Anthony Kongphan, RealKraftyy, King Richard, Dakotaz, TimTheTatman, and many more.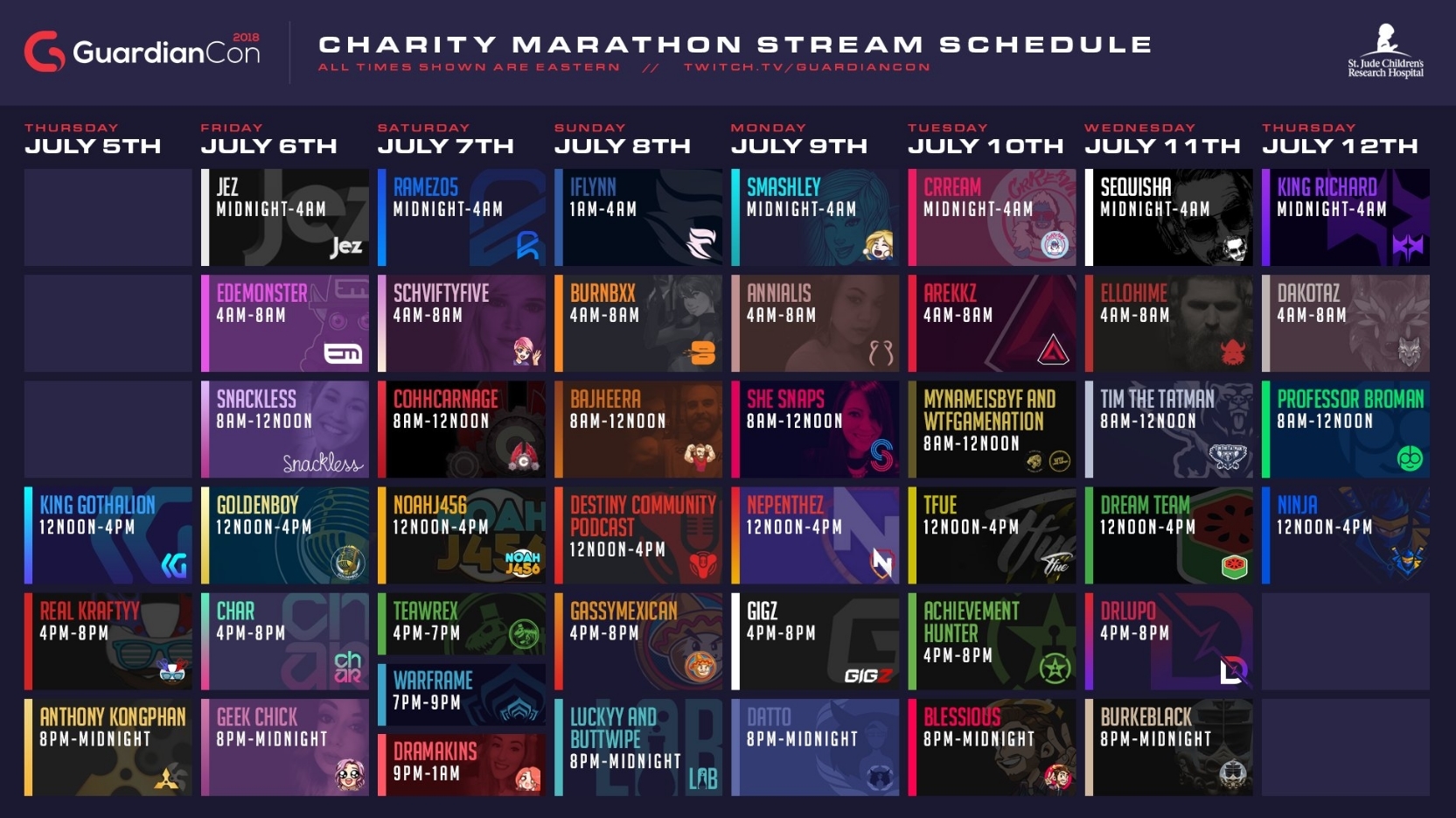 While this is only the second official GuardianCon, and third charity marathon, the event's roots can be traced back to a meetup at a bar in Tampa, Florida, in 2015. It began out as a get-together between Destiny content creators and their fans, and the yearly event has now found a new home at the Tampa Bay Convention Center.
Once the 24/7 marathon ends on July 12, the festivities continues in Tampa, Florida on July 13 and 14 when GuardianCon kicks off in person. Ninja and many of the other content creators will be on hand for meet and greets, live play events, and more.
While the name itself, GuardianCon, was originally inspired by the in-game Guardians of the Destiny universe, it has since expanded into many other games, as this year's event will contain a heavy presence from Fortnite and other popular titles. Now, the Guardian in GuardianCon means a whole lot more, as the funds raised will help guard children at St. Jude's from diseases like cancer.
This year's event gets even bigger in the gaming world as there will be an official presence of multiple games and developers, including Bungie, Hi-Rez Studios, and Phoenix Labs. Bungie is even bringing a playable demo of Destiny 2's upcoming Gambit mode from the Forsaken expansion.
Thanks to satellite streaming events and multiple campaigns, including an in-game event in Dauntless, GuardianCon has already surpassed $1 million for St. Jude. While last year's event surpassed $1.2 million raised, this year's goal of $1.5 million will most likely be shattered in the coming days.
The entirety of the marathon can be found on GuardianCon's Twitch channel.