The 32 players who earned a seat at the Teamfight Tactics Set Six Mid-Set Finale competed for an invite to the Set 6.5 Regional Finals. The competition took place from Feb. 4 to 6, and players at the TFT Set Six Mid-Set Finale battled over the course of three days.
With four invites to the Set 6.5 Regional Finals on the line, and a chance to compete at the Innovator Cup, making it to the third day of competition was a goal for all 32 players.
Played on Patch 12.3, the Mid-Set Finale was the last NA tournament to get played in Set Six. Each of the 32 players at the NA Mid-Set Finale earned their invites via either tournament qualifier points or by finishing at the top in a TFT Set Six qualifying tournament.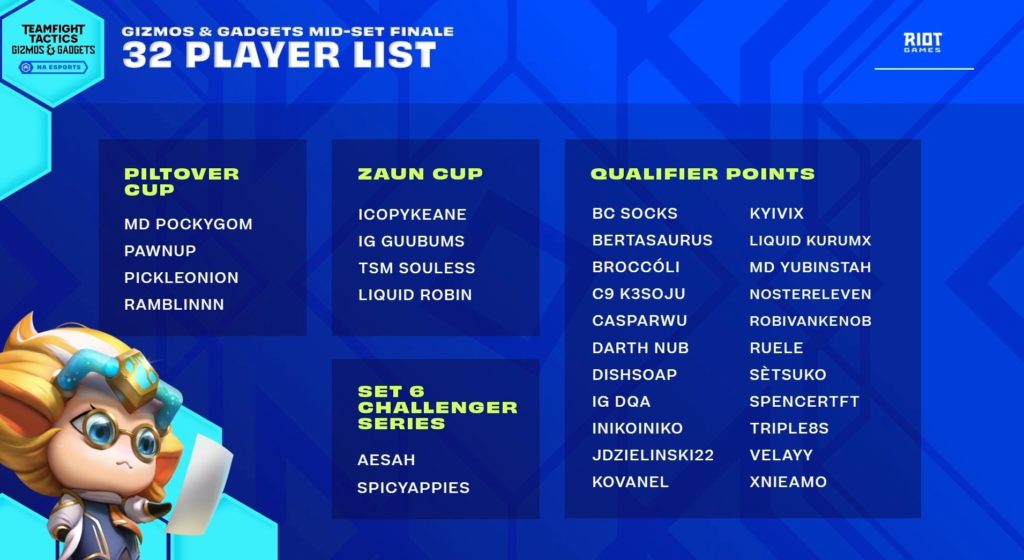 The format for days one and two at the TFT Set Six Mid-Set Finale featured six games each day, with lobbies getting reseeded every two games. Each day, the field was cut in half, with only eight making it to the third day.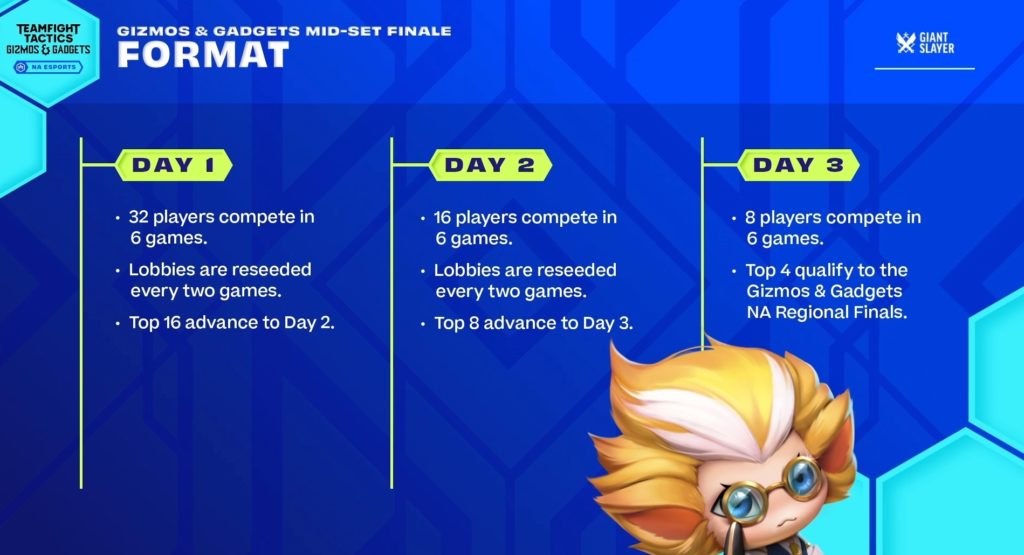 Points were awarded to players based on placements within a lobby over the course of every game played that day, and were reset heading into the next day of competition.
First: 10 points
Second: Eight points
Third: Seven points
Fourth: Six points
Fifth: Four points
Sixth: Three points
Seventh: Two points
Eighth: One point
Feb. 4
A total of 32 players started day one at the TFT Set Six Mid-Set Finale, spread out over four lobbies.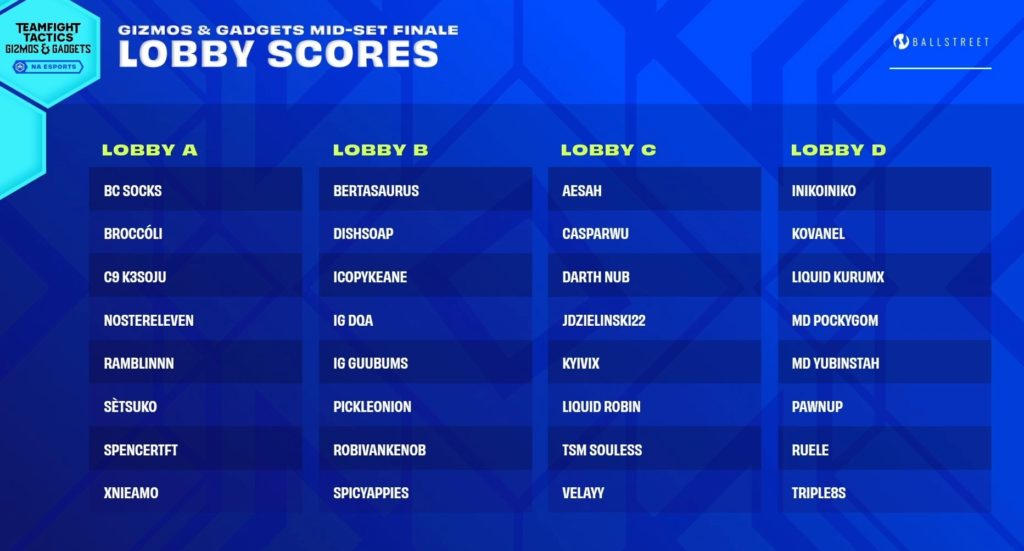 DQA dominated Lobby B during game one with a Jhin three-star Gold Collector and sètsuko earned a first in Lobby A with Chemtech Urgot carry. Aesah won Lobby C and Pawnup finished in first via Lobby D.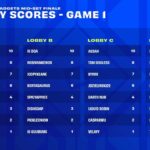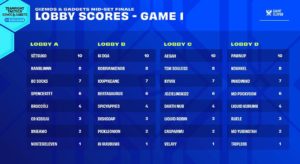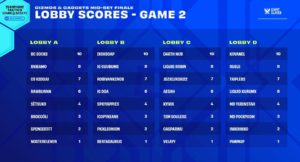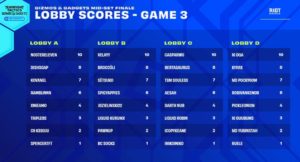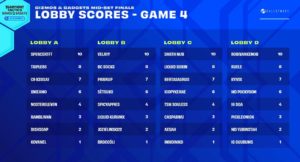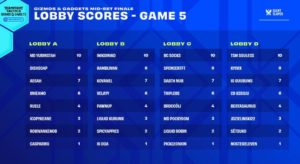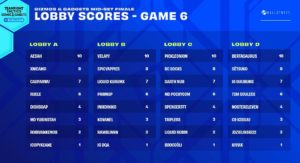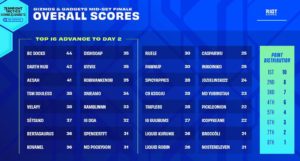 Lobby winners during game two were Socks, Dishsoap, Darth Nub, and Kovanel. DQA earned his second lobby victory via game three, propelling him to the top with a total of 26 points. Close behind him were Kovanel, Aesah, Dishsoap, sètsuko, and Robivankenob.
Socks earned his second first-place lobby finish in game five, bumping him to the top of the leaderboard with 36 points. Over eight TFT players were on the bubble heading into game six with a total of 19 to 25 points.
Following a total of six games played, 16 TFT players advanced to the second day of the Set Six Mid-Set Finale.
Socks: 44 points
Darth Nub: 42 points
Aesah: 41 points
TSM Souless: 38 points
Velayy: 38 points
sètsuko: 37 points
Bertasaurus: 36 points
Kovanel: 36 points
Dishsoap: 35 points
Kyivix: 35 points
Robivankenob: 35 points
Xnieamo: 34 points
Ramblinnn: 33 points
IG DQA: 32 points
SpencerTFT: 31 points
MD Pockygom: 31 points
Feb. 5
Sixteen TFT players competed over six games, and only eight would advance to the final day. Players were split into two lobbies, with competitors rotating lobbies every two games. Day two of the Set Six Mid-Set Finale contained a healthy mix of veteran tournament players, along with up-and-coming competitors like Aesah and Robivankenob.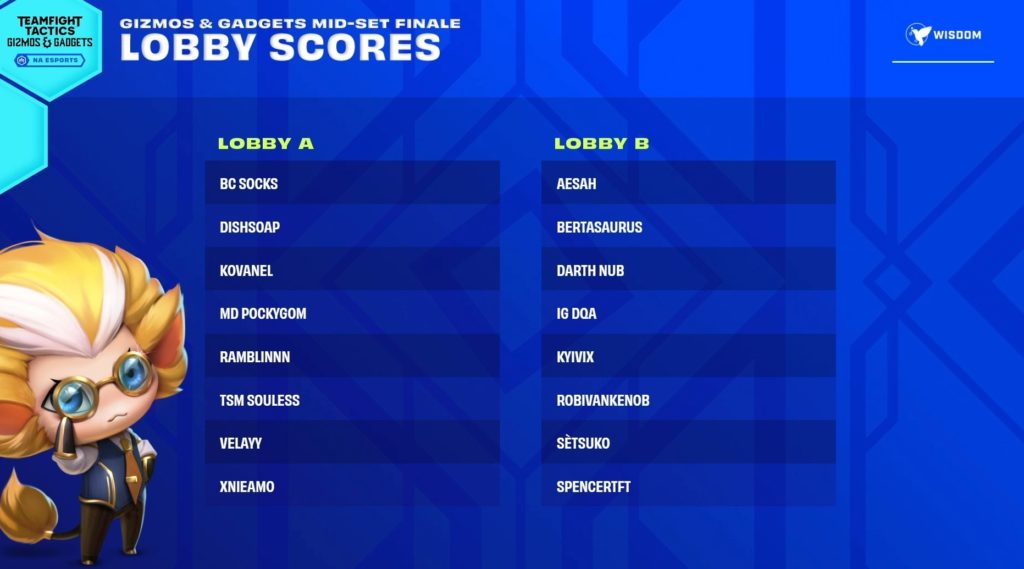 TSM Souless put the top-16 TFT players on notice with a dominating first-place finish playing Challenger Fiora carry with the Hextech Augment Knife's Edge. Invictus Gaming's DQA started day two with a lobby win via Kai'Sa/Viktor legendaries in Lobby B. DQA earned his second straight victory in game two while Velayy finished first in Lobby A, with Souless finishing second.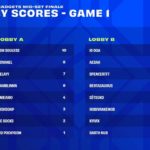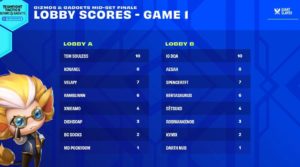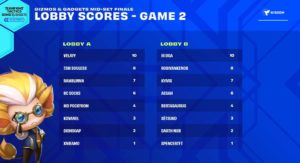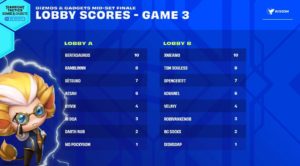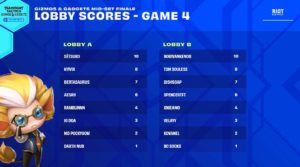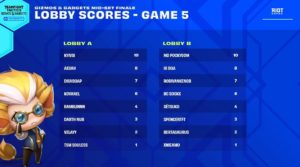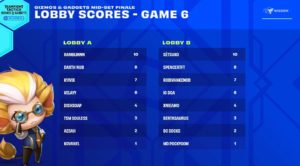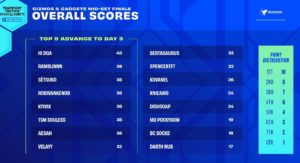 Lobbies were reseated in game three. Bertasaurus won Lobby A and Xnieamo earned a first in Lobby B. Sitting at the top of the leaderboard was Souless, who earned another second-place finish during game three. Close behind him were DQA, Velayy, Ramblinnn, Bertasaurus, and Aseah. Robivankenob earned a game-four lobby victory, as did sètsuko, with Souless claiming a third second-place finish in a row and securing their seat in the day three TFT Set Six Mid-Set Finale playoffs.
Players shifted lobbies in game five for the last time on day two, with Kyivix and MD Pockygom winning their respective lobbies. Ramblinnn and sètsuko each took a first in game six, each securing a spot in the top eight. Just missing the cutoff was Bertasaurus and SpencerTFT, losing the tie-breaker to Velayy at 22 points. Following the six games played during day two, eight TFT players advanced to the third day of the Set 6 NA Mid-Set Finale.
IG DQA: 40 points
Ramblinnn: 39 points
sètsuko: 38 points
Robivankenob: 38 points
Kyivix: 38 points
TSM Souless: 38 points
Aesah: 36 points
Velayy: 32 points
Feb. 6
The top eight TFT players remaining at the Set Six NA Mid-Set Finale played a total of six games, with the top four advancing to the Regional Finals at the end of March. And the bottom four players still earned money while qualifying for the Set 6.5 Innovation Cup on March 4 to 6, getting a second chance to earn a seat at the Regional Finals and a chance to compete at Worlds.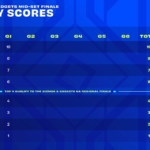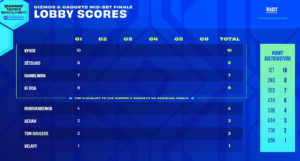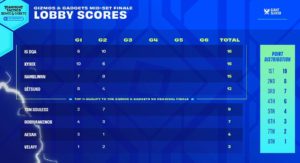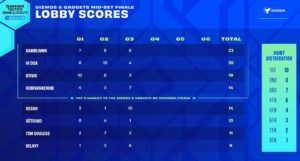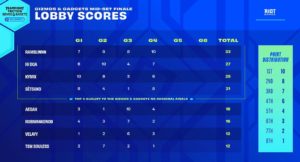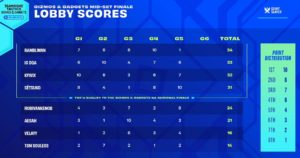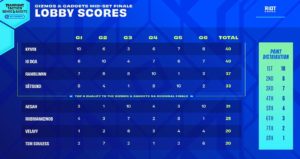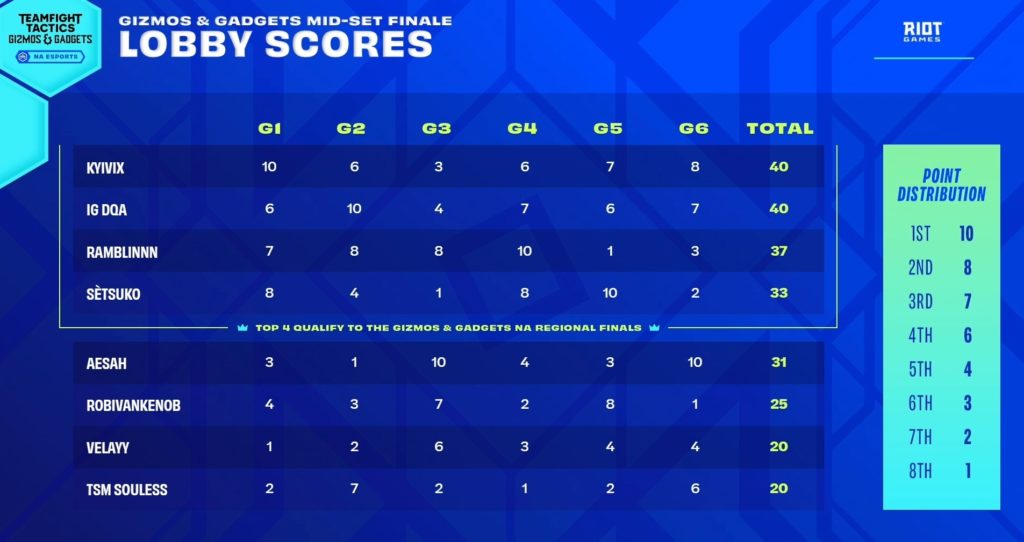 Kyivix earned the first lobby win of day three, staying in their lane of comfort via Heimerdinger/Vex reroll. Sètsuko placed second on Urgot/Jinx while Ramblinnn on Jayce/Sion Enchanter finished third. And DQA pulled out a fourth despite a less than optimal Mercenary start. DQA claimed a victory in game two via eight Challenger Yone carry, bumping him up to the top of the leaderboard, tied with Kyivix.
Aesah recovered in game three with a lobby win, playing seven Innovator. And Ramblinnn earned another second, moving to the top of the leaderboard. Ramblinnn continued his dominance with a game four win playing four Sniper, five Chemtech, and three Mutant (Voidborne) with a Mutant emblem on Jhin.
Sètsuko won game five with a Vikor carry six Arcanist, growing the gap between them and Robivankenob in fifth-place heading into game six. And Kyivix pulled out the title win at the Mid-Set Finale with a game six second-place finish, winning the tie-breaker against DQA.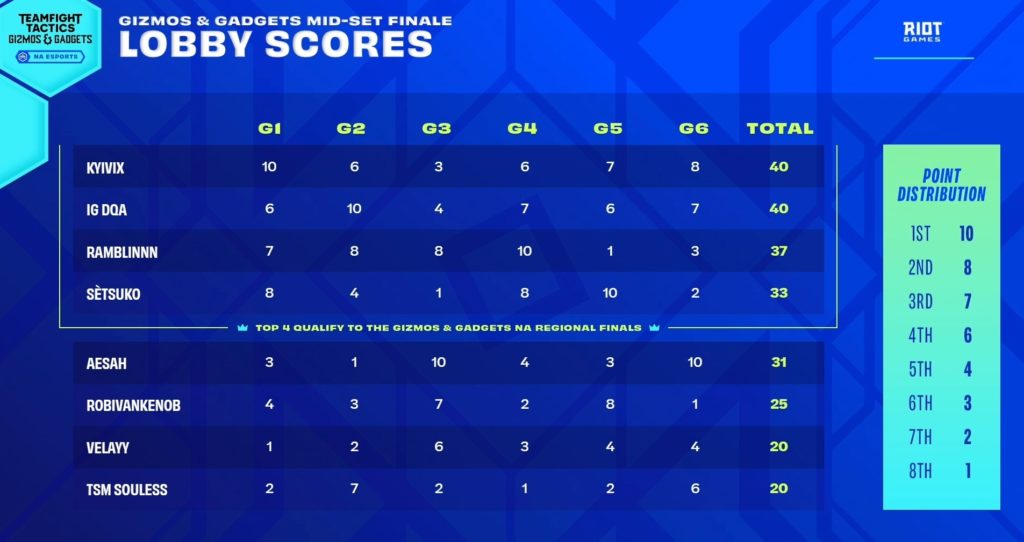 Following six games played, Kyivix, DQA, Ramblinnn, and sètsuko advanced to the NA Regional Finals. and Aesah, Robivankenob, Velayy, and Souless earned an invite to the TFT Set 6.5 Innovator Cup.
Kyivix: 40 points
IG DQA: 40 points
Ramblinnn: 37 points
sètsuko: 33 points
Aesah: 31 points
Robivankenob: 25 points
Velayy: 20 points
TSM Souless: 20 points