A new battleground is coming to Heroes of the Storm, bringing with it a bunch of World of Warcraft–inspired skins. The best one? That's Sapper Junkrat. The Overwatch hero is getting a Horde-themed makeover for the Echoes of Alterac event in Heroes of the Storm.
Echoes of Alterac kicks off on June 12 and runs through July 9. The new battleground, Alterac Pass, is coming the week of June 19, while a new hero, Yrel, unlocks the week of June 12. But most importantly, you'll be able to grab your Sapper Junkrat skin—and seven other World of Warcraft looks—the week of June 19.
Related: Overwatch will get Blizzard-themed skins and they're goddamn amazing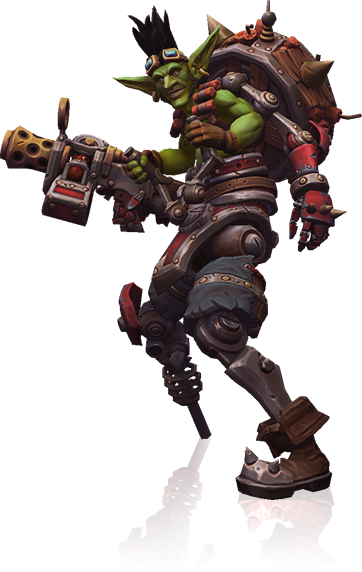 Sapper Junkrat gives the Overwatch hero a mechanized Junkrat suit and sticks a goblin at the controls. It's reminiscent of the Blizzard-inspired Overwatch skins introduced to the game earlier this year. Plenty of Overwatch heroes got World of Warcraft skins in Overwatch, including Doomfist. Junkrat didn't get one at that time, but we'd love to see his Heroes of the Storm Sapper skin eventually added to Overwatch.
A Heroes of the Storm and Overwatch crossover event isn't out of the question; two skins were previously made available to Overwatch players if they booted up Heroes of the Storm for a few games. That's how we got two of the best Overwatch skins, after all—Oni Genji and Officer D.Va. But for now, a Sapper Junkrat skin in Overwatch is just a dream. We'll just have to enjoy it in Heroes of the Storm as we wait for Blizzard to grant our wishes.