There's no need for an alarm clock in the Philadelphia Fusion team house. The smell of sizzling pork winds through the house's hallways and slips under closed doors. Bacon popping on the stove mimics the beep beep beeping of an alarm clock, a more pleasant sound to raise the Overwatch League players from bed.
Chef Heidi Marsh is in the kitchen by 9am on the team's "off" days and much earlier on game days. For the past three months, Marsh has been cooking 10 meals a week—breakfast/lunch and dinner—for Philadelphia's 12 Overwatch League players, plus the team's Los Angeles–based staff—Joona "Fragi" Laine, Philadelphia's Finnish tank player, counts as two players, though, Marsh said.
Fusion team manager Roston Yoo told me that the team thinks of its first season in the Overwatch League as two periods: before Heidi (BH) and after Heidi (AH). Not only does her presence impact the team, but the Fusion staff, too. Before Marsh arrived, Yoo was responsible for providing meals for the team, on top of his other duties as a team manager. He was stressed, and that made the team stressed. Morale has shifted for the better since Marsh joined the organization, he said. Her presence as part of the organization is important beyond just stuffing bellies full of food. It's part of a larger movement in esports that emphasizes lifestyle outside the game.
Related: Philadelphia Fusion shoot down London Spitfire again
As the Philadelphia Fusion team chef, Marsh's day starts well before the first meal of the day is served; for lunch at noon, Marsh is at the supermarket at 8:30am. On game days, it's earlier. The day's menu is already set by the time we reach the supermarket: hoisin ginger beef and rosemary ranch chicken skewers with a side of bacon herb quinoa for lunch, and cajun-spiced baby back ribs with green beans and potatoes for dinner. Marsh does one big shop in the morning, though she often has to make a few smaller trips for forgotten ingredients.
"I do a lot of research on global cuisine, but at the same time try to make dishes that are simple and approachable for the guys," Marsh said. "I don't want to overcomplicate the menu and often times I will avoid using ingredients that I know they won't find favorable. There are some picky eaters, and there are some team members that will eat just about anything."
Philadelphia has one of the more international rosters, bringing together 12 players from nine different countries—four players from South Korea and one each from Israel, Russia, Sweden, France, Finland, the United Kingdom, Canada, and Spain. It's a lot of different palettes to placate, with a lot of different cultural customs around eating.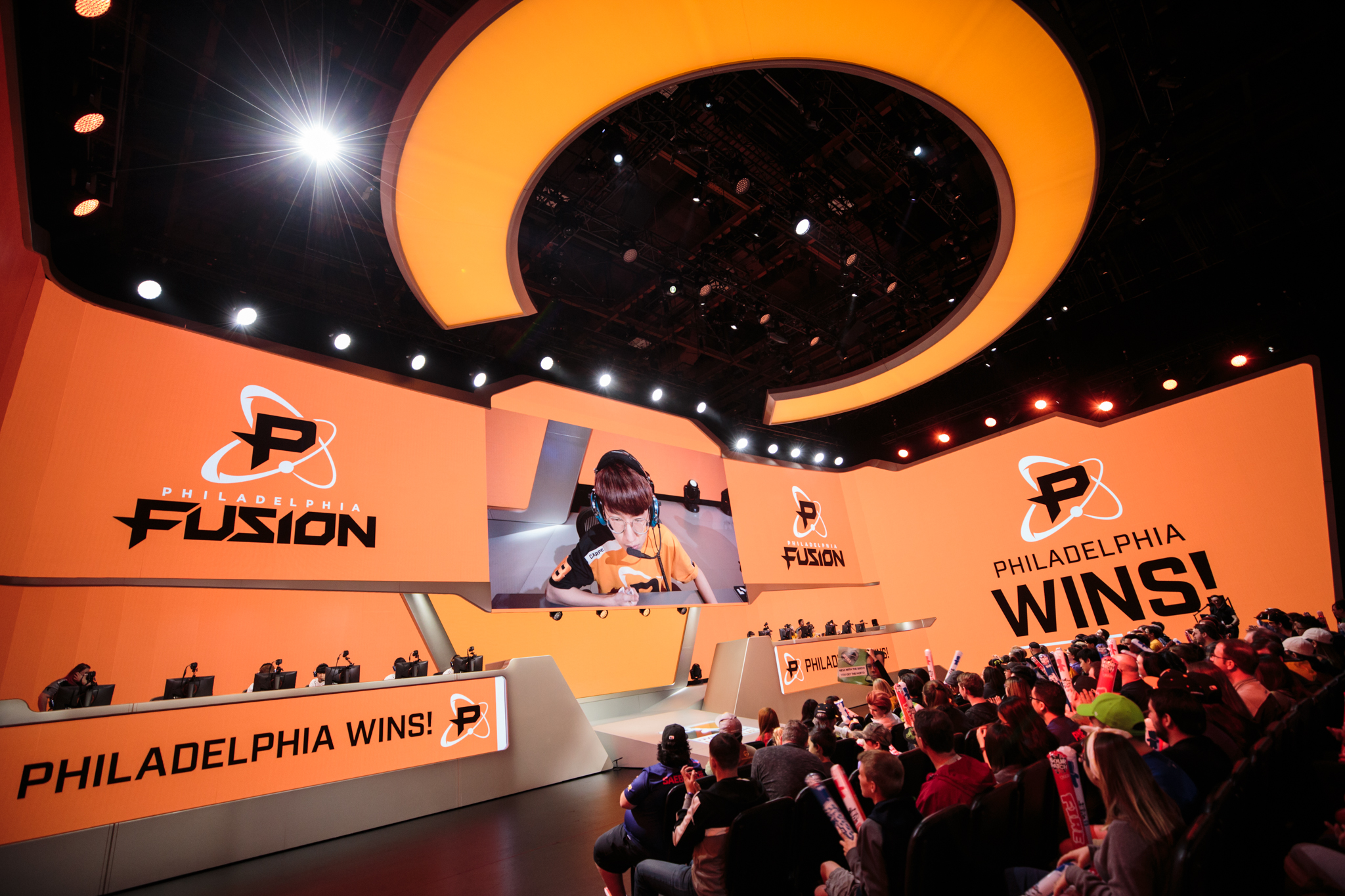 Everything starts in the produce aisle. It's the area of the supermarket where Marsh must abide by the seasons. And that keeps her flexible and open to new ideas. Her philosophy on cooking encompasses learning from any situation she's thrown into. On our trip to the supermarket, the green beans looked off—pale green and coated in a slimy liquid. But with a decision on the fly, Marsh decides to head over to the grocery store down the street to check their produce. (The green beans there do look much fresher.) She's trying to feed the Fusion guys three to five pounds of vegetables each day. On a request from the players, the team wants to eat healthier foods. They're after "hot summer bods," Marsh said, laughing.
But just plopping a salad down on the table isn't an option, most of the time. "I served salad a few times and no one touched it," Marsh said. She's got to be creative with the vegetables—one strategy is to add bacon. Everyone loves bacon.
Not one player is awake when we arrive at the Fusion house (a literal mansion) around 10am after the shopping trip. It's a little later than Heidi likes to start prep, but she's got a slow reporter (me) peppering her with questions while she works. (My words, not hers.) The thing about working with the Fusion is that, while there is a set schedule for meal times, there's a lot of flexibility, especially on the team's off days. "It's not a big deal if we don't eat right at noon," Marsh says after I apologize for slowing her down. Back in Minneapolis, where Marsh worked as executive chef at multiple restaurants, including the popular Hi-Lo Diner, she could be working up to 80 hours per week. Being a personal chef for the Overwatch League is a nice change of pace. She's busy, that's for sure—but her entire life doesn't revolve around work.
A friend recommended her for the job after she picked up and moved to Los Angeles (at first, she thought she'd be cooking for a soccer team). Marsh wasn't an esports enthusiast before she joined Fusion, but she is now. She often cheers on the team at home when she's not working, and always has the Overwatch League on while prepping dinner on game days.
Fusion players start piling into the kitchen from their respective bedrooms around 11am, some grab juice and coffee, while others convene in the attached living area to watch Overwatch VODs or Fortnite streams on Twitch. Marsh cheerfully greets each player as they stumble, bleary-eyed, into the kitchen in search of sustenance. Fusion support player Joe "Joemeister" Gramano stops to ask Marsh if she's still willing to help him learn to cook on Friday. "Yep," she responds. "Ravioli. Joe's Italian." They'll roll the dough for the dumplings by hand. "I see a lot of Joe," Marsh says. He gets up early for coffee.
She's still getting to know the other players on the team, after only being part of the Fusion family for three months. Josue "Eqo" Corona is a typical Gemini, Marsh told me. Choi "Hotba" Hong-jun eats a ton of ramen, she laughed.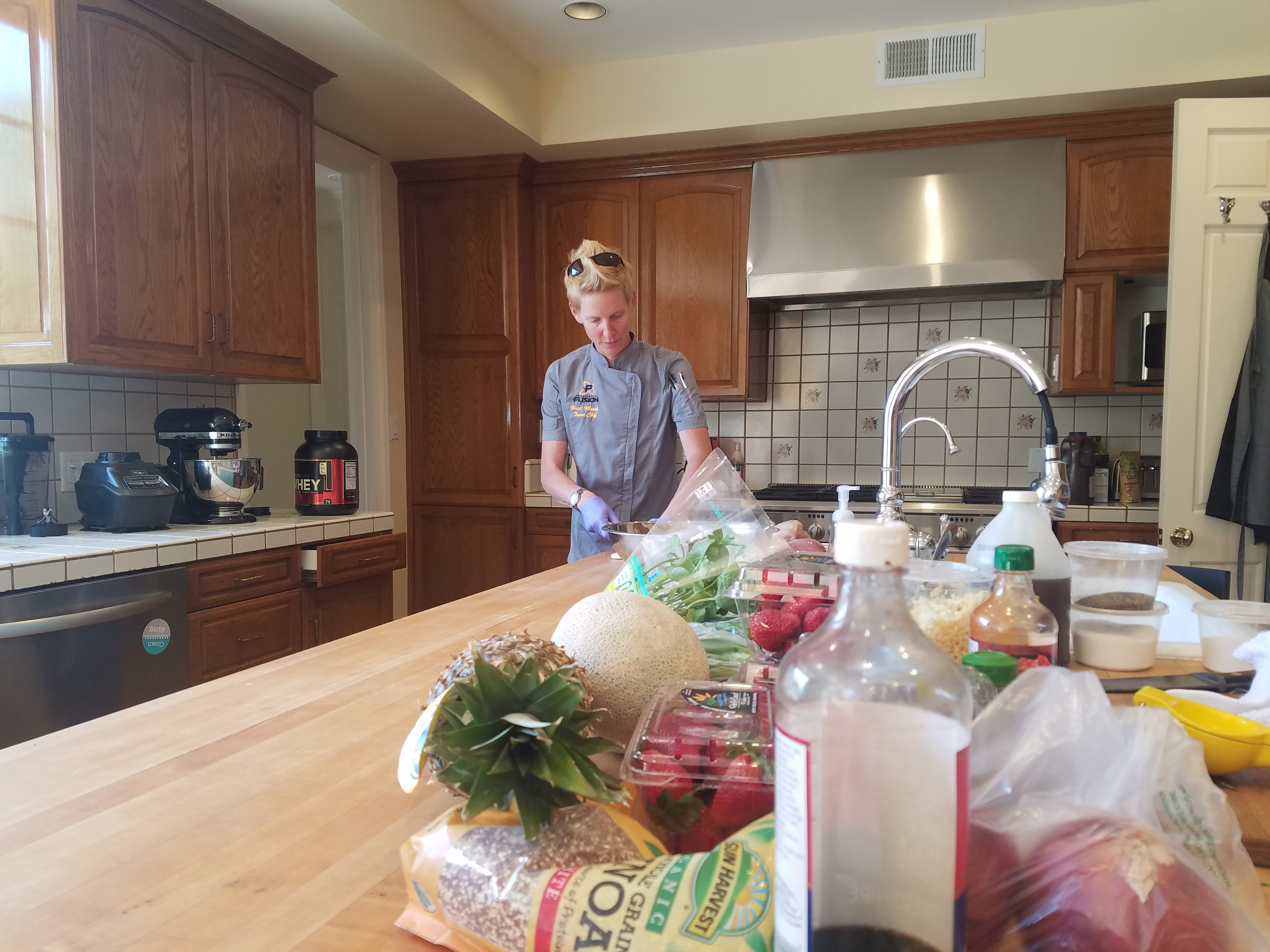 But she's making an effort to spend time with the guys. The other night, she hung by the Fusion's pool and had a heart-to-heart with Isaac "Boombox" Charles. She sees some of herself in him, she said. They talked about their lives before Overwatch; how they both questioned what they were doing in life, both learning to code as an alternative.
"I feel like I'm exactly where I'm supposed to be," Marsh said. The same goes for Boombox.
Marsh thinks it's the bacon that helps the guys get out of bed after those long nights. There's bacon in the herbed quinoa, a truth Marsh tells the team repeatedly, a way to goad the guys into trying a new grain. "Quinoa is a brain food," Marsh says, reminding the players they have a game tomorrow. The menu is heavier, which is something Marsh plans for on off days. "We don't want to guys to feel heavy on game days," she says. On those days, she'll cook a lighter breakfast and pack snacks—like sub sandwiches and hummus—for the team to take with them to Blizzard Arena. Dinner after games is usually a celebratory affair for Marsh, whether the team wins or loses. "We're all winners regardless," Marsh says. "We're all special flowers."
She's thinking prime rib for the guys after their next game against Houston Outlaws, which they did end up winning.
By the time Marsh is loading up the grill with the skewers, the Philadelphia team has swarmed the kitchen. We're a little past the scheduled noon lunch time, thanks to Marsh's inexperienced sous chef. (Again, that's all me.)
The players don't seem to mind. Most of them won't boot up Overwatch until after lunch—though for them, I guess it's breakfast. The team wakes up as a community and spends a few hours together outside of the game before practice. "It's an advantage for the team to have set meal times where they can sit down together, enjoy a nice meal, socialize, and build camaraderie," Marsh said.
And that's an advantage for Philadelphia Fusion.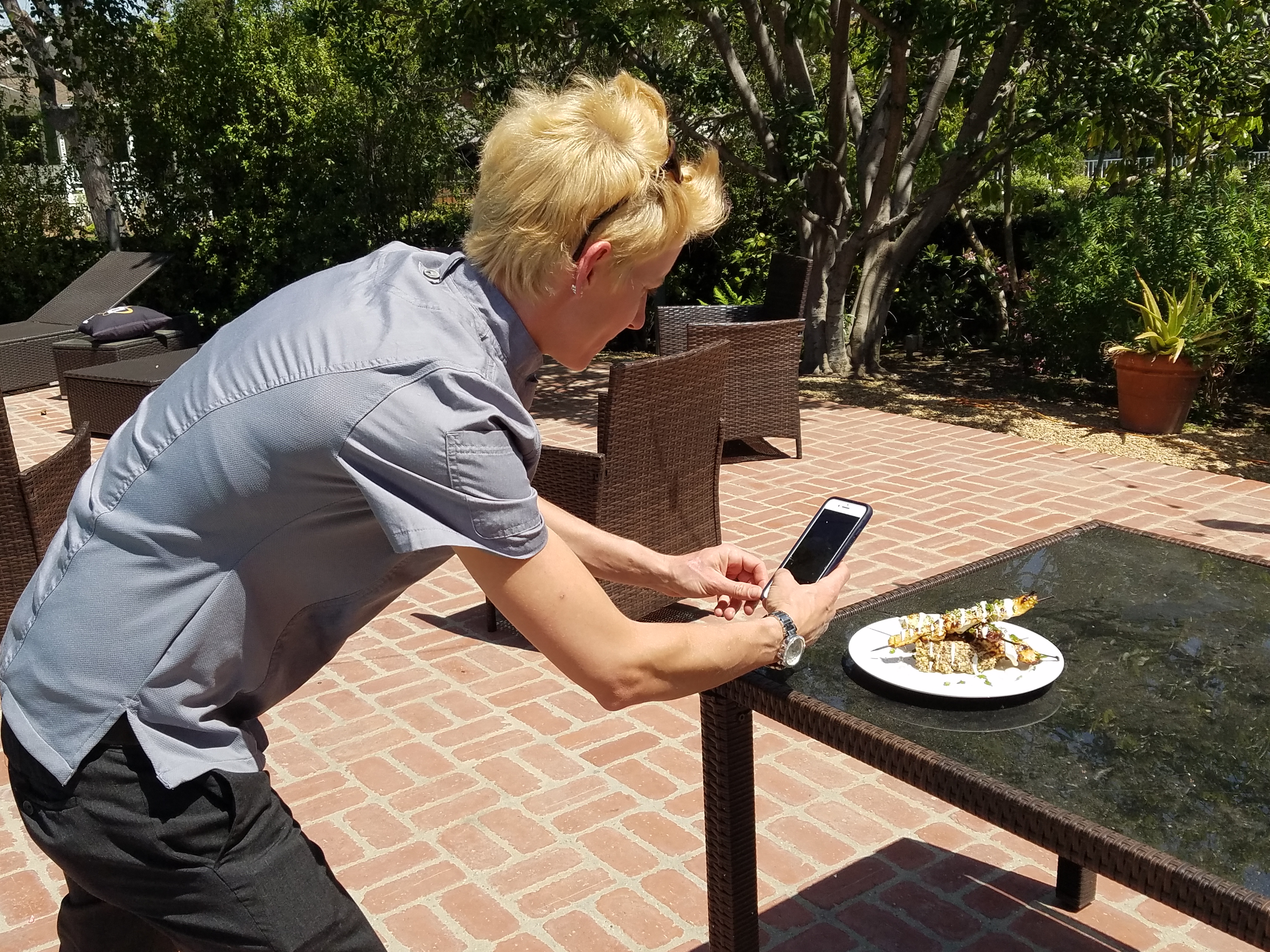 "More than 50 percent of our previous stress has been taken away after Heidi's arrival," Yoo said. "We live like a family now."
You can see that decreased stress in Fusion's performance in the Overwatch League. Sure, it's not the only factor by far, but Marsh wasn't around for the entirety of the Overwatch League's first stage, where Fusion finished in the bottom half of the pack. Compare that to their 7-3 record and third place finish in stage two. The Overwatch League's schedule is grueling, with players participating in stage matches twice a week; each game needs to be sufficiently prepared for over the week ahead of time. Taking one less thing off the team's figurative plate allows them time to do what they do best (play Overwatch) while maintaining balance in their lives.
Player health is still somewhat of a radical notion in esports. Teams are just now recognizing that players can't simply grind their games for 12 hours straight, seven days a week. The line between play and work has been blurred, but structural decisions like the ones Philadelphia is making are important in keeping players healthy and focused.
"Philadelphia Fusion's philosophy is a lot about family," Marsh said. "We respect each other. We learn from each other. Our diversity provides us with a uniqueness that we can be proud of and we embrace that."